The two best teams go head-to-head.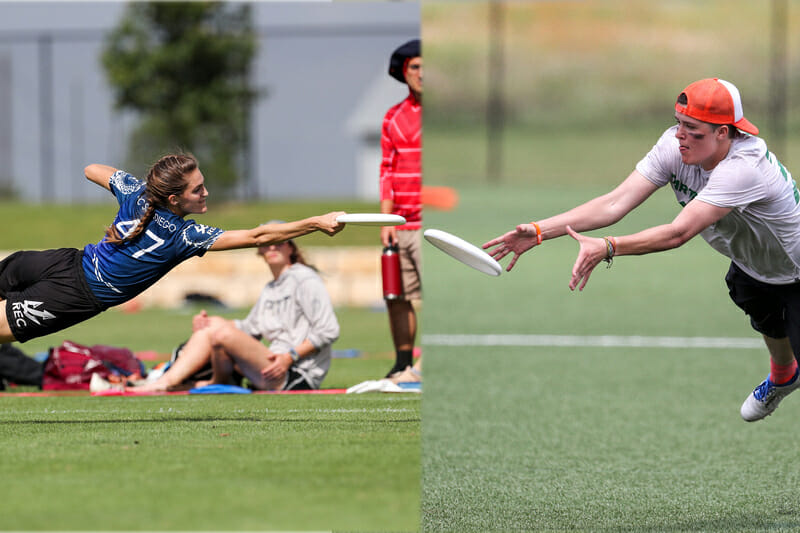 Our D-I College Championships coverage of the women's division is presented by VC Ultimate, the official gear outfitter of the Premier Ultimate League. All opinions are of the author.
UC San Diego and Dartmouth, the two most dominant teams in the Women's Division, will face off in the College Championships final this afternoon. UCSD and Dartmouth have been the division's heavyweights all year, and their stars Dena Elimelech and Jack Verzuh, respectively, have been the top Player of the Year contenders since the preseason. In the final, these titans will clash on the biggest stage yet. A third-straight National title is at stake for Dartmouth, while UCSD hopes to claim their first title since 2002.
Game Time: 12 PM Central
Line: Dartmouth -2.5
Video: ESPNU/ESPN.com
Liveblog: Ultiworld
UCSD is coming off of a spectacular regular season. They won Santa Barbara Invite, Presidents' Day Invite, and Stanford Invite without exceeding their resting heart rate. They only lost three games, all in pool play at Northwest Challenge, and all without Elimelech, who missed the tournament. They have yet to lose a game this entire season when Elimelech takes the field. UCSD's zone defense wrenches turns from the best offenses in the division, and then their handler core pings the disc up the field with dozens of three-foot passes that accumulate to goals and wins.
At Nationals, the Psychos marched through pool play with confidence and ease. They won all games except their last one against Tufts, where, not needing a win to claim the pool, they opened lines to get the full roster Nationals experience. Carleton College Syzygy gave UCSD their biggest test in the quarterfinals, where they had to break late to win the game through mind-bending play from Elimelech. In the semifinal against Ohio State, a team who gave UCSD one of their three losses, the Psychos emphatically stomped Fever 15-5, fully putting their disappointing 2018 Nationals performance behind them.
The reigning champs' season parallels that of the Psychos. Dartmouth was undefeated heading into Northwest Challenge, having won the Florida Winter Classic and what took place at Commonwealth Cup. In Washington, they played without sophomore star, Claire Trop, and suffered their lone losses of the season. Their New England regional title, while contested, showed they were still a top team. Their status as a favorite wavered slightly, but their ceiling was always adorned with gold medals.
Whatever doubts existed regarding Dartmouth's ability to win with a short bench and little depth dissipated in the Texas heat. They rolled through pool play, dispatching a talented Carleton team with ease. It took some late heroics from Verzuh to get past Western Washington in quarters, but they led from start to finish in their semis win over top-seeded UNC.
The team may not have a ton of offensive firepower beyond Verzuh, Caitlyn Lee, Claire Trop, and freshman Caroline Tornquist, but Grace Alston has been a sparkplug and the entire 16-person roster plays fantastic fundamental defense that gives their stars plenty of chances to put points on the board.
The teams faced off in a highly anticipated matchup at Northwest Challenge that UCSD won 12-10, but with Elimelech and Trop both missing, the result feels largely hollow, making today's matchup in the final all the more enticing.
Verzuh and Elimelech have made their cases for Player of the Year, and today they make their final pitch.
Can UCSD's depth and defense outshine Dartmouth's star power? Will Elimelech have a chance to outplay Verzuh? Legacies are on the line.