Dartmouth's stars come up big against North Carolina's depth.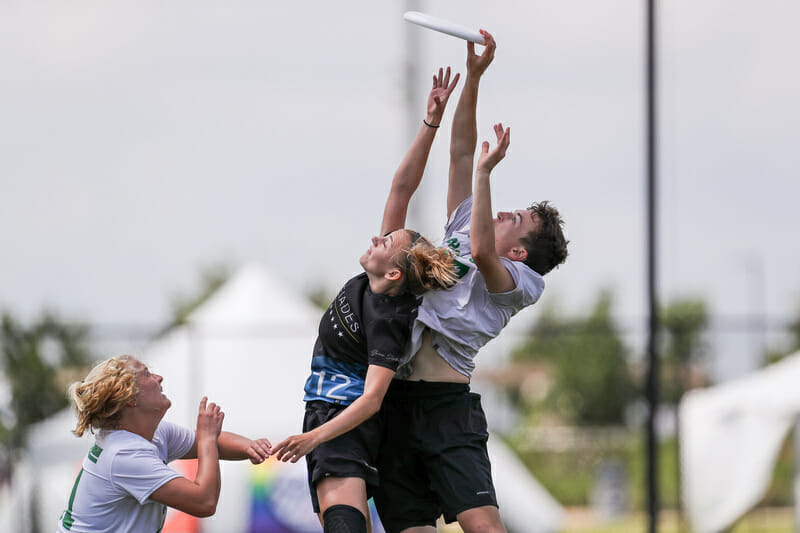 Ultiworld's 2019 coverage of D-I Women's Division is presented in by VC Ultimate, the official gear provider of the Premier Ultimate League. All opinions are those of the author. Please support the brands that make Ultiworld possible and shop at VC Ultimate!
Dartmouth Womxn's Ultimate took one step closer to a third straight national championship by defeating North Carolina Pleiades 12-10 in the semifinal. Dartmouth's indomitable offense took the driver's seat early, and UNC's best efforts weren't enough to stop Dartmouth from finding the endzone. The Pleiades person defense, some of the best in the division, wasn't enough to prevent Jack Verzuh and Claire Trop from adding another legendary game to their resumes.
The first point, however, resembled a rough draft of each team's gameplan. Dartmouth pulled upwind, and it took eight total turns and four blocks before North Carolina held. Dartmouth secured their subsequent hold after one unsuccessful punt to Jack Verzuh, and they sent out the same zone that's earned the team so many break chances at this tournament. It's not a fancy zone, and it's not aggressive. The zone is relentless, daunting pressure from players like Hannah Marr, Caroline Tornquist, and Jennifer Qian in the cup.
But tof the first attempt of this semifinal, the zone did not work for Dartmouth. North Carolina's Tyler Smith and Anne Worth burned through the pressure like fire through tissue paper, and Worth's triumphant celebration upon their second hold foreshadowed another path this game could have taken.
Dartmouth kept setting the zone, and Pleiades pinballed the disc through the coverage with trust and confidence. They incurred drops and a few errant throws, but the Pleiades defenders took the turns personally and fought to earn the disc back: Bridget Mizener, Anna Xu, and Ella Juengst had blocks in the first five points, and their agile downfield defense pushed Dartmouth into several high-stall situations.
That's when Claire Trop took the game by its horns. UNC overthrew Juengst in the downwind end zone, and Verzuh punted upwind to Trop, who boxes out as well as anyone in the division when camped under a hanging huck. Trop in turn hucked Abby Ritterband to just outside the upwind end zone, and after a few passes, Verzuh hit Trop with an impossibly low forehand for Dartmouth's first break.
Dartmouth's Christina Arnoldy got a block in their zone on the next point, and Verzuh again found Trop quickly in the end zone for a downwind break and Trop's third goal in a row. Dartmouth led North Carolina 5-3.
The Pleiades held easily in a Dartmouth zone that didn't include Lee, Verzuh, or Trop. The UNC offense was helmed by the excellent efforts of junior handler Tyler Smith. Smith had 60 touches for North Carolina in the semifinal with only eight turns, and her resilience under Dartmouth's pressure anchored the Pleiades offense. By her side was Anne Worth, who had the second-most touches (44) and zero turns.
When UNC did set a D-line against Dartmouth, they challenged the defending champs to use their legs by applying tough person defense. Whenever they got the chance, however, Dartmouth handlers — particularly Lee — looked deep at Trop, Verzuh, or Tornquist. Dartmouth's offensive efficiency didn't come from intense discipline or patience. It came from raw, unfettered talent that no mortal could stop.
At 6-4, Erika Neave turfed a pass after breaking through Dartmouth's zone, and Lee immediately ripped the disc upwind to Magdalene Pizzo, who made a big catch and kept the huck train rolling. She boosted the disc into the upwind endzone, where Trop once again reeled in the goal for Dartmouth's second upwind break.
It took UNC 36 passes in Dartmouth's zone, but Anna Xu, freshman Sydney Rehder, and Smith worked the disc patiently upwind to hold. Dawn Culton was a big part of the upwind Pleiades hold as well as their subsequent downwind break: she caught the upwind goal, made a huge run downwind and a diving grab put Pleiades in an ideal position to break once more… and who caught that break goal? Culton, of course. The freshman star scored the most goals in the game (4) for UNC, and she's the team's second highest goal scorer this weekend behind fellow rookie Juengst.
Culton remained on the field for a third point to fight for the upwind break, and after a Dartmouth turn, Culton worked with the handling corps to break once more and tie the game at 7-7.
For a moment, it looked like UNC might continue their run and steal control of the game's fate. But instead, Dartmouth marched up the open side, and Tornquist shot a late stall forehand at the endzone where Verzuh stood. Verzuh, as reliable as the hot Texas sun and the passage of time, elevated above three defenders to make the catch for half, 8-7.
This point wouldn't be North Carolina's death rattle, but that obscenely big grab reminded everyone watching that Jack Verzuh is a generational talent. Out of half, Verzuh shot to Tornquist for their downwind hold in under a minute to build their lead to 9-7.
The second half only had six total turns from both teams, compared to the first half's 43 turns. UNC had two no-turn offensive holds, with Anne Worth burning the turf's rubber with her cuts and Culton making difficult grabs, but on defense they couldn't stop Verzuh, Trop, and Lee from picking up the disc and holding in two to three passes.
Dartmouth would hold downwind to win the semifinal on the same brand of shot they've been taking all year. Lee slung a big forehand into the endzone where Trop and Verzuh were waiting, but it would be Tornquist who got the goal to win the game 12-10.
"[Tornquist] clicked with our system very well. Her playing style, being able to see the open space…has really clicked with our system," said coach Eugene Yum after the game.
Claire Trop defined this semifinal, and she's the biggest difference between Dartmouth's 12-10 win at Nationals and their 15-5 loss to North Carolina from Northwest Challenge, where Trop didn't play due to a broken hand. Trop played 17 of the semifinal's 22 points and was the game's leading goalscorer (5).
"She's an excellent player, she played extremely well in the game, and she was a big target for our defensive strategy," said Pleiades coach Lindsay Soo of Trop after the game.
This was UNC's first showing in a semifinal game in their program's history, and the team is young. Asked about how the team would build on this year's success, Soo smiled and said, "Oh we're hungry. We want more. Especially the young kids, they got a taste of it, and they're not going to want to give it up. You'll see us again."
Post-Game Press Conferences
North Carolina press conference