Announcing our winners and recapping results!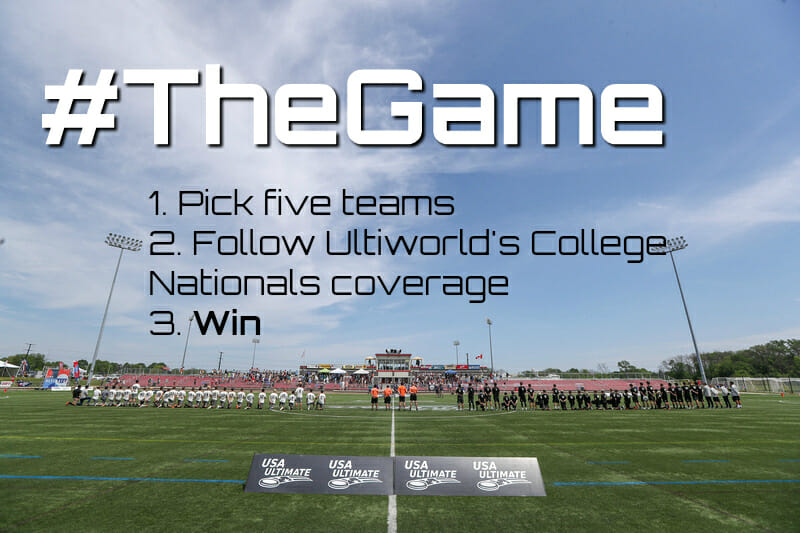 #TheGame is in the books for the 2019 College Championships. It was an amazing tournament and hopefully people had fun following along with some extra stakes on the line.
You can see the full scoreboard here.
The Winners
1. Michael Paniagua (64 pts) – Full Annual Subscription and an Ultiworld Prize Item
#1 UC San Diego Women's, #2 Dartmouth Women's, #1 North Carolina Men's, #1 Brown Men's, #2 Colorado Men's
Who says only the Cinderellas make the game fun? While the rest of our were messing around with low seeds with high upside, Michael was identifying teams that went on to make deep runs. Picking the four finalists and the lowest seeded remaining semifinalist is pretty impressive.
2. Coy Springer (64 pts) – One month Plus Subscription and an Ultiworld Prize Item
#1 UC San Diego Women's, #2 Dartmouth Women's, #1 North Carolina Men's, #1 Brown Men's, #2 Colorado Men's
Coy was so close! It came down to tiebreakers. Both players picked the same number of top seeds to win their pool (5), but Coy picked Victoria Men's and Texas Men's to score just 30 goals in pool play. Their 94 combined goals exceeded both Coy and Michael's predictions, but Michael's 80 was much closer.
3. Stephen Guerin (62 pts) – One month Mini Subscription and an Ultiworld Prize Item
#1 UC San Diego Women's, #2 Dartmouth Women's, #1 North Carolina Men's, #1 Brown Men's, #3 Wisconsin Men's
Stephen selected the same pairs of finalists as the winners, and only missed out on two points by choosing Wisconsin Men's over Colorado Men's. The Hodags earned three wins and no bonus points. It took tiebreakers to separate Stephen for the final spot on the podium, as Stephen picked six teams seed no. 1-4 to win their pool, while the tying entry had just five. The final tally was seven.
Selection Stats
Top 5 Men's Teams
#1 North Carolina (59%) – 10 pts
#1 Brown (40.4%) – 14 pts
#4 Minnesota (25.3%) – 8 pts
#2 Oregon (20.2%) – 6 pts
#3 Wisconsin (19.6%) – 9 pts
UNC, who entered the season as the title favorite and Nationals as the no. 1 overall seed, was by far the most popular choice. People loved the security. But Brown also had a healthy lead over the rest of the field, which flattened out a bit after the top two. There was a lot of love for the North Central, with Minnesota and Wisconsin on a lot of ballots and Iowa State just missing out.
To my eye, the combination of some heavy favorites (who delivered) and a few teams that drew little to no public interest (Rutgers, Tufts, Northeastern, and Michigan) made for a tight cluster. Michigan, at 3.3%, was the second highest scoring men's team. Oops, it was hot, and making the right choice was hard.
Top 5 Women's Teams
#2 Dartmouth (62.3%) – 16 pts
#1 UC San Diego (27%) – 13 pts
#1 Ohio State (24.4%) – 7 pts
#1 North Carolina (22.6%) – 7 pts
#5 Oregon (15.9%) – 10 pts
It was easy to project Dartmouth as the chalk. A two-time reigning champion with three of the best 10 players in the division that's worth double any team with similar acumen? Easy pick.1 Of course, this meant #1 Carleton was a great buy at sub-10%,2 though they would have failed to deliver, with just four points. #4 Wisconsin, at 2.3%, was the third highest scoring women's team.
The Optimal Lineup
Unlike our Club Nationals version, with no restrictions on who to pick, this is less of a puzzle. But nobody selected the perfect five.
#1 UC San Diego Women's, #2 Dartmouth Women's, #1 Brown Men's, #4 Michigan Men's, #4 Wisconsin Women's
This lineup would have earned you 67 points.
Wisconsin Women's and Michigan Men's both, in addition to being alliterative, won a pair of pool play games and then defeated their prequarterfinal opponent for 12 points, pushing them past popular picks like #1 North Carolina Men's and #5 Oregon Women's, who each earned 10 points.
Tiebreaker Answers
Tiebreaker #1: How many pools will be won by the top seeded team?
The correct answer was seven, as only Pool D in the women's division was won by a team seeded outside of the top four. And it was no. 5 Dartmouth. Six, which is about the average over the past few seasons, was the most popular response, followed closed by five, and then three.
Tiebreaker #2: How many total points will the Victoria and Texas men score in pool play, combined?
As discussed previously, the total was 94, good for 11.75/game. The average selection was well below that, just under 69. At less than 10 goals per game, that would have translated to pretty rough showings for those clubs.
Tiebreaker #3: How many total points during the tournament will the women's division champion concede?
The champion this year, UC San Diego, conceded 64 total points. The average response wasn't that far off, landing a little over 61. At a little more than nine goals/game, it was an impressive weekend for UCSD.
Feedback Welcome!
Did you play? Did you not play? Why or why not? What rules would be fun to play with? What tweaks can be made?
For our next College edition, we may decrease the value of winning bracket games. This year was a top-heavy field, and picking the champion should help you win, but we want to make sure to encourage more diversity in team selection. What do you think?
We want #TheGame to be fun and have different strategies be viable without being too complicated for lots of people to enter. Next stop: 2019 Club Nationals!
---
Except for me. Wow, I'm dumb. ↩

Before hindsight, if you had any belief in Carleton to win their pool or reach the final, or doubt in Dartmouth's ability to do so, Carleton was a great call. ↩