The top performers of the year on the offensive side of the disc.
Ultiworld's 2019 Women's College Awards are presented in part by VC Ultimate, a leading supporter of women in ultimate. They are also presented in part by the National Ultimate Training Camp, who can help prepare you to be an All-Star. All opinions are those of the authors. Thanks for supporting the brands that make Ultiworld possible!
Ultiworld is pleased to announced our sixth annual D-I College Awards. The criteria for each award can be found here — we consider both regular season and postseason performance in our selection of awards. As the overall top performers of the year, players selected as top three in Player of the Year voting are removed from consideration for other individual awards.
Links to all of the 2019 D-I Women's Division awards will be added as awards are announced:
Player of the Year Award
Offensive Player of the Year Award
Defensive Player of the Year Award
Breakout Player of the Year Award
Rookie of the Year Award (will be announced later this week!)
Coach of the Year Award (will be announced later this week!)
All American 1st Team (will be announced later this week!)
All American 2nd Team (will be announced later this week!)
D-I Women's 2019 Offensive Player Of The Year
Anne Worth (North Carolina)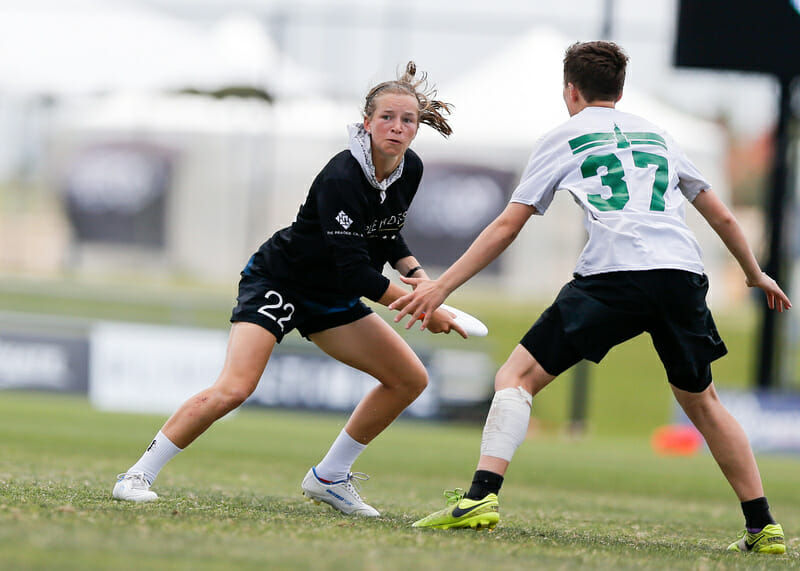 Worth was the stand out star for a North Carolina side that was one of the best and deepest teams in the division all season long. She was the team's primary cutter and their strongest card to play against opposing defenses. Her speed and first step made her one of the toughest cutters to guard in the country. Most teams simply could not.
Worth put up big numbers, but she also set the tone offensively for Pleiades. Worth plays with a fearless mentality, and attacks space regardless of her defensive matchup. She has a relentless tenacity, bringing an aggressive mentality to her offensive game. Electrically speedy, she rarely needed to lay out or go up to make grabs, but when she needed to hit the deck or sky a defender, she did that too.
When she wasn't beating defenders deep, she made it look easy to earn unders. She excelled at moving the disc quickly, but also put her impressive around backhand to use the few times she held onto it long enough for a mark to get set.
She put up 8 goals and 10 assists to just 13 turnovers at Nationals, and was generally rock steady for the Pleiades O-line in Round Rock. She didn't bogart the disc, and UNC didn't force it to her, but she still racked up yards and positive stats.
Some players have to get a lot of touches in order to maximize their offensive impact, but Worth is a different kind of dangerous. She did her damage with a rare level of efficiency that not only saw her consistently win her matchup, but helped to maximize North Carolina's strength in offensive depth as well.
Unsung coming into the season, and probably still underappreciated even during, The junior brought a top notch level of playmaking ability and consistency; she was an ideal player to build an offense around. With her offensive output in 2019, she assured she won't go unsung or underappreciated again in 2020.
1st Runner up: Caitlyn Lee (Dartmouth)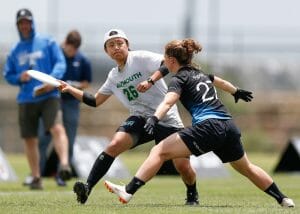 Dartmouth ran their offense through just handful of players, and with Lee as one of those invaluable few, they nearly won a third straight national title. Lee has a complete offensive game, capable of beating teams as a confident thrower or as blazing quick cutter near the end zone. Her well-rounded game manifested itself into a mammoth stat line at Nationals, with 12 goals and 23 assists, good for the fourth highest points total in the division.
Lee had a huge responsibility for Dartmouth. Her hucks allowed Jack Verzuh to go downfield, but she was also asked to be a red zone possession finisher with her movement in and out of the handler space. Lee's offensive skill set allowed the other top Dartmouth players to be used in their most effective spots on the field, and without it, they likely wouldn't have been back in the final this season.
2nd Runner up: Audrey Brown (UC Santa Barbara)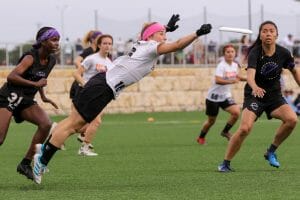 One of the great tragedies of this college season is that it was Audrey Brown's last. The UCSB playmaker blossomed into a bonafide star this year, doing everything that was necessary for the Burning Skirts to secure a win. In most instances, that involved making some of the flashiest plays you've ever seen from a 5'1″ athlete.
Where Brown truly shined was when she would come through with a layout grab for a disc that had no reasonable chance of being caught. Time and again, it was Brown that rescued UCSB from losing possession of the disc, only to spring to her feet and get the offense churning again. Brown was once described on this site as being lightning in a bottle, but that's just wrong. She's the entire storm.