And the Player of the Year is...
Ultiworld's 2019 Women's College Awards are presented in part by VC Ultimate, a leading supporter of women in ultimate. They are also presented in part by the National Ultimate Training Camp, who can help prepare you to be an All-Star. All opinions are those of the authors.
Ultiworld is pleased to announced our sixth annual D-I College Awards. The criteria for each award can be found here — we consider both regular season and postseason performance in our selection of awards.
The Player of the Year Award and its runners-up represent the best overall performers of the 2019 season and are our highest award. These three individuals were the most impactful players in the D-I Women's division this spring.
Links to all of the 2019 D-I Women's Division awards will be added as awards are announced:
Offensive Player of the Year Award
Defensive Player of the Year Award
Breakout Player of the Year Award
Rookie of the Year Award (will be announced later this week!)
Coach of the Year Award (will be announced later this week!)
All American 1st Team (will be announced later this week!)
All American 2nd Team (will be announced later this week!)
D-I Women's 2019 Player Of The Year
Dena Elimelech (UC San Diego)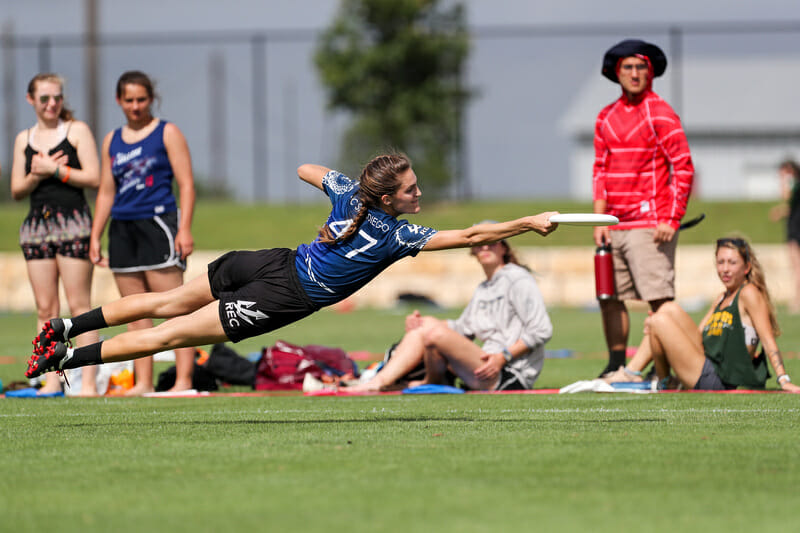 Many players have put on impressive performances in this award's history. But nobody has yet played like Dena Elimelech played in the 2019 season. Elimelech played herself into myth in Round Rock. Years from now, kids will kick their feet up in front of the mark and shout, "Elimelech foot block!"
Photos of her quarterfinal layout winning grab have become the defining images of the tournament. Her massive foot block on Jack Verzuh was already divisional legend by halftime of the final, and then she followed it up with a stunning ankle catch during double game point.
Elimelech was a frontrunner for Player of the Year honors heading into Nationals, but her weekend in Round Rock cemented her grip on the award. Elimelech led the UC San Diego Psychos in goals (14) AND assists (22) on the tournament, in addition to a whopping 20 blocks. She passed the eye test, the stats test, and the "holy-cow-how-did-she-make-that-play?!" test.
Unlike the two runners up for POTY, Elimelech first learned the game her freshman year. Since then, she's evolved past raw athleticism and fearlessness into becoming one of the Psychos' power throwers and a tremendously smart defender. Elimelech is equally intimidating guarding the deep space in UCSD's many zones or setting an expansive mark at the point of attack. On offense, she's just as dangerous behind the disc as she is chasing it deep. Teams set their best defenders on Elimelech, and they look silly. This season, UCSD didn't lose a game she played in.
This year's POTY Award contention was unique because it was the last year of Jack Verzuh's college career. Verzuh has been the most dominant player in the division for most of their college career, and in the back of many's minds, it was their award to lose. But last year, Elimelech began to come knocking. This year, Elimelech and Verzuh met at the final hour, and Elimelech stepped up. She was the only individual defender at Nationals to disrupt Verzuh's to-date unstoppable offensive game, and she played Verzuh well on offense, at times keeping them out of the play and at times pulling them deep.
More than her big plays or her skill, it's Dena Elimelech's mental game that helped her team win the Southwest Triple Crown,1 win a double game point quarterfinal, and score upwind to win the final. Elimelech plays loose, but intense. Even with her team's season or game on the line, Elimelech doesn't feel the pressure. She trusts her team, plays her role, and puts her body — or her ankles — on the line to save the disc. Her composure throughout this season and the College Championships made her that much harder to shut down. How do you fluster someone who's smiling and laughing while she skies you?
Dena Elimelech is the easy Player of the Year winner not because she had the best individual performance at Nationals or during the final. She's the Player of the Year because she played at that level, making those jaw-dropping plays, all year long.
1st Runner up: Jack Verzuh (Dartmouth)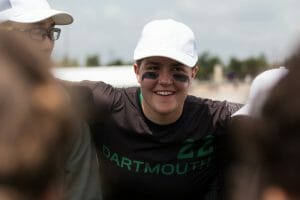 Let's get this out of the way now. Jack Verzuh is perhaps the greatest player the college division will ever see. They've been a POTY or Runner Up every season of their college career since their freshman year, when a concussion kept them from playing much of the regular season. The difference this season between the performance of Elimelech and Verzuh is minimal. If the award took an entire college career into consideration, Verzuh stands unopposed.
Their impact on the division over the past four years in no way diminishes how untouchable they were this year alone. Nationals was a perfect example of how teams will change their entire game plan to stop Verzuh, and still come up short. By the end of Nationals, Verzuh's stats stood at a stupefying 14G/30A/14D. As ridiculous as it may sound, that statline underplays how good Verzuh was. Every facet of Verzuh's game that a team tried to stop only allowed them to showcase another aspect of their game. In 2019, Verzuh had a chance to show that they were the best cutter, defender, and thrower in almost every game Dartmouth played.
For all the hype made about Verzuh's physical gifts this year, tribute should also be paid to their field IQ. Verzuh understands the game in a way few of their peers can comprehend. Whether it's setting up a cut or reading a disc in flight, there isn't an apparent weakness to their game.
On top of their individual performance, Verzuh can take a lot of credit for the success of their team as a whole. Dartmouth's coach, Eugene Yum, was quick to praise the work Verzuh has done in leading their team. As Yum was unable to attend most of Dartmouth's practices this season, it was Verzuh who selflessly guided the team and brought out the best from the roster. Verzuh has the ability to be a one-person army, but thanks to the work they put into Dartmouth's season, they didn't have to be.
2nd Runner up: Sadie Jezierski (Ohio State)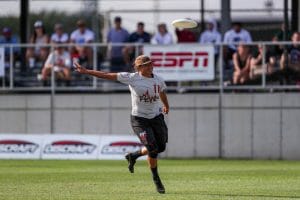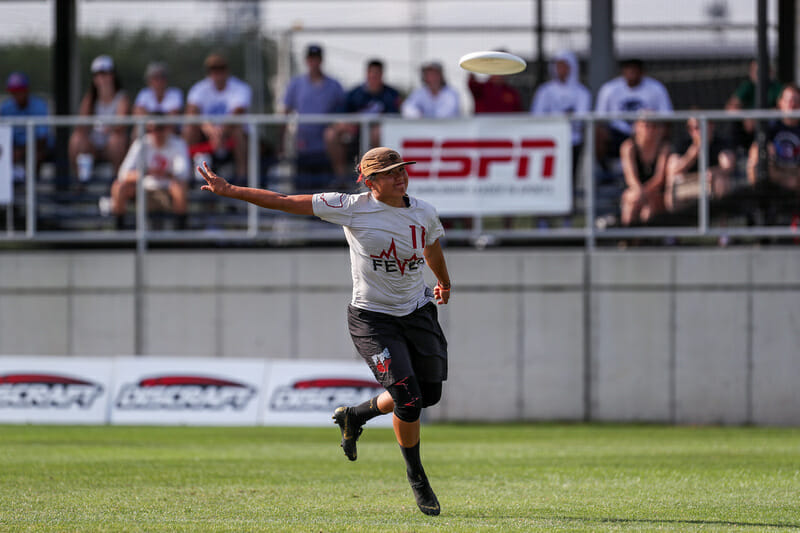 Sadie Jezierski became a major storyline of the 2019 season before it even began when she was inexplicably left off the U24 tryout list. Thus began the #SadieRevengeTour, and a thrilling, dominant season from the Fever fifth-year senior.
She has been one of the most talented and exciting playmakers in the division for years, but her aggressive playing style and the mercurial nature of her game has caused her to be something of a polarizing player through the first four years of her career. But Jezierski proved her doubters wrong with a stellar 2019 season, as she added an element to her already explosive repertoire with a new ability to go downfield and begin possessions as a cutter. This gave Jezierski a new way to attack defenses and it brought Fever's offense to a higher level of effectiveness and potency.
Jezierski was especially glowing at Northwest Challenge, where she was the best player at the tournament, and Fever took home the title. So good was Jezierski that weekend that she played her way onto the U24 team. The tournament title, Fever's second of the season, earned them the No. 2 overall seed at Nationals, where they went on an impressive run to semifinals. Jezierski showed off her trademark fearlessness all weekend on long, and helped lead Fever on that run with her 8 goals, 18 assist, and 13 blocks.
Jezierski asserted herself into every game she played this season, and she brought one of the most dangerous, complete offensive skillsets in the division every time she stepped on the field. Her level of play, and the importance she played in the defining narratives of the season make her an easy choice as a POTY runner up.
---
Santa Barbara Invite, President's Day Invite, and Stanford Invite ↩