A trio of players to keep an eye on in 2020.
Ultiworld's 2019 Women's College Awards are presented in part by VC Ultimate, a leading supporter of women in ultimate. They are also presented in part by the National Ultimate Training Camp, who can help prepare you to be an All-Star. All opinions are those of the authors. Thanks for supporting the brands that make Ultiworld possible!
Ultiworld is pleased to announced our sixth annual D-I College Awards. The criteria for each award can be found here — we consider both regular season and postseason performance in our selection of awards. As the overall top performers of the year, players selected as top three in Player of the Year voting are removed from consideration for other individual awards.
Links to all of the 2019 D-I Women's Division awards will be added as awards are announced:
Player of the Year Award
Offensive Player of the Year Award
Defensive Player of the Year Award
Breakout Player of the Year Award
Rookie of the Year Award (will be announced later this week!)
Coach of the Year Award (will be announced later this week!)
All American 1st Team (will be announced later this week!)
All American 2nd Team (will be announced later this week!)
D-I Women's 2019 Breakout Player Of The Year
Margaret Walker (Wisconsin)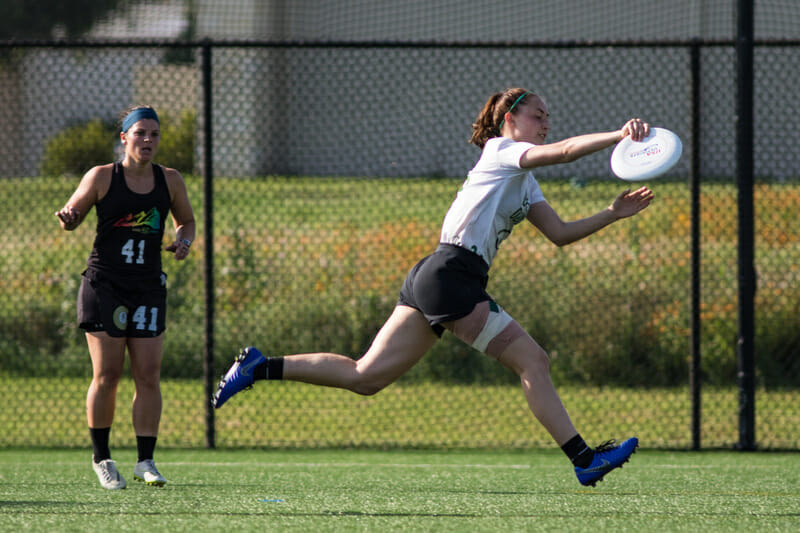 Thanks to a season-ending injury in her freshman year, Margaret Walker didn't get much of a chance to show her abilities through the 2018 college season. We knew she'd be good thanks to an impressive season with Heist in the club division — we just had no idea she'd be this good.
Walker was a revelation in her sophomore year. Wisconsin asked a lot of their young star and she rose to the challenge. Despite the heavy senior and grad student presence on the team, Walker was handed the keys to the offense, and led Wisconsin to their best Nationals finish since 2010.
As one of the most daring throwers in the division, Walker's quick trigger was an immediate advantage over her opposition. Without immense respect for her throws, Walker was happy to fire off unnaturally accurate hucks for her receivers. Even when the stakes were at their highest, Walker remained poised and calm, carefully picking out her shots and frustrating her defenders.
At Nationals, Walker's ability to battle through the wind was the difference-maker in many of Wisconsin's games. With her at the helm, Bella Donna fended off their opponents in two sudden death situations. By ending the tournament with 22 assists, Walker tied with four other players for the fifth most assists at the tournament. In that group, she was the only sophomore. Wisconsin's future is in safe hands.
1st Runner up: Tyler Smith (North Carolina)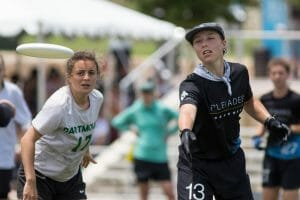 Last year, Smith was a nice piece for North Carolina. She finished seventh on the team in points1 and was fourth on the team in assists. But this season, Smith grew into the team's ace handler, a top end facilitator, and was arguably their most important player at Nationals.
Pleiades gained plaudits for their upwind offense in Round Rock, and Smith was very much at the center of that success. She was a prototypical quarterback of the UNC zone offense, and excelled in conditions that other players struggled mightily in. It was Smith switching to playing the upwind points that brought North Carolina back into their semifinal game against Dartmouth, and that was no coincidence.
North Carolina's strength this season was in its depth of playmaking cutters, but Smith expertly marshalled the line from the backfield and put her star teammates in the places to be as successful as they could be. In doing so, she became a star herself and should be one of the top handlers in the country next season.
2nd Runner up: Alex Diaz (UC San Diego)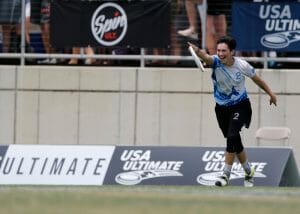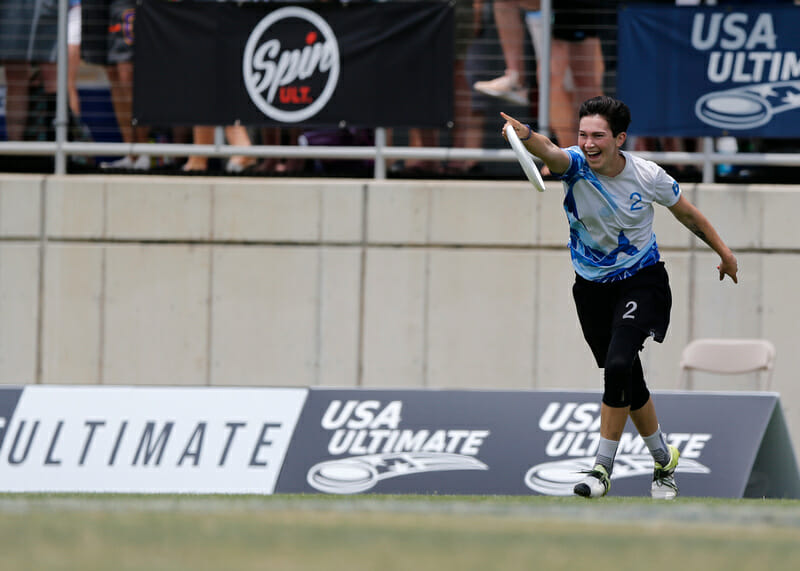 The surest sign of having a breakout season is having a key offensive role on a team playing in the Nationals final game… after having less than two years of ultimate experience.
Diaz is a breakout star in its purest form. After picking up ultimate in 2018, she worked constantly to develop her throwing and field positioning. This year, they finally started to match her natural athletic gifts. All season, Diaz confidently tore past defenders with aggressive cuts and matched it with nerves of steel once she corralled the disc, allowing for an easy pass to a teammate. As UCSD's primary downfield threat, Diaz would stretch the field and force the defense to respect her cuts. Her timing was a thing of marvel, too. UCSD's mold of relentless weaving in the backfield was supercharged with Diaz setting up cuts downfield. Too often a defender got burned after being lulled into inaction while Diaz prepared to strike. Thanks to UCSD's reputation and success, she was challenged by some of the best defenders in the nation, and outplayed them more times than not.
Considering the talent that has graduated from UCSD this year, it's a given that Diaz will have a larger role in the offense come 2020. If this season is anything to go by, it'll be thrilling to watch.
---
assists + goals ↩