The top performers of the year on the defensive side of the disc.
Ultiworld's 2019 Women's College Awards are presented in part by VC Ultimate, a leading supporter of women in ultimate. They are also presented in part by the National Ultimate Training Camp, who can help prepare you to be an All-Star. All opinions are those of the authors. Thanks for supporting the brands that make Ultiworld possible!
Ultiworld is pleased to announced our sixth annual D-I College Awards. The criteria for each award can be found here — we consider both regular season and postseason performance in our selection of awards. As the overall top performers of the year, players selected as top three in Player of the Year voting are removed from consideration for other individual awards.
Links to all of the 2019 D-I Women's Division awards will be added as awards are announced:
Player of the Year Award
Offensive Player of the Year Award
Defensive Player of the Year Award
Breakout Player of the Year Award
Rookie of the Year Award (will be announced later this week!)
Coach of the Year Award (will be announced later this week!)
All American 1st Team (will be announced later this week!)
All American 2nd Team (will be announced later this week!)
D-I Women's 2019 Defensive Player Of The Year
Julia Kwasnick (UC Santa Barbara)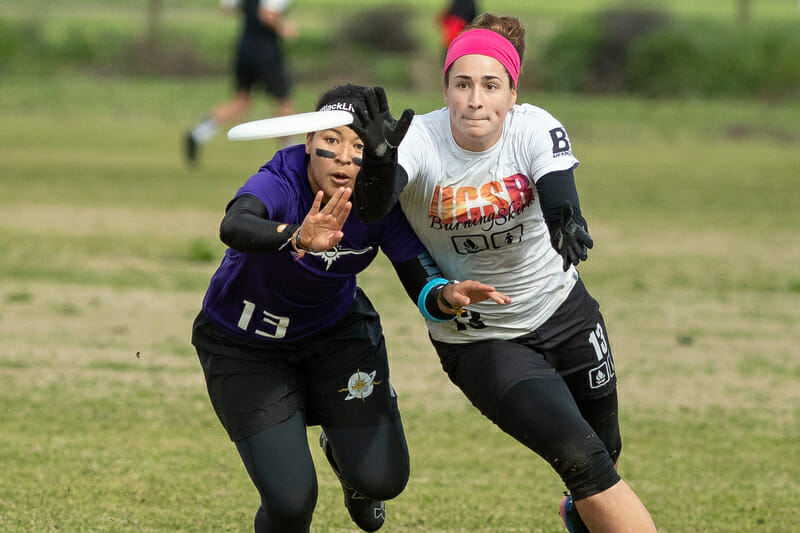 After announcing herself as a defensive prodigy in 2018, Julia Kwasnick managed to surpass her own abilities this season to become the black hole at the center of UCSB's strategy. Any disc that came close to her vicinity was soon absorbed by her gravitational pull.
Throughout the season, it was Kwasnick's defense that provided the spark the team needed to stay competitive against elite competition. UCSB continued to improve as an offense all year, but Kwasnick made their defense great from the first pull. The results speak for themselves. UCSB went 16-4 in the regular season, the best record they've had in half a decade. When Kwasnick rested in Conferences, the team had their worst performance of any tournament this season.
Kwasnick's mastery over defense is the stuff of legends. Not happy, poetic, fairy tales. No. We're talking the stories coaches use to scare young freshmen into doing as their told on offense. "If you don't clear out properly, Kwasnick will catch up to you and steal your disc!"
It's easy to see why UCSB relied so heavily on Kwasnick to carry the toughest defensive assignments — thanks to her physique, she's practically made for it. The government could spend billions on R&D and still not create something as perfectly equipped for defense as Julia Kwasnick. When matching against opponents in the college division, she towers above her peers, both physically and psychologically. It's not just that she could guard any cutter thrown her way, it's that she could do it while also helping three of her teammates with their defensive assignments, too.
Watching Kwasnick at Nationals was the equivalent of watching the trailer for an action film. Her 10G/12A/16D showcased all the best parts of her game, while still leaving you craving more. She was a distinct advantage in the wind, as UCSB could aggressively attack downwind knowing their opponents would not be able to get a huck past Kwasnick if there was a turn. If you're not a fan of hyperbole, she was the best defensive player on the best defensive team in the nation, and brought the team to the doorstep of a semifinals berth.
1st Runner up: Claire Trop (Dartmouth)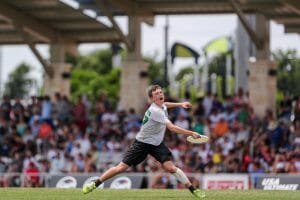 It's no secret that Dartmouth suffered without Claire Trop. After a hand injury that took her out for the middle chunk of the season, real questions about Dartmouth's ability were raised after a Northwest Challenge where they missed the bracket entirely. However, Trop came back with a vengeance in Round Rock to help take Dartmouth to the final.
The sophomore(!)'s speed and uncanny ability to put her body in the exact right spot every time the disc went up allowed her to win more discs in the air than her height should possibly allow her. She led the tournament with 22 blocks and was absolutely one of the best shut down defenders on the field at any given time.
The injury in the regular season prevented Trop from shining in the way she easily could have all spring. But fortunately for her, she still has two years to make her case for the top spot — of this, or an even bigger award.
2nd Runner up: Rebecca Fagan (North Carolina)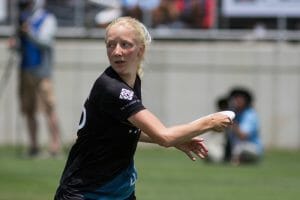 You've no doubt seen at least some of Fagan's impossibly explosive blocks by now. After UC San Diego's Dena Elimelech, there was no player more camera friendly on the defensive end than Fagan this year. Her high-flying capabilities gave her already long, athletic frame one of the largest zones of coverage in the division, and she led North Carolina in blocks a Nationals.
But the Callahan finalist was more than just a highlight reel machine. Her quickness made her a shutdown defender in tight spaces, too, and her closing speed made it difficult for anyone to gain meaningful separation. It's rare that a player is able to combine the visually spectacular plays with sound positional defense, too, but Fagan did just that in 2019.