Some top teams separated themselves from the pack while lightning cut short the prequarters round.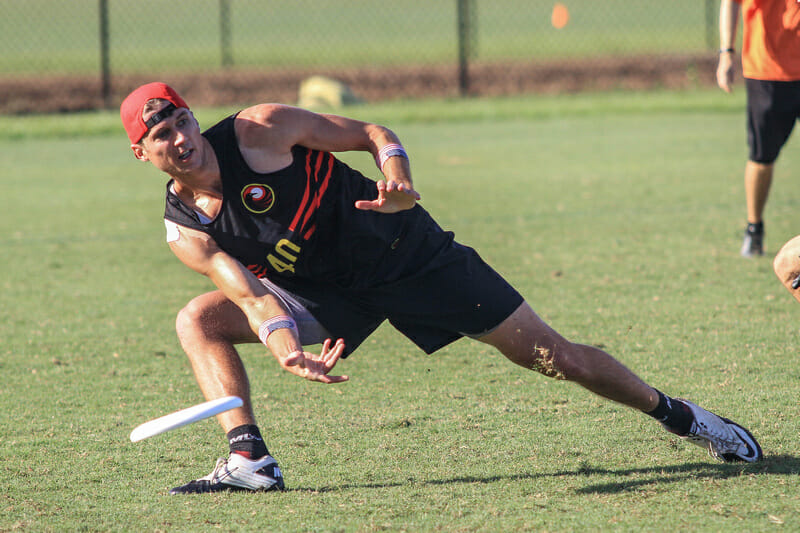 Ultiworld's reporting on the Club Mixed division is presented by Universe Point cleats. All opinions are those of the authors. Please support the brands that make Ultiworld possible and shop at Universe Point!
AURORA, CO – In a 180 degree shift from last year's Pro-Elite Challenge, the top seeded teams proved why they were so highly ranked. While there were plenty of close games over the course of the day, in the end, three of the four top seeds remained atop their pools.
Not everything was flipped on its head, though. In traditional Colorado fashion, a lightning delay interrupted play in the first half of the prequarter round at the end of Saturday, halting play for the day. As was the case last year, the round will continue first thing Sunday morning, with spots in quarters on the line.
Here's a look at the mixed bracket: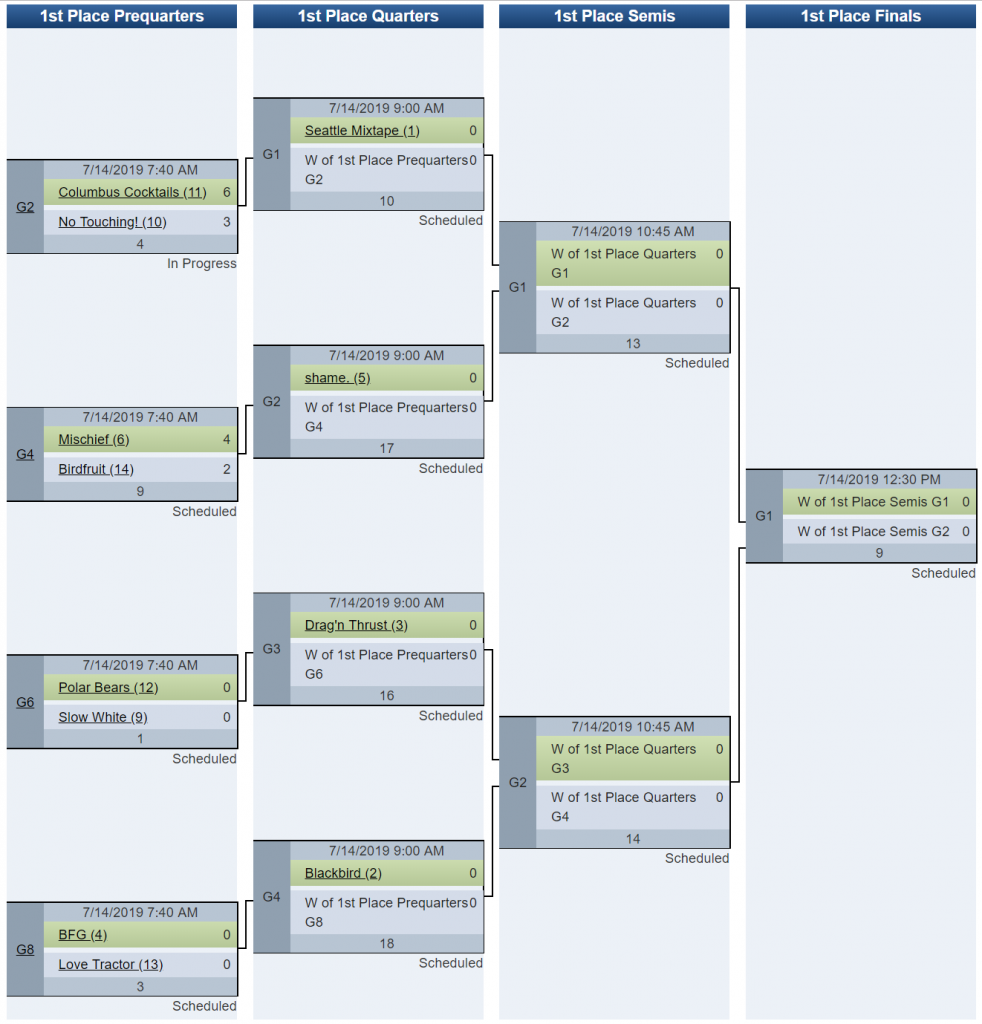 Top Teams Pull Away
The top three seeds in the tournament (#2 Seattle Mixtape, #5 San Francisco Blackbird, and #7 Minneapolis Drag'n Thrust) won their individual pools, though not without a few hiccups.
Seattle Mixtape came out firing, playing their trademark stifling defense against #16 San Francisco Polar Bears, and forcing them into difficult reset situations. With as much churn as the team had this offseason, it seemed fitting that Mixtape returned to their roots of playing aggressive defense on handlers, and pushing the pace on the turn. Handling their first game relatively easily, their next challenge came against a criminally underseeded #10 Denver Love Tractor team. While the timing of the matchup may have been earlier in the weekend than deserved, neither team disappointed.
Newcomer Dena Slattery fit right in with the Love Tractor offense, adding aggressive initiation cutting out of the Denver vertical stack and forcing defenses to account for yet another threat. It was a tight matchup throughout, with neither team able to pull away. Mixtape tried to push Love Tractor to a tempo they weren't comfortable with, but the Denver team played steady, patient offense to keep Mixtape at bay. That's not to say there were no break opportunities, but Mixtape seemed to feel the absence of Bert Abbott's precision and calm on the turn. Mixtape would eventually seal it on two straight breaks, but the margin was razor thin.
After closing out #17 New Jersey Jughandle in their last pool play game, though, the Seattle team has to feel confident going into bracket play. Ellen Goldberg stood out with her initiating cuts, providing a needed release valve when the new-look offense stalled out. With a quarterfinal matchup against either #14 Columbus Cocktails or #21 Minneapolis No Touching!, Mixtape is poised for a deep run on Sunday.
San Francisco Blackbird also showed why we ranked them so highly to start the year, pushing the pace where they needed to, and letting their stars take over just enough to take down Columbus, #22 Seattle Birdfruit, and New York City XIST in short order. Mac Taylor continues to be a gamebreaking talent, striking deep for big yardage gains out of the Blackbird isolation sets. He and Malina Wiebe led the way in scoring, but newcomer Shane Earley proved he should get more attention, showing off impressive speed and aerial ability to complement the Blackbird offense. They'll need to be well-rested and ready to go in the bracket, as their quarterfinal will pit them against either an impressive Denver Love Tractor or an athletic #12 Seattle BFG team looking to establish their new identity.
Minneapolis Drag'n Thrust had the toughest road to stay on top of their pool. While newcomer Becca Ludford added a speed dimension to the Drag'n Thrust cutting line that seemed missing in years past, the team's handler movement stagnated more often than they would like. Minneapolis found themselves in tight game scenarios throughout the day, even losing on hard cap to an inconsistent #15 Boise Lochsa squad. Lochsa's handler movement among Sarah Staller, Ryan Van Hook, and Paige Kercher put resets just out of reach of the Drag'n Thrust defenders and kept their vertical offense moving.
Against #8 San Francisco Mischief, Drag'n Thrust raced out to a 7-4 lead at halftime before Mischief tied it up with quick inside resets from Ben Feng and aggressive downfield cutting from Gina Schumacher and newcomer Lexi Zalk. With the game on the line, Drag'n Thrust turned to Sarah Meckstroth and Brian Schoenrock, and two straight breaks kept them on top of pool C. Their road to the final is a tricky one, with #3 Boston Slow White or San Francisco Polar Bears lurking in the quarterfinals.
Pool D Madness
Seattle BFG, Boston Slow White, and #9 Fort Collins shame. took turns beating each other up today, with each one losing to one of the others. The shame. deep game looked like it was firing on all cylinders against BFG, with multiple one-pass holds from Nick Lance and Zackary Fleming. Against Slow White, though, shame. didn't enjoy the same height advantage, and found themselves throwing into coverage more often.
Slow White, for it's part, was feeling the absences of Ari Nelson and Tannor Johnson, two key parts of the Boston offense who are away on U24 duty this weekend. As points dragged on against Seattle BFG, the team seemed to lack a safety valve. Orion Cable pulled in his share of big, floating hucks over shame., but BFG's swarming defense made for slow going.
Meanwhile, BFG was adjusting to an overhauled offense that was still finding its rhythm. Kerry Chang and Annamaria Pape provided the primary cutting, but too often the offense stalled out. BFG moved Tommy Li to the offense to jumpstart the stack movement, and he stepped up to cut every other and keep BFG close. However, BFG's defense had no answer for the variety of release points and deep looks from Lance and Owen Westbrook in a loss to Fort Collins.
In the end, shame. took the pool on point differential, dropping Slow White into a prequarters matchup with Polar Bears, and BFG into the unenviable position of facing a strong Love Tractor team. With so many evenly matched teams, Pool D was bound to be tough to survive, and the results bore that out.
Quick Hits
We saw significantly more offensive variety this year than in years past. Last year, it seemed as though every team (aside from Love Tractor) was running a sidestack isolation off the pull, and staying in that offense for as long as possible. This year we saw more vertical stacks, some horizontal offenses coming back into style, and even a few points of split stack. Long live continued offensive innovation!
Seattle Birdfruit were struck with some bad luck on the flight in, as the box containing their new uniforms dragged across the Denver airport tarmac. Some team members looked more like extras on Survivor than ultimate players. Check back later for an update on some surely unique tan lines.
On the uniforms note, shoutout to Love Tractor for having some of the nicest white jerseys I've seen in awhile. Most teams didn't even have a full set of uniforms yet, but Love Tractor's caught my eye immediately in their first game. Thin bands of color from the Colorado state flag across the front, with some nice vector graphic mountains to accent. I'll try and get a photo tomorrow, but I was impressed.