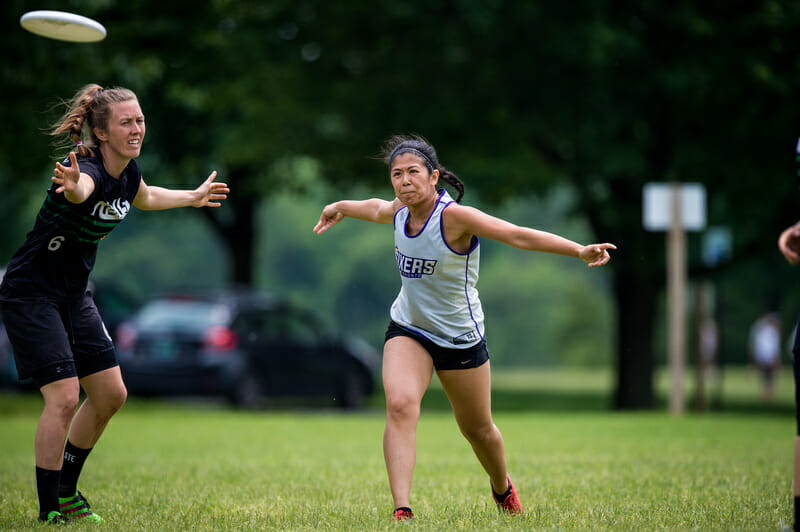 During the 2019 summer and fall season, we will publish a bite-sized weekly recap of the action across the Club Division. This will serve as a supplement to our standard tournament reporting and will offer a high-level look at the latest happenings and the biggest stories of the week. We go through the annals of score reporter so you don't have to!
Want your tournament listed here? Submit a recap of what happened right here. 
—
This was easily the biggest weekend in the 2019 club season so far. The Triple Crown Tour series kicked off with two major tournaments: the Pro-Elite Challenge and the west coast's Select Flight Invite. The Pro-Elite tournament gave priority to teams who competed at nationals last year, and filled out the bottom bids with top ranking Select Flight teams. The Select Flight Invite included teams who finished one place from nationals qualification in 2018. This meant some of the best teams in the country faced off in each division, and we got our first look into which teams are rising to new heights and which teams are struggling to reach last year's watermark.
In addition to those big name tournaments, the classic division was hotter than usual, with mid summer tournaments giving glimpses into new and emerging regional trends.
Mixed Division
The Mixed division of Pro Elite Challenge had it all: big upsets, thunderstorm delays, and an impressive run by the home town team. At the end of day one, the tournament looked like it was going to follow seed pretty strictly, with Seattle Mixtape, San Francisco Blackbird, Minneapolis Drag'n Thrust, and Fort Collins shame. winning their pools. Saturday thunderstorms pushed the end of prequarter games to early the next morning, but they may as well have slept in: all teams that were ahead at the onset of the delay completed their wins. By Sunday, of the four top seeds, only Seattle Mixtape appeared in the semis. And out of left field, an unstoppable Denver Love Tractor eliminated Seattle BFG and San Francisco Blackbird, who came in as the 4th and 2nd seed respectively, and followed it up with a win over Boston Slow White in the semis. Love Tractor seemed determined to validate the rumor that training in Colorado makes you uniquely qualified to succeed in high altitude tournaments, but it wasn't just the air: Love Tractor succeeded at arguably the toughest route through the final bracket, and put up decisive wins against San Francisco Polar Bears and Princeton Jughandle in pool play.
Overall, Mixtape took home the win, dispelling doubts that top end turnover would hamper their established system-based and well-distributed offense. Almost none of their games could be considered close: the tightest game they played was with Love Tractor in pool play, and they crushed their championship bracket opponents by four points or more. Mixtape isn't just holding on to their 2018 reputation as a top team in the division; they're showing serious momentum upward.
Check out the full story in our full tournament recap and day one recap.
Surprising Moondog Tops Rally in Select Flight Invite West Final
It didn't take long for the seeding to crumble in the Mixed division of Select Flight Invite West; within the first two rounds of play, the top three seeds had all been upset.
One of those upsets was engineered by no. 12 Montana Moondog, who took down no. 2 Seattle Lights Out, and continued earning victories until there were no more to be had. Despite playing close matches throughout, including one goal wins in their semifinal and final matches, Moondog went undefeated, and took home the tournament championship. The Northwest region has experienced a lot of change, but new club Moondog adds a second early season trophy to the region's cabinet, with Mixtape winning PEC.
Montana's opponent in the final, #23 Washington DC Rally, came in as the no. 3 seed but our highest ranked team at the tournament. While they dropped their opener to Fight Club and their closer to Moondog, they did go 5-2, a solid start in a region where bid-earning will be a big. Meanwhile, Northeast visitors New York Grand Army and Connecticut Metro North each bowed out in quarterfinals and went a combined 4-6 against out of region competition,1 an inauspicious start to the season.
Favorites Control Philly Invite as Loco Takes the Championship
Philly Invite showcased talented top seeds, with West Chester Loco, Boston League of Shadows, Cambridge Chaotic Good, and Rockville Sparkle Ponies each finishing pool play with a 3-0 record. Loco went relatively unchallenged throughout the weekend, with their closest game being their semifinal with Sparkle Ponies and culminating in a win in the final over League of Shadows. Captain Sarah Coyne and Quinn Hunziker contributed heavily to the final win. Coyne earned five blocks in the final game and Hunziker contributed three goals. Baltimore Fleet, a first year team, broke seed by the highest margin, moving from 16th seed to ninth place.
Quick hits:
Women's Division
Scandal Takes First Major Event Over Molly Brown
At Pro Elite Challenge this weekend, top teams Denver Molly Brown, DC Scandal, and Toronto 6ixers and Portland Schwa continued their dominance over the women's division, earning berths in semifinals and winning all their pool play games without much challenge. Further down in pool play, there were more mix ups: San Diego Wildfire dropped from no. 7 seed to the bottom of their pool with losses to Phoenix, Grit, and Scandal. But take that with a grain of salt: both Raleigh Phoenix and DC Grit played up this tournament. Columbus Rival surged ahead of Atlanta Ozone in their pool, winning a head to head game 13-10.
As with the other divisions, lightning cut short the prequarters and forced teams to continue the next morning. Three of the games resolved as they had left off, with the leaders still ahead after the rematch. But in the fourth, Phoenix managed to pull ahead of regional rival Ozone to advance to the quarterfinals. Rival notably crushed Grit to advance to quarters. In this division, the rescheduled early rounds seemed to dampen the energy of the teams affected, as none of the teams who made it out of the prequarters advanced out of the quarterfinals.
When Scandal met Molly Brown in the final, they showed their cohesion and talent off immediately, earning several breaks to claim a 7-3 halftime lead. Coming out of half, Molly Brown found their groove and went on a five point run, bringing the game to 8-8. Scandal responded by doubling down on their top talent, and went on a run of their own. Molly Brown fought back to even it up at 11-11 right in time for hard cap. An unstoppable Scandal offense controlled the last point,  as Kath Ratcliff found Casey Gorman for the final score and the win. This victory by Scandal to finish out the tournament confirms the rumors that Scandal is well on their way up the rungs of the women's rankings this year.
Check out the full story in our full tournament recap and day one recap.
Traffic Shows They're A Cut Above in Select Flight Appearance
While the seeding didn't hold up to the competition at Select Flight Invite West, one designation certainly did: no. 1 seed Vancouver Traffic ran circles around the opposition on their way to the tournament victory. The result came as little surprise, since #13 Traffic entered as the heavy favorite. Their presence was necessary for Traffic to meet their TCT requirements, though it still was odd, and they won their games by wide margins. That includes a 13-1 rout of fellow Northwest club Seattle Soul in the final.
Soul and Traffic were joined in the semifinals by New Jersey Pine Baroness and Los Angeles Rampage. The LA club and Soul played a close match, and both had been quite impressive on their way to the semifinal, though their parity did not bode well for the winner's fate. Pine Baroness, the lone team from outside of the top four seeds to reach the semifinals, looked a step behind, with a 3-3 record and losses to both Traffic (13-4) and Soul (12-9). But the Princeton team ended consolation play in third with an 11-6 victory against Rampage, so draw your own conclusions.
Quick hits:
At a windy second day of Ow My Knee, Boston Vice took a narrow win over first year team Albany Rebel Rebel in a 9-8 final. Both teams went undefeated until the final, and each beat top seed Portland Frolic.
Virginia Rebellion won Scuffletown Throwdown, but YCC club team Chapel Hill Warhawks went on complete rampage to make it to the final, which should turn some heads. Warhawks came in Saturday as no. 10 seed, but won their pool over Brooklyn Book Club before eventually falling to Virginia Rebellion 13-11 in the final.
Men's Division
Sockeye Wins PEC, While Shorthanded PoNY Disappoints
The first day of Pro Elite Challenge passed with top seeds New York PoNY, San Francisco Revolver, Seattle Sockeye, and Washington DC Truck Stop ultimately holding onto their top spots, though not without some serious setbacks and dangerously close scrapes. Sockeye had a notable pool play loss to Sub Zero, whose offense couldn't be shaken, and only managed to win the pool in a three-way tie.
The result of deciding it all on point differential was a lopsided bracket with a very strong Toronto GOAT seeing PoNY in the quarterfinals. PoNY, playing with a skeleton crew, fell to their regional rival 13-8 in the biggest upset in the bracket. Despite their rocky start on Saturday, Sockeye found their rhythm on the second day, taking down Rhino Slam! and Doublewide by wide margins to advance to the finals. On the other side of the bracket, Truck Stop marched through Chicago Machine and GOAT.
In the final, Sockeye came out hot, collecting several breaks almost immediately and establishing a comfortable 5-1 lead. But Truck shifted the momentum and went on a run of their own, winning half 7-6. Despite losing star players for flights, Truck traded with Sockeye for the second half, culminating in coming out on offense for the double game point. But Sockeye stepped up: a hand-block from Ben Snell gave them the chance they needed, with Freechild to Housman for the game winning score.
Check out the full story in our full tournament recap and day one recap.
Traveling Smokestack Wins Select Flight Invite West
Top seed Cleveland Smokestack ran the table at Select Flight Invite, beating Durham Turbine both to start the tournament and in the final, earning their first tournament victory of the season. They're headed to the Select Flight East in a couple of weeks, and could conquer both sides from the middle. Given that the Great Lakes club landscape has changed a lot with the dissolution of High Five, Smokestack's start inspires confidence they could slot in as the second strongest club in the cohort.
The four semifinalists came from Pools A and B; Turbine bounced back from the aforementioned loss to Smokestack to reach the final. Durham battled through double game point against no. 2 San Diego Streetgang, who were upset by Chicago Haymaker in pool play. That Haymaker squad was the last semifinalist, but they got thumped by the future champions. Great Lakes, great times, indeed.
Quick Hits
Looking Ahead
Not much can match the previous weekend, but there are several club events coming up this week.
New Jersey Warm Up gives a glimpse at youth club on the East Coast.
Club Terminus in East Point Georgia will bring together southern teams in a series of local skirmishes in all divisions. For mixed, Florida Weird will come in as top seed while St. Petersburg Mutiny looks to continue a so far undefeated season. We see Birmingham Steel coming in as the top seed for the women's division, with Houston Crush City likely to give them a good challenge. In men's, Tennessee Tanasi hopes to maintain their reputation as the top seed in the area.
Lots of classic mixed tournaments this weekend: Bourbon Bash will pit mixed teams together in Lexington, with Nashville Trash Pandas and Pittsburgh Crucible vying for top spots. Minnesota Ultimate Disc Invitational in New Richmond will see a local mixed teams duke it out, with Minneapolis Bird coming in as the top seed. Revolution in San Francisco will draw mixed teams from a wide radius around the west coast. The Royal Experience in Kansas City will run a mixed division as well.
Men's teams will be traveling from around the east coast for Stonewalled, with Virginia Vault and Brooklyn Blueprint holding the top spots. The Royal Experience will draw several local classic men's teams as well. Colt and Red Tide top the lists at the men's division of Portland Vacationland, while the mixed division will see Sunken Circus, Darkwing, and Scarecrow battle for top spots. SunRise Open will feature a men's and mixed division in Virginia Beach as well.
---
Grand Army topped Metro 11-10 ↩