For the first time in a long time, Clapham looked exposed.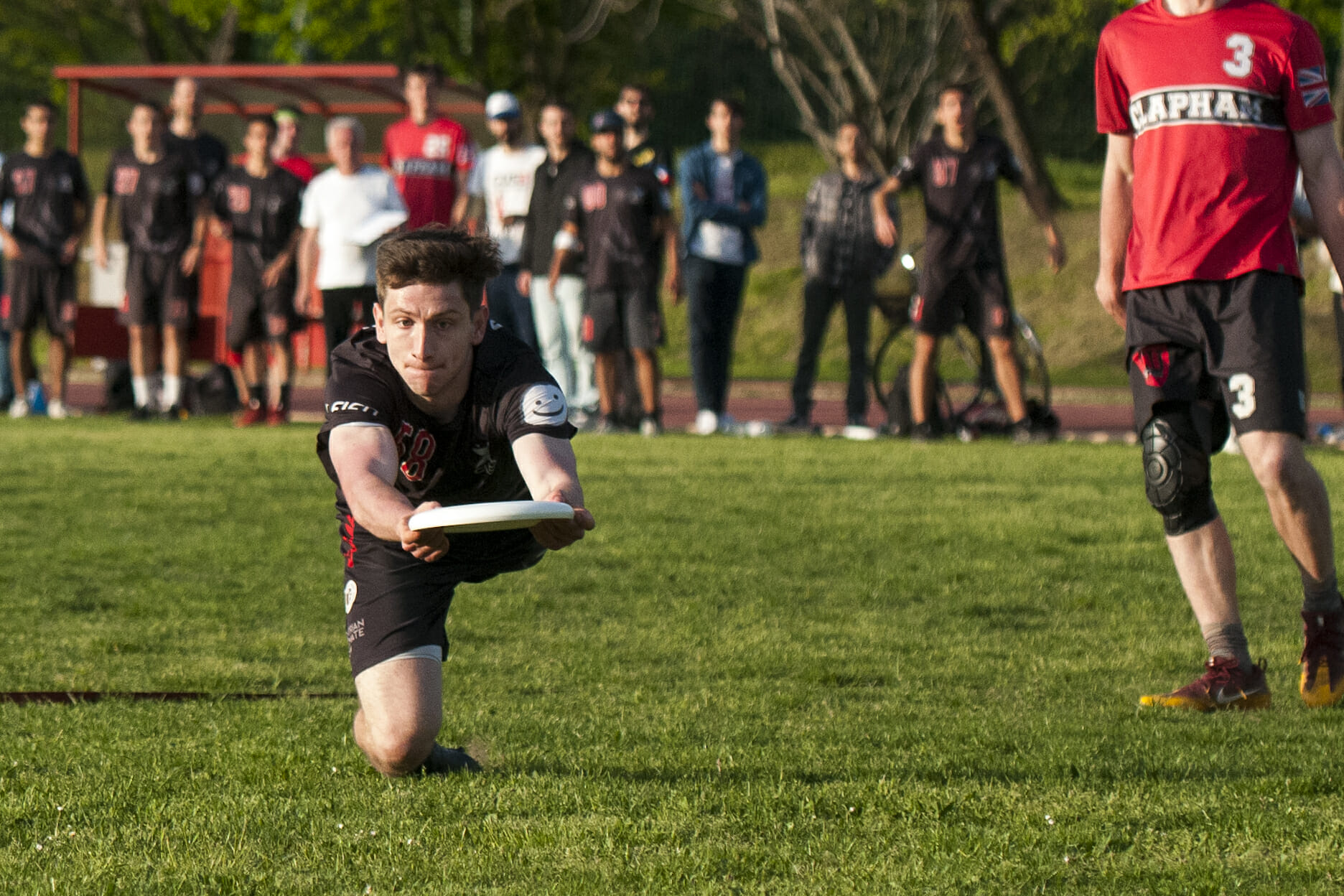 While Bologna's CUSB La Fotta has been on the rise for a number of years, they've always been stopped in their tracks by the undisputed kings of Europe: London's Clapham Ultimate. CUSB were hotly tipped to make the final at EUCF, but to actually topple Clapham would be something else. Sure, they'd beaten Clapham at WUCC 2018, but they had a number of high-profile pick up players at the time; could home-grown Italian players do the job?
In a game with shades of New York PoNY's upset of San Francisco Revolver last year at the USA Ultimate National Championships, CUSB not only beat Clapham but thoroughly dismantled them, 15-7, in a one-sided affair. How exactly did this matchup turn to such a large degree?
Precise Throwing
CUSB's individual skill level is very high; they have precise inside breaks, set up their cuts well, and looked far more comfortable working at a high intensity than Clapham. Even without any of the tactics they deployed, they dominated Clapham man vs man all game, and it's very rare that Clapham are on the receiving end of such a beating outside of North America. In particular, the wide & low pivots of the Italian side were able to make a mockery of some static marks, allowing them to move the disc with ease in any direction.
https://gfycat.com/LastingDecisiveFinwhale
CUSB also punished Clapham's zone, using fast, accurate passes to cut through the middle before quickly shifting downfield. Clapham were often chasing shadows because CUSB were taking on throws that Clapham just didn't expect them to be able to hit with any reliability. When your game plan is to force accurate throws into narrow windows – and the opposition is hitting them with ease – then you need to go back to the drawing board.
https://gfycat.com/VapidGenuineHatchetfish
La Fotta Rules the Skies
Usually, it's the big British players who dominate in the air. Not any more.
Clapham are a tall team, certainly taller than CUSB, but it was the Bologna side that consistently won the aerial battles. Nearly every 50-50 ended with CUSB in possession, and the confidence boost of winning some early matchups helped drive CUSB onwards as they continued to throw aggressively. Clapham only succeeded when they threw out to space – something they did well early in the game – but CUSB did a good job of containing Clapham's deep game. CUSB's tight person defense pushed Clapham's receivers deep, relying on shifting marks and a force middle to slow down Clapham's throwers, and good closing speed to generate blocks.
https://gfycat.com/LinedSmartCivet
https://gfycat.com/DecimalImpressionableEchidna
Clapham's long throws were not very well executed as a whole, as these examples show: only a handful were put to space all game. Both examples above are well short of where they need to be, and far too high, and CUSB defenders were quick to body up, forcing the receiver in both cases to pick a position in which they were unable to reel in the throw.
Compare with these throws into traffic from CUSB — in both, there are multiple Clapham defenders under the disc, yet no attempt is made to box out the receiver. Rather than preventing the CUSB receiver from making any play on the disc, Clapham seemed to be confident that they would be able to sky on both occasions.
https://gfycat.com/PlumpImmaterialCreature
https://gfycat.com/CharmingNaiveDeinonychus
Making fundamental errors like failing to box out receivers speaks more to the pressure that Clapham were under than anything else. They just don't normally make these mistakes. CUSB were playing a near-perfect game offensively, which only helped to build additional pressure. Under normal circumstances, the release valve for Clapham is to fire deep to their athletic receivers, so when that didn't work, and instead it was CUSB who was winning all the aerial battles, Clapham began to crumble.
Clapham also took on some suspect long throws. This one is thrown in a very narrow channel, leaving the receiver no possibility of attacking it when it was shorter than required:
https://gfycat.com/FlippantIdleHoneybadger
In the final point of the game, Clapham primary handler Josh Briggs threw a long backhand that sailed out of bounds. That is the result of game-long pressure. Clapham's throwers, normally so calm and confident, doubted their own abilities, with disastrous results. CUSB clearly won the long game.
Handler-Driven Offense
CUSB were very comfortable playing small ball and working in tight spaces.
https://gfycat.com/SnappyCostlyEuropeanfiresalamander
CUSB did a great job of using their cutters to churn up yards, then, as they approached the end zone, they seemed to prefer looking at the cutters closest to the disc instead; watch this clip below (we'll come back to look at this again later).
https://gfycat.com/LeanMenacingHind
I'm a big fan of this type of movement immediately after a call, a throw to space that's undefended away from the stack. Also note the scoring cut — the cutter runs directly towards the disc, sealing the lane from his defender. With the marker peeling off to prevent open side continuation, it becomes easy for the cutter to make a last minute move to the break side for an easy goal.
https://gfycat.com/SelfishTastyAfricanrockpython
Open for Unders Consistently
Everything was working going deep for CUSB, and Clapham's response was simply fear; rather than double down on defensive pressure, Clapham's defense seemed to worry more about being beaten long. The result, inevitably, was CUSB getting open for unders all game, something they would relish. Clapham's defensive positioning was particularly suspect. Even in the endzone, when getting beaten deep was unlikely, Clapham defenders didn't reliably deny the under. In fact, CUSB were able to score at the front cone:
https://gfycat.com/CooperativeMammothBullfrog
again,
https://gfycat.com/RigidPopularDragonfly
and again,
https://gfycat.com/OddBruisedAmericanbittern
and again.
https://gfycat.com/VastAptHadrosaurus
I don't want to belabor the point, but this is 'defense 101'. Open side endzone cuts to the front cone just shouldn't be this easy in the European final; if you can't defend the open side under, then you're not going to be able to defend anything. Look at how easy those assists are; it's not the level of defense that Clapham are known for, and it largely comes down to poor defensive positioning and a lack of focus. Watch the clips through again and you'll notice the defenders guarding these cutters showing a combination of poor fundamentals: poor body positioning, taking their eye off the cutter, or standing flat-footed. CUSB were able to take advantage of these lapses in focus repeatedly.
For the best part of a twenty years, Clapham have been a team famed for ferocious defense and coming back from behind due to a never-quit attitude. In this game, the body language on display from some of Clapham was negative from the first break to the end.
Mounting Pressure
Clapham failed to adjust to CUSB's defensive schemes, repeatedly finding themselves stuck in the back of their own endzone, like this example, partly down to poor pull fielding: by failing to catch the pull, Clapham give La Fotta more time to chase down and set a trap.
https://gfycat.com/WealthyBrightKusimanse
Even with weaker pulls, Clapham didn't always use the space & time given to them to initiate movement off the pull; with two open lanes, Clapham some how end up struggling to reset instead, partly down to some lackluster cutting, and partly due to some minor poaching off a poorly positioned dump.
https://gfycat.com/MerryBlankGossamerwingedbutterfly
This isn't normal for Clapham. It's a sign that even the most successful club in Europe can crumble when under pressure, and it is the team from Bologna who deserve praise for humbling the giants from London.
Coming in part two: the tactical approach that secured CUSB's victory!