Gear up for some of the best teams in the division establishing the pecking order.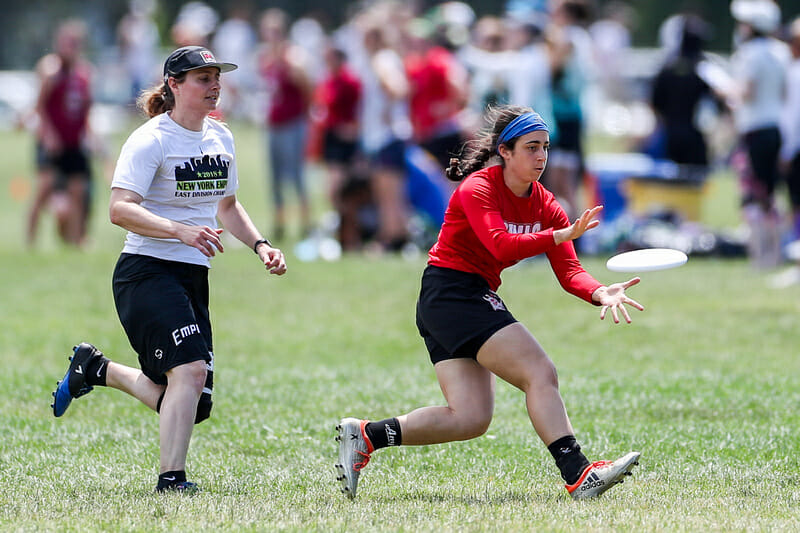 Ultiworld's reporting on the Club Mixed division is presented by Universe Point cleats. All opinions are those of the authors. Please support the brands that make Ultiworld possible and shop at Universe Point!
The U.S. Open has a reputation for producing historic matchups between the world's best teams. A tournament that draws the top U.S. teams and often brings in ambitious world talent, games at the U.S. Open often occur as teams hit their stride. But it's still early enough in the season for teams to shock and surprise: we haven't seen some of the biggest names on the big stage yet. Add that to the inherent excitement of mixed — drastic differences in strategy and play distribution often cause unpredictable upsets — and we are guaranteed a wild weekend of high-quality games.
Tournament Profile
Date: August 2-4
Location: Blaine, MN1
Weather: Hot and sunny throughout the weekend, with a low percentage threat of thunderstorms in the afternoon Saturday and Sunday. Temps in the mid-80s.
Top 25 teams: 9


Will The Pro-Elite Challenge Pecking Order Stand?
Of the mixed division teams coming into this tournament, a handful have already seen top tier competition at the Pro-Elite Challenge. #2 Seattle Mixtape led the pack, proving that replacing a large chunk of their roster may have sped them up instead of slowing them down. If what we saw in Colorado was Mixtape in the initial stages of rebuilding their chemistry, it would be foolish to expect anything but greatness this weekend. New additions Kieran Kelly and U24 standout Abby Hecko bring new energy to the field. Experience matters in these longer, higher pressure tournaments, and with talent from returners Jen Cogburn and Henry Phan and seasoned leadership from Ari Lozano and Khalif El-Salaam, Mixtape has a good shot at the gold.
#8 Minneapolis Drag'N Thrust may have finished below seed at PEC, but they'll have the home-field advantage this weekend. If Drag'N can solidify their lines and find the downfield flow their cutters are capable of, they will be unstoppable. And since the team has had the opportunity since PEC to figure out where experienced defensive cutter Becca Ludford fits with existing standouts Caleb Denecour and mega-threat Sarah Meckstroth, they may just have nailed that chemistry down. But if their rhythm is off or their opponents find a way to shut down their dominant cutters, they may streak cold.
The Bay Area is sending two powerhouses to the U.S. Open: #10 Mischief and #9 Blackbird. San Francisco Mischief had a sneakily good performance at PEC, matching seed and finished sixth after getting bumped out in quarters by shame. San Francisco Blackbird struggled, with a second day fraught with unusual execution errors and a disappointing eighth place finish. Blackbird is in the position to surprise at the U.S. Open, and has plenty of experience handling the pressure of large, multi-day tournaments.
#11 Seattle BFG has a lot of work to do in this tournament, as well. In their first international tournament since winning WUCC 2018, the Northwest club suffered from over-dependence on their top players. But in the month since PEC, they very well may have developed more trust for their teammates and hammered out some of those chemistry issues.
Our First Good Look At Some Top Teams
AMP, Snake Country, and Space Heater are three of the four semifinalists from last year's Nationals, all with rosters that threaten a podium run. But this is their first showing at a tournament that can seriously test them, game after game. What can we expect?
With most of their turnover happening on the women's side of the roster, #5 Boston Snake Country has strategically added serious handler muscle to their lines: Shellie Cohen moved over from Brute Squad, and Lauren Doyle joined after leaving Metro North. Both are capable of running a calm offense and making huge throws. Last year, the women on Snake Country were integral scorers, midfield disc movers, and deep targets. Adding Cohen to the established and talented handler triad of Aura Mackenzie, Brian Garcia, and Jacob Taylor could allow Snake Country to put up several lines of impenetrable offense. Add the explosive power of Jamie Quella and Davis Whitehead on defense, and we can expect the Snakes to go far into the bracket.
#1 Philadelphia AMP hasn't lost a game yet this season, and they haven't just played within their region. A trip to Boston Invite gave them significant wins against Snake Country, Slow White, and Wild Card. AMP is a favorite to win the whole thing with their powerful roster, but they will have a hard path full of unknowns through the bracket. If they win their crossover, they are likely to have to go up against either Mixtape or Snake Country to advance to the final, two teams who will have played AMP recently and may have answers ready for AMP's dominant strategy. Their core has remained strong, and they're likely to rely on returners like Michael Ing,2 Sean Mott, Linda Morse, and Raha Mozaffari to make big plays in high pressure games.
#6 Washington DC Space Heater has played in four games this year, and put up a 2-2 record, losing to local competitors AMP and New Jersey Jughandle. It's not the best start for last year's semifinalists, but the great thing about a team full of veterans is that they know how to win games when it matters. The most shining example is their semifinal game at 2018 Mid-Atlantic Regionals, when Pittsburgh Alloy took half 8-2, and Space Heater won 13-11. We expect a midseason version of this team that has shaken off some of its winter lethargy and cleaned up its act. Space Heater plays up when they need to, and with U24 players Clea Poklemba and Ella Juengst joining their team this year, they will be hungry for wins to help bring bids into the Mid-Atlantic. They join a pool with a lot of question marks: Australian team Ellipsis brings a strong squad of unknown Australian superstars, and BFG may prove under-seeded at no. 11.
Welcome, Neighbors! What's The International Scene Like This Year?
Ellipsis Is Coming: First To Revolutionize The Division, Then To Win It
Melbourne Ellipsis was formed as a team focused on equity in mixed division play. This weekend, they plan to use balanced play and a system that works for their talented female athletes to get themselves onto the podium. There are four tenets to Ellipsis' approach making mixed worth it for the elite women on the team: the first is putting women in the lead. Cat Phillips and Georgia Egan Griffiths are captaining this tournament. And they have focused on creating female leaders at a board, administrator, coach, and player level. With women in key leadership, Ellipsis is unlikely to fall prey to the ever-threatening dude-ball that can come out to plague the later stages of these tournaments and which weakens the fabric of the team.
The second tenant: organizing the field the right way. Cat Phillips claims that Ellipsis has developed "(an) on field strategy very focused on creating space and utilizing the strengths of our women." Mixed is begging for a breakthrough like this. If Ellipsis has managed to organize their offense in a way that showcases the whole gamut of different types of athletes on a mixed field, they will roll through less organized teams.
Third, Ellipsis focuses on putting big decisions in the hands of their female athletes, actively encouraging them to have a respected position speaking up in strategy, line calling, and team decision making. And once they succeed with this, they boost it. Their social media actively reflects and celebrates the skill and cleverness of the women on the field.
Lastly, they're serious about their club's culture, and about only rostering players who have good mixed in mind. They prioritize it over all else. It could be the combination they need to go far into the U.S.-dominated tournament and make some serious waves in the global pecking order.
Any team that Cat Phillips plays on is going to turn some heads, but Georgia Egan Griffiths has been tearing up the Australian ultimate scene for years and is likely to have a breakout tournament this weekend. She carries a significant impact on a team with her ability to put up huge break throws and create calm within the offensive flow.
They are bringing some serious young talent as well. Offensive anchor Oliver Loughnan is only 18 years old, and played his first Division I Nationals this year. Lucy Deller is another 18 year old on the road to stardom, a confident player who is capable of making big plays on both offense and defense.
Voltaje Gets Better Every Time We See Them, But How Good Are They This Year?
The established mixed team from Colombia tied for ninth at WUCCs in Ohio in 2018. Their roster for the U.S. Open carries significant, though not overwhelming, overlap from last year's world championship games, with eleven names showing up again this year. International experience and familiarity with the U.S. teams, as well as the confidence of placing in the top ten in the world, could come together to allow Bucaramanga Voltaje to surprise at the U.S. Open.
Their roster includes two young stars who made an impact in the recent U24 World Championships. Both Daniela Hernández, who threw 13 assists and caught eight goals for an already star-studded Colombian U24 women's team, and Michael Espinosa, who completed nine assists and 10 goals for the men's team, will be tasked with leading the team through high pressure games. Along with Luisa Sánches, these young stars create the backbone of Voltaje's offense. Powerful defensive players to watch include Anderson Ortega, Taewoo Kim, and Paola Hernández. They are led by captains Luisa Sánchez and Harving Suárez, who both appeared on the 2018 Worlds roster, and coached by Diego Córdoba and Oscar Córdoba.
The Tokyo Two: Crazy And Chaos
Two mixed teams from Japan will take to the fields in Blaine this weekend. Tokyo Crazy and Tokyo Chaos both hail from a city renown for ultimate talent. With no overlap from the recent U24 teams, and no carryovers from Buzz Bullets, both teams will have the advantage of knowing way more about their opponents than their opponents know about them. New additions the U.S. Open, they are the wildcards that every good mixed tournament needs.
---
Central time zone, so a listed 1:30pm start time for a game is 2:30pm on the East Coast, 12:30pm Mountain, and 11:30am Pacific ↩

after a season away ↩