A major prove it tournament for teams in the division's middle tiers.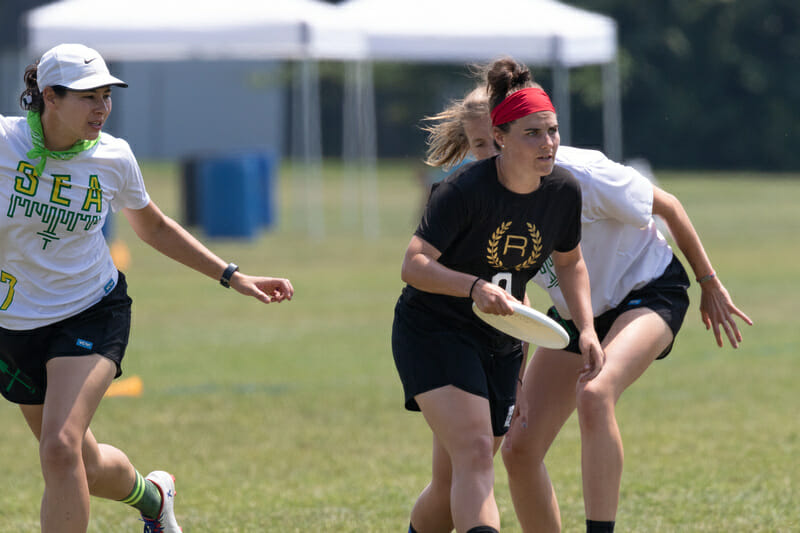 As we near the end of the Triple Crown Tour regular season and the pecking order within the very top of the division is becoming evident, the middle of the pack is anything but set. This weekend, teams are descending on Rockford, IL to prove themselves at the Elite-Select Challenge. For some, this is their debut TCT event; for others, it is their chance for redemption or continued dominance.
Let's face it: it's the middle of August and the summer is dwindling away. We've now begun to enter the now-or-never phase of the regular season; teams will be feeling the pressure and looking to perform.
Tournament Profile
Date: August 17-18
Location: Rockford, Illinois
Weather: Temps in mid to low 80s. High humidity and chance of thunderstorms Saturday and Sunday.
Top 25 teams: 12


Raleigh Phoenix Following Up On Strong PEC
No. 1 seed #8 Raleigh Phoenix proved themselves to be a formidable opponent at the Pro-Elite Challenge a month ago when they finished fifth — even without Ashley Powell and Anne Worth — earning their right to the top seed of Elite-Select. Their roster now also boasts the likes of Claire Revere, Lindsay Soo, and Lyra Olson, leaving them with no obvious gaps for other teams to capitalize on. The impact of Revere, for one, cannot be understated: she can drive an offense through her athleticism and throws, making her a downfield threat that is hard to stifle. But the squad is full of athletes beyond Revere who thrive in tense games and whose mental strength can be the difference maker.
Further argument for Phoenix's impending dominance is that the competition is familiar this weekend, as they already faced five of the teams in attendance this weekend at PEC last month, and won every match up without too much difficulty. Even this weekend's no. 2 seed, Rival, couldn't keep their game with Raleigh close in July, but with a big tournament win from Select Flight Invite East on their resume now, the challengers could come into this weekend firing on all cylinders.
Is A Second Straight Victory Possible For Rival Without Knowles?
#9 Columbus Rival proved their capability at SFI East in their hometown in late July, and now they're poised to try for another tournament title in Rockford. Rival walked through their last competitive weekend relatively uncontested until the final against Underground, where they won by two points in a tight, gritty match. Unfortunately during that game, one of Rival's best, Sophia Knowles, was injured; it was later confirmed that she has a torn ACL and will miss the remainder of the season. Before the injury, she was the driver of Rival's offense. Now, Rival will have to make some significant adjustments to attempt to fill in the Sophia Knowles-shaped hole left in their offensive strategy. Though this is undeniably a huge loss, Columbus does have other stars to look to for the rest of the season and they will undoubtedly play with extra intensity and intention in Knowles' absence.
Their Saturday of adjusting won't be easy; Underground is also in attendance again this weekend and, as luck would have it, they are in Rival's pool. This means a guaranteed rematch and a chance at redemption for the Seattle squad. As their recent meeting proved, the teams are well-matched, so the outcome will depend on which team is able to learn enough from their last game in time for this next one.
Oakland Making Their First Elite Appearance Of The Season
Though most teams are entering this tournament with some Triple Crown Tour experiences under their belt this summer, one squad is debuting at Elite-Select Challenge: #24 Oakland LOL. Though Oakland has not played in any elite tournaments yet this year, they do not lack experience. Their roster has lots of veterans who have played in big games, including some ex-Fury players who have the mental fortitude and skills to propel them far into this tournament. But in their only sanctioned action of the year thus far, they went 3-1, suffering an 8-6 loss to Seattle Soul at a round robin. The team seems to have addressed the small roster issue that plagued them in their first two years of existence, which should help them perform at their highest level throughout the entire tournament.
Siege's Search For A Third Northeast Bid
#18 Boston Siege has their eye on one prize this season: earning a third regional bid to Nationals. The Northeast is home to #1 Boston Brute Squad and #6 Toronto Sixers, leaving little room for others to intervene. This has been the storyline for the burgeoning Boston club for a few seasons in a row. Siege started 2019 off with a bang by going undefeated and winning Boston Invite, which included a blowout over #20 New York BENT, who will also be in attendance this weekend. But at SFI East, after winning all three pool play matchups and their crossover on Saturday, Siege fell to #25 Virginia Rebellion on Sunday morning in the quarterfinals, thwarting their chances at maintaining seed — and just as importantly, missing a crack at the tournament's top teams.
With this weekend being their last TCT appearance in the regular season, now is the time for Siege to prove whether they're worthy of earning that elusive third bid. They're currently within bid-earning range, according to frisbee-rankings.com, and have a valuable chance to knock down another bid contending club when they face Nemesis in pool play.
Will Nemesis Or Ozone End Up On The Outside Looking In?
#12 Chicago Nemesis has been to back-to-back Nationals, and #14 Atlanta Ozone have a 19-year attendance streak. Both teams however, reside in regions where they might need a second bid to get back, and neither is totally guaranteed to earn that yet. Nemesis shares the Great Lakes region with Rival and big losses on the scoreboard this season have hurt their ranking. It's crazy to think about Atlanta's streak ending, but Ozone dwells in Phoenix's shadow in the Southeast.
Neither Atlanta nor Chicago had a particularly strong showing at Pro-Elite Challenge: Nemesis lost in quarters while Ozone was knocked out in prequarters. Neither was expected to be in a pressured position at this point in this season, but a bad weekend for either would put their respective chances of getting back to San Diego in jeopardy.
Elsewhere In The Field
#13 Texas Showdown's 2019 campaign got off to a rocky start at PEC, where a 2-5 record was disappointing for the returner-heavy club. According to their tournament roster, they get back Sarah Levinn and Domenica Sutherland, but will be without Dre Esparza and Bex Forth. The prospect of another year with a single bid South Central looms large.
After a breakout 2018, expectations are high for #16 Washington DC Grit. The projections had them battling for a strength bid for the Mid-Atlantic, and so far that's been accurate. They travel to Rockford 2-2 against the field and 3-3 on the season, with every loss coming by a significant margin to a higher ranked club. An upset may be a must if they want to continue their upward trend.
#15 Seattle Underground has had some strong moments this year, getting a win over Traffic at Solstice and hanging tough with Riot (in one of their two matchups) and Rival. These positive signs indicate that the team has come quite a way since last season's unceremonious ending. They could be a sleeper or could regress to the mean.