The regular season finale features most of the top teams in the division.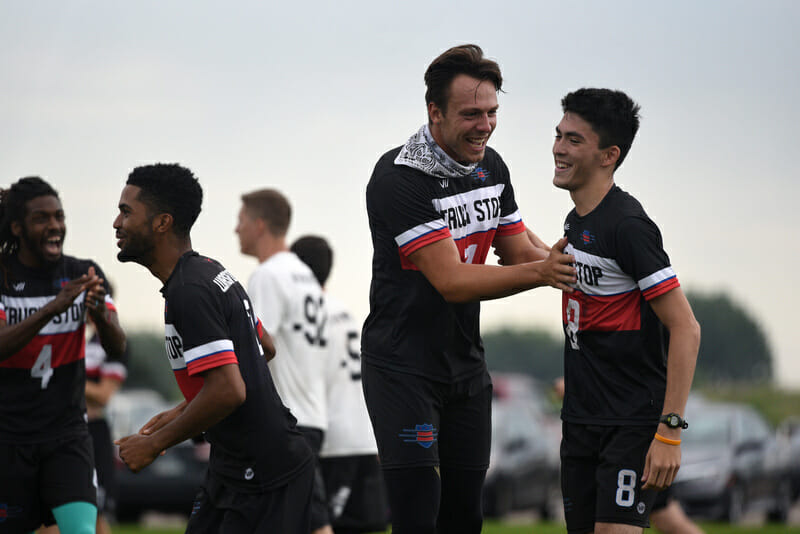 The final weekend of the 2019 season will be, unlike last year, largely free of bid-earning drama. Instead, the eight teams (down from the expected ten this year) in the men's division can all simply enjoy a final tune-up against Nationals-caliber competition. Intriguing matchups throughout Saturday will determine who rises to the top of the pools — but all of those results could come out in the Sunday wash, as every team in the tournament is guaranteed a fresh start in quarterfinals.
Tournament Profile
Date: August 31 – September 2
Location: Royersford, PA
Weather: High around 80, cloudy, low chance of rain Monday, 5 mph winds
Top 25 teams: 8
PoNY, Truck Stop Clash Set To Clash In Pool A
With the elite western teams electing to play their own "recreational" tournament in Washington rather than fly to Pennsylvania, #1 Seattle Sockeye will not be around to bully the Pro Championships field. The two teams primed to fill the temporary void at the top of the pile are the runners up from the US Open and Pro-Elite Challenge: PoNY and Truck Stop.
#2 New York PoNY have been building slowly since the beginning of the season. The defending national champions' debut at Pro-Elite Challenge1 in July fell short of expectations, with the caveat that the roster they brought to Denver lacked several star pieces. Still, it was jarring to see some of the best players in the world erring so often. With more reps behind them — and the addition of veteran transfer Grant Lindsley to the team's offense — they largely shored up the mistakes and rode their world-class offense to within a few points of the tournament title.
The PoNY offense will get another boost this weekend when playmaking big man Ben Jagt joins the team — it's unclear right now who on the opposing defenses will be able to match up one-on-one with his blend of raw athleticism and drive. But the O-line was already good enough to beat Sockeye at the US Open.
The real trouble was that PoNY's D-line failed to turn in a break. But with another injection of top talent set to plug into the team, this weekend could be when the close plays turn into blocks and the turnovers are converted to points. Jeff Babbitt and Ben Katz are two of the division's best stoppers. Throw in near-perennial champion Beau Kittredge as elder statesman, and all of the pieces are finally in place for a PoNY squad who expect to repeat.
PoNY's top competition, #3 Washington DC Truck Stop, have looked every inch a contender so far in 2019. Delrico Johnson, David Cranston, and Troy Holland lead a withering defensive line that has been able to force blocks at all points on the field. You can bet that they're champing at the bit for another crack at the PoNY offense after coming up just short in the semifinals of the US Open. Nicky Spiva continues to lead the line after turnovers; if he regularly has space to put up hucks for Johnson, Holland, or Jeremy Hess, Truck will cash in a heap of break opportunities.
The Truck Stop offense sputtered for the only time in 2019 in that same loss to PoNY — understandably so, as key cutter Tyler Monroe did not play. Monroe has been instrumental in opening up the field for Rowan McDonnell, Christian Boxley, and Jeff Wodatch. All of them seem to have more space to get what they want in Truck's cutter-driven offense when Monroe is on the field.
The two will square off in Pool A on Saturday afternoon. It could be a preview of Monday's tournament final.
Top Of Pool B Up For Grabs
#4 Raleigh Ring of Fire enter the tournament as the top seed in Pool B (and no. 2 overall). But is there really that much separating them from Sub Zero or Doublewide? The three teams have no games against one another yet this season. Saturday of Pro Championships will offer a first glimpse at whether Ring of Fire are truly a cut above other top 10 squads or instead part of a middle ground of maybe-contenders behind Sockeye, PoNY, and Truck Stop.
At the US Open, Ring of Fire lived and died by the huck. Their horizontal sets create a lot of room deep, and between Dillon Lanier, Liam Searles-Bohs, and Eric Taylor, they have a trio of young volume shooters who look to exploit it constantly. And why not, with cutters Henry Fisher and Jack Williams running alternating sprints from midfield? When the shots are hitting, the result is an all-out spectacle. But if Ring start missing big throws the way they did in one of their losses to Truck Stop at the US Open, they will need to show they can switch gears to a more versatile and patient style before they fall too far behind.
#9 Minneapolis Sub Zero feels like a team vacillating in and out of true contention. On one hand, they handed Sockeye their only loss of the season at Pro-Elite and played a very tight quarterfinal against Truck Stop at the US Open. On the other, they've stumbled once in two games against #12 Chicago Machine and were overmatched in a loss to #5 San Francisco Revolver — neither of those teams have played like division heavyweights so far this year.
Sub's offense certainly passes the eye test. Nick Simonelli and Ryan Osgar have been as dynamic a pairing as any to this point in the season. The two regularly throw scores to one another; expect them to keep it up this weekend, even if they come up against PoNY or Truck Stop in the bracket. Their long-yardage plays out of the vertical stack form the foundation of the Sub Zero attack, and if Josh Klane, Andrew Brown, and Nick Vogt can match that level consistently (as they've shown they can do in flashes), breaks will be hard to come by for their opponents.
#6 Austin Doublewide feel like the tournament's wild card. They've only played one tournament on the season, and it was more than six weeks ago. Does a strong third-place finish then mean anything about where they stand as a team now?
A lot will depend on the health of captain Jay Froude, who struggled to stay on the field at Pro-Elite Challenge. At full strength, he's one of the toughest covers in the game; he'll draw an athletic matchup that should free up one of the team's talented youngsters (Vinay Valsaraj, Kyle Henke) to expose less explosive defenders elsewhere. Of course, even without Froude, the team still has one of the division's trump cards in their hand: Abe Coffin. Coffin has always been talented, but this summer he has become a legitimate takeover player. If he flips the switch again this weekend, Doublewide could prove disruptive in pool play and the bracket.
Low Seeds Tune Up For Regionals
Both Temper and Dig had promising weekends at the Elite-Select Challenge earlier this month, but they missed the final and enter the Pro Championships as underdogs. Neither, based on the season so far, seems likely to upset their way into the semifinals on Sunday. And they are in similar situations: comfortably earning bids, but with credible threats waiting to leapfrog them at regionals.2 Win or lose, then, the mission for both units this weekend is to prove without a doubt that they belong with the teams in the 2019 Nationals field, and not with those looking on from the outside.
#13 Pittsburgh Temper's upside seems to be tied to the play of Max Sheppard. He'll draw better defenders this weekend than he has so far this season, but if he can continue to get free in the end zone for homegrown thrower Pat Earles and journeyman Brett Matzuka, Temper will be able to hang deep into games and perhaps spoil a game or two for one of the teams seeded ahead of them in Pool B. A healthy Tyler DeGirolamo is no guarantee, but getting Ty D back on the field could extend Temper's range of outcomes.
#14 Boston Dig bring a pair of young players who might be on the verge of breakout seasons — or who might be another year away from entering the division's upper crust. Handler Mac Hecht and cutter Ryan Dinger have both shown major progress since this time last year, as well as hints of stardom tucked into brief moments of brilliance. The question, as ever, is whether they will be able to keep it up over a full weekend against opponents who have already made the jump.
And bringing up the rear is the 2019's most puzzling case: #12 Chicago Machine. At the US Open, they pushed Sockeye to the brink in pool play — and then, the next day, pushed Huntsville Freaks to the brink in consolation. The play of former High Five standout Joe White on the offensive line has been astounding; the rest of the team have ranged from inconsistent to merely so-so. Whether or not Machine manage to right the ship this weekend will be a good indication of how serious a threat they will be to the top of the field in October.
---
a seventh place finish ↩

#18 Amherst Sprout in the Northeast, #16 Philadelphia Patrol and #23 Virginia Vault in the Mid-Atlantic ↩