The final weekend of the club regular season.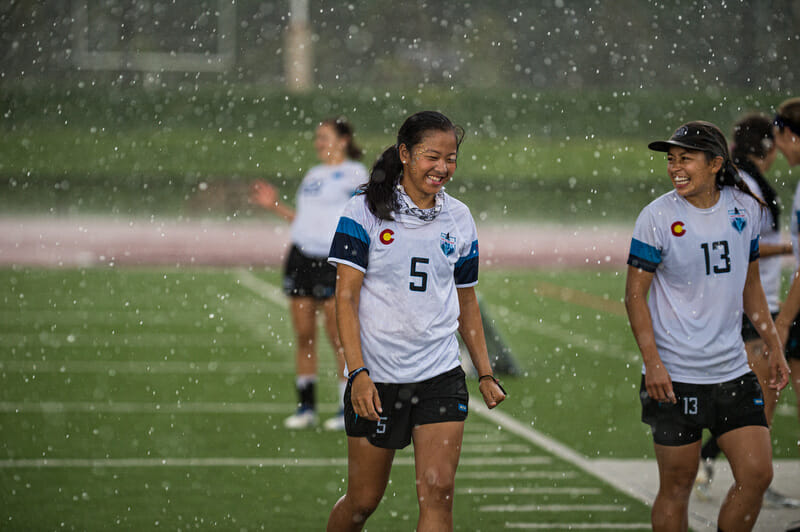 During the 2019 summer and fall season, we will publish a bite-sized weekly recap of the action across the Club Division. This will serve as a supplement to our standard tournament reporting and will offer a high-level look at the latest happenings and the biggest stories of the week. We go through the annals of score reporter so you don't have to!
Want your tournament listed here? Submit a recap of what happened right here.
—
We have finally reached the end of the club regular season. After a whirlwind weekend of ultimate at the Pro Championships in Philadelphia, everyone's focus now shifts to the postseason.
Men's Division
Chicago Machine On The Rise, But PoNY Takes The Title 
Remember when #12 Chicago Machine lost to Huntsville Freaks at the US Open? Yeah, me neither. This weekend at the Pro Championships, Machine upended the pool play round with big wins over tournament no.1 seed Truck Stop and Dig, placing them second in the pool and third overall heading into the championship bracket. They continued to perform at their best in the quarterfinal, when they completely dismantled Doublewide's plan in a stunning 15-9 win, and then managed to stay a step ahead of Ring of Fire in a tight semifinal battle. 
The final pitted Chicago against the only opponent who handed them a loss during the weekend: #2 New York PoNY. Machine struggled early on, going down 8-4, and they looked like they had lost the offensive prowess they had shown through the rest of the tournament. But after some halftime adjustments and a few mistakes from PoNY early in the second half, the game tightened up and reached double game point at 11-11. PoNY needed to hold to secure the victory and they did just that. Despite some questionable throws that were bailed out by capable receivers, PoNY finished with a clean hold to win the weekend. Though Machine didn't finish on top, they performed well above expectations and proved that heading into the postseason, they have long forgotten any early season falters. 
Labor Day Action Tells An Interesting Tale
Though the Pro Championships were the only games that counted towards the rankings this weekend, many strong squads convened in Lacey, WA for Labor Day, where results would not be included on the teams' official records. #1 Seattle Sockeye had a disappointing weekend, falling in the quarterfinals to #10 SoCal Condors after finishing second in their pool due to an upset loss to #11 Denver Johnny Bravo. The semis lined up to have repeat matchups from the previous day, so they were switched, allowing for new meetings– #7 Vancouver Furious George edged out the Condors, and #5 San Francisco Revolver demolished Johnny Bravo. The San Francisco gang took the title decidedly over Vancouver, and the whole weekend is a stark reminder that nothing is guaranteed in the division until the final hard caps goes. 
European Ultimate Club Regional Results
Here are the placements for qualifiers from the EUCRs over the past two weekends. The teams will compete in the championships September 27-29 in Carole, Italy.
Central
1. Bad Skid (Heilbronn, Germany)
2. MUC (Munich, Germany)
3. Heidees (Heidelberg, Germany)
4. Sieben Schwaben (Stuttgart, Germany)
5. Mooncatchers (Brussels, Belgium)
6. KFK (Copenhagen, Denmark)1
East
1/2. FWD>> (Vienna, Austria)
1/2. FUJ (Prague, Czech Republic)
3. thebigEZ (Vienna, Austria)
4. Mojra (Warsaw, Poland)
West
1. Clapham (London, UK)
2. Chevron Action Flash (Manchester, UK)
3. Ranelagh (Dublin, Ireland)
4. Alba (Edinburgh + Glasgow, UK)
North
1. RealFive (Dzerzhinsk, Russia)
2. Rampage (Moscow, Russia)
3. Jupiter (St. Petersburg, Russia) [Declined their bid to the EUCF]
4. PirU (Finland) [Declined their bid to the EUCF]
5. Flying Steps (St. Petersburg, Russia)
South
1. CUSB La Fotta (Bologna, Italy)
2. Iznogood (Noisy-le-Sec, France)
3. Freespeed (Basel, Switzerland)
4. Flying Angels Bern (Bern, Switzerland)
5. CUSB Red Bulls (Bologna, Italy)
6. Crazy Dogs (Stans, Switzerland)
7. Cotarica (Rimini, Italy)
Mixed Division
Drag'N Thrust Proves Why They Are #1
The mixed division at the Pro Championships showed us why #1 Minneapolis Drag'N Thrust are comfortably on top, looking down at everyone below them. They are undefeated since July 14th, and hoping to continue the momentum through the fall. Their win over #2 Philadelphia AMP in the final was relatively effortless and started with a 4-0 lead– AMP could barely complete a pass, much less score a point. Things picked up for the Philly team once they finally got on the board and half was taken by Drag at 8-4. In the second half, AMP had a chance to bring it to a one point game, but couldn't quite get their offense to flow, and Drag'N Thrust brought it home, winning 13-9. 
Despite going 1-3 in pool play, #16 Denver Love Tractor finished tied for third with Snake Country. On the back of a 15-10 win over fellow South Central club, Shame, Love Tractor's weekend performance was enough to keep firm hold of a strength bid. #13 Durham Toro fell from no. 5 to no. 9, with a confusing performance where they couldn't manage to beat anyone on Saturday except the team at the top of their pool, AMP. It brought them near the edge of the strength bid cliff, but they remain safely in, with West Chester Loco looking on empty-handed.
European Ultimate Club Regional Results
Here are the placements for qualifiers from the EUCRs over the past two weekends. The teams will compete in the championships September 27-29 in Carole, Italy.
Central
1. GRUT (Amsterdam, The Netherlands)
2. Die 7 Todsünden (Paderborn, Germany)
3. Hässliche Erdferkel (Marburg, Germany)
East
1. Flow (Wroclaw, Poland)
2. Left Overs (Brno, Czech Republic)
West
1. SMOG (Northern England, UK)
2. Deep Space (London, UK)
3. SMOG 2 (Northern England, UK)2
North
1. PuTi (Helsinki, Finland)
2. Salaspils (Salaspils, Latvia)
South
1. Discover Lisboa (Lisbon, Portugal)
2. Ah Ouh PUC (Paris, France)
Women's Division
Top Squads Battle At Pro Championships  
All ten teams that were in attendance at the Pro Championships this weekend were top 25 teams, including all of the top six: Brute Squad, Riot, Scandal, Fury, Molly Brown, and 6ixers. Upsets began Saturday morning and never stopped. Though every one of these elite teams didn't play to their potential this weekend (I'm looking at you, Boston), if we can take anything away from the Pro Championships it's that on any given day, any one of these teams could be the top squad. 
#4 San Francisco Fury had a hot round of bracket play, going 4-0, including a double game point win over the Boston favorites. Their momentum – as well as their D-line's offensive efficiency – propelled them through the tournament undefeated to take the title over #5 Denver Molly Brown. By the way, if you ever doubted whether Molly Brown was still in the conversation – they are. They took charge this weekend, racking up wins against several strong teams. In their first ever meeting with Toronto Sixers, they went to double game point and edged them out thanks to a confident hammer from Paige Applegate to finish the game. They put together an impressive comeback against Fury in the final, which included some absolutely torrential precipitation. But it was cut short by the inclement weather, leading to a 12-11 final score in favor of San Francisco.
The 2018 Pro Championships and 2019 US Open winner, #1 Boston Brute Squad, had a less-than-ideal journey through the tournament. They immediately started Saturday with an upset loss to Fury, and things continued to go awry when they lost to Toronto Sixers that afternoon. By the end of bracket play, their record was an unexpected 2-2 and they had effectively created a difficult (and ultimately, unrealized) path to the podium for themselves. The demise was finished when Brute Squad lost their quarterfinal matchup against Seattle Riot 13-10. The Boston team went down 6-1 early on, then rallied to bring it all the way back to 11-10, but couldn't close out the comeback to take the W. Brute Squad hasn't lined up against many top squads so far this season, so this performance, though disappointing, is invaluable for their postseason preparation. In about two weeks, they should get to meet the same 6ixers club that handed them a loss this weekend at Northeast Regionals, and they're no doubt planning for a different outcome. 
The results at the tournament affected the bid projections, widening the gap between Quebec Iris and Chicago Nemesis for the final strength bid through second order effects. If frisbee-rankings.com's projections holds, the Northeast will claim a league-leading four total bids, while Great Lakes teams will have only their autobid to fight for at Regionals.
European Ultimate Club Regional Results
Here are the placements for qualifiers from the EUCRs over the past two weekends. The teams will compete in the championships September 27-29 in Carole, Italy.
Central
1. Mainzelmädchen (Mainz, Germany)
2. Gentle Ladies (Gent, Belgium)
3. Heidelbärchen (Heidelberg + Karlsruhe, Germany)
East
1/2 Cosmo (Maribor, Slovenia)
1/2 3SB (České Budějovice, Czech Republic)
3. Yellow FUJever (Prague, Czech Republic)
West
1. Dublin Gravity (Dublin, Ireland)
2. Iceni (London, UK)
North
1. Cosmic Girls (St. Petersburg, Russia)
2. Brilliance (Moscow, Russia)
South
1. CUSB Shout (Bologna, Italy)
2. YAKA (Noisy-le-Sec, France)
European reporting from all divisions was contributed by Ravi Vasudevan.
Looking Ahead
This weekend there will be action all over the country as teams gather in their sections to fight for the right to go to regionals in two weeks and stay on the road that leads to San Diego. With 22 sections competing, there's too much to go into detail, but check back next week for the full results.
---
Originally, the Central Region had five bids in men's, but PirU declined their bid from the North, and Central were the first on the waiting list. ↩

First time ever that a B-Team qualifies for the EUCF! ↩