Breaking down every region and all your contenders.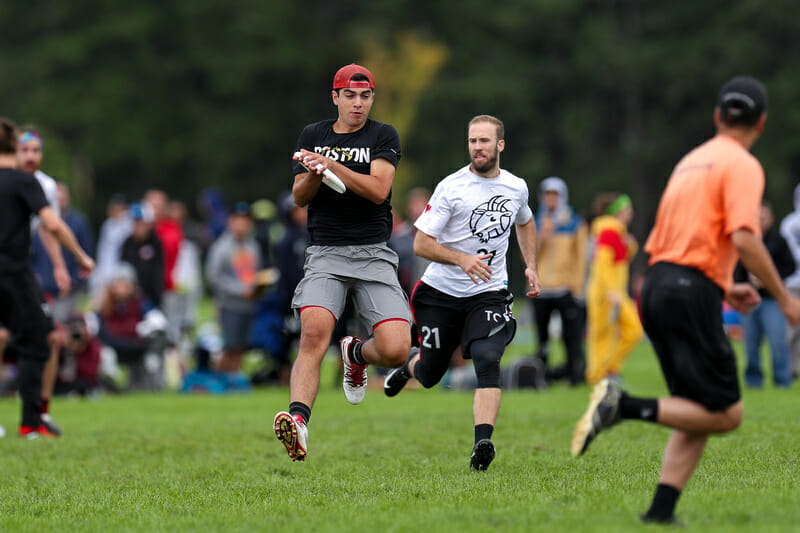 Ultiworld's club men's postseason is presented by Spin Ultimate; all opinions are those of the author. Gear up for your big games, your tournament parties, and everything in between at Spin Ultimate! 
The regular season and Sectionals are now behind us. We can finally get down to business. After a regular season where incentives and motivations are constantly in flux, teams are at the point where their goals are on the line. After this weekend, labels will be slapped on their accomplishments, evaluating their season for better or for worse. We take a look at who is on track to get a good grade, and which teams could surpass expectations and upset the order.
Great Lakes
Competition Schedule
Location: Stevensville, MI
Number of Bids: 1
Excitement Level: ?
#5 Chicago Machine has absolutely dominated the Great Lakes since the redraw in 2012, winning all but one regional title and never missing out on Nationals. When High Five disbanded prior to the 2019 season, Machine was left alone as the only upper echelon team in the region. A number of players, including Johnny Bansfield and Keegan North, made the trip to Chicago from High Five, forming a regional powerhouse that entered the season with national championship aspirations.
Throughout the early portions of the season, we saw struggles from Machine as they integrated new, top-level players into their systems. At the U.S. Open, Chicago showed flashes of brilliance; despite only picking up wins over international teams on the weekend, they took Seattle Sockeye to double game point and fell 16-14 against Sub Zero. Outside of a loss to Huntsville Freaks, it was an otherwise promising weekend for the Chicago squad. They reached the final of the Pro Championships and played to double game point against reigning national champion, PoNY. Heading into Regionals, Chicago Machine should be taking on a more dominant look in their true form and boasts a level of talent and experience unmatched throughout the rest of the region.
With the folding of High Five, the likelihood of the Great Lakes becoming a two-bid region diminished significantly. #23 Cleveland Smokestack did all they could to grab a second bid for the region, but finished just outside of bid earning territory – at 17th in the country. By traveling to Utah and Columbus to attend both Select Flight Invite events, Smokestack put miles on their legs and tested themselves against a variety of teams from across the country. Despite finishing the regular season with a record of 11-1, Smokestack played just one bid-earning team, Vancouver Furious George, in a game they lost 13-7 at SFI East. They do, however, hold two wins over General Strike. Coming into Regionals, Smokestack will be looking to make the breakthrough to becoming a top-tier team, and would need to score a major upset to qualify for Nationals.
#22 Indianapolis Brickyard, with the return of Travis Carpenter to the local club scene after several years spent with Machine, looks to make the jump to being an elite-level team. Other pickups — Drew Swanson, who saw major playing time with Chicago Wildfire during the AUDL season, and Joe Cubitt, one of the few standouts for the Detroit Mechanix — have been impact playmakers throughout the season. Combine that with the development of youth talent in Alex and Conner Henderson among others, the team from Indianapolis has started to build a slew of talent. Brickyard saw some of the challenges of making the jump to the next level at Elite-Select Challenge, where they struggled to garner wins. They showed that they have an ability to hang with top teams, falling to Boston DiG on double game point. Travis Carpenter holds experience from his years with Machine, but much of the rest of the roster has played the little brother role in the Great Lakes, falling in the game to go in back-to-back years.
Ann Arbor Nain Rouge, made of many members of the now-defunct Four team, has yet to fully make a name for themselves, but showed that they at least belong in the second tier at their sectional event. With a united collection of Ann Arbor and northwest Ohio talent, Nain Rouge looks to make a splash at sectionals. Throughout the regular season, Nain Rouge has struggled to have their full selection of talent in attendance. Their season has shown ups and downs, but they struggled to get a marquee win before the series. At Sectionals, they picked up a win over Cleveland Smokestack and went undefeated.
Mid-Atlantic
Competition Schedule
Location: Milford, DE
Number of Bids: 2
Excitement Level: ??
There was no end-of-season bid drama this time around for the Mid-Atlantic, with the region locked into a snug two bids almost wire-to-wire.
#7 Washington DC Truck Stop has won the Mid-Atlantic seemingly every year in human history and probably will again! Truck had a rough weekend at Pro Champs by the high standards they have set for themselves, but the team believes things have stabilized and are feeling confident heading into Regionals. It helps that they lap the field in sheer talent, with two D-lines worth of players that could probably be the best O-line in the region outside of DC. Last season at Regionals, Truck surrendered 18 points – total – at the tournament. It could be even fewer this time around.
In the scrap for the second bid, the big question is whether #14 Pittsburgh Temper's triumph in the game-to-go over #16 Philadelphia Patrol last season was a permanent changing of the guard or a one time blip. Bolstered by Brett Matzuka's arrival, Temper's offense has doubled down on the fast paced finesse approach they have showcased in recent years. Patrol's identity is in a great state of flux, with heavy roster turnover the past two seasons producing a team that may not know what exactly it does best. A 1-6 record in the regular season against Nationals teams is not encouraging, and Patrol will need to figure out how to maximize their ceiling in a hurry if they want to avoid a second straight season without Nationals.
The most interesting wrinkle in the MA this season is #21 Virginia Vault and their 26-1 record on the year. For a new team without access to elite tournaments, Vault beat what was in front of them and won every tournament they played. However, they haven't played any teams that made Nationals last year, so it's hard to project what will happen when they find themselves lined up across from Truck Stop or Temper this weekend. Vault's roster boasts a couple players with some Nationals experience, but by and large this is a team comprised of people who were sick of not making Nationals on second tier teams in the DC area and all got together in an attempt to change that. That experiment goes under the microscope this weekend.
The consolidation of talent into Vault drained most of the depth in the region, so there isn't much going on behind the top four. Citywide Special from Philadelphia is probably the best of the rest, but moving up the food chain in the Select Flight is likely all they have to look forward to on Sunday.
North Central
Competition Schedule
Location: Blaine, MN
Number of Bids: 1
Excitement Level: ❄️
For the first time in a long time, there's unlikely to be drama at North Central Regionals. With the dissolution of longtime rival Madison Club, the only major threat to Sub Zero's regional reign is gone. Sub 2019 is not only an overwhelming favorite to take the Regionals sole bid, but they have legitimate National semifinal ambitions.
This summer, #6 Minneapolis Sub Zero has enjoyed one of their most successful regular seasons in recent memory. Wins over Sockeye, Johnny Bravo, Truckstop, and Machine show what this team is capable of, especially when their clinical offensive line is working at peak efficiency. Jason Tschida, Josh Klane, Nick Simonelli, Greg Cousins, Ryan Osgar, Nick Vogt, and Charles Weinberg have been together for a few seasons now, and the chemistry they've built is palpable. Newcomers Kevin Brown and Andrew Roy have also made positive contributions to the O-line, but have yet to break into the near-psychic connection of the seven stalwarts.
Sub Zero's defense, on the other hand, is all about athleticism. Cole Jurek, Colin Berry, and Charlie McCutcheon are some of the best lockdown defenders in the division, and absolute terrors on the turn. Their primary defensive handlers, Codi Wood and Tristan Van De Moortele, have both made huge strides this season in both their defense and decision-making. And with the postseason additions of Andrew Meshnik and Kevin Pettit-Scantling, the rich get richer. This team has everything it needs for a deep Nationals run. But in a one bid region, it only takes one bad game at an inopportune time to end a season. Should Sub play the way they did in their 15-7 drubbing at the hands of Ring of Fire at Pro Champs, an upset certainly isn't out of the question.
Despite the folding of Mad Club, there remained a small contingent of elite Madison players looking for both a high-level club experience and a summer free of the normal grind. Enter #20 Madison Yogosbo (You Only Go On Spring Break Once), a team that, much like the cicada, returns periodically over the years, has a good time, then disappears. With Colin Camp, Alex Simmons, and a slew of former Hodag standouts, Yogosbo is the team with the best chance of upsetting Sub should Minneapolis have a (really) bad game in their (probable) game-to-go showdown.
Both #24 Winnipeg General Strike and Kansas City Prairie Fire have depth and talent in spades- just not enough to challenge the Sub Zero juggernaut. While General Strike does have a DGP early season win over Yogosbo on its resume, they'll need a lot more than that to challenge the favorites.
Northeast
Competition Schedule
Location: Devens, MA
Number of Bids: 3
Excitement Level: ???
Northeast Regionals has everything: four top 20 teams, three bids, two nations represented, and one deadly outbreak of a mosquito-bourne illness that makes your brain swell until it explodes!
Assuming that the tournament isn't derailed by a government quarantine, the usual characters are here in the bid earning slots, but with some interesting new identities.
#1 New York PoNY is back as… national champions? Yup. The team who was often on the outside looking in whenever the the Boston/Toronto/New York axis found itself a bid short are now the prohibitive favorites. It's still a little jarring to see a non-Boston team at the top of the Northeast, but PoNY's rapid ascent over the past two seasons has placed them at the head of the table. After a tournament win at Pro Champs in August, PoNY has the carving knife. They'll be cutting the turkey and serving themselves first. Everyone else is in line waiting for seconds.
#8 Toronto GOAT missed out on Nationals in two of the past three years, rockier territory than GOAT has been used to in the modern era. But a new era of players in Toronto has provided a spark this season, and with veterans like Mark Lloyd and Andrew Carroll still putting out elite production, GOAT has quietly taken care of business en route to a top 10 spot in the Power Rankings. If there is a point of concern for GOAT, it's that they haven't beaten an elite team since mid-July, opting to focus on the Canadian Series for the later half of the summer. The regular season is never a great indicator of how Canadian teams will do in the Series, so the ceiling and floor of this Toronto team heading to Devens is still anyone's guess.
What's going on with Boston men's ultimate? After the dissociation of Ironside and the capitulation of Dig last season, we got our first year without a Boston Men's team in the quarterfinals of Nationals since the dawn of time. This year seems to be a bit of a reset for the city, as #12 Boston Dig appears to transforming back into Ironside. They've brought Josh McCarthy back into the fold as a coach, and several of the renegades behind Dig in the first place like Tim Schoch and Ben Sadok have moved on. The transition has been bumpy, with an up and down regular season slotting them in as the no. 3 seed this weekend. This weekend will be an indication of how the new project is going.
#18 Amherst Sprout is the question mark that should have GOAT and Dig worried. Featuring a combination of recent UMass stars like 2017 college POTY Ben Sadok and old Boston heads such as Jeff Graham, Will Neff, Rusty Ingold-Smith and others who weren't on board with Dig's new direction, Sprout kicked the hell out of everyone in their Northeast barnstorming tour during the regular season en route to an 11-1 record. The young players may be a shade too green and the veterans may not have the same kick in their legs, but the chemistry on the team is solid and Sprout has the luxury of being on the hunt instead of bearing the pressure of defending a bid.
Beyond the ranked teams, you can generally look to two places for noise in the Northeast: a second team out of New York or Boston with a good regular season, and a Canadian team that no one really knows much about who might definitely ruin someone's season in backdoor semis. For the former, New York Blueprint is your answer. The Metro NY section champs have been the best of the rest in the Northeast this season. As for the later… well your guess is as good as mine. But just know that someone's season is going to end at the hands of a horde of unidentifiable French-Canadians who they didn't see coming. Or by those killer mosquitoes.
Northwest
Competition Schedule
Location: Salt Lake City, UT
Number of Bids: 3
Excitement Level: ???
For the third year in a row, the Northwest men's has three spots in the big show and four teams vying for the limelight. #2 Seattle Sockeye takes top billing, and with good reason. The Fish and have been the division's best team all season long. In the region, they're 3-0. Neither Furious George (win at Labor Day, 15-10), nor Rhino Slam (win at Pro-Elite Challenge, 12-8), or even scrappy Voodoo (win at Labor 15-8) have come close to catching this talented team. And there's little to suggest that this weekend changes anything. None of the contenders have the depth of defensive talent to slow a healthy Sockeye O-line, and there's nowhere to hide. On defense, an influx of youth and a sustained level of athletic excellence make Seattle the formidable title contender they are: 2-0 at Triple Crown Tour Events so far, and gunning for the trophy.
If that's starting to make the Northwest sound like a snooze, that was just the opener. The headlining action this weekend happens as the next three teams hunt for the last two bids.
#10Vancouver Furious George is still, on paper, the team that feels like the second bid earner. But, remember that Furious are in the midst of the difficult double-peak season: they won Canadian Championships just six weeks ago, and they've since split games with Voodoo (win at Labor Day 15-8, loss at Sectionals 15-12). Some notable players were missing from the Sectionals final two weeks ago (Kevin Underhill, Hugh Knapp), but now Voodoo knows what it takes to push signature Furious hucks wide and make the Canadian champions grind for unders.
Furious paid for that first postseason loss: they start the weekend at the tournament's no. 4 seed, sitting second in Pool B below Rhino Slam. Those two teams met once this season, way back in June at Eugene Solstice, a 16-15 win for Furious.
And what a boon that Washington-B.C. Sectional title was for #19 Seattle Voodoo. It earned them not just the no. 3 seed in Salt Lake City, but a spot in Pool A. On Saturday of Regionals, Voodoo won't have to play Furious George or Rhino. They get a clean look cross-town rivals Sockeye in round one, and then avoid the other bid earners until Sunday. And for the first time in recent memory (maybe in team history), they're headed to Regionals having already beaten Furious and Rhino (win at Labor Day, 15-12). Voodoo has a real shot at playing spoiler, piloted by a core of some of the best players at or recently graduated from Washington and Western Washington universities.
Meanwhile, #15 Portland Rhino Slam have some ground to makeup. They are the no. 2 seed and they were underpowered at their last competitive outing (Labor Day) without a number of players, including top contributor Raphael Hayes. Unlike Voodoo, Rhino does not have a win over Furious yet this season, and that's the first matchup they get Saturday morning in Salt Lake.
So while the big show in San Diego is still a month away, grab your popcorn for the Northwest—Furious George, Voodoo, and Rhino Slam! will leave it all out on the field.
South Central
Competition Schedule
Location: Tulsa, OK
Number of Bids: 2
Excitement Level: ??
This may be the weakest regular season the South Central region has put together in a long time. Perennial top teams Johnny Bravo and Doublewide did enough to earn a bid, but each had uneven campaigns in doing so.
#11 Denver Johnny Bravo started very slowly at PEC, losing four games at a tournament in which they often reign as the home team. They turned the tides at Elite-Select, taking care of business against Elite flight teams like Boston Dig and Pittsburgh Temper, but finished on a low note with a brutal collapse in the final to SoCal Condors. Still, it has now been over a month since they last took the field, and the general trend of their season has been upwards. It is entirely plausible that they have used the last few weeks to work out the kinks in practice, and that postseason Bravo will more closely resemble the team that generated significant preseason hype.
Meanwhile, an increasingly young #13 Austin Doublewide team has so far not represented the strength they've grown accustomed to in recent years. Playing only two tournaments this season, and neither at full roster, they went 5-8 against a schedule that admittedly included only one team outside of the top 15 in the Ultiworld rankings. Still, it's rare to see Doublewide get blown out the way they did against Sockeye at PEC or against Machine at Pro Flight. They have the talent and athleticism without a doubt, but they will have to cohere and adjust quickly this weekend in Tulsa if they hope to defend their Regional title.
Realistically, the main team with a chance to steal one of the two bids this year is #25 Houston H.I.P, who put together a strong showing in winning the Texas section, avenging an early-season loss to Dallas Nitro and reaffirming their position as contenders. Rumored to be adding AUDL standouts Dillon Larberg and Thomas Slack for Regionals, H.I.P. will be champing at the bit to get one or even two chances at beating their friends on Doublewide. Talent-wise, they stack up well enough, but whether they have the depth and conditioning to run with the more established program late on Sunday is another matter.
Outside of the top three seeds, the odds get significantly longer. Denver Inception won the Rocky Mountain section and can usually be counted on to make a late push, but their 1-9 record in Triple Crown Tour play this summer does not inspire much confidence. Dallas Nitro and Houston Clutch would be better bets to shock a top squad had they not each dropped games to weaker teams at Sectionals. Still, the overall parity in the division is steadily improving – expect to see plenty of gutsy performances this weekend in Tulsa.
Southeast
Competition Schedule
Location: Advance, NC
Number of Bids: 2
Excitement Level: ???
A superb 2019 campaign to date has #3 Raleigh Ring of Fire in pole position in the Southeast. The region is theirs to lose — but don't expect them to lose. They have more talent than anyone else in the region, especially since they bring in Mischa Freystaetter and Bobby Ley for the series. Eric Taylor and Henry Fisher pace an offense that simply crackles. And even when the O-line sputters, Ring can (and will) trot out their hyper-efficient defense.
The second bid is where things begin to get interesting. #17 Atlanta Chain Lightning earned it, and they are the best bet to cash it in. Austin Taylor and Matt Smith have played very well on offense this year, and Kennesaw State product Will Lindquist has emerged as one of the better young players in the division. Chain's combination of a quick offense and a savvy force-middle style defense should be enough to carry them through to San Diego. However, they've also looked lackluster enough at times this season that it isn't inconceivable that they could give up a game at the wrong time in the bracket.
A few teams are poised to leapfrog Chain if the opportunity arises. Huntsville Freaks top the list. Anyone who doubts they have the chops to steal a victory from Chain had best remember their US Open win over Chicago Machine. If Elijah Jaime gets hot, he can score goals by the handful. Durham Brickhouse are the other main contenders to upset the regional pecking order. They bring a young core of mostly North Carolina players and a palpable swagger — the kids are all right, and they know it. Pulling in a couple of very talented defects from last year's Ring team1 could be enough to push them past Chain and Freaks to reach San Diego.
But trap games abound for the contenders in this notoriously splintered region. Tampa Uproar, Macon H.O.G., Columbia Lost Boys, Tennessee Tanasi, and Oakland Park El Niño may not be in contention for Nationals this year, but they could sure spoil a weekend for somebody who is. And Durham Turbine lurks all the way down at the no. 9 seed. Could they find some of the mojo of recent seasons?
Southwest
Competition Schedule
Location: Norco, CA
Number of Bids: 2
Excitement Level: ?
For the first time in a decade the Southwest Men's title is up for grabs. While #4 San Francisco Revolver has to be considered the favorite until proven otherwise, #9 SoCal Condors has been rising for a few years and might have the firepower to pull off the upset.
Despite their notable losses (both the shocking 2018 title game and the departure of 12 players this offseason), Revolver is a team brimming with top tier talent. The narrative this season has focused more on what is missing rather than what the team actually has, but make no mistake — this team could win a national title. It would be a surprise to see Revolver's regional title streak clipped this weekend.2 Ashlin Joye, Nick Stuart, Antoine Davis, Marcelo Sanchez, and Cassidy Rasmussen form as formidable a core as you'll find in the division. Revolver went undefeated at the Labor Day Recreational Tournament earlier this month and seems to be hitting their stride at the perfect time. It is an odd year, which has proven to be good luck this decade; Revolver has won the national championship in 2011, '13, '15, and '17, and could add to that tally this year.
Right on their heels, though, is Condors, a team that has been building for a few years now finally has found a crack in the Revolver domination of the men's club scene. A second bid in the region acts as a fall back, but they are determined to show the country that they can compete with the best. Condors won Elite-Select with a comeback victory over Denver Johnny Bravo in the final, and has ridden that momentum to a solid regular season. With a complete roster mixed with talented throwers, athletes, veterans, and college players (many on the Cal Poly SLO semifinal team from last spring), it isn't out of the question that Condors pulls off the historic upset. Jonathan "Goose" Helton joins a team that fell a few points short of what would have been a shocking regional title last season. After a full AUDL season playing with many of his club teammates, Goose could be the difference making downfield athlete Condors has been missing. In a rare 'down year' for Revolver, Condors has a perfect opportunity to cement itself as the Southwest's top team moving forward.
Teams like Livermore OAT (who won NorCal Sectionals), San Francisco Battery, Oakland Guerilla, and Santa Barbara Sundowners will threaten the top teams, and one will even play in a game to go, but none have the elite talent or depth to supplant Condors or Revolver atop the region. Bottom line: Expect a fun, tight game between Revolver and Condors for the regional title, but the loser should have no problem securing their ticket down Interstate 5 to San Diego for the National Championships.
---
Terrence Mitchell and Jacob Fairfax ↩

Fun Fact: Revolver has won the region in enough consecutive years to give me a 404 Error when searching for past regional results on the USAU website ↩