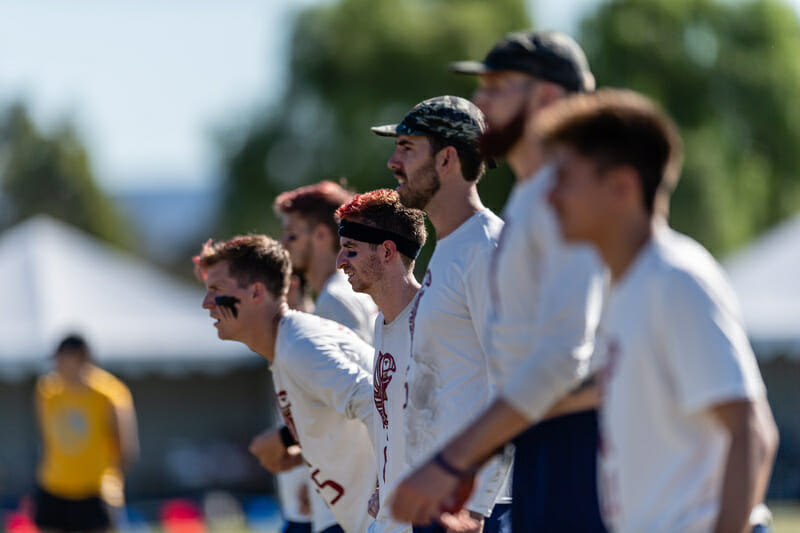 Ultiworld's club men's postseason is presented by Spin Ultimate; all opinions are those of the author. Gear up for your big games, your tournament parties, and everything in between at Spin Ultimate!
After an exciting weekend of Regionals, we now have the full field of teams and the post-Regionals rankings update from USA Ultimate. It's time to start thinking about what the seeding and pools might look like for Nationals.
Note that Regionals finish no longer binds seeding at Nationals. We do our best to follow USA Ultimate's guidelines for seeding: USAU's post-Regionals rankings are very heavily weighted, head-to-head wins matter at the margin, and historic success is considered. We do not explicitly try to avoid regional matchups.
Let's kick things off right away with the pools generated by my predicted seeding.
| POOL A | POOL B | POOL C | POOL D |
| --- | --- | --- | --- |
| Sockeye (1) | Truck Stop (2) | Ring of Fire (3) | PoNY (4) |
| Dig (8) | Sub Zero (7) | Machine (6) | Revolver (5) |
| Condors (12) | Temper (11) | Doublewide (10) | GOAT (9) |
| Furious George (13) | Johnny Bravo (14) | Chain Lighting (15) | Rhino Slam! (16) |
1. Seattle Sockeye
The indisputable #1 seed. Won the US Open and has wins over Truck Stop, Ring, PoNY, and Machine. Dominated at Northwest Regionals.
2. Washington DC Truck Stop
PoNY's failure to win Northeast Regionals lands Truck Stop, who is 0-2 against PoNY, in the #2 spot. They are also #2 in the rankings, 50 points higher than PoNY, and 2-0 vs. Ring of Fire.
3. Raleigh Ring of Fire
Ring, just a couple of points below PoNY in the rankings, has a head-to-head win over New York.
4. New York PoNY
If PoNY had won their region, I think you could make a strong case that they should be the #2 seed. But after getting dismantled by Dig in the final, it only seems reasonable to punish them. In theory, you could still rely on their history of winning last year and their 2-0 H2H performance this season against Truck and put them at the #2 seed, but that seems awfully generous.
5. San Francisco Revolver
Revolver v. PoNY rematch in pool play? I think it's happening. Revolver is the clear #5 seed based on rankings and a H2H win over Machine.
6. Chicago Machine
#6 in the rankings. Clear #6 seed.
7. Minneapolis Sub Zero
#7 in the rankings.
8. Boston Dig
#8 in the rankings, smashed GOAT at Regionals.
9. Toronto GOAT
#9 in the rankings. You could put Doublewide here since they have H2H wins over both GOAT and Temper, but they're about 30 points behind GOAT in the rankings, and the win over GOAT was by one point back in early July. I doubt they will get bumped two spots.
10. Austin Doublewide
The only swap of teams in the rankings happens here, where Doublewide goes in front of Temper thanks to their H2H win. They are only six points apart in the rankings, so it's an easy flip.
11. Pittsburgh Temper
Ranked #10.
12. SoCal Condors
Ranked #12. Their loss to Furious came at the Labor Day recreational tournament that didn't count towards the rankings. USAU won't take those results into consideration…right?
13. Vancouver Furious George
Ranked #13, 24 points ahead of Bravo.
14. Denver Johnny Bravo
Ranked #14, 30 points ahead of Chain plus a H2H win.
15. Atlanta Chain Lightning
Ranked #15.
16. Portland Rhino Slam!
Ranked #17 (Amherst Sprout finished ranked ahead of them!)