On the legacy a Raleigh team contending with the physical play of its past.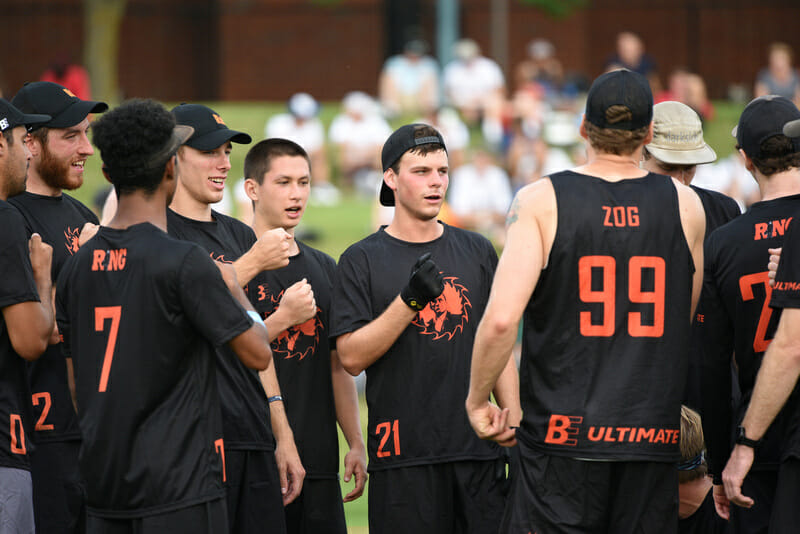 To anyone familiar with Raleigh Ring of Fire circa, say, 2010, the team's 2019 US Open semifinal against Seattle Sockeye would have been instantly recognizable. Ring's jerseys, as ever, bore the emblematic scowl of totem Johnny Cash. The physicality of their reset defense right off of the opening pull elicited an immediate foul call. Players on the Ring sidelines chirped at the players on the field. A couple of calls resulted in tense discussions.
The upshot of all this was, apparently, that they got under Sockeye star Dylan Freechild's skin. Heating throughout the early goings, the emotions of both sides began to boil over when Freechild seemed to target Ring of Fire rookie Anders Juengst with a hard spike.
Physicality. Cheek. Contentiousness. Intensity. Gamesmanship. Ring of Fire used to have a reputation, and all the hallmarks of the teams of old were still evident in the new generation.
But something else — something remarkable — happened that would give the lie to those apparent similarities.
Then And Now: Raleigh Ring Of Fire is only available to Ultiworld Subscribers
Already have a subscription? Log in
Whether you visit Ultiworld for our reporting, our podcasts, or our video coverage, you can help us continue to provide high quality content with a subscription. By becoming a subscriber, not only do you receive benefits like exclusive articles and full article RSS feeds, you also help fund all of Ultiworld's coverage in general. We appreciate your support!