Which squad of men's Nationals players is superior?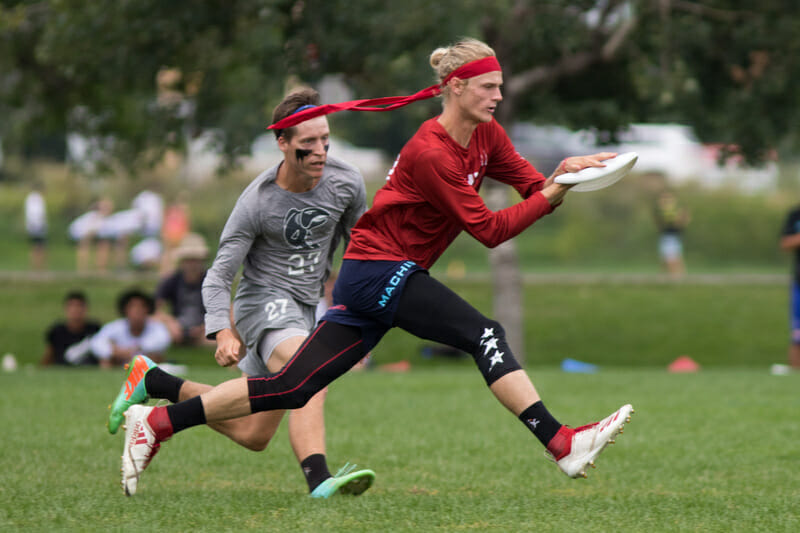 Ultiworld's club men's postseason coverage is presented by Spin Ultimate; all opinions are those of the author. Gear up for your big games, your tournament parties, and everything in between at Spin Ultimate!
We've had so much fun with the college fantasy drafts the last few years, we finally brought them over to the club level. The basic idea is the same as the college draft: four GMs trying to draft the best team to win a championship right now made up of players attending Nationals. So it's more than simply picking the players who will put up the most impressive stat line, and you probably wouldn't want to draft a team of nothing but deep cutters, no matter how dominant they may be.
Since this is a first time for us with the club division, though, we decided to add an exciting twist: this year, our loyal subscribers got to join in on the fun! For the men's draft, Joe Forbes of the Bay Area joined Ultiworld staffers Daniel Prentice, Keith Raynor, and Edward Stephens on this noble venture. Just as with the college drafts, your job as readers are to vote for the team you think is best, and let us know where we went wrong in the comments.
Be sure to check out our drafts of the women's and mixed divisions as well!
Rules
Snake draft. Daniel, Keith, Edward, and Joe pick 1-4, respectively, in odd rounds, and then in reverse order for even rounds.
12 players per team
A pair of two-way players who will be on both offensive and defensive lines per team, and ten line-specific players (five O-liners, five D-liners)
Assemble the best possible team that would beat the three others if they were to play an actual game of ultimate
The Draft
| | Daniel | Keith | Edward | Joe |
| --- | --- | --- | --- | --- |
| Round 1 | (1) Jimmy Mickle, New York PoNY | (2) Dylan Freechild, Seattle Sockeye | (3) Jeff Babbitt, New York PoNY | (4) Rowan McDonell, Washington DC Truck Stop |
| Round 2 | (8) Ben Jagt, New York PoNY | (7) Joe White, Chicago Machine | (6) Ryan Osgar, Minneapolis Sub Zero | (5) Jack Williams, Raleigh Ring of Fire |
| Round 3 | (9) Mark Lloyd, Toronto GOAT | (10) Chris Kocher, New York PoNY | (11) Cassidy Rasmussen, San Francisco Revolver | (12) Jay Froude, Austin Doublewide |
| Round 4 | (16) Simon Montague, Seattle Sockeye | (15) Ben Lohre, Denver Johnny Bravo | (14) Henry Fisher, Raleigh Ring of Fire | (13) Matt Rehder, Seattle Sockeye |
| Round 5 | (17) Grant Lindsley, New York PoNY | (18) Kurt Gibson, Chicago Machine | (19) Nick Stuart, San Francisco Revolver | (20) Ashline Joye, San Francisco Revolver |
| Round 6 | (24) Dalton Smith, Austin Doublewide | (23) Tyler Monroe, Washington DC Truck Stop | (22) Abe Coffin, Austin Doublewide | (21) Trent Dillon, Seattle Sockeye |
| Round 7 | (25) John Stubbs, Atlanta Chain Lightning | (26) Pawel Janas, Chicago Machine | (27) Sean Keegan, New York PoNY | (28) Raphy Hayes, Portland Rhino Slam! |
| Round 8 | (32) Jack Hatchett, New York PoNY | (31) Jacob Janin, Seattle Sockeye | (30) Peter Graffy, Chicago Machine | (29) Nicky Spiva, Washington DC Truck Stop |
| Round 9 | (33) Eli Kerns, San Francisco Revolver | (34) Mac Hecht, Boston DiG | (35) Delrico Johnson, Washington DC Truck Stop | (36) Josh Markette, Boston DiG |
| Round 10 | (40) Sam Little, New York PoNY | (39) Nate Goff, Chicago Machine | (38) Matt Gouchoe-Hanas, Raleigh Ring of Fire | (37) Andrew Carroll, Toronto GOAT |
| Round 11 | (41) Eric Taylor, Raleigh Ring of Fire | (42) Goose Helton, SoCal Condors | (43) Tim McCallister, Raleigh Ring of Fire | (44) Antoine Davis, San Francisco Revolver |
| Round 12 | (48) Jason Tschida, Minneapolis Sub Zero | (47) Joe Freund, Washington DC Truck Stop | (46) Marcelo Sanchez, San Francisco Revolver | (45) Jonathan Nethercutt, Denver Johnny Bravo |
Highlights:
It became clear pretty quickly that Joe actually knew what he was doing. "I was kinda hoping Joe would be clueless, and we'd all get to clean up after all his missed picks," Daniel said, about eight rounds in. Being a subscriber really puts you in the know, folks.
While the rest of us all communicated via Google Hangout video chat, Edward was on a lunch break in a University of Georgia cafeteria, and could only type in his picks and remarks. No Ultiworld staffer has ever been more on brand than he was in that moment.
Daniel had the biggest blunder1 when he announced that he was selecting Tannor Johnson in one of the final rounds. He was quickly rebutted with a chorus of reminders that Johnson is playing in the mixed division this season.
Unsurprisingly, PoNY led the way with eight players selected. Four of them went in the first 10 picks. Pittsburgh Temper and Vancouver Furious Georgia were the only two teams with no players picked. Keith opined that, given the wealth of handlers available to fill limited slots, it was hard to take admittedly strong players like handlers from those teams when those positions were filled by early picks.
Temper's Tyler DeGirolamo was the most discussed player who wasn't taken. His talent certainly warrants on a spot on one of our teams, but the questions surrounding his health kept him off of our draft boards. Revolver's Simon Higgins, similarly, was also mentioned, but went unselected due to concerns about his health.
The Teams
Two-way players in bold
Daniel's
O-line: Simon Montague, Mark Lloyd, Jason Tschida, Grant Linsley, John Stubbs, Jimmy Mickle, Ben Jagt
D-line: Lloyd, Eli Kerns, Mickle, Dalton Smith, Eric Taylor, Sam Little, Jack Hatchett
Daniel: Has there ever been a better fantasy team ever assembled!? My goodness, I annihilated this draft. The moment I knew I was going to win this was when I got John Stubbs in the seventh round. How the heck did that happen? I know everyone's team has a strong team, but how is anyone going to stop my offense? Montague and Lloyd are a pair of absolute cannons in my O-line backfield, with the speedy Tschida being their perfect complement. Lindsley, Stubbs, Mickle, and Jagt give me an absolutely unstoppable cutter corps. Defensively I am absurdly athletic with more than enough offensive capability to turn all of my break chances into conversions.
Keith: What did I just read? The pile of hubris above me must be addressed. Stubbs was a great pick where you got him, but given that he missed a chunk of this season with a head injury, how many players picked before him would you rather have? Absurdly athletic defense? How many guys on your defense are one of the top three most athletic players their own club team?
All that said, I have a healthy respect for both of your groups, but the O-line in particular shines. I thought it was fortunate to get Ben Jagt with the 8th pick, and I blame Edward and Joe and enabling that. Jason Tschida, by the way, is awesome, and will fit in great with the star-studded line as a guy who doesn't need a lot of touches to be effective.
Keith's
O-line: Mac Hecht, Pawel Janas, Dylan Freechild, Chris Kocher, Tyler Monroe, Jacob Janin, Joe White
D-line: Kurt Gibson, Ben Lohre, Goose Helton, Freechild, Kocher, Joe Freund, Nate Goff
Keith: If nothing else, my offense is going to be — and have — a lot of fun. Expect them to deliver lots of break throws, give and go's, and isolations until they got into position to deliver a bomb to the speed of Freechild and Janin or size of Monroe and White. On the other side of the disc, I got a steal in Kurt Gibson in round five — would it shock you if he's one of the seven best players at Nationals? That's upside. Goff is on the DPOTY shortlist, and I'm taking a bet on Freund, who has been inconsistent, but has had some serious shining moments this year. Size and speed here, and plenty of offensive firepower after the turn.
Daniel: While I think i have a bone to pick about you raining on my John Stubbs party for his injury absences this year, and then turn and around and tout Kurt Gibson as a potential top seven player, it is hard to argue with his pedigree. And Lohre was one of the players I was most pained to see someone else take, and Goff might be the best Jagt antidote of anyone's D-line.
Any team with with that cutter group is going to cause a lot of problems. Freechild and Kocher in the midfield is hellacious, and that's not even factoring in Janin's and White's abilities to take the top off of defenses. I do think you're asking an awful lot of Hecht and Janas in your backfield though. It's certainly possible that your cutters are strong enough that it won't matter, and Freechild, Kocher, and White can all beat teams with their throws. But in a scenario like this, I think I would rather have a more proven handler group.
Edward's
O-line:  Sean Keegan, Cassidy Rasmussen, Matt Gouchoe-Hanas, Abe Coffin, Ryan Osgar, Marcelo Sanchez, Henry Fisher
D-line: Gouchoe-Hanas, Tim McCallister, Delrico Johnson, Rasmussen, Nick Stuart, Peter Graffy, Jeff Babbitt
Daniel: I think we all expected Edward to have the wildest team, and he did not disappoint. But even beyond the bold player choices, the way he's filled out his lineups is interesting as well. Namely, both of his two-way players were drafted after everyone else had drafted both of theirs, and Gouchoe-Hanas wasn't taken until the 10th round. 'Gooch' is a great player, but I think his value is more accurately reflected in where he was drafted than in his usage by Coach Edward. He's definitely going to get some turns though; that D-line would instill nightmares in even the most effective offenses.
Keith: Cutters beware of this D-line. I was jealous Edward got to Rico, as he was someone I was looking to target in the late rounds. I thought it was aggressive to take Babbitt and Osgar above players like White and Jagt, but you can see how Babbitt shapes the entire defense. Edward's definitely got a ceiling with them. Meanwhile, the offense is very efficient. All of these players — even Keegan — can spot defensive weaknesses and keep possession alive long enough to exploit it. But, comparatively, I think the line lacks the size and athleticism downfield of the other rosters, and that could cause them trouble.
Joe's
O-line: Ashlin Joye, Josh Markette, Rowan McDonnell, Jack Williams, Raphy Hayes, Andrew Carroll, Matt Rehder
D-line: Jonathan Nethercutt, Nicky Spiva, McDonnell, Williams, Jay Froude, Trent Dillon, Antoine Davis
Keith: Joe's offense is dripping with veteran savvy, sparked by the explosiveness of Carroll and Williams. It will take quick and smart defenders to try and contain this unit; defending Rowan and Jack Williams in the middle of a horizontal stack sounds like a nigh impossible task. On defense, it was gutsy to pull the trigger on Jonathan Nethercutt given what he's been able to produce in his new role with Bravo. The talent's obviously there, though. Tremendous speed downfield from this D-line is their strength, and it's hard to say Joe dropped the ball here.
Daniel: Whether Nethercutt would be selected was one of my biggest questions going into the draft. Where Joe took him was pretty strong value for a player that is just one season removed from being an All-Club first teamer. It's difficult to find another weaknesses, really. Joye and Markette is such a fun pairing in the backfield. I also want to shout out Raphy Hayes, who has been unreal for Rhino this year. I think he probably holds the least name recognition of anyone who was drafted, but don't hold that against Joe. He's right at home on a team like this.
Who would win?
Daniel: Well, everyone already knows what I think. Yes, I may have gone a little overboard with the love for my team initially, but you can't fault me for just trying to stay on brand. And for once, I think the public will actually agree that I have a great team. I will grant that other D-lines ended up being more fearsome than mine, but I still think I have the most unstoppable offense. Mickle, Lloyd, and Jagt is just so much fire power. And let's not forget how good Montague has been this year.
So I'm taking to win myself to win this, but beyond that it's really tough to pick how everyone else finishes. I actually think I lean towards Joe's team as number two, just edging Keith in an unbelievable double game point game. Sorry, Edward.
Keith: After a lot of thought, I think I arrived at the same conclusion at my colleague. But I would note that it seems my evaluations have each of the four teams much closer together, albeit ranked in the same order. The margins are getting thin in these drafts! I wonder about Daniel's ability to get breaks from his defense, especially when faced with elite athletes in the cutting lines, but the O-line is a cut above. Even the high-flying antics of Joe's D-line would have a tough time against that unit.
---
What else is new? ↩