Willing catches into existence, creating blocks from whole cloth, defensive gambits on double game point, and other peak excitement from pool play in the men's division.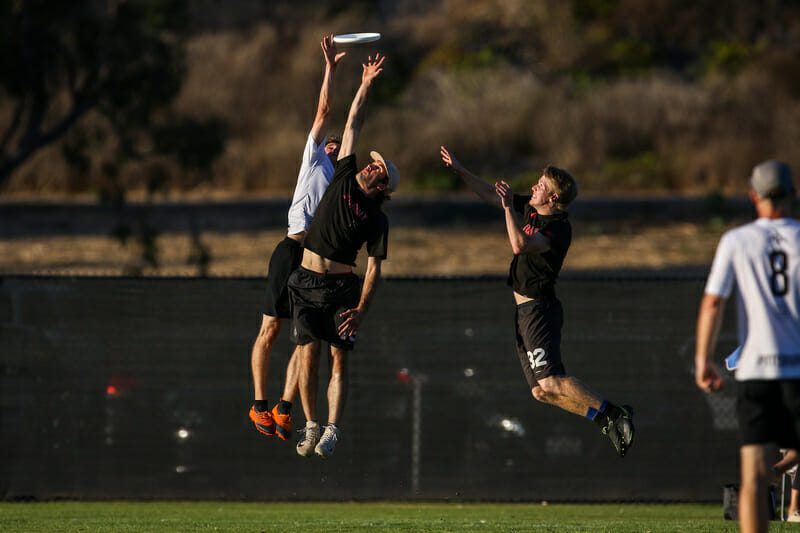 Ultiworld's club men's postseason coverage is presented by Spin Ultimate; all opinions are those of the author. Gear up for your big games, your tournament parties, and everything in between at Spin Ultimate!
Catch up on our full Thursday coverage on the Day 1 Liveblog.
24 games in nine hours. Rookies and transfers players with new numbers to remember. Countless Twitter updates. Nationals is a lot to make sense of and it's natural to want to distill everything that happens into something manageable. The easiest way is to take a peek at the results pages. But behind each of those score lines and bracket placements are moments when the action peaked.
Some of them changed the course of a game, while others confirmed something about their teams. Here are the six moments that defined Day 1 in the men's division at the 2019 Club Championships.
Machine's Walden Nelson Goes The Extra Mile
Chicago Machine's top finish, capped by a 15-14 double game point win over Washington D.C. Truck Stop, almost didn't happen.
It would have been easy for Machine to tap out at several points today during Pool C play. They were upset in spectacular fashion by the 15th seed Atlanta Chain Lightning in the first round and suddenly their title aspirations were thrown into jeopardy. Truck Stop was looking untouchable and a slog through prequarters seemed like a best case scenario for a Machine team on the edge of implosion.
But after a bye, Chicago refocused and came into their second-round Toronto GOAT game ready to make a statement. The results were emphatic, as Machine rode a 9-1 run to the finish line and stomped out their opponents from Toronto. That win alone would have been enough to save face on the day, and guarantee a place in the bracket. Trailing 13-10 to Truck Stop, it looked like the narrative was all but written: Machine would avert disaster but need to turn the page tomorrow.
Instead, Machine decided to write their own narrative.
Needing two breaks to win, Machine sent a loaded D-line out against Truck's high-powered offense. Reigning Player Of The Year Rowan McDonnell hit Nate Goff with a double move and went deep up the force side. Lloyd Blake unfurled a lefty backhand, seeking Rowan's back shoulder. The disc floated more than Blake intended and Nate Goff was able to track back and force Rowan to go up early. Incompletion. Machine's disc. Goff ripped a flick huck to Johnny Bansfield, but Christian Boxley was able to make up ground and nabbed a deflection in mid-air.
To the players on the field and everyone on the sideline, Boxley's block was a done deal. Truck was about to get the disc back.
And then Walden Nelson came streaking into frame, his body hurtling horizontal through space and crash landing, improbably, with the disc in his hands. While his defender pulled up and watching the play unfold, Nelson willed the catch into existence. He made the extra effort, found the extra inch, and took charge of the narrative.
The drive that Nelson showcased was what Machine needed to pull themselves out of oblivion and erase the memory of the Chain loss. It was a moment in which Machine made the story of today about what they could make happen, and not what was happening to them.
DiG Switch To Matchup Defense on Universe
Armchair coaches, this one is for you. Here's the scenario:
Raw athletes are not your team's strength. You work on a zone defense all season. The D-line starts to understand it in early September, and you commit to it in a key game at Regionals.
It works. The defending national champions can't get their footing, and you win the Region as an underdog. You get more good results in an early pool play game that you end up winning by a wide margin. The proof is in the pudding: switching to your zone look puts breaks on the board against the best team in the country and your team has the inside line on a bye to quarters.
But you haven't won the game yet. It's universe point. You're pulling. As a coach do you:
A) Stick with the zone that has done nothing except force a ton of high-pressure throws and laid the groundwork for your breaks?
B) Suddenly switch a defensive scheme to change the pace?
That's the exact scenario Boston DiG found themselves in against Seattle Sockeye this afternoon. They chose Option B.
The result? Not so good. Sockeye ran the kind of pull play they hadn't been able to run for half the game and hit their fearsome deep cutter Matt Rehder in isolation for the win.
A Fumbled Pull, A Dropped Pass, And The Misfortune Of Doublewide
Following a double game point win over Raleigh Ring of Fire in the first round of the day, Austin Doublewide had a 14-12 lead over San Francisco Revolver, pulling downwind, and was on the doorstep of locking up the top spot in Pool D.
An upwind hold and downwind conversion later, it was 14-14 and double game point once again. But, on offense going downwind, Doublewide still seemed to be in control. However, as the pull dropped back to the field, Abe Coffin nearly fumbled the catch. Then, on the centering pass, Connor Olson dropped the clap catch. One throw later, Ashlin Joye hit Cassidy Rasmussen with a low open side flick and Revolver closed out the wind on an upwind break.
In the same way that the fumbled pull quickly shifted Doublewide's prospects in their Revolver matchup, the result of the game wound up be a sharp turning point in Austin's nationals journey. One round after being on the doorstep of locking up the pool, a loss to Portland Rhino dropped them from first to third in the pool. As Ring locked up Pool D, Doublewide was eliminated on point differential.
Doublewide perennially hangs their hat on their ability to gel at Nationals— often the first time they have their full roster in attendance to play together— and by all accounts it seems to be going to smoothly. But in the course of 10 minutes, the 2012 champions and 2017 finalists went from a probable bye to quarterfinals to consolation play.
PoNY's Chris Kocher Sells Out For The Block
There are some aspects of defense that are part of the gameplan. For New York PoNY, these aspects include jumping the force lanes, orbiting their marks when the field switches, and trusting big deep defenders to make big plays deep. Simple, right? You make life tough for the offense, and you take the blocks as they come.
But sometimes — in a big spot — you need some of that Walden Nelson Energy.
PoNY found themselves in just such a spot late against Minneapolis Sub Zero. Sub had a half-break lead: they could have held their way to the top of the pool, and they had the disc on PoNY's goal line again. The Minneapolis offense was running out of options on the goal line when Tony Poletto spotted Josh Klane a few yards behind the mark with room to spare. Poletto pulled a flat elevator scoober out of his toolkit and fired:
Klane was going to catch the crucial hold.
Then, out of nowhere, Chris Kocher made a Herculean effort to knock the pass away. In the moment, it was difficult to see where he had even entered the play. Eventually it became clear that he had been marking Poletto when he made the throw.
PoNY converted the break a few throws later.
It goes to show that PoNY can count on their players beyond any reasonable expectations. A desperate bid, nearly blind, from an unconventional place on the field saved the point (and the game) for PoNY. It's how they won the pool today, and it might well be happen again as they pursue a second-straight title.
Ring Breaks to Win Over Revolver
As the final goal was caught, the brief moment waiting for the observer signal seemed to stretch out for an extra beat or two. Was it official? Did it really happen?
Indeed, as the observers conferred and signaled a goal, certifying the 15-9 victory for Raleigh Ring of Fire over San Francisco Revolver, they also signaled the end of two significant runs.
First, after falling to Revolver for three straight years in the semifinals Ring had finally gotten over the hump—in emphatic fashion. Their dominant performance seemed to be culmination of the game plan that produced an early lead in last year's semifinals, but without the offensive letdown that followed. As both teams experienced a sort of changing of the guard with their recent youth influx (Revolver more so than Ring), the respective new generations set the tone of their engagement going forward: while certainly not a complete role reversal, Revolver is no longer the big brother.
In a more historical sense, Ring's winning goal represented the end of the line for a historically impressive run by Revolver at Nationals. In the final round of Pool D play,  Ring gave Revolver their first loss in pool play since 2006.1
That's not to signal an imminent slide for the vaunted San Francisco program — they may well return to the semis or even finals this year — but it certainly does speak to the fact that, for the first time in nearly a generation, Revolver's vice grip on the men's division has verifiably loosened. After a season of speculation, the aura of invincibility has waned and, odd year or not2, the door is open.
Temper's Max Sheppard Skies Some Fools
Improving your play at Nationals year-over-year is a difficult game, especially against programs with relatively recent titles and a heavy dose of bracket experience. And that was Pittsburgh Temper's job in the final round of Pool B play today–inching ahead against the legacy of the Denver Johnny Program.
With Temper leading 9-7, who would have been surprised if Bravo mounted a comeback and maintained their position among the country's elite historic men's clubs?
Then Pat Earles put up a long huck into traffic. Don't get me wrong: in a vacuum, it was a pretty throw. It had loft; it had velocity; it held its edge. But the Bravo defense read the play before it happened and would have made the block if this were another year.
This year, however, Temper have a star-in-the-making in Max Sheppard — the target of that particular Pat Earles huck. Sheppard found an opening to spring up between the two taller Bravo players and take the disc before they could get close.
The Sheppard play set up a 10-7 lead for Temper — not absolute, but definitive enough that Bravo were unable to come back, sending them out of the picture on Day 1 and catapulting Temper to a new horizon: the bracket.
---
The last team to beat Revolver in pool play was Boston Death or Glory ↩

Revolver's championships have been in 2010, 2011, 2013, 2015, and 2017 ↩