The big games are here.
After three days of competition at the 2019 Pan American Ultimate Championships, the bracket has now come into sight in the Men's, Women's, and Masters Mixed divisions, while Masters Men's has moved to round robin championship play, Mixed pool play continues, and Grand Masters Men's play has gotten underway.
Men's
The undefeated teams in Pools A and B — Alberta Flatball Club (CAN) and Comunidad El Oso (COL), respectively — solidified their positions atop their pools on Wednesday. Alberta notched a 15-12 win over Domino (DOM), rallying from an early deficit with tight defense and strong play from Dave Hochhalter and Edward Guo. They've clinched the #1 seed in the semifinals bracket that will start tomorrow after one more round of pool play.
El Oso topped Phoenix (CAN) 13-11 to start their day, and a comfortable 15-9 win over Discountry (COL) in the second round locked up the top spot in Pool B. The game against Pheonix was a testy affair, with both teams bringing serious physicality to the table. Oso's quick handlers were able to win the battle against Pheonix's aggressive backfield covers and rookie Andres Ricuarte's deep defense held Ottawa's vertical attack's at bay.
The semifinals bracket will be rounded out by Evolution (COL) and Warao (VEN), who will face El Oso and Alberta, respectively. Ultiworld will be streaming the Comunidad El Oso/Evolution game at 11:30 AM Eastern on Thursday.
Women's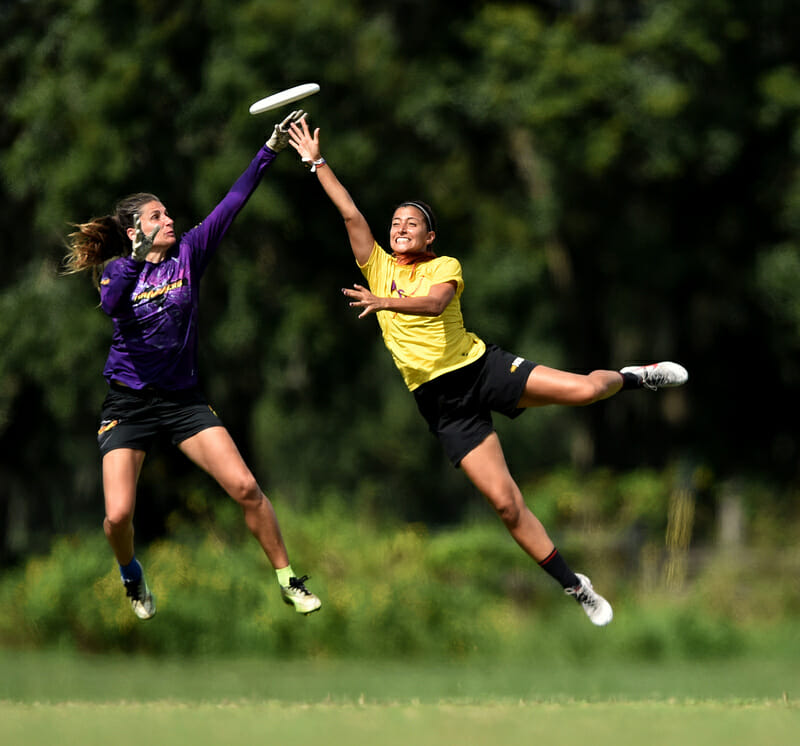 Revolution (COL) formalized the inevitable on day three, cementing their first-place finish in Pool A with 15-4 wins over Mamajuana (DOM) and Voltaje (COL). Elizabeth Mosquera was on a different level than anyone else on the field, athletically eating up any pass that entered her considerable range, then attacking on offense with both her speed and throws. Revo has still not been tested through five games of play, and while the top few teams in Pool B will likely be their toughest competition, it's tough to see anyway in which they don't win the tournament.
Bamboo (COL), Qub (CAN), and Voltaje took the three playoff spots behind Revolution, all tied with a 3-2 record. Bamboo and Qub — who got some big plays from Ariane Pepin — both went 2-0 on the day, all blowout wins, to leap up into second and third place in the pool, while Voltaje dropped both of their games to fall down into fourth.
In Pool B, Wicked (USA) locked up the top spot with their 14-12 second-round win over Aerosoul (COL), thanks in part to strong downfield cutting by Ashleigh Buch. The victory meant that Wicked held the head-to-head results over the next two teams in the pool, having already secured a comeback win over Stella (CAN) on day two. That meant Wicked's final game against PFF (CAN) held no bearing on their finish in the pool, despite their 15-13 loss.
While Wicked dropped the meaningless game, Aerosoul and Stella fought for second place in a double game point thriller. Stella claimed two of three first-half breaks but could not hold off Aerosoul in the second. Nathalia Silva put on a throwing clinic, and Stella couldn't take advantage of enough of their break opportunities down the stretch, including on double game point. Aerosoul's offense looked crisp and organized, quickly moving through their progressions and attacking on transitions. In the end, they did just enough to edge the Canadians for second place.
PPF ended up going 3-0 on the day, thanks to the win over Wicked along with a 15-3 victory over Panama and an identical scoreline against Thrift Shop (CAN)in very quick games. La Septima (COL) went 0-2, which meant that PPF's strong day moved them into the fourth and final playoff spot from the pool.
Below is the championship bracket. Ultiworld will stream Stella v. Bamboo at 9 AM Eastern on Thursday.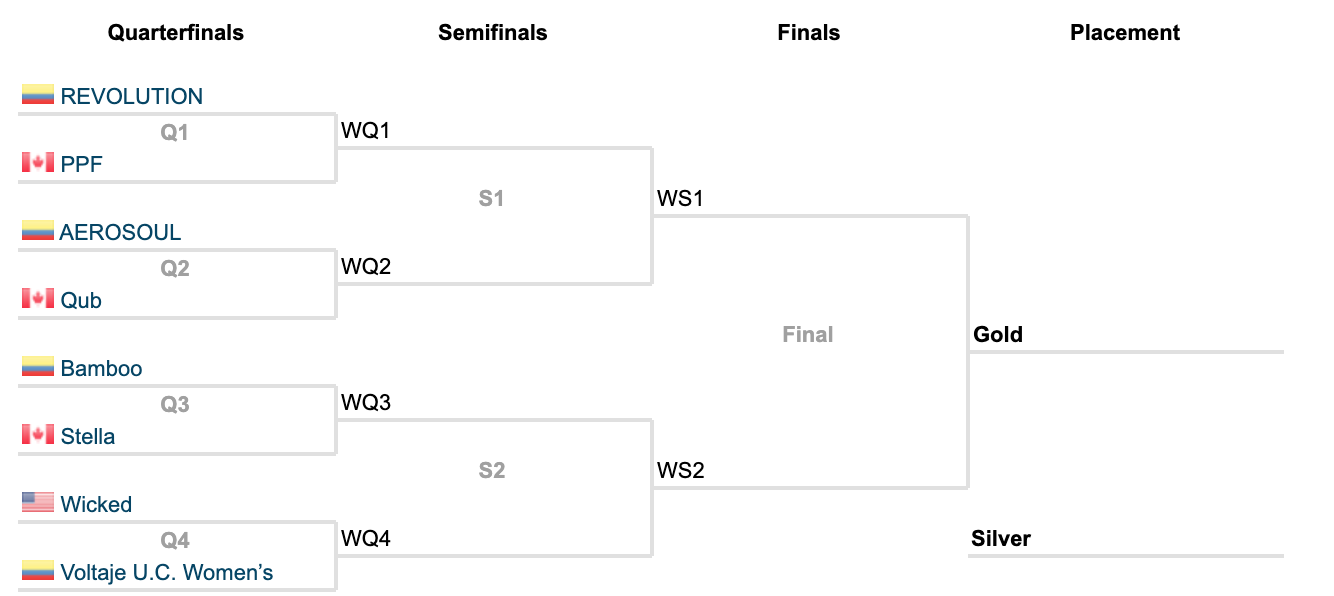 Mixed
Jughandle (USA) had their biggest game of the tournament thus far against Mischief (USA) this morning. With an unusual bracket format sending only the two pool winners to the gold medal match with no other bracket play, the Jug/Mischief game was effectively a semifinal matchup, given Mischief's earlier win against Steamboat (USA) and Jughandle's win over Bunny Thugs (CAN).
Jughandle got a 15-13 win over Mischief to remain undefeated and in prime position to claim a spot in the championship game. They have one more big test tomorrow against Steamboat.
In Pool B, Public Enemy (USA) faced a similar scenario for their game against No Touching (USA). Both teams entered the game undefeated, knowing a win would all but lock up their spot in the final. Public Enemy grabbed the 15-13 win, and with their final three games coming against some of the pool's bottom teams, they will be on cruise control before Friday's championship.
Although the game didn't have implications for the podium, Charrúa (URU) and NGF LocoUltimate (BRA) played a tremendously entertaining 15-13 game to NGF on the Ultiworld livestream this morning. With big athletic plays (like the one below) coming throughout the game from both teams and scoring runs that kept both teams in the game, there was lots to like about the two teams from growing ultimate communities.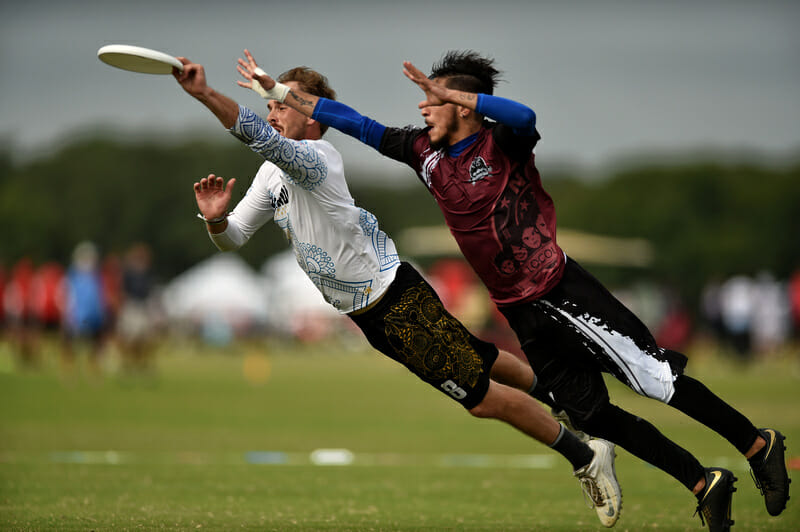 Master Men's
After the conclusion of round robin play during the first round on Wednesday, the Masters Men's division entered…round robin play. That's right: the first two and a half days of competition were just for seeding for the meaningful round robin that will crown a champion.
The top two seeds — All Bashed Out (USA) and NSOM (CAN) — both won their opening games in championship round robin competition, but NSOM had to scratch out a 15-14 win over Bayou Boys (USA), who finished 1-3 in the initial round robin. All Bashed Out easily defeated Beyondors 15-4.
Beyondors and Bayou Boys both got wins in their other match on the day to move to 1-1 and stay alive for a title.
Master Mixed
There's one more round of pool play on Thursday morning before the top four teams advance to the semifinals. Here are the current standings:


Unambiguously Grey (USA), 512 (USA), and Molasses Disaster (USA) are locks to advance to semis, but Old Phoagies, who faces Molasses Disaster on Thursday morning, could still miss the bracket if Happy Campers (CAN) can score an upset over Unambiguously Grey, who has already clinched the #1 seed in the bracket.
Happy Campers kept their championship hopes alive today after beating San Francisco Bridge Club (USA) 15-14 and then getting an easy 15-4 win over the pool's bottom seed, USA Virgin Islands MX.
512 got two strong wins today against two other likely bracket teams: 15-11 over Molasses Disaster and 15-12 over Old Phoagies. Unambiguously Grey stayed perfect with a 15-11 win over San Francisco Bridge Club.
Grand Masters Men's
Grand Masters competition got underway today as teams started jockeying for position in the straight round robin that will decide the champion.
Johnny Walker (USA) got off to a fantastic start by crushing Get Off My Lawn (CAN) 15-3 and then rallying late to mount a major comeback win on double game point over Tombstone (CAN), the highest-seeded Canadian side. Will Deaver, Steven Rouisse, and Aaron Moredock led a handler-driven offense that carved through Tombstone's defense. Tombstone got strong play from Canadian legends John Hassell and Andy Ouchterlony but now face an uphill battle to chase a gold medal and will need some help from Johnny Walker later in the bracket. Tombstone comfortably won their other two games of the day: 15-7 over Reckon and 15-4 over Grandmaster Flash.
Shutdown (USA) was the only other team to finish the day unbeaten. They also smashed Get Off My Lawn and got a strong 15-10 win over Reckon (USA), the tournament's #2 seed.