The most impactful players in the men's division on the defensive end.
Ultiworld's 2019 Men's Club Awards presented by DiscStore.com; all opinions are those of the author. Get $10 OFF Hooded Jerseys for your team using code Ultiworld20 at DiscStore.com!
Ultiworld is pleased to announce our fourth annual Men's Club Awards. While we consider both regular season and postseason performance, because of the nature of the Club Division, we weight success in the Series and at Nationals above all else. The club awards are selected based on input from Ultiworld reporters, contributors, and editors.
Player of the Year Award
Offensive Player of the Year Award
Breakout Player of the Year Award
Coach(es) of the Year Award
All-Club First Team
All-Club Second Team
2019 Men's Club Defensive Player Of The Year
Nate Goff (Chicago Machine)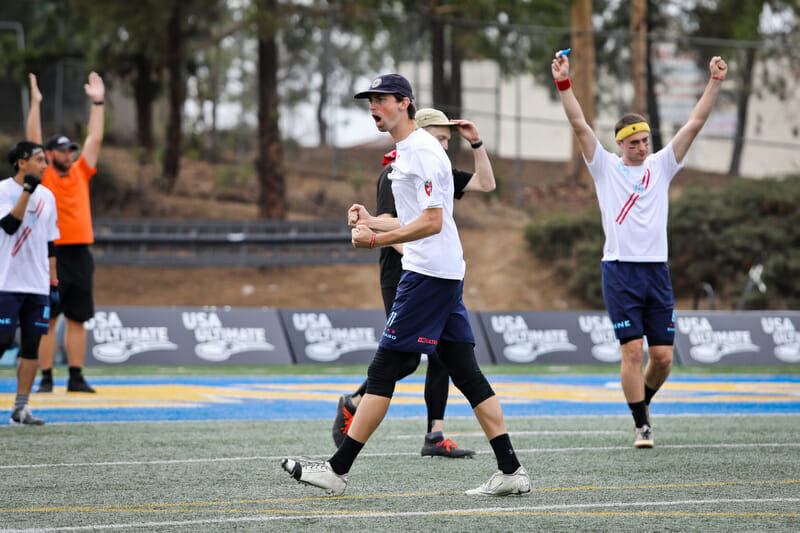 In his second year on Chicago Machine, Nate Goff elevated his game to become one of the premier defensive threats in the men's division. All season long, he took on tough matchups and shortened the field for a top-tier Machine defense.
Goff's ability to read a disc and time his jump to catch floaty throws at his apex is particularly impressive, though often his presence alone in the deep space was enough to deter hucks from being thrown. When they did go up, chances are he came down with the disc and a surprised cutter sprawled at his feet. Goff functioned as the deepest defender in Machine's stingy zone with enough range to shut down any over-the-top looks, and played tight match-up defense when the situation called for it. Primarily known as an aerial threat, Goff also has the speed to keep up with shifty cutters; his primary defensive assignment in the national final against Sockeye was Trent Dillon rather than the taller Matt Rehder. In fact, he was on the field for the entirety of Machine's five-point comeback in that game, showing off his versatility and endurance.
While he is getting this award strictly for his defensive prowess, let's spare a second to discuss how vital Goff was to the Machine offense after the turn. After a few games playing on the O-line this season, Goff showed that he is equally comfortable launching hucks as he is tracking them down, and his presence on the field increased the effectiveness of the Machine D-line offense. D-line efficiency is the mark of a great team and makes the blocks Goff racked up count. Goff had a key role in ensuring that the Machine D-line made the most of its opportunities, with and without the disc.
During the press conference after the national final, Machine captain Walden Nelson spoke about the tactical flexibility Goff provides, explaining that the ability to shift from zone to different types of match-up D, "brought our defense to a whole new level." During a season when Machine imported a lot of star players, Goff stood out as a difference-maker for a team that had its best season in their history.
– Alex Rubin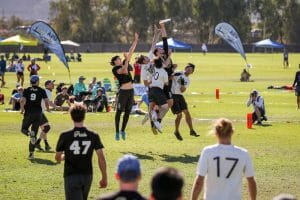 1st Runner-Up: Jeff Babbitt (New York PoNY)
New York PoNY began this season on the heels of a defensive masterpiece in the 2018 title game. When renowned block-hound Jeff Babbitt joined the team over the offseason, the narrative immediately shifted to how much better the 2019 version of PoNY could be. While New York didn't bring home a second title, Babbitt proved himself worthy of the preseason attention, announcing his return to the men's club scene1 with another stunning season.
No stranger to these lists — Babbitt was the 2015 and 2016 college DPOTY as well as 2nd team All Club in 2016 — the UMass product exceeded expectations with his explosive play for PoNY. It was not one singular trait that stood out from Babbitt's play this season; he has the speed to keep up with faster players, the aerial ability to defend the skies against taller players, and the size to hold a strong force on the mark. Perhaps most of all, he has a preternatural gift for sniffing out a block opportunity.
Babbitt fit right into a New York squad full of star athletes and standout performers, adding an entirely new dimension to PoNY's already complicated defensive scheme. For a team with as many moving parts as PoNY, Babbitt is as ideal a fit as a defensive coach can imagine, providing both flexibility and reliability. At times he took the opponent's toughest matchup, using his massive frame and positioning to take away a preferred option and forcing offenses to look elsewhere. Other times, he marked a lesser threat on the offense, gaining the freedom to roam the field and hunt down a poach block with his athleticism and reading of defensive space. Effective no matter what his assignment, he obviously earned the trust of his coaching staff. Even after sustaining an injury to his hand in PoNY's quarterfinal against Rhino Slam!, Babbitt was out there over and over as New York mounted their season-saving comeback. As the gap closed, Babbitt's contributions escalated, to the point where his late blocks and game-winning goal felt more inevitable than spectacular. There was simply nothing Rhino could do to keep the disc away from being absorbed into his gravity on either side of the disc. It's a feeling many of PoNY's opponents this season could empathize with.
– Alex Rubin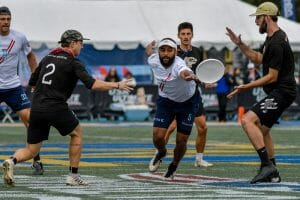 2nd Runner-Up: Johnny Bansfield (Chicago Machine)
There are moments in some points when Johnny Bansfield looks like he's not trying. And I don't mean to say that he makes playing great defense look easy — I mean he actually looks as though he isn't trying at all. But those moments aren't actually lapses: they're part and parcel of Bansfield's peculiar brand of excellence in 2019. In transferring to Chicago during the offseason, the former High Five standout found the ideal niche for himself in the secondary of Machine's vaunted zone, essentially a system for simultaneously maximizing field coverage and allowing players to choose when to take a chance on a block.
Nobody — not even DPoTY winners Nate Goff and Von Alanguilan — exercised that option more successfully than Bansfield this year, whose twin virtues of superb awareness and top-of-the-division athleticism propelled him to a tournament-leading six takeaways at Nationals.2 Sprinting thirty yards from his "position" to clog up a short throwing lane, laying out on the mark to foil an around, or taking an aspirational swipe at discs traveling anywhere near him, he turned even the most mundane game events into opportunities.
Bansfield's work in the zone might have been good enough to put him in this spot on its own. But throw in some of the most frustrating fundamental reset defense in the game, speed in the lane to hang with any matchup, and a disproportionate number of highlight-reel blocks pushes him unquestionably over the top.
– Edward Stephens
***
Editor's Correction: Due to an initial misapplication of the tiebreaker rules, we previously misrepresented the order of the two runners up. We apologize to both players for the error.
---
He played on Boston DiG in 2016 and the 2017 Series, but took the 2018 season off. ↩

Tied with Temper's Anson Reppermund and Chain Lightning's Michael Fairley ↩