Our selections for the seven best performers of the year.
Ultiworld's 2019 Men's Club Awards presented by DiscStore.com; all opinions are those of the author. Get $10 OFF Hooded Jerseys for your team using code Ultiworld20 at DiscStore.com!
Ultiworld is pleased to announce our seventh annual Men's All-Club teams. While we consider both regular season and postseason performance, because of the nature of the Club Division, we weight success in the Series and at Nationals above all else. The All-Club teams are selected based on input from Ultiworld reporters, contributors, and editors.
Player of the Year Award
Offensive Player of the Year Award
Defensive Player of the Year Award
Breakout Player of the Year Award
Coach of the Year Award
All-Club Second Team
2019 Men's All-Club 1st Team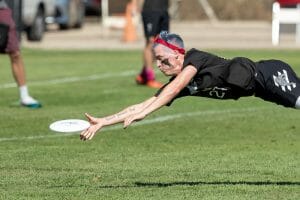 Dylan Freechild (Seattle Sockeye)
Everything's comin' up 'Freechild' this year! While this is the Sockeye star's third consecutive year on the All-Club First Team, it feels different this time around. Now he's got the title. Now he's got the Player of the Year recognition. So what pushed him into the stratosphere this season?
In 2019, Freechild found his balance, attacking the season like he was rolling towards a towering flight of steps on a skateboard. In other years, his full-tilt style emerged as an explosion over the edge, sending him sailing through the air. But his inability to mesh that style with the context of his teammates resulted in uneven landings that dismounted him, sometimes in a spectacular disaster. But with the right tuning, ample focus, and a willingness to show previously ignored restraint and control, Freechild found out how to not only fly, but how to stick the landing.
– Keith Raynor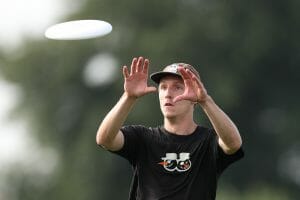 Ryan Osgar (Minneapolis Sub Zero)
If you've ever wondered what Steph Curry might be as an ultimate player, you might want to watch some Ryan Osgar highlights. Where shooting a three-pointer just past half court on the fast break used to be a laughable, low-percentage decision, Curry made what was once a coach's nightmare into a quality scoring opportunity. Welcome to the Ryan Osgar experience, where fadeaway blades past a poach is transformed from a should-be turnover to a defense-smashing instrument for Sub Zero.
The numbers are staggering, as he nearly doubled up the field in plus-minus at Nationals, sporting a ludicrous assist-to-turnover ratio that is actually even more mind-boggling than it appears when accounting for the degree of difficulty. And somehow, between his bomb-dropping, he found time to hit paydirt himself with equally sharp cutting. He averaged roughly 2.5 goals and 3.5 assists and less than a turnover per game in San Diego — that's just silly. He leaves no room for defensive error, and occasionally, he simply renders the defense inert. Secret's out: Osgar has become one of the premier players in the division.
– Keith Raynor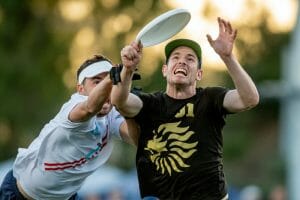 Chris Kocher (New York PoNY)
Despite going from underground favorite to household name last season, Chris Kocher's game did not emulate the flashier trappings of his reputation. He plays a cool, calm, and collected brand of ultimate, executing every element of the sport to practiced perfection.
If anything, the PoNY maestro has cut even more fat from his play to become the pinnacle of ruthless efficiency. Always capable of playing multiple roles at any given time, Kocher has become possibly the best offensive AND defensive player on his team with one simple skill: getting to the most valuable spots on the field with impunity. His footspeed and awareness put him a step ahead of opponents literally and figuratively, allowing him to get open seemingly at will and deny opposing offenses with similar ease.
– Patrick Stegemoeller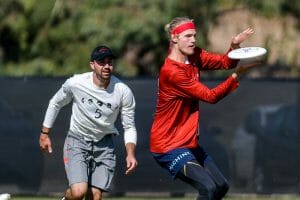 Joe White (Chicago Machine)
No player elicited stronger reactions in the men's division this year, among both true believers and doubters. It seemed that at any given moment Joe White was either a divine savior of the game, sent to bring us into a rapture of scoobers, flick hucks, and massive skies, OR a disgraceful turnover machine who was pure style without substance and demonstrated a serious lack of respect for his elders/mid-range jump shots.
But put aside all the clamoring and you're left with some pretty staggering facts. As a rising senior in college, White was the offensive focal point of the team that finished second at Club Nationals. He had 24 goals and 45 assists recorded this season across three tournaments. No matter what anyone else is saying, that speaks for itself.
– Patrick Stegemoeller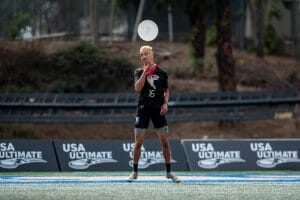 Trent Dillon (Seattle Sockeye)
Trent Dillon's presence on this list can be summed up in one word: versatility. It isn't just that he played both ways for most of the year, although that's part of it. It's a larger talent for adaptation. Liquid matter takes whatever shape its surroundings require. Dillon plays like a role-player whenever he's on the field, except that he slots into every role in succession, energetically hitting the same high marks as the guys who excel by staying in their lanes.
It's equally easy to picture him running give-and-goes with Dylan Freechild and Chris Kosednar, locking down handlers after the turn, alternating deep cuts with Matt Rehder, or springing up for huge blocks in the biggest moments. So while you won't find Dillon on the OPOTY or DPOTY lists this season — frankly, it doesn't feel right to pigeonhole him like that — let this selection attest to the fact that he spent the 2019 season being legitimately great at everything.
– Edward Stephens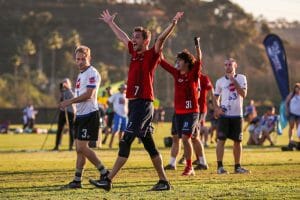 Kurt Gibson (Chicago Machine)
There was no shortage of electric performers dotting this season's Chicago Machine roster. In their march to the national final, young stars Joe White, Johnny Bansfield, and Nate Goff all had their spotlight-stealing moments in San Diego. But for all the flash they and others produced, it was the consistent, all-around brilliance of their elder statesman that was the lynchpin of their success. At age 34, Kurt Gibson kept plugging away as arguably the best player at Club Nationals.
It's a reasonable criticism to say that Gibson doesn't deserve a place on a list reserved for the top performers of the full season, given that injuries prevented him from throwing a disc in anger until the Series. But none of that mattered to those who tuned into ESPN and watched the oldest player on the field absolutely dominate the season's final weekend. A strong goal and two assists in the semi was eclipsed by a game-best six-point performance in the final. When the bright lights are on, the top talent of his generation continues to deliver, no matter what team he's playing for.
– Steve Sullivan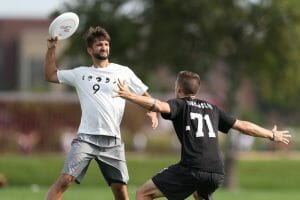 Cassidy Rasmussen (San Francisco Revolver)
Once Revolver's most electrifying receiver and later playing the D-line stopper and rainmaker, Cassidy Rasmussen has worn several hats in his decorated career. Anyone would have forgiven him for slowing down. A man for all seasons, though, he transformed yet again for his eleventh(!) campaign with the club.
While still brandishing some of the most powerful throws in the game, Rasmussen ceded more of the glamorous moments in 2019 to talented younger teammates like Antoine Davis and Eli Kerns. But make no mistake, he was the team's most important piece, both the keystone and the breakwater. When Revolver's offense was humming, Rasmussen played the facilitator, getting power position and driving the lateral movement to set up the attack. When it started to break down, they turned to him in the reset space to get out of a jam. And when the team needed a break? Rasmussen crossed over to bolster the defense.
2019 may have been a transitional year for Revolver, but it was only another stage in the evolution of their best player.
– Edward Stephens