Rounding out the season's top 14 players.
Ultiworld's 2019 Men's Club Awards presented by DiscStore.com; all opinions are those of the author. Get $10 OFF Hooded Jerseys for your team using code Ultiworld20 at DiscStore.com!
Ultiworld is pleased to announce our seventh annual Men's All-Club teams. While we consider both regular season and postseason performance, because of the nature of the Club Division, we weight success in the Series and at Nationals above all else. The All-Club teams are selected based on input from Ultiworld reporters, contributors, and editors.
Player of the Year Award
Offensive Player of the Year Award
Defensive Player of the Year Award
Breakout Player of the Year Award
Coach of the Year Award
All-Club 1st Team
2019 Men's All-Club 2nd Team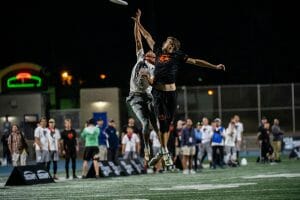 Jack Williams (Raleigh Ring of Fire)
Trying to pick Jack Williams' stat line from Nationals out of a crowd of Ring of Fire players can be a challenge — they were an exceptionally deep and balanced team this season. Even so, his 10 assists, 9 goals, and 4 blocks were all tops on the squad. It's rather in the way that he plays in the season's biggest moments that he stands above his peers. Williams introduced himself as one of the sport's true takeover players in the famous 2017 college semifinal where his UNCW squad bested a heavily favored North Carolina and he confirmed it last club season. 2019 saw him simply burnish his reputation.
In Ring's double-game point semifinal, the well-rounded Williams was electric. Sharp as a well-honed spear against the shifty Sockeye defense to move Ring solidly down the field, he made them look laughable in the red zone. There was simply no answer for his combination of footwork and explosiveness in tight spaces, and he scored an astounding six of Ring's thirteen goals.
– Edward Stephens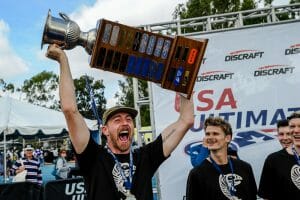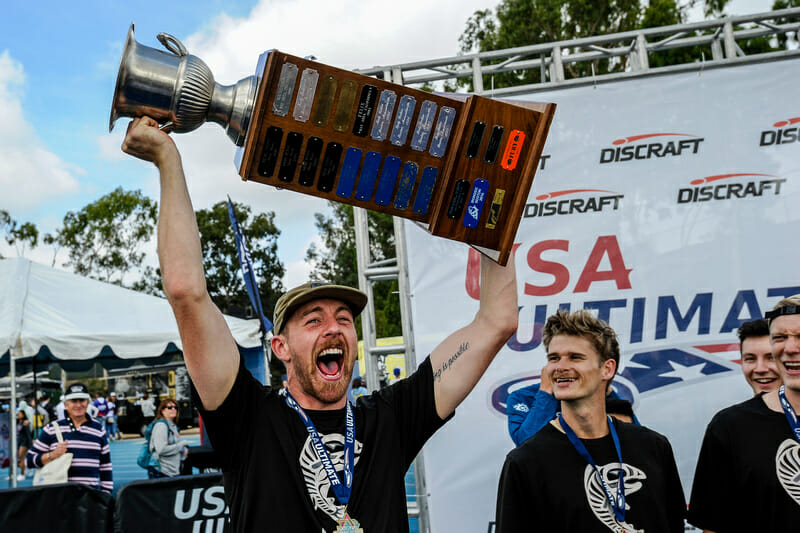 Matt Rehder (Seattle Sockeye)
Just look to Charlie's latest mailbag for a clear indication of how valuable Matt Rehder was this season. Following rumors early in the year that he would be leaving Sockeye for Machine, his performance in the national final to put Seattle over the hump against Chicago had a certain poetry to it, as his decision to remain with his long-time team may have swung the title this season.
A yardage monster, Rehder moves the chains with both his cuts and his throws. No player had more total yards in the championship game, with Rehder on the receiving and distribution end of multiple massive hucks. The Sockeye veteran isn't just a big play merchant however, as his dominance in the deep space translates to lots of yards on virtually uncontested unders. Moving the disc towards the endzone is the simplest understanding of offense, and few in the country were better at doing it than Rehder.
– Patrick Stegeomoeller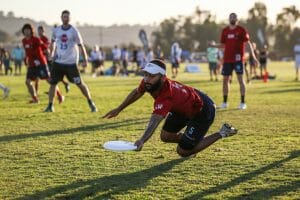 Johnny Bansfield (Chicago Machine)
While Bansfield's immense talent has always been apparent, success at the club level has eluded him. High Five was always nationals-good, but not much beyond that, rarely ever playing meaningful games on Sundays at major tournaments. But with Machine, Bansfield finally had the opportunity to show his excellence on the biggest stage. He did not disappoint.
With High Five, Bansfield was the ultimate equivalent of a 3-and-D basketball player — he played excellent defense and was always looking to shoot off a turnover. This season, Bansfield showed that he was much, much more. He still played lockdown handler defense — in fact, he's one of the best in the world at it. His potent backfield chemistry with Kurt Gibson was a nightmare for opponents to stop, especially near the endzone. His arsenal of break throws made marks look silly. And yes, he's got a pretty good flick huck.
– Charlie Enders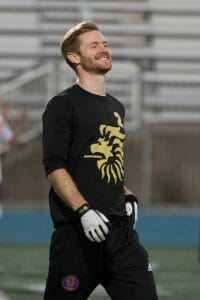 Sean Keegan (New York PoNY)
We throw around phrases like "gunslinger" to describe players who make big, messy, perhaps impulsive, throws. But the player in the division who actually emulates an old west triggerman is the man with the quickest draw in the game. Keegan's ability to unholster break throws in the blink of an eye made him a core asset to PoNY's offense.
With downfield targets like Ben Jagt and Grant Lindsley, it can be tempting to stare down the pipe and limit your vision of the field. But more than anyone else on New York's offense, Keegan was responsible for moving the disc around and past defenses, using smart positioning and that devastatingly quick release on his throws to keep PoNY's offense on the front foot and defenses on their heels.
– Patrick Stegemoeller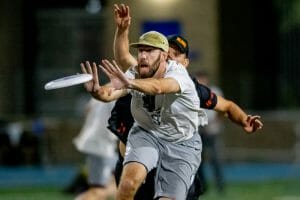 Simon Montague (Seattle Sockeye)
The lankiest thrower in the division had a 2019 to remember. Montague was Sockeye's offensive rock, their quarterback. While Dylan Freechild and Matt Rehder have the athleticism and speed to get open on anyone, Montague made their lives a whole lot easier, using his mark-breaking mastery to get Sockeye's stars the disc wherever they might be.
Hints of the high-risk/high-reward college star of the past can still be found sporadically, but for the most part, Montague has repressed his gunslinger roots. Sockeye doesn't need him to be an offensive engine. Instead, Montague is the oil, allowing all the other parts of the engine to work together smoothly. He makes everyone around him better, and that's exactly what he did this club season.
– Charlie Enders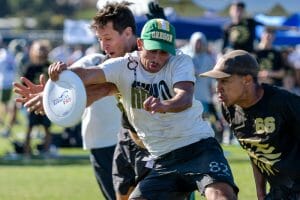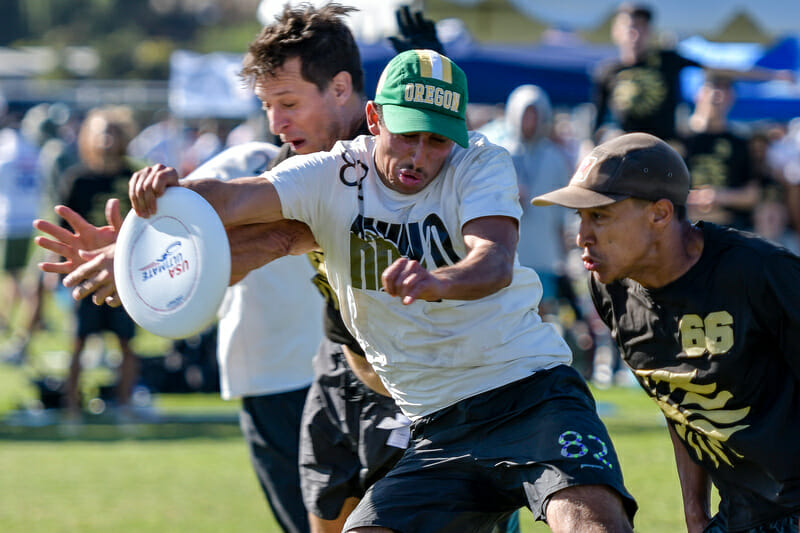 Leandro Marx (Portland Rhino Slam!)
Speed kills. No one in the men's division showed off more straight-line giddy-up than Marx, and the Breakout Player of the Year ran past all expectations for him and Rhino Slam!.
Following massive roster turnover that sapped Rhino Slam! of several loadstone players such as Adam Rees and Will Lohre, Marx stepped up to the plate for Portland this season. Not only did he keep them in Nationals contention all season long and secured a strength bid for the Northwest, but he propelled Rhino to their highest finish at Nationals since 2014. His ability to create holes in coverages with his blazing speed warped defenses and gave other unheralded players on Portland the chance to play to their strengths. Making things easier for his teammates while still putting up gaudy numbers himself, Marx pushed his game to another level in 2019.
– Patrick Stegemoeller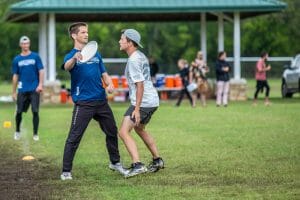 Abe Coffin (Austin Doublewide)
Abe Coffin took a strange approach to being Doublewide's most prolific offensive playmaker in 2019. He usually had no role at all in the team's pull plays, and you can often see him waiting at the front of the stack for half a possession or longer to get involved.
As soon as he entered the fray, though, there was no getting him out of it. A single chance at a continue look from one of his teammates in the break lane or a half-broken dump set would see him charge into position with the easy agility of a brown hare. That's usually when opponents' hopes of scratching out a break went out the window, because once Coffin had the disc, it was like he could see the schematics of the whole defense right down to every last weak spot.
The division hardly has a craftier thrower than Coffin: it's no wonder he tallied 18 assists at Nationals. Oh, and he tacked on 8 goals for good measure.
– Edward Stephens