Three young performers who broke out at the club level this season.
Ultiworld's 2019 Men's Club Awards presented by DiscStore.com; all opinions are those of the author. Get $10 OFF Hooded Jerseys for your team using code Ultiworld20 at DiscStore.com!
Ultiworld is pleased to announce our fourth annual Men's Club Awards. While we consider both regular season and postseason performance, because of the nature of the Club Division, we weight success in the Series and at Nationals above all else. The club awards are selected based on input from Ultiworld reporters, contributors, and editors.
Player of the Year Award
Offensive Player of the Year Award
Defensive Player of the Year Award
Coach(es) of the Year Award
All-Club First Team
All-Club Second Team
2019 Men's Club Breakout Player Of The Year
Leandro Marx (Portland Rhino Slam!)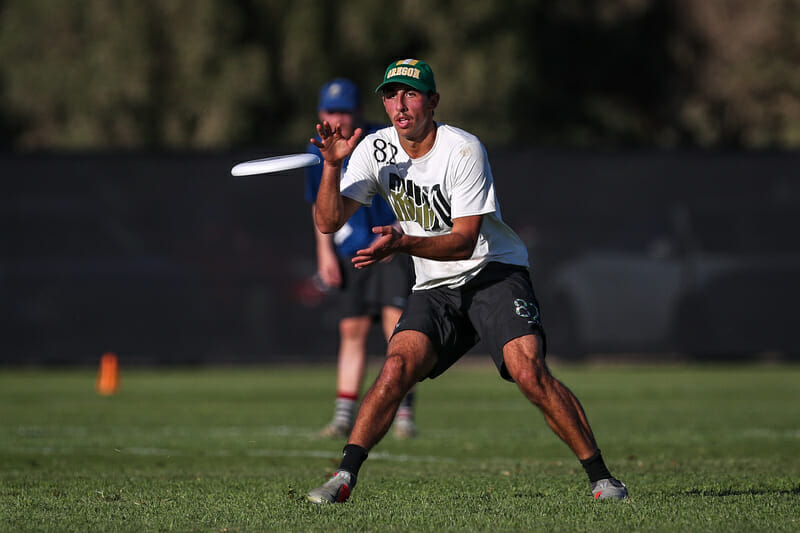 In a Nationals that contained heroic exploits from big names like Gibson and Freechild, the name generating the most excited tones around the field complex was not one most had seen coming. Only one person amongst the hundreds of entries in Ultiworld's picks contest had Portland Rhino Slam! making quarterfinals, but following a heroic performance from Portland's Leandro Marx that electrified the crowd in San Diego and sent Rhino rocketing through the bracket, no one is overlooking Marx now.
While Nationals was where the recognition came, Marx had been leading the line for Rhino all season, keeping the team afloat after losing 15 returners from the previous year. Working with a roster that looked on paper like a potential Regionals flame out, Marx's magnificent performance this season demonstrated that he has broken into that elite tier of players who can propel an inexperienced team to major success.
On the field, devastating speed is where it starts for Marx and everything builds off of that. No one could live with him in open space, as he beat players on straight-line deep cuts again and again when isolated against a defender with no help over the top. By adding pinpoint cutting technique onto that speed, Marx was able to unbalance defenders and get past no deep or no in-cut coverage like rushing water through a sieve. His ability to get open consistently and in threatening positions made him both a liferaft and a battleship for Portland.
The biggest compliment you can pay to Marx's play this season is that his opponents knew what he and Rhino wanted to do, and yet they couldn't stop him. In late stages of games, it sometimes looked like Marx was the only player cutting on the field for Portland, as he was able to churn yards over and over and over again despite having the sum total of a defense's focus.
The numbers, particularly in big games, back up Marx's omnipresence on the field for Rhino Slam! He led Club Nationals in goals, and tied with Raphy Hayes1 for the most assists on the team. In three consecutive elimination games against Doublewide, DiG, and PoNY, Marx put up the following slash lines: 5G/2A, 5G/3A, 5G/4A, with just three turnovers total across the three games. Wow.
While Nationals ended in a heartbreaking moment for Rhino Slam!, the season as a whole showcased that Leandro Marx is one of the best players alive and may just be beginning to see what his talents can do.
– Patrick Stegemoeller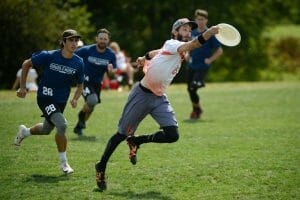 1st Runner-Up: Eric Taylor (Raleigh Ring of Fire)
Someone had to fill the big shoes left by Jonathan Nethercutt's departure. Enter Eric Taylor. When the bearded face of Raleigh Ring of Fire's program departed to Denver, Taylor stepped up to become one of Ring's most dependable players. Need someone who can limit another team's biggest weapon? Put Taylor on him. Need to pin a pull in the end zone? Ask Taylor to throw it. Need a dominant initiating cutter to jump-start your offense? Leave the job to Taylor. Want someone who can value the disc and put up high-percentage shots from the handler set? Taylor's the player for you!
If this sounds oddly familiar, it is because Taylor shined as a star for Carleton College in much the same swing role he played for Ring this season. He even finished as the 2017 college BPOTY runner-up, the season he helped lead CUT to a national championship. While Ring didn't take home a trophy like 2017 CUT, this is the first season we saw Taylor equally as dominant — if not more assertive — on the club circuit.
Taylor led Ring with poise and the promise of continual improvement. Without his steady hand and athletic defense, Ring would not have maintained their impressive level of success despite fielding one of the youngest rosters in the division. As one of the most versatile players in the division, Taylor filled in whatever role was needed this season, and gave the Ring coaching staff a lot of flexibility in their line calling, matchups, and playmaking.
– Alex Rubin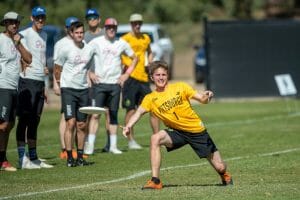 2nd Runner-Up: Max Sheppard (Pittsburgh Temper)
What a year it was for Max Sheppard. On a Temper squad with plenty of guys who can drop dimes all over the field — Pat Earles, Thomas Edmonds, Brett Matzuka, Sam VanDusen — Sheppard came out of nowhere2 in 2019 as the team's go-to option to pick up all of that change. His 17 goals at Nationals made him the tournament's second-leading goal scorer,3 behind only the player who beat him out for this award.
If Sheppard's raw numbers stand out, his actual on-field performance is brilliance writ large. He is without a doubt one of the division's best continuation cutters. It's a stupendous treat to watch him operate. Staying more or less twenty yards downfield of the disc, he skips, swerves, stutters, and (of course) speeds from sideline to sideline, rarely slowing for long enough to give his matchup a chance to take a peek at the disc but always keeping tabs on the play. He feels the iron the moment it gets hot, and he strikes: in, away, across — wherever he needs to be to collect the pass before a mark can jump the lane.
But what really sets Sheppard apart, what makes him a premier threat in the endzone, is how he attacks a disc above his head. He elevates with the quickness of a cricket, or a gazelle, or one of those popper toys — I'm not sure, exactly, but whatever it is, it isn't human. When Max Sheppard jumps, Tigger goes green with envy. All told, he's settling into the upper echelon of club quite nicely. Here's betting there's more to come.
– Edward Stephens
---
Who was astounding in his own right at Nationals. ↩

Edinboro University ↩

tied with Ryan Osgar ↩