The best signal-callers and program builders in the club game this season.
Ultiworld's 2019 Women's Club Awards are presented by Tokay Ultimate cleats. With their new Flight cleats, your feet can shine like these stars! Check out Tokay, the cleats you were looking for.
Ultiworld is pleased to announce our fourth annual Women's Club Awards. While we consider both regular season and postseason performance, because of the nature of the Club Division, we weight success in the Series and at Nationals above all else. The club awards are selected based on input from Ultiworld reporters, contributors, and editors.
Player of the Year Award
Offensive Player of the Year Award
Defensive Player of the Year Award
Breakout Player of the Year Award
All-Club First Team
All-Club Second Team
2019 Women's Club Coaches Of The Year
Carla DiFilippo and Alena Papayanis (Toronto 6ixers)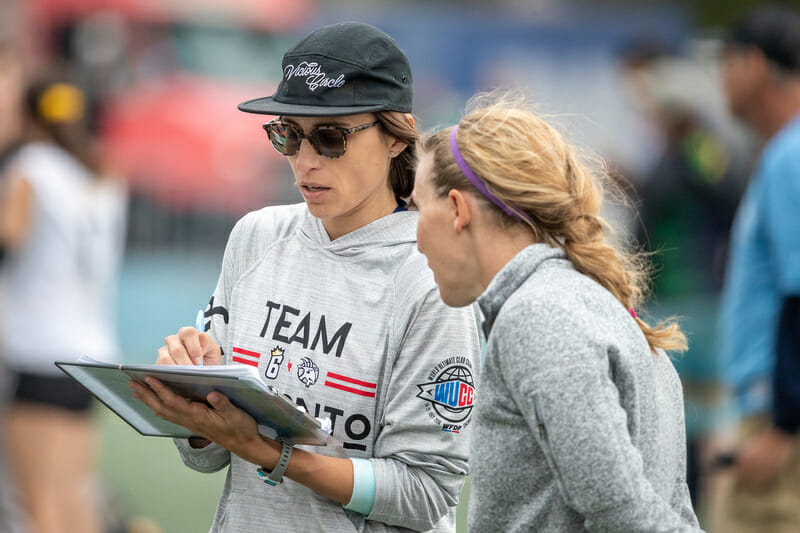 Is there a better program-builder in all of ultimate coaching right now than Carla DiFilippo? DiFilippo has been invaluable in building the Toronto 6ixers into a national finalist in their mere four years of existence. As coach of the U20 Canada girls team and hugely involved in the Toronto youth scene, she's the predominant reason that 6ixers keep unearthing and developing 18-year-old stars. She's also helped the team's leadership group forge a team identity that has resonated from the top of the roster to the bottom.
The official coaching staff hasn't always looked the same from year to year for 6ixers. Sometimes DiFilippo has taken a less involved role and allowed her partner Evan Phillips to take on the more direct head coaching position. This year Papayanis was brought on as DiFilippo's co-head coach. But DiFilippo's involvement with 6ixers since its inception has been crucial, and they would not have had the season they had without her.
Papayanis deserves her fair share of praise as well. She alternated weeks running practices with DiFilippo, jointly worked on team strategy with her co-coach, and called lines and made sure the offense was running smoothly while DiFilippo focused more on the defense. As the person responsible for player lines, Papayanis has to take at least some credit for the seamless addition of some new players this season like Hannah Dawson and Alyssa Mason, both of whom carved out impactful roles right away.
DiFilippo and Papayanis found that perfect wavelength, something that's often very difficult for co-coaches to do, and they helped lead 6ixers to their best season to date. 6ixers weren't just a flash in the pan at Nationals, catching a lucky hot streak. They grabbed four wins over the Brute Squad, Riot, and Scandal this year, and were a point away from defeating Molly Brown as well.
Under the leadership of DiFillipo and Papayanis, both of whom were players on the last Canadian team to make the national final with Ottawa Capitals, 6ixers busted down the door of the division's elite and announced themselves as the new kid on the block. It was DiFilippo's and Papaynis' leadership, youth development, and personnel and strategy decisions that put them in position to be there.
– Daniel Prentice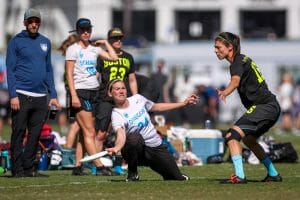 1st Runner-Up: Matt Melius, Bonnie Melius, and Bobby Gough (Portland Schwa)
After a successful stint in the 90s, the past two decades of Schwa has been a case of 'Ever the Bridesmaid, Never the Bride' at Nationals. The team has qualified for the tournament about as often as the best programs this millennium, and yet they were never able to crack the top four until 2019. And unlike many of the other teams that saw success this season, Schwa did it almost exclusively with in-house talent. They've been building a program for years to get to this point, and it's been the core of Schwa's leadership that deserves the credit for their rise.
Coaches Matt & Bonnie Melius and Bobby Gough each fit the mold of a 'player's coach' through and through. Their coaching style is almost exclusively about empowering the individuals on their team to step up and take over in big situations. At the beginning of the 2019 season, they agreed to allow for close to equal playing time across the roster on their team. By the time Nationals rolled around, their equally distributed load had taken them into the bracket, and allowed them to then break the mold and go all-in on a semifinals run. It's safe to say that paid off.
Through it all, Melius, Melius, and Gough have been in tune with their team, and have shuffled the deck enough times to be dealt a winning hand numerous times this season. Thanks to their ability to bring out the best in their team, they've shown that Schwa's regular-season success was not just a flash in the pan, and have also created an environment where their players know they have the trust of their coaches.
– Graham Gerhart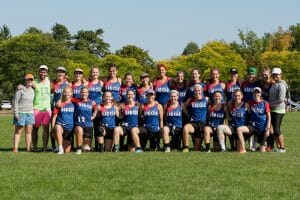 2nd Runner-Up: Rosie Año and Jeff Smith (Boston Siege)
Boston Siege has been a team seemingly on the cusp of Nationals for years, but could never quite get over the hump. Coming into 2019, they lost long-time coach Jason Adams to U24 National Team duty and turned over half their roster, seeing talented stars decamp for greener, Nationals-level pastures in Brute Squad, Slow White, Snake Country, and Rival. Prospects were not pointing toward a program-best season. Then in stepped Rosie Año and Jeff Smith.
The former Slow White teammates took charge of a fresh young squad and revamped their systems and mindset. According to Año, that shift happened from the first huddle of the season: "From the get go, I said, 'Let's get this straight: we're going to Nationals.' Those were the first words they heard from me."
With Año in control of high-level strategy and Smith focused on individual player development, the pair built up their charges into a fearsome and cohesive unit. From the very earliest stages of the season, we saw Siege establishing dominance over in-region rivals like Iris, BENT, and Salty at Boston Invite. At Select Flight Invite and Elite Select Challenge, Boston's second team continued to cement their bona fides, racking up quality wins and vital rankings points, looking ever more impressive and confident. By the time the Series rolled around, we saw a team imbued with belief that a first-ever Nationals bid was not only within reach, but not high enough a goal. Once in San Diego, the newcomers certainly looked the part, earning three victories and finishing a solid 11th in their inaugural trip to the Big Show. If Año and Smith remain involved, it likely won't be their last.