And the Women's Player of the Year is...
Ultiworld's 2019 Women's Club Awards are presented by Tokay Ultimate cleats. With their new Flight cleats, your feet can shine like these stars! Check out Tokay, the cleats you were looking for.
Ultiworld is pleased to announce our fourth annual Women's Club Player of the Year award. While we consider both regular season and postseason performance, because of the nature of the Club Division, we weight success in the Series and at Nationals above all else. The Club Awards are selected based on input from Ultiworld reporters, contributors, and editors.
Our Player of the Year winner and runners up are the three best performers of the 2019 Club season and the POTY podium represents our highest individual award. As such, players honored here are not eligible for our other awards.
Offensive Player of the Year Award
Defensive Player of the Year Award
Breakout Player of the Year Award
Coach(es) of the Year Award
All-Club First Team
All-Club Second Team
2019 Women's Club Player Of The Year
Robyn Fennig (Washington DC Scandal)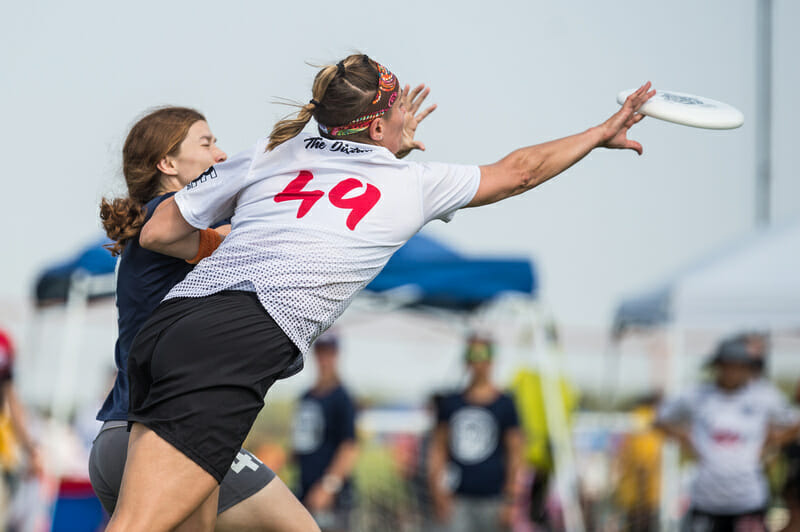 If there's one thing that this season has taught us, it's that there's no single player you'd want to build a team around more than Robyn Fennig. Her ability to draw the eyes of an entire defense and throw through them is well-documented, and somehow still impossible to plan against. When Fennig has an open receiver on the field, there's not much you can do to stop her from hitting them in stride.
As perhaps the most talked about individual in the division this season, there was a lot of pressure on Fennig to deliver. After seasons carrying a heavy on-field burden for Madison Heist, with whom she eared her first All-Club 1st Team selection last season, Fennig's addition to Scandal offered the chance to break her new team through the quarterfinals barrier. That didn't come to pass when her team's offense struggled to get going for much of the season, including in a pool play loss to Riot ad their upset loss in prequarters at the hands of Phoenix. Despite a talented cast and a change in role, Fennig was again positioned to bear a sizable burden, albeit one fitting of her immense talent. And she held up her end of the bargain in propelling Scandal to some impressive regular season heights.
On Scandal, Fennig's had a chance to show her field-altering talents in more depth across the spectrum. By anchoring the defensive unit, Fennig's shown how she's more than just an iron arm; she's a fully armored tank. She's good for one layout or chase down block a game, and is perhaps the most trusted player on Scandal to reap any jump ball that she's under. And it's not just her athletic ability that has become more defined; Scandal's zone swallows deep cutters thanks to Fennig's positioning and communicative presence in the deep layers.
Her numbers at Nationals only serve to reinforce what we already know. She led the tournament in assists —which is a repeat of what she did last year— and led her team in blocks. When she was on the field, she was Scandal's best player, and despite how heavily they relied on her, they even could have used her more. Although her new District club's season ended unceremoniously, the fault can hardly be placed on the dominant Fennig. During their team's two high profile Nationals losses, she earned four assists and two blocks for Scandal's defense. A 3G/19A/8D statline doesn't immediately pop out like her stats from last year, but it also neglects to show all the intangibles that have made Fennig great this year.
What more can be said about Fennig? She's shown a complete mastery of our sport at all levels and there aren't many peaks left for her to climb as an individual player. Watch any of Scandal's filmed games this season and one fact stands true: Robyn Fennig was the best player in the women's division this season.
–Graham Gerhart
1st Runner-Up
Kami Groom (Boston Brute Squad)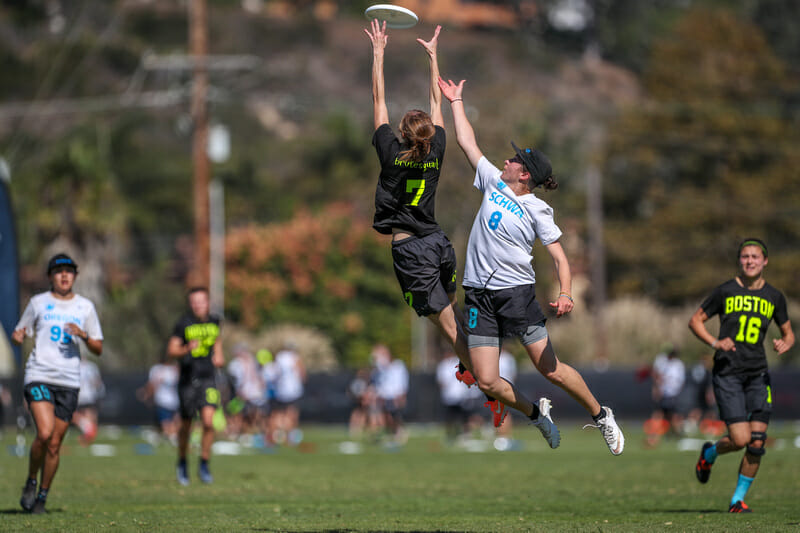 If Player of the Year was determined solely by Nationals performance, Kami Groom would be 2019's player of the year. She was the best player at Nationals by a significant margin, posting a +23 plus/minus1 that led the field by seven.
Even beyond the stats, Groom was scintillating at Nationals. She was Brute Squad's best player on their title run, especially through bracket play. She was completely unstoppable against Raleigh Phoenix in quarters, Fury in semis, and then again against 6ixers in the final. She led or tied for the team lead in plus/minus in both their semifinal and the final, and averaged over 200 receiving yards across those two games while none of her teammates' averages eclipsed the century mark. On the big stage of those two contests, she played on 16 defensive points, and Brute Squad broke on 11 of them. In the only bracket game in which she didn't lead the team in plus/minus, she posted two goals, two assists, and two blocks, with just one turn against Phoenix.
Even against the best teams playing in the games that matter most, she was too fast for seemingly anyone to cover. She roasted defenses with her blistering speed whenever Brute's defense had the disc and when she got pulled over for O-line points. Defensively she was her usual, smothering self, and continued her role as the tone setter for the fearsome 'Boston D Party.' Groom was the best player on the best team at the season's most important tournament. It's hard to top that when it comes to individual performances.
Groom was great all season long, too. Even went Brute suffered through their slump, Pro Champs through Northeast Regionals, Groom was solid as a rock on the D-line. For years now, Groom rarely seemed to falter. Even when she isn't reaching her lofty highs, she still produces at a level of consistency that few others are able to match. Always an impactful player on defense, and tough matchup offensively, it's that consistently high floor — almost as much as her nigh-unparalleled peaks — that has put Groom in the uppermost stratosphere of the sport.
Truly, there is no player more consistent in ultimate right now. This is Groom's fourth consecutive season on the Player of the Year podium, a feat matched by no other player in any other division in Ultiworld's history of giving out Player of the Year awards.
Groom easily could have won more than her lone Player of the Year award from 2016 over the last few seasons. In fact, if Brute Squad didn't suffer that confusingly poor September run, then Groom likely takes this year's top spot. But even in settling for second place, Groom proved just how good she is this season — when she's at her best, she has no equal within the division.
–Daniel Prentice
2nd Runner-Up
Jack Verzuh (Seattle Riot)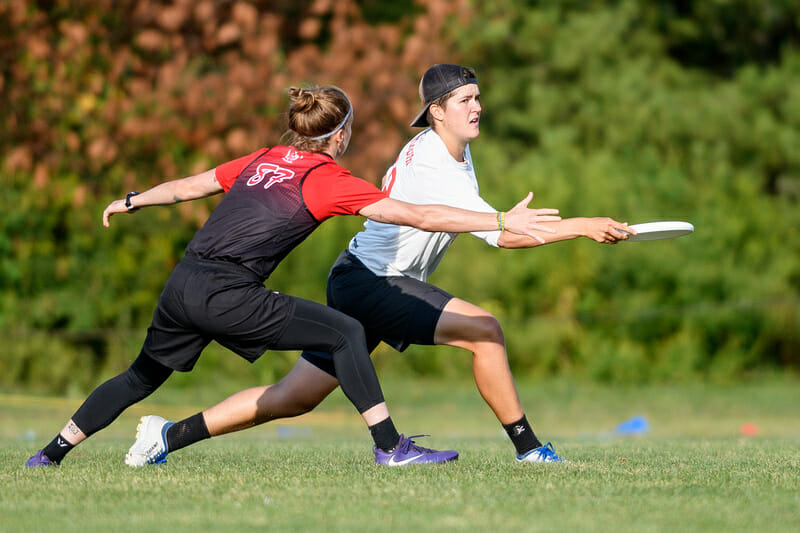 Face it: we're spoiled by Jack Verzuh. We've grown used to their brilliance, accustomed to their constant evolution, and resistant to the charms of their dominance. But is there anyone else who could finish on the Player of the Year podium in college and club in the same year? Is there a more imposing matchup in club ultimate?
The answer to those two questions is the same: a resounding no. Verzuh has an unmatched gravity, commanding the attention of the other 13 players on the field; their teammates are compelled to make the most of their tremendous gifts while their opposition is forced to track their every move. In that way, their influence on the field extends beyond the stats they individually pile up. That pile was a bit smaller at Nationals this year, comprising six goals, 10 assists, and three blocks. But Verzuh has now become a player who can hit double-digit assists, good for second on their elite club. Including Riot's other two TCT events, Verzuh led the team goals with 27 goals and tied for the lead with 25 assists. Add in eight blocks, and you get an average of 20 positive statistical events per tournament! On top of those counting numbers, watching Verzuh makes it clear how much quality yardage they generate for Riot.
What's really remarkable is how Verzuh's skillset has allowed their team to refine their usage. Armed with a more versatile set of deep throws and a dangerous payload of break looks, the feared young deep threat has blossomed into a well-rounded facilitator. Honed by their high-touch role in college and the offensive style of Riot, Verzuh's ability to drive the offense's advancement and dictate its tempo was a critical component of Riot's success. While they may have the biggest presence on the field, it's their little throws and understanding of pace that makes them so effective around the disc. And that combination makes them a unique tool.
The offense may sparkle, but they've got defensive chops, too. Hucking rates seem to drop off when they are near the deep space, with their check often forced into being in the short lanes to avoid clogging up their own offense. Verzuh brings their wingspan to bear on the mark, crowding throwers and shrinking angles. They use their burgeoning backfield IQ to anticipate the next move and cut off options around the disc. All in all, it means Verzuh's defensive versatility rivals their offensive flexibility.
We've all been waiting for our expectations to catch up the most hyped young player ultimate's ever seen. They continue to learn and improve. And they seem intent on keeping us waiting.
-Keith Raynor
---
goals + assists + blocks – turnovers ↩