The top European players in the Men's division in 2019!
Ultiworld's Europe Awards are presented by Tokay Ultimate cleats. With their new Flight cleats, your feet can shine like these stars! Check out Tokay, the cleats you were looking for.
Thanks to Focus Ultimate, John Kofi, Klara Lipertova, and Pavel Budnik for allowing us to use their photos for this article!
The 2019 season is over and it's time to look back and see who the best players were in Europe. These awards were decided on by the Ultiworld Europe staff and represent the players in each category that we feel best performed in the men's division this year. The EUC and the EUCF were the marquee events this year and performance in these events were thus the most important events for consideration, but the U24 World Championships, EBUC, and regular season events like Windmill and Tom's Tourney were also taken into account. In most cases, EUC was prioritized above the EUCF to determine which division to consider a player in if they played in a different division between the EUC and the EUCF.
The primary award is the Player of the Year and Runner-up. If a player won either of those two spots, then they were ineligible for the rest of the awards. Without further ado, let's get on with the awards!
2019 Player of the Year
Nico Müller (Germany Men, Bad Skid)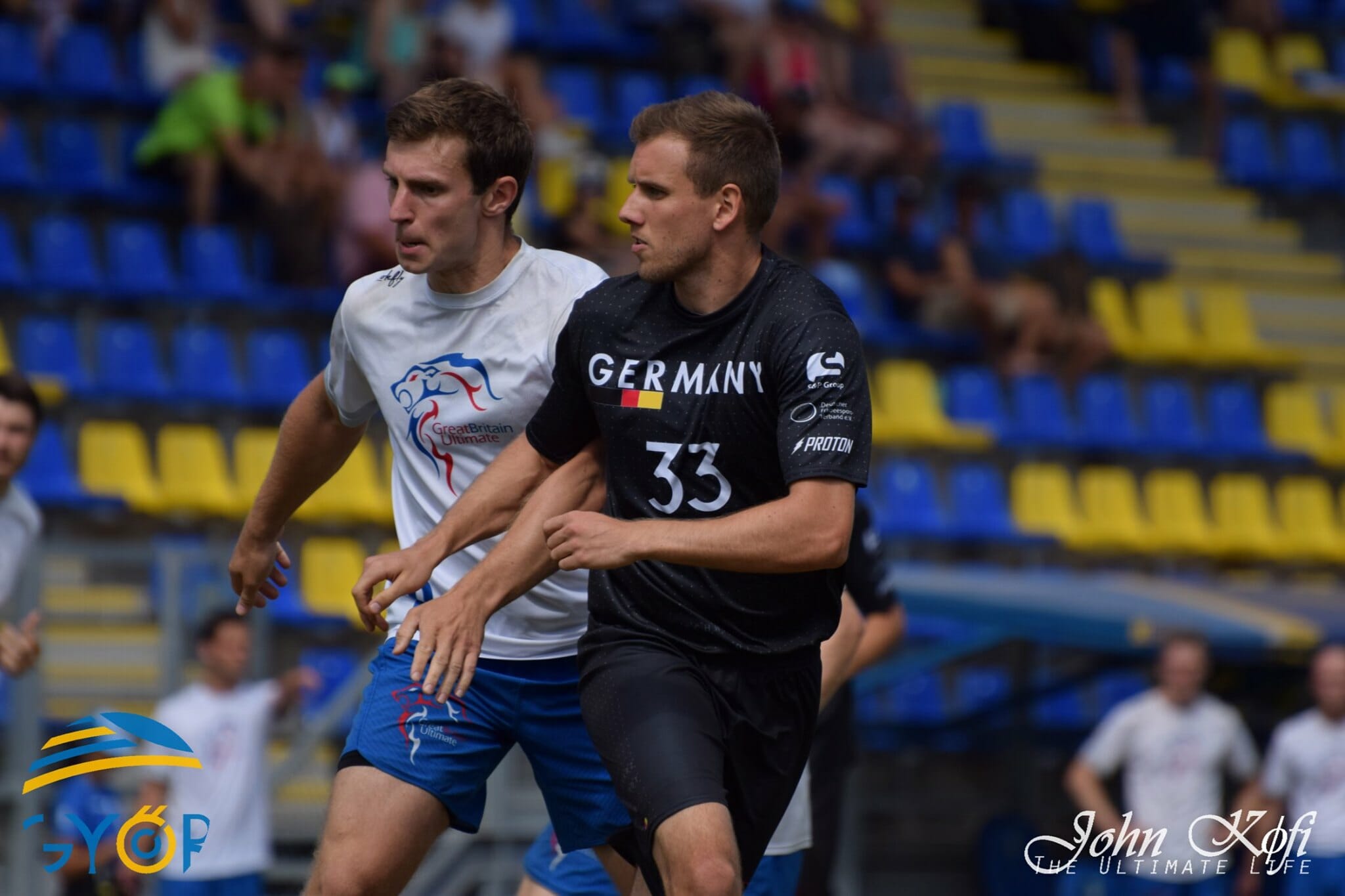 Nico Müller is currently the best handler in Europe. His up-the-line speed and ability to orchestrate an offense is unrivaled in this continent. With six assists and one goal, he was the outright stats leader in the EUC final, which was debatably the best European men's game ever. Although Germany lost that final, Nico had more of an impact that anyone else on the field. His chemistry with the Buettenmüller brothers for club and country was beautiful to behold. GB defensive standout Tom Abrams tried matching up against Müller for most of the EUC final and did very little to fluster him. Nico is comfortable everywhere on the field; when he was occasionally forced down field he was able to score goals and read hucks.
Nico is not just limited to offense. In key moments for both Germany and Bad Skid, he would cross over to the D-line and start the points off with a huge winding pull that always put his team in great position to get a block. He would then continue to be a nightmare for whomever he was marked up against, generating immense pressure and some key blocks. Once his team got the turn, he would be sure to convert the breaks that his teams needed to win the tough games this season.
Nico may have not had the end to the season that he wanted. In a fantastic quarterfinal against Chevron Action Flash, Nico was the best player on the field. However, on double game point, Nico didn't put enough juice into a flick huck and Chevron's Ben Burak was able to make a play. Chevron capitalized on this mistake to win the game and sent Bad Skid to the fifth place bracket. This uncharacteristic mistake was a season-ending one for Müller. Although he may not have gotten all the silverware he wanted, being crowned European Player of the Year might be some consolation.
-Liam Grant
Runner-up:
Justin Foord (Great Britain Men, Clapham)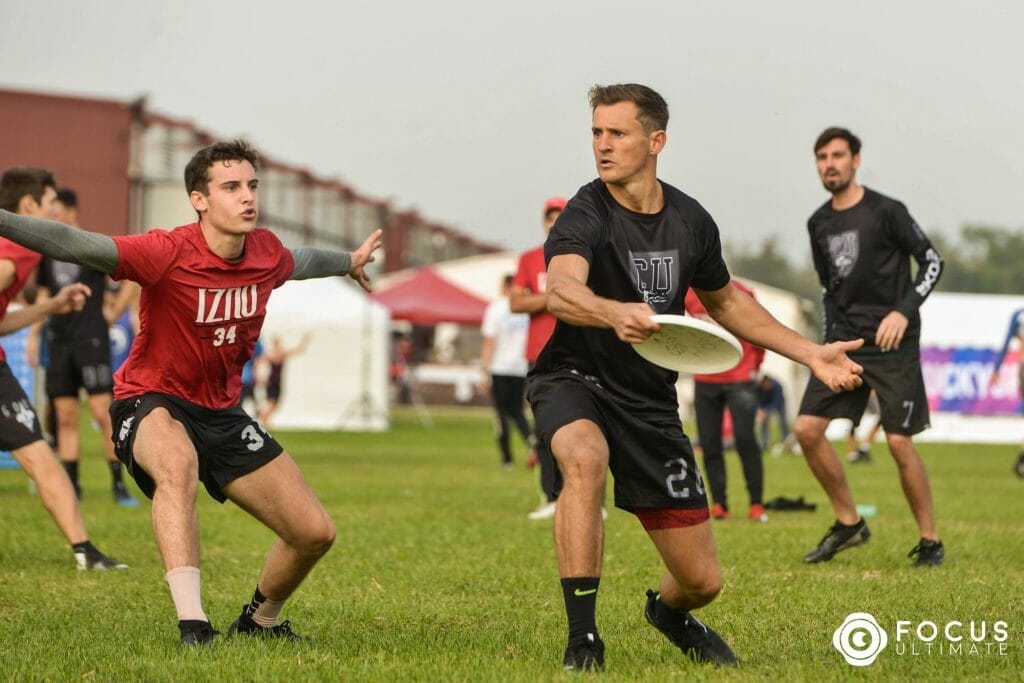 Justin Foord is still one of the best players to build a team around in European ultimate. He made his way to the Masters stage this year, but old age hasn't slowed him down on the field. He lead GB to a gold medal at EUC and Clapham to a silver at the EUCF. Defenses still hinge their entire plan on who they trust to take the Justin Foord matchup, and for good reason. He can't be stopped outright and, if he isn't even slightly limited by an amazing defensive matchup, GB will score with ease. His athleticism and skill set are still hardly matched throughout Europe as he can churn for big yards down field or throw the occasional bomb when needed. However, just as with Nico, he also brings it on defense when his teams need him. In the EUCF final against La Fotta, the Italian offense line was almost perfect, but the only time that Clapham were really able to generate a block was when Justin moved to the D-line and intelligently read the play with a poach. Though it didn't result in a break, that can hardly be blamed on Foord's great play throughout.
Foord had another year full of hardware as he won three golds with GB (EUC, EBUC and EMUC) as well as a silver with Clapham. That's four medals for four teams where he was still the key player every time. At some point soon, the next generation may try to shove Foord aside and age may catch up to him, but for now Justin keeps himself on the POTYum after another successful season.
-Ravi Vasudevan
Offensive Player of the Year
Mikhail 'Bif' Khudobin (Russia Men, RealFive)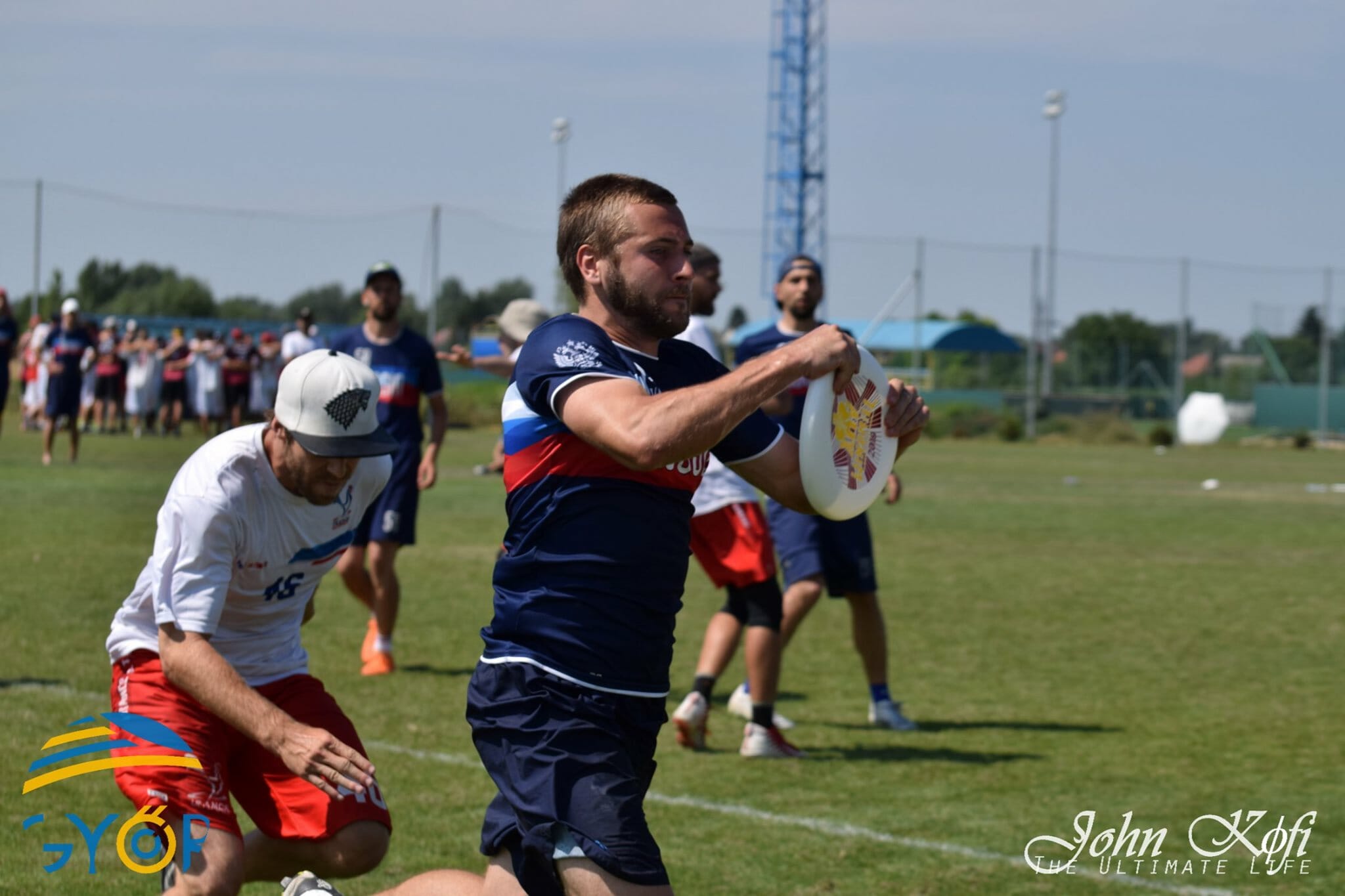 At the EUC and the EUCF there was a buzz around the fields. Everyone was talking about the unstoppable receiver, Mikhail 'Bif' Khudobin. Many saw Khudobin last year as a dominant athlete in the mixed division when he played with RusMixed in their run to WUCC. This year he moved exclusively to the men's division and was arguably the most important piece to the Russian squad who got a bronze medal at the EUC. In their biggest games, Khudobin was getting open at will against the toughest defenses that Europe had to offer. He then played with RealFive at the EUCF, and was instrumental in RealFive reaching their shocking semifinal finish.
Khudobin is relatively short for such a productive cutter, but he makes up for that with power, leaping ability, field sense, and throwing talent. Some claim he is simply the fastest player in the division and almost always initiates the Russian offenses with a big cut. Despite this being well known to defensive players, they can never seem to limit him. He is also not simply a pure receiver. Teams often force him under, knowing that if they give him an inch deep he will often convert that into an easy score, with a huck from Anton Butikov. However, when he gets the disc under he is not afraid to continue off of that cut with a deep huck of his own. It is quite simple: Khudobin was the most effective pure offensive weapon on the fields in Europe this year.
-Ravi Vasudevan
Runner-up: Michele Angella (Italy U24 Men, CUSB La Fotta)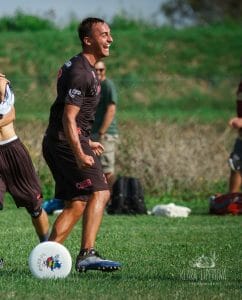 CUSB La Fotta has had the best defense in the division for the last few years now. However, it takes more than just defense to win a title and La Fotta's offense needed to be perfect if they wanted to take down Clapham and in the final of the EUCF they were. The funny thing was, it was hard to pick out huge playmakers or real standout players on CUSB's offense. The whole offense ran like a well oiled machine for the eight unbroken points they played in the final and it was more about clean, quick flow than standout players that got them there. That is, of course, except for Michele Angella. Angella was there to make the few big plays that were necessary when a floaty disc went astray from time to time including a huge sky over Connor McHale in La Fotta's final offensive drive of the game. He notched two goals in the final, but his impact was even more than that. He initiated in the cutting space often, and tirelessly worked to gain yards for La Fotta. In other games throughout the EUCF, the CUSB offense was not always perfect. In their semifinal against RealFive, the O-line produced execution error after execution error, but Angella stayed solid all game.
While Angella was key for the La Fotta offense at the EUCF, he really cemented his spot for this award with his U24 performance. Opting to focus on U24 Worlds, he was not on the senior Italy men's squad, but he was the stats leader for Italy U24 in Heidelberg with 18 assists and 12 goals. He was a dominant force with his throws and his cuts throughout the U24 tournament at worlds and it will be amazing to see where he can take his skills after being such a dominant offensive player at such a young age.
-Ravi Vasudevan
Defensive Player of the Year
Giovanni 'Cioppo' Santucci (Italy Men, CUSB La Fotta)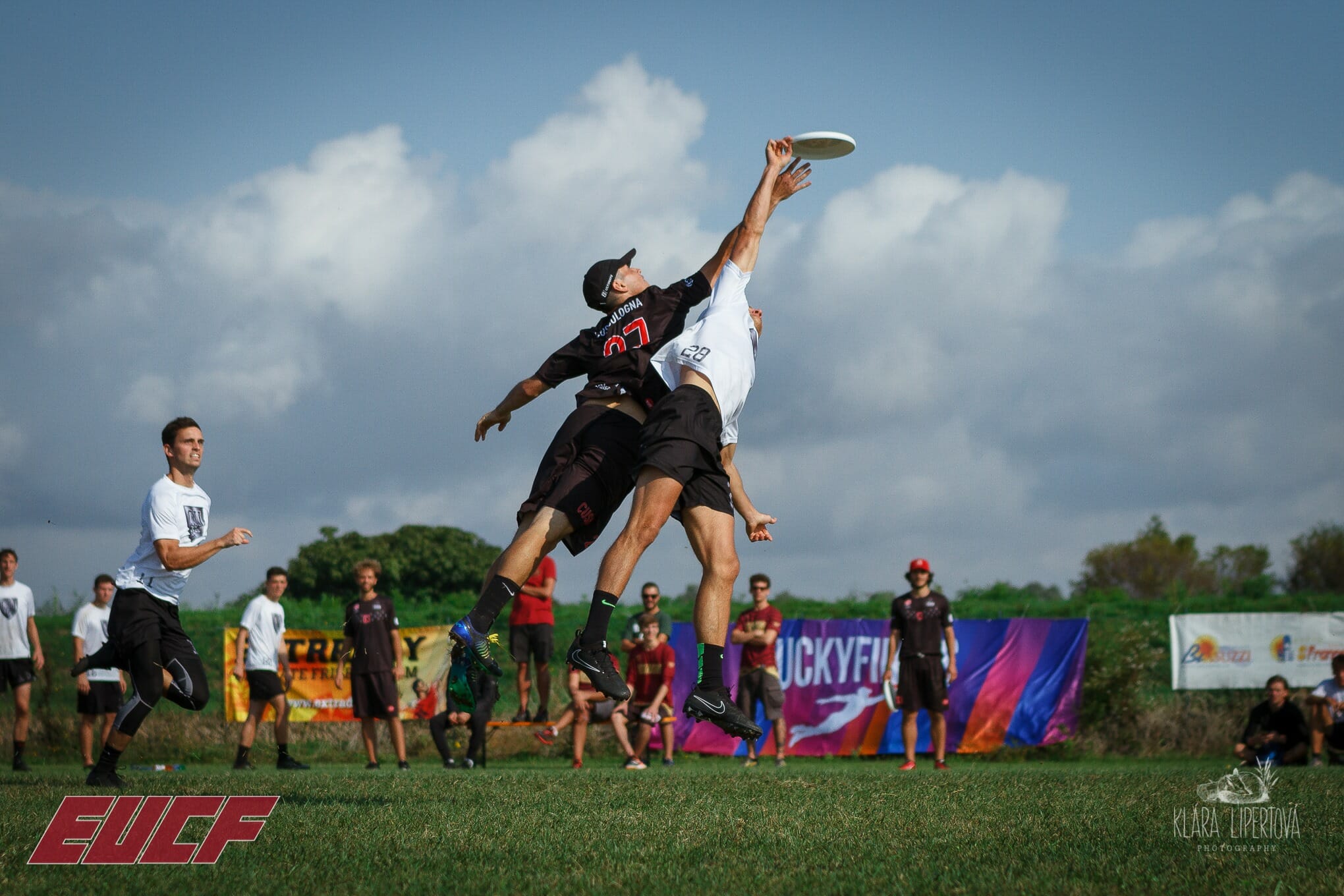 Giovanni 'Cioppo' Santucci has emerged as the talisman on a freshly crowned championship program. He brings to La Fotta an intensity that has been instilled in the club from their founding father. Cioppo's energy is spiritually harnessed, and he provides for his team with voice, focus, and passion. He makes all of his teammates better, and above all he makes clutch plays. As the youngest member of the 'old guard' he is peaking in his intelligence to athleticism quotient. The Italian defense shows many looks, and Cioppo plays any defensive role in a stifling manner. He is most often marking top opposing receivers and uses position effectively to prevent unders while maintaining the closing speed and leaping ability to shut down Europe's highest flyers.
At the EUCF, Santucci was sensational in the final with a gravity defying-fingertip-sky-D to win his match up against Justin Foord, and at the other end of the field he accounted for the assist to Vagliviello and La Fotta went up a commanding 7-4. There was no looking back, as La Fotta continued to assert their dominance, Cioppo again came clutch throwing his body to break up a huck to the endzone in the direction of Thomas Cartwright. Santucci did everything possible in the air to disrupt the potential for goal, and the disc went to ground. At the other end of the field, Bologna again made Clapham pay with a break score, and it was again Cioppo throwing a steady assist to Tonelli as he freed up in the corner at the end of a long point to cash in the advantage at 10-4. Not only does he make the plays to take the disc away, but his value for conversion also emphasizes his depth as a defender. Cioppo has an impressive throwing range and can provide as a steady space maker, a resetter, a shot taker, or a big goal receiver the same. Cioppo even played injured at EUC, still an effective defender, a presence for the opposition to be wary of, and for his team to be fuelled from. He does it all for Italy and La Fotta, he plays with wit and swagger, he inspires and motivates, and above all he makes big plays in big moments.
-Stefan Rappazzo
Runner-up: Hayden Slaughter (Great Britain Men, BLU)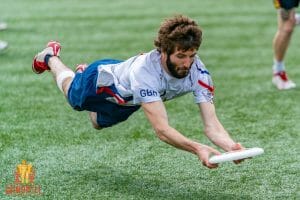 Great Britain Men won the European titles on both beach and grass this year, as well as winning the Windmill title over Condors, the Californians who qualified for US Nationals this season. The team is full of players with incredible athleticism who can make huge grabs and get flying layout blocks. Despite that, they have no-one better at making the right play, or the right read, in the right place to get a block than Hayden Slaughter. He got huge blocks in the EUC final and notched two crucial goals. This was a final that went to double game point and every block was essential to their victory. Without Slaughter's key plays, Germany may have been the team leaving Hungary with gold medals around their necks. Slaughter was also a key part of the EBUC-winning team in Portugal and he read the disc perfectly for the momentum-swinging play in the Windmill final (see the photo). GB might have had defensive players with bigger names, but Slaughter was the man who got blocks when his team desperately needed them.
-Sean Colfer
Breakout Player of the Year
David Barzasi (Italy U24 Men, Cotarica Grandes)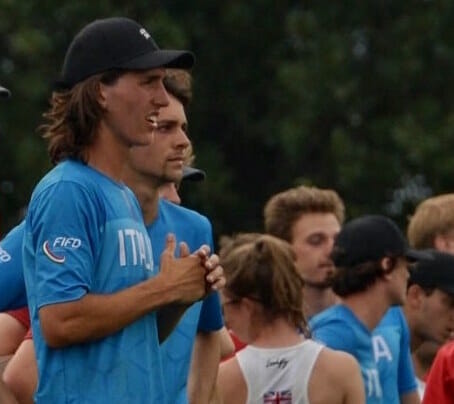 Arriving to the fields at the Bologna Invite this year there was talk about a new young Italian talent. Italy U24 had played some practice games against the GB senior national team the day before the tournament started and word was spreading that some young new player had hand blocked and gotten a layout D against Justin Foord. That kid was the 18 year old David Barzasi.
Barzasi continued to make an impact for the Italian U24 team throughout the rest of the season. He was a standout player for the defending silver medalists as they brought home some more hardware with a bronze medal finish this year. Later in the season Barzasi played with his mixed club team and though he failed to qualify for the EUCF he made a huge impact throughout the weekend. This freed up Barzasi to pick up with neighboring team Cotarica at the EUCF. There he made a huge impact with the young Rimini side on their road to a quarterfinals finish. Barzasi made big plays all tournament, particularly in their most important game against FWD>> in prequarters. His body flew around generating blocks and catching discs to bring Cotarica to their highest finish in recent history at the EUCF.
No one really knew much about Barzasi before this year. However, at 18 years old he made a large impact on Europe's strongest U24 men's team and on a quarterfinals EUCF squad. The future is bright for Barzasi and we will look back on this year as the one where he made his first splash on the European scene.
-Ravi Vasudevan
Runner-up: Ondrej Rydlo (Czech Republic Men, FUJ)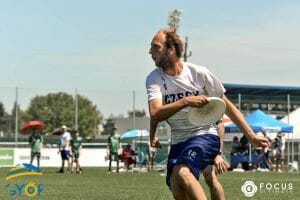 It's hard to believe that Ondrej Rydlo only turned 25 this September. The man plays like a well oiled veteran. Rydlo did somewhat break onto the scene back in 2016 where he was key in dismantling Canada with the Czech Mixed team. However, this year he took his game to a whole other level and is now one of the best players in Europe in the men's division. The Czech Republic were the thorn in Ireland's side all season long knocking them out of Windmill and EUC largely due to the performance of Rydlo. The man is solid with disc in hand and controls the offense whenever he is on the field. FUJ finished an impressive sixth place at EUCF which shows that Czech ultimate is on the rise. He combined very well with David Novak who was also equally spectacular all season long.
-Liam Grant