What do we expect from the 2019 champions in 2020?
It's time to unwrap some presents as we introduce the 12 Days of College Ultimate. Over the next few weeks of December, we will be releasing one gift per day, though don't count on getting any partridges in pear trees: it's all college ultimate. From top players to strength bid predictions to highlights, we've got a little something for everyone.
Today's topic: On day four, we look at the four teams that will enter the spring wearing the crowns of their respective divisions, and what 2020 looks like for them.
Brown Brownian Motion, D-I Men's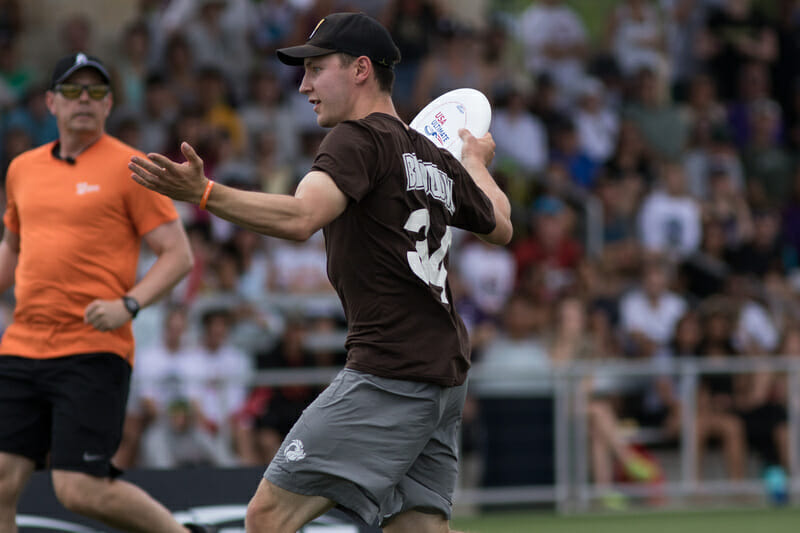 Losing the reigning POTY is never easy, but you know what makes it easier? Bringing back a guy who may be even better. John Randolph impressed during his rookie year, summited the division as a sophomore, and now has the eyes of the frisbee world squarely on him heading into his third season in Providence. Mac Hecht was the head, heart, and long arm of Brown over the past several seasons, but Randolph was the fist, leading in the division in goals at Nationals during both of his years in college. He will be the face of Brown as they look to retain their title in the new decade.
Randolph was a goal factory as a cutter last season, but, following Hecht's departure, that may change. Early indications out of Brown are that Randolph will be operating in the handler space to start the season. This was the position he played in high school and for the U20 team that won gold in 2016, but it's hard to imagine he can be as effective there as he is downfield, given what we saw from him in 2019. But with the loss of Hecht, Randolph will need to shoulder more of a handling burden, at least until Brown's crop of freshman handlers are adjusted to the college game.
How long it takes Brown's freshman class to get up to speed could be determinative of whether or not the champs can defend their title. Leo Gordon and Jacques Nissen are proven talents at the YCC level, each showing the chops to be a centerpiece handler sooner rather than later. How soon is the big question, because if these two are ready to be key pieces on the O-line this spring, then Randolph could be freed up to terrorize defenses as a cutter.
If the rookies aren't quite ready yet, then Brown may look to promote from within. Solomon Rueschemeyer-Bailey was a second team All-American in 2019 after a season of bleeding opponents to death from the front of a vert stack. He was perfectly cast last year as an automatic reset and mark breaker, but if he is going to pick up the slack from Hecht, he will have to show more range to his game. The other big question mark is what Brown will do with Dylan Villeneuve, last year's second runner-up for DPOTY. He may be too valuable to the defense for a change of roles, especially now that Ned Dick is gone, but he has the power and downfield vision to be a credible O-line handler if Brown want to give him his shot.
There are more questions facing Brown than there typically are when a team only loses four players, but such is the shadow Hecht casts on the program. He occupied such an essential role on and off the field that creating a new system without him will be the central plot of Brown's season. The pieces are similar to last year, but they need to be assembled in a different way. If Brown can figure out what that puzzle looks like, then they will have a credible shot at being the first men's team to defend a title since Pittsburgh in 2013.
Middlebury Pranksters, D-III Men's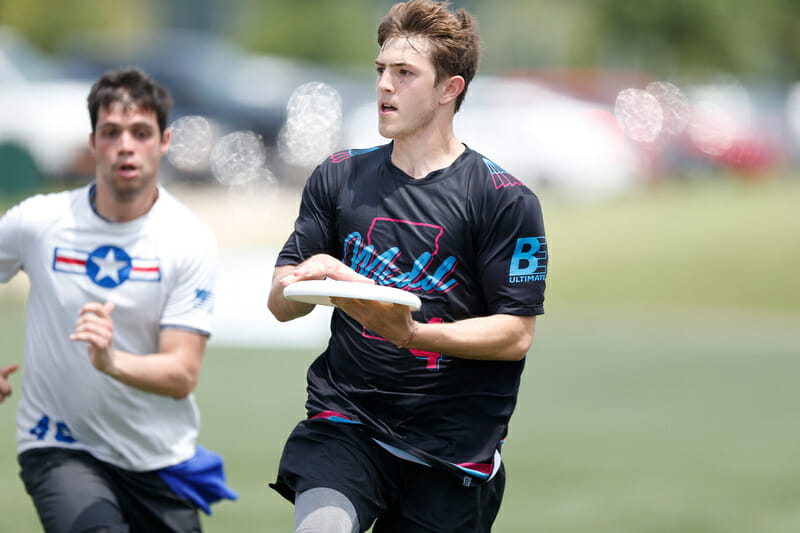 Few teams have put together a season as dominant as the 2019 Middlebury Pranksters. The eventual champions went 22-0 against D-III competition, including wins over nine teams in the top twelve of our final power rankings.
The 2020 iteration of the Pranksters has a chance to be even better. Middlebury only graduates four players from their championship team. And while these four players will be sorely missed (we'll come back to them), the level of talent that the Pranksters return is unmatched in the division. It starts at the top with senior Kai DeLorenzo. The first runner-up for POTY in 2019, DeLorenzo will be the favorite to win the award this year. The powerful cutter is among the best deep threats in the division, as 2018 semifinal opponent Richmond can attest to, but he also led the team with 17 assists at Nationals. No player in the country will be as impactful in as many ways as DeLorenzo this season.
Surrounding DeLorenzo is a laughably deep supporting cast. Leo Sovell-Fernandez and Walker Frankenberg, ROTY winner and first runner-up, respectively, were instrumental in Middlebury's title run last year, and the two will be back and even better this season. Sovell-Fernandez, in particular, is coming off a club season with Minneapolis Drag'N Thrust that gave him valuable experience playing in high pressure moments. Frankenberg had a coming out party in College Station last May, and he'll be firmly on opponents' radars this season.
The names keep on going for the Pranksters. Junior cutter Kevin Strenksi returns after winning BPOTY in 2019, and junior D-line handler Ian Hanson is back after finishing first runner-up for DPOTY. Senior Zach Levitt is the quintessential O-line player, flowing seamlessly between cutting and handling while almost always making the right decision. Simply put, Middlebury is stacked.
This isn't to say that the Pranksters won't miss their seniors from last season; on the contrary, they have a large hole to fill from a leadership standpoint. Dylan Salzman didn't play until Nationals last year due to an injury, and even when he did play in College Station, the star handler was noticeably a step slower. However, the Pranksters don't have a coach, and Salzman made the most of his injury by functioning in this role last season. Asher Lantz probably should have gotten more shine for his defense, particularly in the deep space, and worked closely with Salzman as a captain to lead the team. The third captain from 2019, Alex Forde, was a solid defender but made his presence known as the loudest voice on the sideline, constantly keeping the team energized and spirited.
It should also be noted that Middlebury's season was very close to having a different outcome on a couple of occasions at Nationals. The Pranksters had to break to win in their first pool play game against Franciscan, and they also broke on double game point in a thrilling semifinal against Richmond. Yes, Middlebury ended the season undefeated against D-III competition, but their margin for error was thin.
Despite those things, Middlebury will enter the 2020 season at the top of our power rankings. The Pranksters will be more talented than every D-III team they face this year. If their new leadership can step up to fill the void left by last year's seniors, chances are high that Middlebury brings another championship home to Vermont this season.
Oberlin Preying Manti, D-III Women's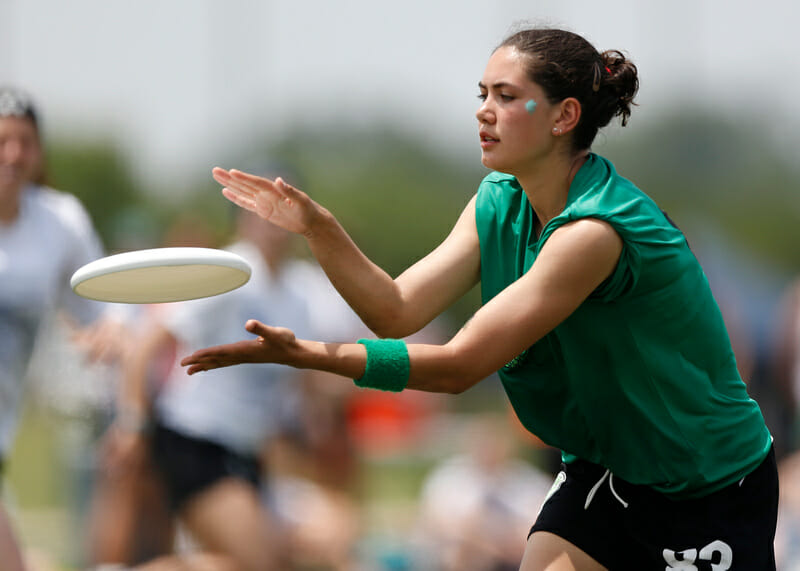 You heard it here first: Oberlin Preying Manti will make it a two-peat and take home the D-III women's national title in 2020. At best, this is a lukewarm take on the division when you take a look at the season: from a personnel standpoint, a fifth year for U24 star and all-around powerhouse Abby Cheng, alongside offensive gunslinger and PUL talent Zoe Hecht, are strong producers on the field, offensively and defensively. Oberlin also won't be lacking in rising talents; players that stepped up and contributed at Nationals like Lucia Mason and Anna Barron will likely be well featured in the coming season as the team fills in gaps left by Helen Samuel and other defensive role players.
On the field, a willingness to change offensive and defensive strategies through the course of a match kept Oberlin in step with each opponent in 2019, a far cry from their difficulties in line calling and effective playing time in 2018. Watch for returning 2019 Coach of the Year Libby Lehman and the team to keep opponents on their toes and willing to try new things in 2020.
To keep adding to the list, Oberlin effectively blends well-experienced players with newcomers to the sport, encapsulated by a maturing B-team within the program, and a welcoming and deliberate team culture. And to round it all off, Nationals will practically be in their backyard this coming May, meaning no time zone changes, easier travel, and most crucially, no conflicts with graduation. It doesn't hurt that the team will also get lots of time playing in and against the Midwest winds that make out of region competition pause.
The biggest thing on the other side of the balance sheet is the mental pressure the team could place on itself, knowing all of the elements that place favor in their court. While a repeat is by no means written in stone–terrible spring weather limiting practices, unexpected injuries, or worse could all hamper the Preying Manti as another team's tide turns–the squad from Oberlin will be the team to beat and benchmark to be measured against all season.
UC San Diego Dragon Coalition, D-I Women's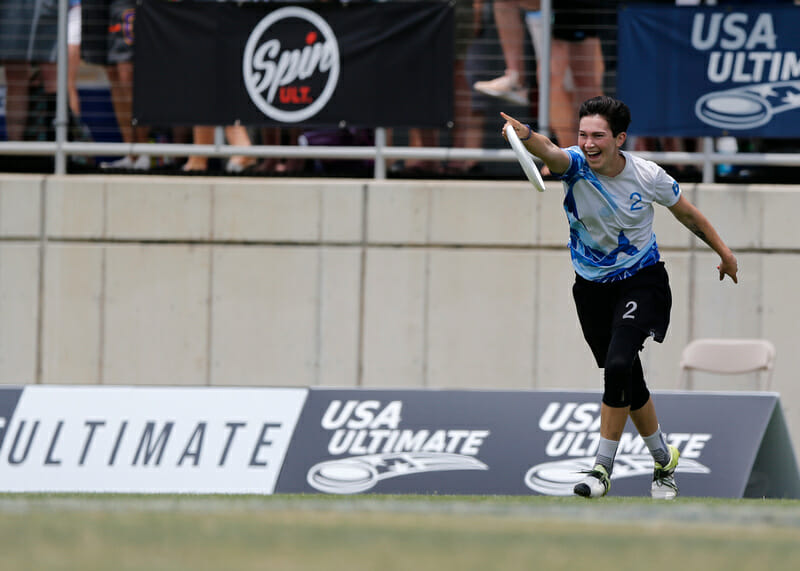 You might not recognize a team called D-Co as a defending champ, but rest assured this is simply a rebranded version of the dynasty destroyers that took home their second national title in program history. The name isn't all that will be different for UCSD in 2020, however. Face of the team and 2019 Player of the Year Dena Elimelech has graduated from the team, as have a few of her most prolific teammates. Gone are the likes of Leanne Go, Avery Jones, Rebecca Ellis, and Kelli Iwamoto. The team will look very different from their 2019 iteration, but they cannot be written off just yet.
Before even discussing the roster, it's important to note that coaches Alisha Stoun, Carlo Mosca, and Sheliemae Reyes are returning, along with a few familiar faces in assistant coaching positions. Mosca, Stoun, and Reyes don't get enough attention for the system they created over their years piloting UCSD's program. Watch any game of UCSD's last season and you'll recognize that it was their discipline and methodical disc movement that carried them past opponents. Everyone on UCSD's roster knows their role, and the exact movements they need to execute their roles. They don't waste space clearing or looking downfield too long. UCSD plays mechanical, near-perfect offense and fiery, poachy defense –neither of which is going away in 2020.
Stoun, Mosca, and Reyes won't be lacking in talent, either. While the team relied heavily on their seniors at Nationals, they have plenty of players ready to take more responsibility now that they have the chance. Samantha Wool, Sara Zhang, Pin-Hsuan Chen, and Emily Kunselman are all seniors or grad students at this point, and have plenty of familiarity with UCSD's system. Wool and Chen were already heavily featured in UCSD's rotation, and now will be forced to take on more as they see their roles develop. They're not alone, though. Alex Diaz is returning to the team after a season that landed her on the Breakout Player of the Year podium, and is primed to be even more threatening this year. Diaz and Madison Tenney were budding stars for UCSD that may just pick up where they left off. UCSD may have lost a powerful senior class, but they also are stepping into a new host of veterans that have now won a national title, and know what it takes to repeat that feat.
Of course, it's not just UCSD's seniors that should keep them in contention. Last season, UCSD featured a lethal rookie one-two punch with Ava and Lauren Hanna. The twin sisters joined the team and immediately stepped into pivotal roles –which won't change at all this upcoming season. After playing the club season with L.A. Lotus, the Hannas have all the skills necessary to become the future of UCSD's program. They're joined by rookies Maggie Pierce and Denika Hallin, who could both be immediately effective. Pierce played for the Maine YCC team Rip Tide, that joined the Warhawks as co-winners of the U20 US Open Championships.
It's highly unlikely that UCSD will reproduce the season-breaking success they saw last year, but they can't be counted out just yet. The Southwest region had a strong graduating class across the board, and the style of ultimate that UCSD used in 2019 is easily replicable. Granted, the target on their backs is larger than ever, but that hasn't slowed the team yet. One thing is for certain, UCSD isn't going to rest on their laurels. No team is going to take the crown from them without earning it first.