Are the Psychos ready to contend on the division's biggest stage after an unceremonious exit from the 2018 bracket?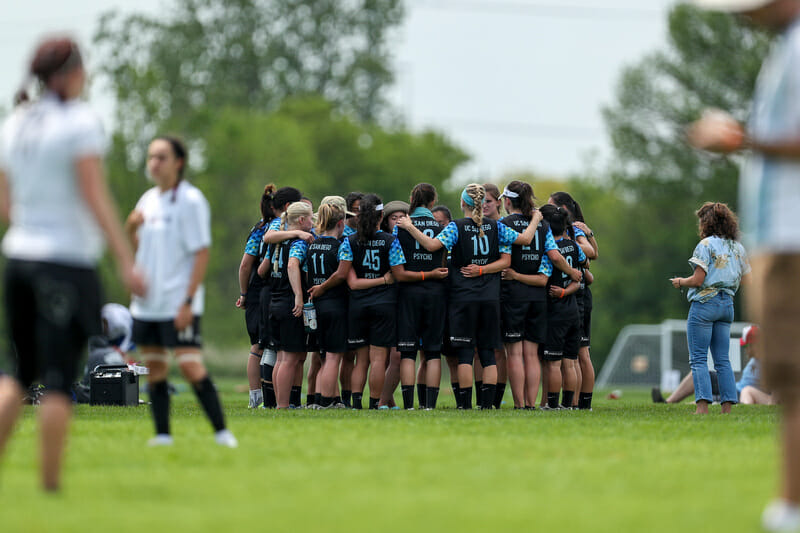 Ultiworld's 2019 coverage of D-I Women's Division is presented in by VC Ultimate, the official gear provider of the Premier Ultimate League.
The most shocking storyline from Day Two of 2018 College Nationals was the #2 UC San Diego Psychos early exit in prequarters. After climbing the proverbial mountain of the college regular season and securing a formidable 23-3 record, they'd reestablished themselves as an elite program, arriving at Nationals as the tournament's overall No. 2 seed.
Then, in prequarters, it all came crashing down. UCSD looked out of their depth against the sixth-seeded UBC, who soundly beat the Psychos 15-11.
"The loss against UBC showed us that even though we had the tools to potentially win, our mental game and how we were doing physically were not enough to carry us further through Nationals. As a team, we decided to strengthen our mental game and prepare physically [for 2019]," said the team's captains.
It was a shining example of the importance of experience. UBC's veteran talent exposed UCSD in a way no opponents had before, and they revealed several flaws in UCSD's game plan that hadn't hurt them during their regular season run. It was a lesson UCSD would not soon forget.
Less than a year later, UCSD shot to the top of the regular season leaderboard once more. The Psychos arrived in Seattle for the 2019 Northwest Challenge with a sterling 19-0 record. Then UBC punched them in the mouth once more. Like a recurring nightmare, UCSD had their sets picked apart with glaring similarity to 2018's prequarter. The final score offered it's own poetic symmetry: 15-11, Thunderbirds. The bad dream carried over into the next two games. By the next week's issue of the USA Ultimate division rankings, the Psychos had ceded their No. 1 spot.
But the San Diegans have been handed another chance. This season, UCSD's fall from grace happened during the regular season, not in a do-or-die game at Nationals. Conferences and Regionals provided extra reps to iron out the creases in their system. They've already shown that they can learn from their mistakes and grow as a team—they've done it before.
After UBC dismantled them last year, UCSD got to work fixing the flaws UBC exposed. If they go down at the 2019 College Championships, it'll be because their opponents have found a new way to beat them, not because they're stuck in a system that has already been solved by their competition.
Here's a breakdown of the areas in which UCSD has improved since 2018, and how it'll help them avoid past mistakes.
Ghosts of Nationals Past: Is UC San Diego Ready For A Title Run? is only available to Ultiworld Subscribers
Already have a subscription? Log in
Whether you visit Ultiworld for our reporting, our podcasts, or our video coverage, you can help us continue to provide high quality content with a subscription. By becoming a subscriber, not only do you receive benefits like exclusive articles and full article RSS feeds, you also help fund all of Ultiworld's coverage in general. We appreciate your support!