12 teams from D-I men's and women's we like to have big seasons.
It's time to unwrap some presents as we introduce the 12 Days of College Ultimate. Over the next few weeks of December, we will be releasing one gift per day, though don't count on getting any partridges in pear trees: it's all college ultimate. From top players to strength bid predictions to highlights, we've got a little something for everyone.
Today's topic: we close the 12 Days with 12 teams we've been thinking about after this preseason. Whether it was their results, the returning potential, hopeful optimism, or just that gut feeling, folks from our staff think these teams are in line for bigger years than you think.
Additional contributions from Anna Thorn.
D-I Men's
Michigan MagnUM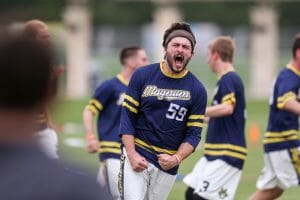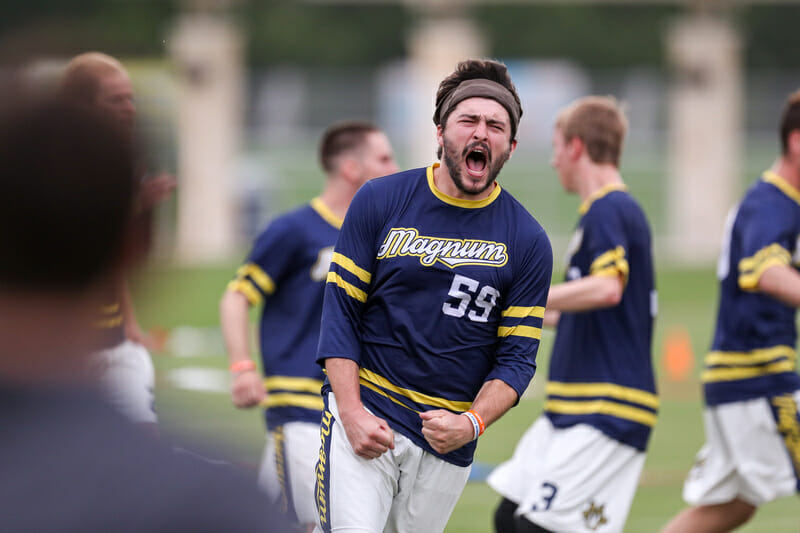 Michigan looks primed to pick up where they left off after a surprising Nationals showing in 2019. They knocked off Oregon on double game point in prequarters to reach the quarterfinals from the no. 14 seed. While we infamously did have them enter the spring at #5 after tearing it up at CCC, by May, after a misshapen regular season, nobody was expecting them to deliver. This year's hype is not overly influenced by fall results.
A lot of the 2019 core is back to build on their Nationals run. Breakout Player of the Year runner-up, Jeff Gao, and Raymond Lu bring plenty of offensive pop, complemented by junior handler Jake Kovalic. Adam Stautberg is a grinder on defense who should be in a major role. They've recruited well, with Eli Weaver and Theo Shapinsky gearing up for potential breakout sophomore campaigns. If you wrote this group off as a team that played well in a windy prequarter and not much else, you're selling this year's club short.
The Northwest Hopefuls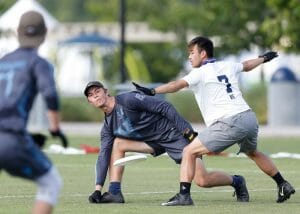 Oregon, Washington, and Brigham Young have all established themselves as the top tier of the Northwest through years of success. However, the cast of characters behind them each present some potential. We often get to know one as they take the leftover bid from BYU and end up at Nationals — Victoria in 2019 and 2018, Oregon State in 2017, as well as Utah in 2016, who took a bid from UBC. While they've gotten help to get out of the region, the depth of the region has benefited.
This year's crop looks full of promise. Victoria appears the strongest of the bunch, returning Dawson Pasin, Devon Thomson, Sean Bennett, and most of their production outside of handler Patrick Church. They earned a pair of wins at Nationals last year and looked like they belonged. They could even win a bid on their own merit.
After that, Oregon State, Western Washington, Utah State, and more will be dangerous spoiler clubs that could outperform expectation. Oregon State's All-Region duo of Drew Peterschmidt and Quinn Buemeyer are formidable and can certainly engineer an upset. Daniel Mah was fantastic this club season for Seattle Voodoo, and Western Washington will benefit from having both he and Morgan Higgins healthy after injuries forced them out last year. Meanwhile, Utah State adds Lone Peak recruit DJ Sorensen to Sockeye's Garrett Martin and sophomore Tony Mounga. Keep an eye on how these teams do on the early west coast circuit to get a sense of region's pecking order.
LSU Purple Haze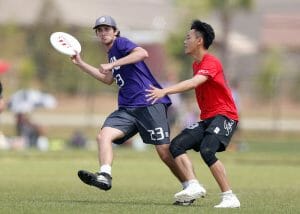 It's been a slow climb over the past few seasons for LSU, a team that's earned some attention over that span. Their sights are set on Nationals. They finished third at Southeast Regionals last year and have a large returning class, highlighted by now-vets Dylan Reviere and Matt Freeburgh and established presences of Johnny Sims and Grant Odenwald. LSU has been well-stocked by the nearby Catholic high school ultimate program, and their roster won't be overly top-heavy.
The challenge for the team could be that they haven't been there before. While they lacked marquee wins going into last season — perhaps highlighted by a 2018 result over Colorado State — they did earn victories over Wisconsin, Tufts, and Auburn. The game-to-go to the game-to-go is as close as they've gotten. That puts additional pressure on them to win a strength bid, especially with Georgia returning an impressive roster, and they may be the Southeast's best hope. Certainly, their coach is fired up.
William & Mary Merry Men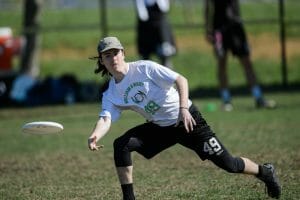 Two years ago, Johnny Malks and Gus Norrbom lead William & Mary to Nationals as the twin engines of a surprisingly devastating backfield. This year, they are back, following Malks's recovery from an ACL tear that kept him out for the entirety of his sophomore season. In the meantime, Norrbom has become a killer handler on Truck Stop's offense in the club division, and enters the college season as one of the most efficient players in the country. Malks hasn't just been twiddling his thumbs either, getting back to full health as a key member of Space Heater's D-line.
Together, they represent a time honored college division tradition for William & Mary: the team that has two really good guys who throw to each other. Remember when Harvard's John Stubbs and Mark Vandenberg played keep away all the way to the National final? Something similar could be in the works this spring down in Williamsburg.
Tufts E-Men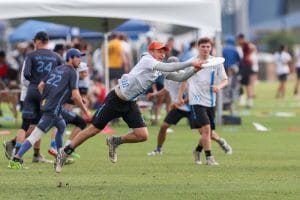 It was a very up-and-down 2019 for Tufts, to and through Nationals. They went 0-4 in pool play, but for those watching them, they didn't look out of place. Looking forward, they've returned basically the whole team, now more seasoned and with higher expectations.
The roster is headlined by Jac Carreiro, a potential All-American who excels as a downfield playmaker and matchup defender. He's flanked by an experienced group, including fellow fifth year Charlie Caron and 2019 All-Region selection Nikhil Batia-Lin. There's depth, augmented by a solid recruiting class of unheralded but capable youth players, and vets like Aaron Epstein, Tony Goss, and Henry Caron. And there's sophomore Caleb Seamon, who quietly was one of the nation's best rookies last year.
They have a tall task ahead of them in a dangerous New England, but they have the chops to earn a bid. A return to Nationals wouldn't surprise, but this club could far exceed that, and have top 10 potential. In this year's balanced field, that puts them into the mix as a sleeper.
Georgia Jojah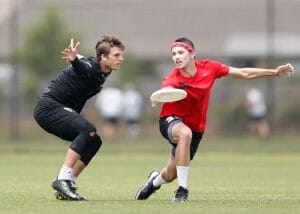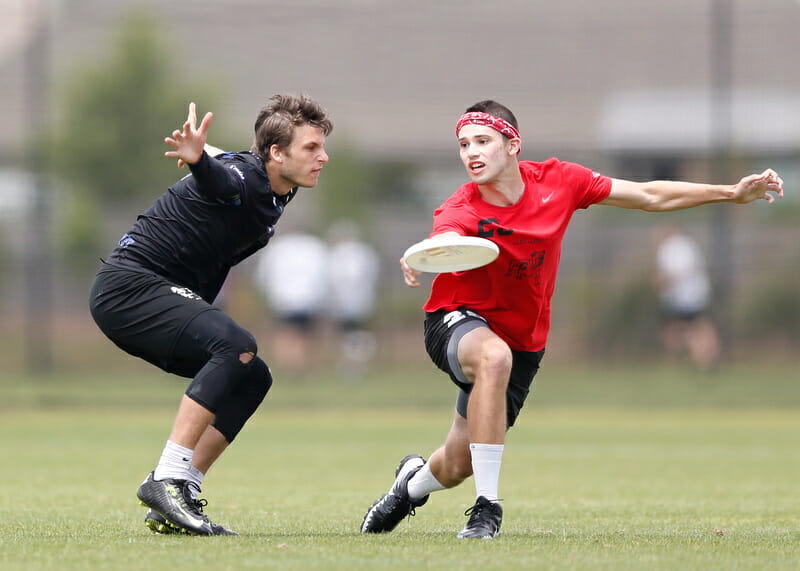 Projecting another Southeast title for Georgia is not bold. The Athens-based club has been impressively consistent at SE Regionals. But looking at them as a quarters team with semifinals potential? Now we're talking.
UGA's roster looks very deep this year. There's a long list of returning contributors, including Mason Cary, Brandon Li, Mack Hodges, Hayden Austin-Knab, and the Timeout Lord, Jon Ross Ingley. They lose big men Hunter Cutts and Jason Jones, thrusting John Roorbach into a larger role, but he seems up to the task. They've been missing a central playmaker, but rookie Aidan Downey has the potential to be that, though with all the attention on him, it's easy to miss his fellow rookie Adam Miller, another capable addition.
With plenty of experience and chemistry, solid coaching, and quality playing opportunities, Georgia is headed into the spring with a high ceiling.
D-I Women's
Vermont Ruckus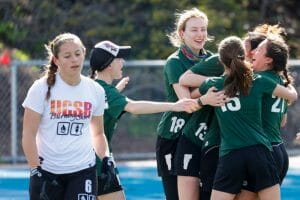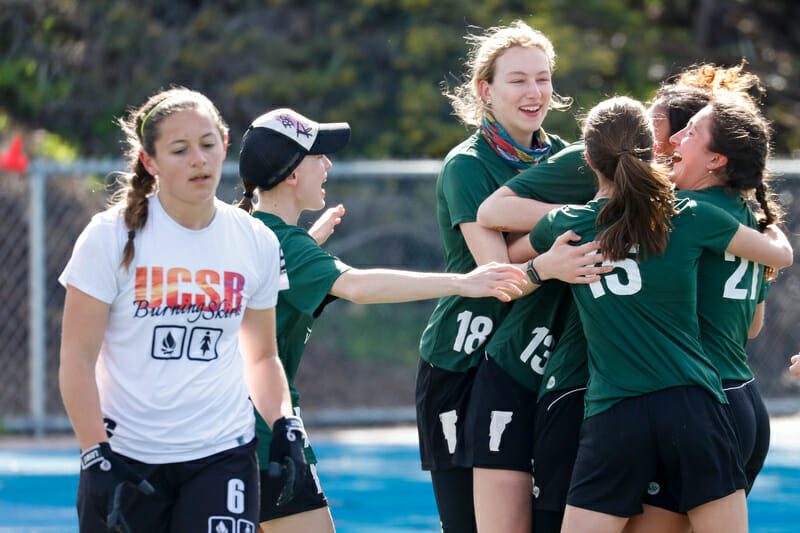 If you didn't see this coming, you haven't read any of the 11 other days. It's now well established that Kennedy McCarthy is The Truth and should have an instant, huge impact for Vermont. Coupled with Bethany Eldridge, who herself was a dominant freshman in 2019, the two make up one of the tallest, most athletic, dangerous duos in the division.
McCarthy and Eldridge are the crown jewels of the roster and will be the primary faces and names of any of their successes this season. But they aren't a two-player team, either. Coaches Daron Byerly and Sara Jacobi have done a tremendous job of building and developing the roster over the last few seasons. They lost some important players from last year's team like captain Mariz Mangundayo, but in addition to McCarthy, Vermont has another exciting first year in D-III transfer Sarah Von Doepp from Mount Holyoke. Von Doepp was a star handler at the D-III level and should help fill out the top end of Ruckus' roster.
Vermont has been nationally relevant for a couple of seasons already, having earned strength bids each of the past two years. Neither year were they able to turn those bids into Nationals appearances, but it's likely that New England has enough bids to go around for all of the top teams this year, and even if they don't, Vermont has a great chance to finally make that breakthrough to the big dance.
Utah Spiral Jetty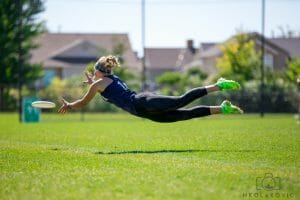 In its ten years of existence, Utah Spiral Jetty has never qualified for college Nationals, though the club has been knocking on the door for a few seasons. Utah has been consistently climbing the ladder of the Evil Empire (circa 2015) since their first regionals appearance in 2017. Since then, Utah has improved their placement in the Northwest each year, including a game-to-go loss to Oregon on Sunday of Regionals last spring. It's worth noting that Utah defeated Oregon the day before, walking away with 12-10 win over Fugue, and a DGP loss to Washington Element in pool play.
Kyra Khoroujnikova has made a name for herself on Spiral Jetty through her outstanding downfield performance, but this should not overshadow top performers Jess Olsen, Logan Radke, and Hannah Bruns. The four will lead the charge in Utah's success in a very well known and competitive Northwest region. An undefeated fall season sets Spiral Jetty up with loads of confidence moving forward, and coach Tania Reitz is optimistic for promising results at Santa Barbara Invite, Presidents' Day Invite, and Centex. At the Texas tournament last year, they shockingly upset Colorado in quarters and qualified for semis — from the depths of Tier 2.
Utah's play style is athletic and scrappy, with a unique splash of elite defenses. A squad of mostly returners and a deep line of rookies will carry them through this upcoming spring season.
Tufts Ewo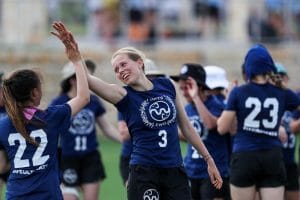 Let's lead with this: people are not talking enough about the fact that Margo Urheim is back. She's one of six returning All-American selections this season, and should be considered one of the best cutters in the division. She turned into 10 goals, 15 assists, and 16 blocks at Nationals last year!
With that out of the way, Urheim will have plenty around her to let her shine. All of Tufts' key handlers from last season — April Weintraub, Julia Lober, and Claire Dunn — return for 2020, and they'll get Hannah Wells back after she was abroad last spring. Jordan Bricknell is coming off of a club season with Boston Siege and will show growth. Hazel Ostrowsky is an early-season ROTY candidate, but Olivia Goss deepens the strength of their 2020 class and should be ready to compete from day one.
After a season of 'so close,' this has to feel like a huge opportunity for Tufts. It's their last season with Urheim and their lone chance to have both her and Ostrowsky together. They missed out on the New England title by a single goal and the bracket at Nationals on a two-goal point differential. Ewo has lost to Dartmouth in three straight New England finals, and Dartmouth doesn't look quite as daunting this year. The region as a whole will be strong, presenting a different type of challenge, but Ewo could emerge as the best team in the best region.
Cal Poly SLO Motion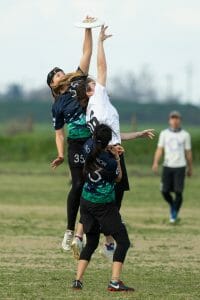 SLO Motion came up short of Nationals last season, but they still made waves as one of the most fun teams in the country. Now Cal Poly SLO should be primed to take the next step and turn their high-flying, fan-pleasing style into more regular wins over the best teams in the country.
Thalia Ward was one of the breakout stars of the 2019 season. She's one of the best long throwers in the country, her massive forehands matched only by her fearlessness. She had a particularly strong connection with Vanessa Beeler, who emerged as one of the premier deep threats in the nation. Those two alone, highlighted on Day 2 as one of the division's best duos, will make SLO Motion dangerous on their own. But their supported by an impressive cast as well.
Kelly Dickson is another strong thrower whose turnover-free game is a perfect complement to Ward's aggressive style. Sherita Li is an impressive matchup defender and hard working cutter, and Cecilia Girvin adds further athletic dynamism to the cutter core.
SLO was a game away from Nationals for each of the last two seasons, so they haven't exactly been off the National radar. But if the team fully realizes their potential this season, they have a very strong chance of getting over the Nationals hump. If they do so, it'll be while playing one of the most exciting brands of ultimate in the country.
South Carolina Scorch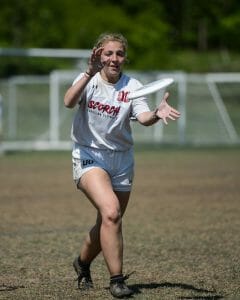 An upperclassman-heavy team with some good throwers, a host of above-average athletes, strong coaching, stronger buy-in, and a zone that can squeeze heaps of turnovers out of any opponent on any given day figures to make a strong push for Nationals, even without the benefit of the kinds of readymade all-star-caliber players that have taken the division by storm in recent years. Anyway, that's the theory. Welcome to South Carolina Scorch 2020, where the rubber meets the road.
Scorch have been quietly dangerous for a few years now. They threatened to break through to the big show in 2019, when their undefeated regular season earned them just enough rankings points to be the first team outside of the bid picture and they nearly flummoxed heavy favorite UNC Pleiades into giving away a win-or-go-home semifinal match at Atlantic Coast Regionals.
The 2020 iteration is going to look a lot like 2019. South Carolina returns hub handler Deanna DeLuca, as well as most of their best downfield threats, including Colleen Morton and Kayla McClary. They also return the four-person cup zone look that created so many block opportunities for the wings — with the added benefit of almost everyone involved now having multiple years of experience running it.
There are two notable obstacles in their path: the schedule and the offense. As 2019 proved, they are going to have to find ways to play more games against good teams (and keep up their winning ways) during the regular season in order to earn a second bid for the Atlantic Coast, because North Carolina are still entrenched at the top of the region. Offensive inefficiency, meanwhile, was what kept them from being able to compete with Georgia in the final of Classic City Classic in November. While those are two pretty big ifs, the pieces are in place for Scorch to shore up their weaknesses, double-down on their strengths, and make the leap this season.
Georgia Athena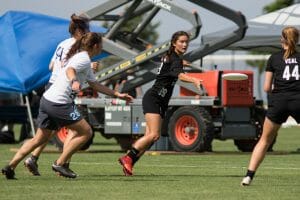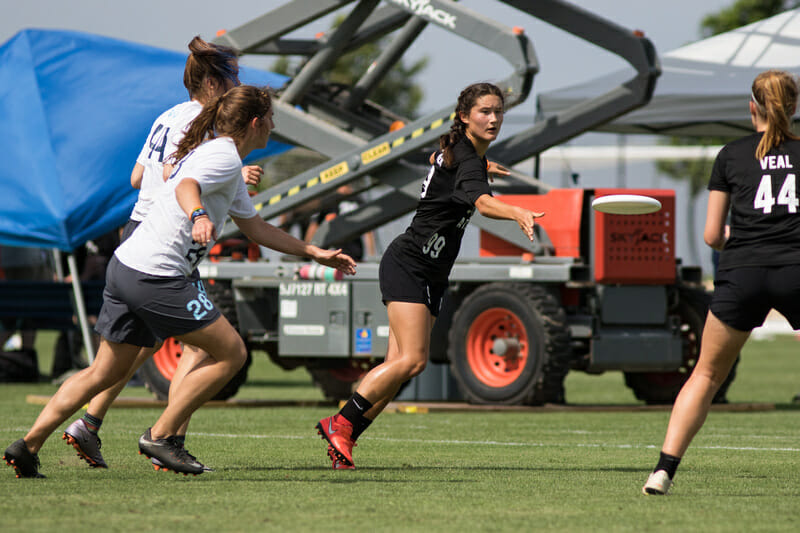 We probably need to slow down and reserve some praise for Marie Perivier, as we've expended quite a bit lately and don't want to run out before she tears it up this spring. But to be clear, she's quite good, and certainly powers the Athena remodel that takes the ceiling so high.
But what you need to know is that the talented sophomore is just one component of what could make this year's Georgia team the most successful outfit they've fielded since their 2001 championship. Josie Veal has earned impressive plaudits for her abilities, and she's got multiple years of elite club experience at this point. Katharine Suarez and Amy Strozinsky are the team's top returning downfield weapons. They add Anik Regan, an experienced grad student cutter who can help fill production lost in the form of Alex Fairley.
While the Southeast's title belt looks like to remain in Athens, there could be more in store for Georgia if the pieces come together.