Ohio State established themselves with a quality tournament win.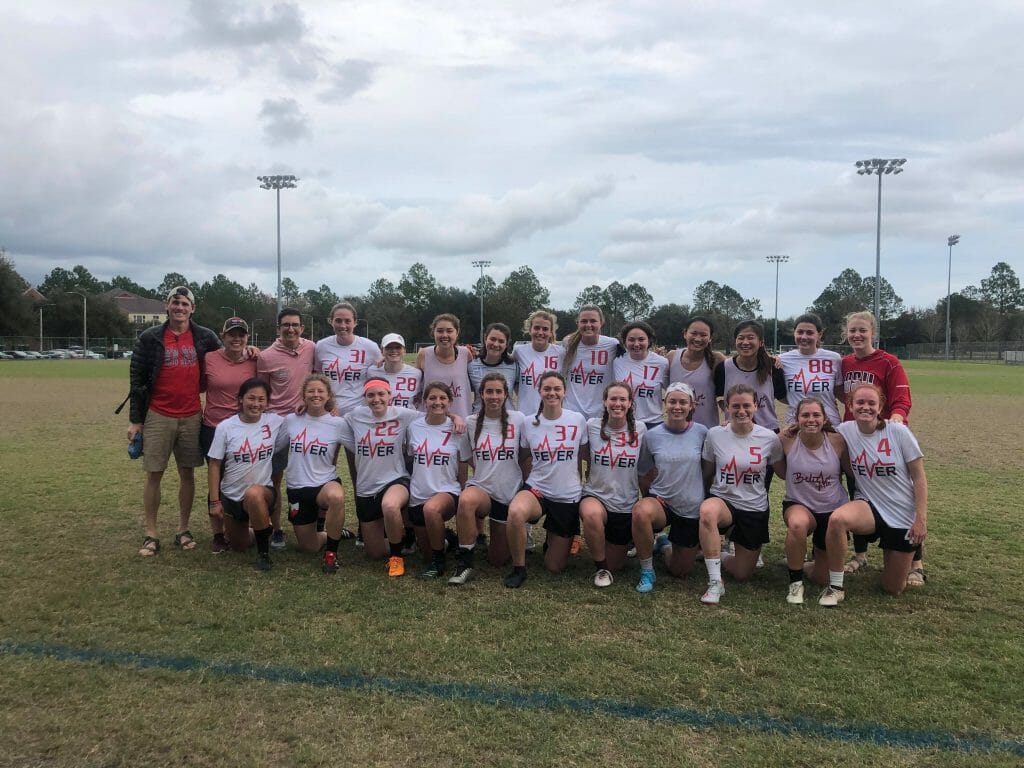 Ultiworld's 2020 college coverage is presented by Spin Ultimate; all opinions are those of the author(s). Find out how Spin can get you, and your team, looking your best this season.
The first tournament of the season taught us about some of the top teams in the division, as well as played host to a surprise breakout from an under-the-radar team in the Southeast. Ohio State won the tournament, Dartmouth was tried in a couple of tight battles, and a pair of regional rivals duked it out in the third-place game. Here's the lowdown on everything that happened at Florida Winter Classic.
Ohio State Tops FWC Field
In a rematch of last year's final in Gainesville, #3 Ohio State Fever overcame a slow start against #7 Dartmouth Daybreak1 to take home the FWC crown with a  9-8 victory during the hard cap, reversing the 2019 result. It wasn't a vintage Fever performance, nor was it ever very pretty, but the Ohioans showed impressive resilience after a rough opening few points to come back and win the season's opening tournament.
After giving up a two-throw hold on the game's first point, Ohio State struggled mightily on offense, turning it over nine times on their first two offensive points and getting broken on each of them. The Columbus club was never truly able to clean up their game offensively, putting together just one turnover-free hold all game, but they demonstrated impressive grit and determination to battle through long points and grind their way to goals. 
They got the first of the two breaks back at 4-2, when Emily Barrett played a tireless rabbit mark for two possessions and dozens of throws before finally getting a point block that triggered a fast break for the bookends goal. Fever fought their way to two more breaks, fueled by All-Americans Cara Sieber and Barrett, right at the end of the half to take their first lead, up 8-7. 
The lengthy points in the first half set up a second that lasted just two points. Dartmouth was centimeters away from a game-tying break when Claire Trop came up just short on a massive bid to get to an upline throw. Ohio State scored at the other end on a debated in/out call to make it 9-7. Fever then milked the clock with a stifling zone and held Dartmouth out of the end zone until after the cap had expired to hang on for the gritty 9-8 win.
"We have a lot of players in new roles, and many players still finding their roles. Couple that with the nerves of the first final of the season and the seasoned, disruptive Dartmouth defense, I wasn't surprised to see us struggle some," said head coach DeAnna Ball. "We haven't achieved habits of mind when it comes to some of our early strategic goals, and under pressure we had some things break down. I think our offense that entire game could best be described as 'grit fighting through disruption and just making it work.'"
Most of the weekend was much cleaner and more dominant from Ohio State. They throttled Florida 15-3 in their semifinal and never faced any other challenges down the stretch in any of their games. Most encouragingly, those performances came without a ton of advanced strategy, too. "Right now, the system is similar [to last year's] as we learn the true identity of the individuals and the team as a whole," said Ball. "Once we see more top to bottom, we'll start adjusting. I think the story for us this weekend was the play of our rookies — and I mean all of them. The great plays they put up all weekend helped set us up to grind in the final. Couple that with returners stepping into new roles and finding success, it makes a good story for our coaching staff to get back to planning next steps for practice."
A pair of rookies in particular impressed for Ohio State. Grace Conerly immediately had one of the highest volume roles on the team, most frequently as a backfield anchor on D-points. The Chapel Hill native boasts a cannon for an arm that she used to complete hucks and flip field position, as well as explosive athleticism, which she demonstrated with the most impressive catch of the weekend to save a disc barely off the ground early in the day on Saturday. She was also the best puller at the tournament. The team's veterans were also excited by Faith Lamb, who, unlike Conerly, is a true rookie, never having played ultimate before. Lamb made an impressive grab in the first half of the final and, as Sieber put it, she "did not waiver under the tight competition." Both rookies should be key parts of the season for Fever, with Conerly looking like she could be a serious ROTY contender.
Ohio State also got key contributions from unheralded players like Claire Ackerman and Alex Warning, which bodes well for the team's depth. That's buoyed even further by the fact that Maddie Fleming, who's expected to be one of Fever's best four or five players this season, couldn't make the tournament this past weekend.
"Winning this tournament really proved to a lot of the returners mostly that we have an incredibly high ceiling," said Barrett. "I think a lot of us were a little nervous for this season since we lost so many talented seniors last year, but a lot of people really got to step up into bigger roles this weekend and gain the confidence to build those roles further in future tournaments."
It's still very early in the season, of course, but the signs Ohio State showed over the weekend portend well for another fun season for the Fever faithful.
Dartmouth's Young Roster Shows Promise
Despite the loss in the final, Dartmouth leaves Gainesville with a lot of positives to build on. Hannah Marr and Grace Alston proved themselves capable of providing a spark independent of known-stars Trop and Caroline Tornquist. Abby Ritterband and Emma Bushman look to be solid complementary figures, as well.
Where Dartmouth should feel best, though, is in the contributions they got from some of their rookies. In particular, Sarah Karnes and Chloe Fugle, a DC Rogue product, who have the potential to be key components of Dartmouth's later season exploits. Altogether, Daybreak brought 13 rookies to FWC and they still pulled off a big comeback against Florida on Saturday, won every game prior the final, and gave themselves every opportunity to beat the third-ranked team in the country with a tournament title on the line.
The team's bounceback against Florida was especially impressive. Dartmouth fell behind 5-0 and were down 10-7 late before scoring the final four goals to win it. Fugle had a layout score for one of the late breaks and the whole team's defense frustrated Florida into the turnovers they needed to complete the comeback.
Dartmouth will, of course, still rely heavily on Trop and Tornquist. They were probably the two best players at the tournament and their skill sets complement each other perfectly. Trop's athleticism and ability to direct the offense made her easily the most valuable player of the tournament, and Tornquist's backhand hucks were the most consistent and dangerous throws of anyone in attendance. But the way the rest of the roster played bodes well for where this team can be when they start playing in bigger and more meaningful tournaments.
Getting the young players rep for later in the season was the focus for the weekend, according to Trop. "It's never good to go into a game [thinking] 'We're not trying to win this game.' But we talked a lot about combining the desire to win [the final] and play our top of the line — which didn't really feel super sustainable — versus the desire to really build people up. Because I think the rookies are only gonna really become valuable later in the season if they get the reps now," Trop said. "For us, this is a huge learning tournament. It's a chance for everyone to get some reps against not our own team and develop skills, and I think we saw a ton of that [against Ohio State]. There were a bunch of moments where we got rookies and freshmen involved and that is gonna pay dividends down the line in the end of the season."
This is a very different Dartmouth team than the ones we've seen over the last few seasons, and there was a potential that they'd experience a bigger drop off than expected if they didn't get positive contributions from their players beyond Trop and Tornquist. But FWC did a lot to alleviate those potential worries. They won't be the dominant force they've been, but Daybreak are set up well to have another strong campaign in 2020.
Florida Emerges as Contender in the Southeast
No one saw their stock rise more on the weekend than Florida. Their meltdown in semis against Ohio State aside, they put together an impressive resume. Having their 10-7 lead against Dartmouth in Saturday's crossover round collapse into an 11-10 loss stung, but showed a glimpse of the team's capability of playing with the top teams in the country.
For starters, Gabby Krajniak is the real deal. She's been a top player in the Southeast for a couple seasons now, but the way she grabbed the Dartmouth game by the scruff of the neck indicates she's ready to make her game more well known nationally. Krajniak went toe-to-toe with both Trop and Tornquist and looked like the best player on the field for the first three-quarters of the game. She couldn't maintain that same level of play down the stretch, suffering from a banged-up ankle and probably a little fatigue, but it was still a special individual performance from the Florida fifth year.
Krajniak was the beneficiary of strong performances around her, too. Jenn Maresca was one of the most impressive throwers at the tournament, Emily Matthews was a goal-scoring machine, and others like Tessa Ricker and Katie Huettel came up with big individual moments as well.
Florida, at the very least, announced themselves as a very real threat to Georgia at the top of the Southeast and confirmed it with an 11-7 win over their regional rivals in the third-place game. It's tough to say how much higher Florida's ceiling is than how they played on the weekend, but they won't need to be much better to remain relevant nationally throughout the season and be in contention for earning a ticket to Milwaukee.
Coach Dustin Travaglini hopes that Fuel's lower points of the weekend help drive the team forward. "I always hope things like this are like a kick in the pants a little bit of getting people to get out and throw. It's not windy, but it's enough to affect throws and our team doesn't have throwers, not a lot of people who are comfortable or seasoned or behind the disc a lot," said Travaglini after the team's blowout loss to Ohio State. "I think they got a good dose of reality today playing against Ohio State which was a different coverage level…Hopefully that's an opportunity to get out and work on a few throws. You know, if it's windy let's get out and throw some. That's the optimistic [thing] — hopefully we can learn."
The bounceback win over Georgia in consolation really put a nice finish to their weekend. If Krajniak continues to play at the level she did at FWC, with her reliable supporting cast, Florida should be a bigger factor this season than previously expected.
Georgia Fights Through Loss of Star Player
The complexion of #11 Georgia's weekend changed with the twist of an ankle. When Marie Perivier went down awkwardly on an otherwise routine reset catch during their round three game against Florida State, it looked like Georgia's whole season might have been in the balance. Fortunately, the early reports are that Perivier only suffered an ankle sprain, and she even considered lacing up on Sunday. 
But the loss of Perivier did steal Georgia's chance of making a big splash in Gainesville. They claimed just two wins after their star sophomore went down — a double game point victory over Florida State, and a 15-7 win over South Florida in quarters that felt a little closer than the final scoreline. But Georgia did have a few positive moments hidden in the final results. They led Ohio State 7-6 at halftime in their crossover game, and they outscored Dartmouth 6-5 in the second half of their semifinal matchup.
Josie Veal was fearless in having to shoulder the load once Perivier went out, and Amy Strozinsky was a terror offensively and defensively. Katherine Suarez, Anna White, and Cailee Anderson all had nice weekends, too.
Coach Paige Howell was pleased with the way the team responded to Perivier's absence, though she admitted the emotional effect carried into the team's performance against Dartmouth on Saturday. "Initially it kind of took the wind out of our sails for the Dartmouth game, which is I think why the scoreline looked a lot different than [in the rematch on Sunday], but I think once we had a little meeting with the captains we decided we're still a really good team and we're still a very deep team. I think after that third game [against Dartmouth] we really came back in the fourth game and played Ohio State pretty close in that first half so yeah, I think we responded well once we got the initial sadness out of the way," she said.
Howell was also pleased with the foundation the team built for its 2020 season, especially when considering the players who were unable to play. "I always tell them that this season is a mountain and we want to peak at Regionals, and then hopefully maybe a little further at Nationals, you know, ideally making like the quarterfinals," said the Athena coach. "But yes, I think this is encouraging that our base each year has gotten higher in terms of where we're starting from the spring or we end in the fall and so, to me, we're completely on the right track, especially with once Marie's back, Emma [Jones], …Anik [Regan] who was out this weekend, so I think thinking about all that and how we're doing with the pieces we have is it's super encouraging."
Quick Hits
Florida State had a nice weekend despite their small 14-person roster. They opened the tournament with narrow losses against Dartmouth (10-8) and Georgia (10-9), then cruised past the tournament's lower-tier before falling to cross-state rivals Florida in the quarterfinal. Natalie Wilson was a menace downfield and Cami Lamont was a solid presence in the team's backfield. The small roster could hold them back in tournaments like Southeast Regionals, where they have to be at their best in their fifth, sixth, and seventh games of the weekend, but they look like they'll be semifinals contenders in the Southeast once again.
South Florida had some positive moments during their season opener. Sara and Sydney Hostelley celebrated their 21st birthday on Sunday, and the pair really gave Georgia some problems in the first half of their quarterfinal showdown. Sydney, who played with Tabby Rosa during the club season, should be an All-Region candidate. But the team was held back by playing nearly savage all weekend long.
It was a tough weekend for North Georgia and UNC Wilmington, as both sides struggled against the top six finishers. They did both blowout teams from the B-team pool, though, and split their two games against each other to notch a pair of wins each on the weekend.
All-Tournament Team
Claire Trop (Dartmouth)

Caroline Tornquist (Dartmouth)

Emily Barrett (Ohio State)

Cara Sieber (Ohio State)

Gabby Krajniak (Florida)

Josie Veal (Georgia)

Amy Strozinsky (Georgia)
---