An in-depth look at the results from Stanford Invite.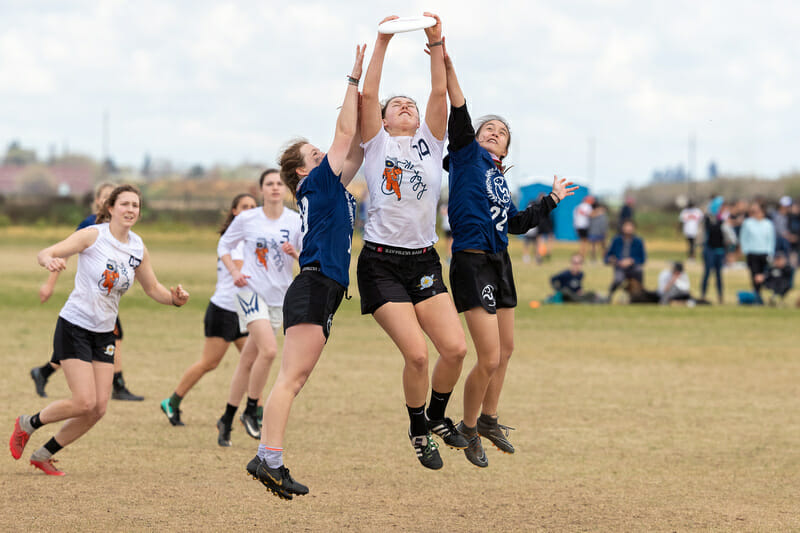 Ultiworld's 2020 college coverage is presented by Spin Ultimate; all opinions are those of the author(s). Find out how Spin can get you, and your team, looking your best this season.
The field site at Stevinson this weekend may have looked nice to those watching on the stream, but dig a little deeper and it turns out this weekend was mostly filled with chalk. The smattering of rain and wind did little to deter the best teams from marching their way straight to the Stanford Invite bracket, and the top level of those teams to reach semis, and the top seed at the tournament to win it all. Where many of the tournaments before this have provided speculation, this one featured confirmation. The tiers between the elite teams this season have never appeared so frank.
This pronouncement may sound dour, but normally when twelve of the best teams in the nation converge, the potential for fireworks is in full display. In Stevinson, we mostly just got a lot of smoke and a single lightshow that blanketed the rest. That's not to say that the tournament was uninteresting or didn't feature quality ultimate, quite the contrary. As the bracket filtered out teams, we got some of the best ultimate of the year. And with the season cresting its halfway point, we're getting a far better picture of what to expect from the teams that came out to play. So, without further ado, here's what we've learned from the 2020 Stanford Invite.
Carleton Overcomes Their Streaky Offense to Keep a Perfect Record
After falling to UCSD in semis at this tournament last year, we remarked that #11 Carleton Syzygy was a young team who looked maybe a year away. Turns out that was pretty spot on. Carleton's return to Stevinson led to their best results of the year, including assertive wins over Pitt, Colorado, and Stanford. By the time they reached the final against Tufts, any question of their status as the top-ranked team was put to rest.
While Carleton may have had a perfect record walking into the final, the imperfections in their gait showed in their prior matchups. All throughout the weekend, Carleton had played inconsistent ultimate, allowing for opponents to build up big leads or mount strong comebacks, only to see that stripped away by Carleton's fierce defensive unit. True to form, it was Carleton's defense that carried them early against Tufts.
Tufts came out the gate firing, which proved to be a massive miscalculation. Nariah Sims and Lauren Carothers-Liske owned Ewo in the deep space, forcing difficult shots and contesting every floating disc. Once they had earned the turn, it was all in the hands of Maya Powell to make plays. This has been an unspoken masterstroke by Carleton's leadership. By putting Kate Lanier and Alyssa Ehrhardt in the driver's seat for the offense, it has allowed Powell to take full control of the defense. Powell plays a little more aggressively with her throws than Carleton's underclassmen handlers, which is exactly what Syzygy has used as a weapon all season, and particularly this weekend. With Sims and Carothers-Liske earning blocks, and Powell working the disc into the end zone, Carleton took a commanding 4-0 lead.
The lead didn't last long, though. The crisp offense displayed by Carleton's defensive unit wasn't there for their offensive line. Chalk it up to inactivity or not being able to establish a rhythm early, but Carleton's offense made their fair share of unforced errors in their first few points on the field. With any other team as young as Carleton, you could excuse their mistakes as a sign of a young team, but the combined ultimate experience on Carleton almost definitely outweighs the broad majority of teams in the college division. Only Washington or UNC could really claim to have a similar depth of experience across their roster. Dismissing the early errors made by Carleton's offense as 'rookie mistakes' doesn't give the team the justice it deserves, but does fairly accurately sum up the mistakes themselves.
To be fair, it wasn't just Carleton's offense taking a while to warm up; Tufts was doing everything in their power to make Carleton uncomfortable. Between zones, junk looks, poaches in the lane, and tight under defense, it was clear that the Tufts leadership team wasn't going to go down easy. Before long, Tufts had fought their way to get back on serve, thanks in no small part to the heightened performance of Claire Dunn and Margo Urheim.
Tufts' comeback had made the game interesting again, but that didn't last long. Carleton's offense cleaned up and was chugging at full speed in no time. The chemistry between Alyssa Ehrhardt and her sister, Karen, was apparent throughout, but Syzygy's success expanded beyond that. Isabel Arevalo appeared to be playing at full speed once the game really got going, and Anika Thomas-Toth had some game-changing moments of her own.
Still, this game belonged to Carleton's defensive line. With Carleton leading 5-3, Ellie Vandel made a huge block, though not her first or last of the game, and it put the disc back in Powell's hands, who guided the Carleton defense right to a break. They took half the next point off another break, and just like that, Carleton was up 7-3 again with Tufts looking for answers.
Captain Karen Ehrhardt was quick to praise her team's overall effort, "Our entire team is so deep. That's really the strength of our team. There was not really one player that carried us at any point in this game."
While Carleton's depth may have handed them the first half, Tufts defense showed their own roster-wide playmaking ability early in the second half. There were more than a few Ewo defenders that really earned blocks against a somewhat flat Carleton offense as the second half wore on. Dunn was pivotal for Tufts as they started trickling in breaks, and was bolstered by strong efforts from Julia Lober and Hazel Ostrowski, too. It wasn't any single play from Tufts that would earn them the disc, but rather tight marks all around and aggressive offense when they got the turn. Carleton was a little too committed to playing a beautiful game, and didn't attack the deep space as often as they could, allowing the Ewo defense to really pressure the unders. Before too long, Tufts had tied the game at 9-9, and once again it was up to Carleton to prove themselves.
Syzygy may just prefer playing under pressure, because it produced the best in them late in the second half. Right after Tufts tied the game, Carleton's offense flipped a switch and locked in. Carly Campana, in particular, made her presence known at this point, shutting down her mark as necessary and getting open in the under space to make the continuation pass into the end zone. In the final five points of the game, Campana notched two assists and a block, helping lead her team to an emphatic 13-10 victory.
Carleton's game against Tufts was a good microcosm of their tournament as a whole. They were clearly the best team at the tournament when they wanted to be, but strangely allowed themselves to drop multiple consecutive points against almost any opponent. In their game against UCLA, Syzygy went down 6-3, only to dig themselves right out of it by winning the next four straight points.
"We talked a lot about how we wanted to stop being on a roller coaster in terms of energy," said Ehrhardt after the game. "We've had a lot of ups and downs throughout the weekend, but we had a long discussion about how we were going to keep our energy up from the sideline, and we really implemented that well at the end of the second half."
The way forward for Carleton is clear: improve offensive efficiency. It's tough to say without stats being taken, but in most of their games, it appeared that Carleton's defensive unit was cleaner than their O-line! That says a lot about Carleton's depth, but also subtly nods to the hierarchy on the team. The defensive unit knows who they're running the disc through. Maya Powell controls the disc when she's on the field, and has plenty of targets downfield willing to play unselfish offense. On the other hand, Carleton's offense lacks a clear structure as to who is their primary option. Kate Lanier is their most consistent player and a threat in any space on the field, but she sometimes would have no effect on a point whatsoever, which should never happen with a talent like hers. Karen Ehrhardt is another puzzling piece. She's Carleton's best deep cutter, but frequently filters back into the handler set and helps the backfield move the disc. It's not a problem for Carleton – they have plenty of spectacular cutters and don't need Ehrhardt downfield– but when you have a player with a skillset like hers, you want to see it used to its fullest capacity.
With all this being said, Carleton is doing just fine. Better than fine. They're the top-ranked team in the nation and with good reason. Their collective talent and ceiling is not in question. What remains to be seen is whether their tendency for streaky offensive play will cost them on the biggest stage. They played a lot of quality teams in Stevinson, but there'll be even more at Nationals. Carleton's kept their perfect streak alive after this past weekend, but they still have lessons to learn from it.
Tufts is Fully in Control of Their Future Success
The bad news for #3 Tufts Ewo is that they got handily beat by Carleton. The good news is that they looked far and away like the second-best team at the tournament, and at times looked even better than Carleton. With a little more consistency, this tournament could have been theirs.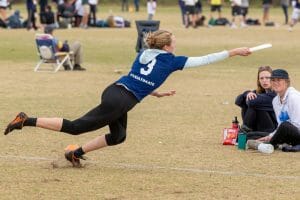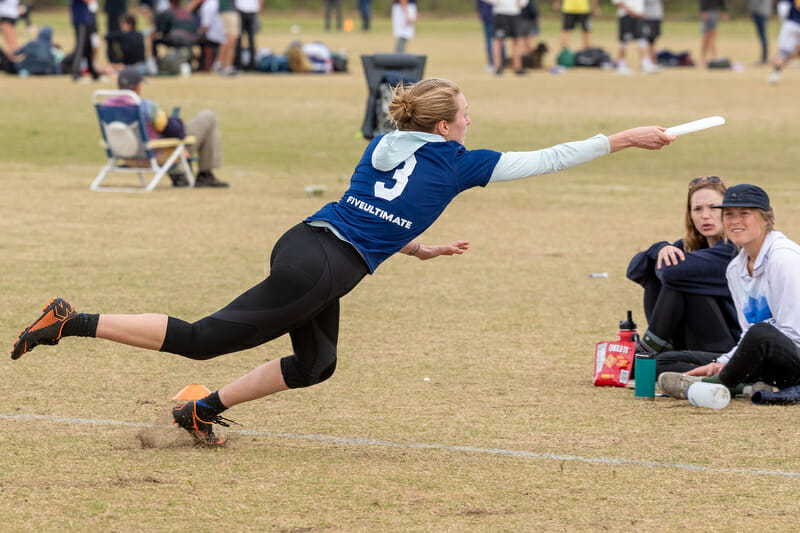 Not to drive it home too hard, but consistency really was what cost Tufts a tournament victory. Almost every time that Carleton started to draw away from Tufts, the women from Somerville tried to shoot their way back into the game, allowing Carleton to extend their lead. They have some incredible downfield talent in Urheim, Ostrowski, and Molly Lipman, but they rushed too many throws in an attempt to wrest back control while seeming very uncontrolled in their decision-making. Still, this aggressive offense is what brought them to the final. Throughout the weekend, their fast-break offense was the best of the tournament, and they scored countless goals by giving their opponents no time to set a defense. Ewo's strength is in their ability to steal the momentum of a game with a pace most teams can't match, but their game against Carleton proved that they need a yin with their yang. A more balanced offense could have won them that game, especially as Carleton's offense wasn't firing on all cylinders.
"It's still so early in the season for us," said Margo Urheim about the team's overall performance. "We're just still working things out. We have a lot of talent and a lot of different things we want to throw and that requires a lot of work. We're just not there yet, and that's ok."
Disciplined offense may be a concern for the team, but their defensive discipline is outstanding. As already noted, Tufts threw out a number of different defensive looks against Carleton –and all the other opponents they faced– which allowed them to find a structure that worked and pound it into their opponents until it was cracked. Tufts already has the athletes to just play solid person defense, having such an array of defensive options is just the cherry on top. Thanks to their defense, Tufts really only had two tough games: their tight win over UCLA, and their loss to Syzygy.
After this weekend, it's clear that Tufts can contend for a national title, and is certainly one of the best four teams in the nation. They're well-coached, high energy, and filled to the brim with talented athletes. That'd probably be enough in most seasons to be the favorites, but Tufts still has to show that they can beat teams like UNC, Carleton, and Washington. Here's hoping we get a chance to see them do just that later on.
Stanford and Washington Stand Out as the Best Teams in Their Respective Regions
In two of the most contentious regions in the nation2 the Stanford Invite presented two teams that currently stand out as the teams to beat. Neither Washington Element nor Stanford Superfly made the final, but they both finished with a 5-1 record and looked to be the two best programs out West.
For #6 Stanford, almost all their success can be attributed to their system. No matter how many times we praise the coaching staff, we still are underselling the work that they do for this program. Robin Knowler-Davis, Jennie Lummis, Jamie Nuwer, and now Amel Awadelkarim provide so much more than most any other program could wish for. If a college draft was implemented at the end of this season, I'd still pick Stanford's coaches over any player in the division. How can you not? Except for Hallie Dunham, not a single player on Stanford has been to club or college Nationals in the past year, and they're still outperforming against teams who have rosters more experienced and more well-known than them.
That's not to say that Stanford's players are below the talent of their competition; far from it. Hallie Dunham has worked her way into the POTY conversation and is now the type of player that opponents craft defenses specifically to stop. Downfield, Sarah Kratzer, Bridget Connor, and Maika Isogawa come down with everything. In fact, Stanford was very much alive in their game against Carleton until Isogawa went down with an injury. Before she left, Carleton didn't have a foothold, and their offense wasn't getting a lot of room deep against the Superfly zone.
It is still Stanford's zone that is their 'je ne sais quoi'. Apart from symbolically being the example of discipline, communication, and trust that Stanford has come to represent, their zone also is the foundation for the breaks that they earn in every game they play. Without a large roster, Stanford relies on their zone to slow opponents and give their offensive players time to rest. It also preys upon weaker throwers and sets up shorter fields that Superfly can capitalize on at a moment's notice. Just ask any opponent how tough it is to play against Stanford's zone, or better yet, just look at their season record –each tournament they get better.
"We made some big adjustments in practices to prepare for this tournament," noted Stanford captain Sesha McMinn. "We've added different zones, different [force-middle] looks, anything that can expand our repertoire. [This weekend] we found some zones that really worked well and I think that gave us a lot of momentum."
This past weekend, Stanford proved that they're back in the hunt for the bracket at Nationals. No, they probably aren't equipped to take down the teams who have a wider range of talented throwers, but they have more than enough to at least make those games interesting. Stanford's been surprising teams all year, in Stevinson, they've now turned that surprise into fear. Superfly is back, and no one will want to get stuck facing them in an elimination game.
For #10 Washington, this weekend was more of a murky reflection of their potential. In more concrete terms, the team's better than their results reflect, and considering how they went 5-1, that should terrify their opponents. Before the tournament, we questioned whether Element's coaches would choose to consolidate their roster and play tighter lines. The answer was no, and they still put away the likes of UCSB, UCLA, and Colorado, building quite a strong resume for themselves in the process.
The asterisk for Washington still remains the same. They may have quality wins and a great record, but this is now the second tournament in a row where they've fallen out in quarters, meaning they haven't had a chance to face the best collection of teams available to them. We never got a chance to see what Element could do against Tufts or Carleton, leaving their status as a title contender in question.
From what we did see of Washington, they looked very capable. Even without consolidating their lines, UW played like a team with years of chemistry together and a strong team identity. Defensively, they are a little undersized, but they make up for it with a high team defensive IQ and energized athletes who will put their body on the line to earn a block. That doesn't always earn them a turn, but it does force opponents into overthinking their throws and making costly mistakes.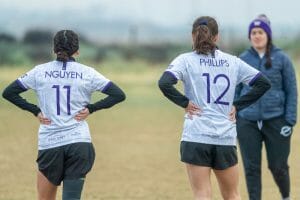 Washington's strength is still in their offense. Steph Phillips is a field general of note, and appears not to notice when she's being guarded, as she can make a throw through or around just about anyone. She's often flanked by either Ikran Elmi, Penny Nguyen, or Amy Nguyen, all of whom capably move the disc and can skyrocket downfield when necessary. Alexa Yadama, Abby Hecko, Mercedes Minahan, and Grace Young make for an intimidating cutting core, leaving almost no weaknesses on their line. The top end of talent on Washington is so apparent that it's surprising they haven't consolidated yet. Element's coaches were still testing out lines at the tournament, and it ultimately cost them in their game against UCSD, where unforced errors shot them in the foot.
Skeptics of Washington can point to their tight games throughout the weekend as a sign that they struggled to put teams away, and that's actually half-true. While Washington would easily go up a break or two, they often struggled to widen the gap or take a commanding lead to take pressure off their offense. This may have put undue stress on their primary players, but they were always up to the task. Perhaps thanks to their open lines, Washington didn't seem as fatigued as their opponents by the end of the weekend. Regardless of their final results, Washington played like one of the top teams at the tournament, and will be very threatening if they can overcome whatever mental hurdle is keeping them from beating UCSD.
UCSD's Time of Reckoning has Arrived  
Speaking of mental blocks, it was two short years ago that the captains of #5 UC San Diego stood in a circle with me overcome with emotion from overcoming Stanford for the first time at Regionals in 2018. This roster was close to the exact same team that won Nationals a year later, but in that moment, beating Stanford was the biggest triumph they had accomplished together. Before then, they had lost to Stanford in two consecutive tournament finals, and had only won the Stanford Invite without having to face the home team at all. With their win, whatever mental block had been keeping UCSD from overcoming Stanford was broken, and it signaled a new era in the Southwest. Except, here we are in 2020, with Stanford back on the top of the region, and UCSD having lost twice to Superfly in the course of two days.
Pushing all that aside, UCSD performed well this past weekend considering the difficulty they faced. Not only were they missing Alex Diaz, who happens to also be out for the season—more on that to come soon—but they were also missing Maggie Pierce, their freshman handler who's carried a lot of the load on offense with UCSD's tight handler core. Their worst losses were late in the weekend and they earned wins over Washington and Pittsburgh.
What this weekend proved for UCSD is that they truly aren't the team that won Nationals last year. Their win at the Santa Barbara Invite masked a lot of their problems, but it all came to a head here. Without Alex Diaz to clean up in the deep space, UCSD was hard-pressed to find an easy out downfield, forcing their handlers to soak up a lot of touches that inevitably led to more errors than they'd like. Samantha Wool, Lauren Hanna, and Ava Hanna are still fully figuring out how to gel with each other, and their mistakes in the backfield cost them, mainly because they didn't have as many options downfield. They did see some great moments from Charlotte Sue and Catherine Lindeman, but those two are still a few years away from being full two-way threats.
"We definitely—I definitely— maybe tried to do a little too much this weekend," said UCSD captain Samantha Wool upon reflecting over the tournament. "Sometimes you feel like you have to do more with a younger team and we're still figuring each other out which means we missed on some connections that wouldn't have been a problem with more time."
UCSD's youth was on full display this weekend. They've managed to last this long thanks to their coaching and top-end talent, but losing two of their stars for the weekend was enough to expose their lack of depth. Too often, players without confident throws would get caught on the sideline, and be unable to get the disc back to their handlers. This is a common mistake in college ultimate, but it's not a common mistake for UCSD, who have cut their cloth with excellence on their reset passes.
Every critique leveled at the team should be taken with a grain of salt, though. This team still made it to semis and placed fourth overall in a tournament that featured twelve teams currently in the bid hunt. They may be young and prone to making mistakes that aren't characteristic of their program, but their foundation is still sound. Even after losing Alex Diaz for the rest of the season, they're still favored to make it to Nationals, assuming they keep their bid.
Poor Defensive Effort Leaves UCSB Looking for Answers
When you've created a brand around one specific aspect of ultimate, it's extremely noticeable when you're off your mojo. That's what happened to #4 UC Santa Barbara this past weekend, as the Burning Skirts struggled to put together a cohesive defensive effort despite it being their calling card all year. From the beginning, UCSB blew out weaker teams and hung tight with their stronger opponents thanks to their person defense and team positioning. For whatever reason, UCSB never managed to establish their defense this weekend, and it meant they were off-kilter from day one. Even the captains reluctantly admitted that there was something amiss.
"We can always be tightening up our defense," said UCSB's Kaitlyn Weaver. "We're known for our defense and weren't up to our normal par."
Surprisingly enough, UCSB's offense was their strength this weekend, and it often made up for the problems that plagued them on defense. Whether by design or necessity, UCSB's offense was more focused with their throws and more willing to make the right shot, even if it might not offer up the highest reward. This was the tournament where the calmer players on UCSB had their chance to shine. Mika Leslie, Leah Forester, and Nicki Yang all had moments where they made big plays for their team not by taking the tough shot, but by making the right throw. It might not be reflected in their 3-4 record from this weekend, but Santa Barbara's offense finally looks like it has some staying power. Barring their loss to Stanford, there was no game where UCSB didn't have a fighter's chance to win it right out, and that was thanks to their offense continuing to punch in holds, as breaks were few and far between for their defensive unit.
It did appear that not being able to gain a foothold with breaks affected the Burning Skirts. They're very much a rhythm team, and have patterns that they thrive on. Every block, every stall out, and every break energizes the roster beyond general excitement –when they weren't getting any of those, the team seemed lost. When so many of your cheers are based on defensive effort, you run out of cheers if your defense is lagging.
To look at the positives for UCSB, it's highly unlikely that their defensive intensity has fled entirely, and a few practices where the team gets back to the basics should help restore the missing elements that afflicted them this past weekend. They may want to forget their performance in Stevinson, but there are good lessons to learn, too. The team has to learn to love the grind, celebrating even in the back-and-forth games. They also need to improve on endzone efficiency, which cost their D-line too many turns when they could have led to breaks. Expect UCSB to show up at their next tournament with something to prove.
The Future is Still Bright for UCLA, But They Need to Hone In on the Present
This is now the second tournament in a row where #8 UCLA has come out with an incomplete roster and still performed admirably despite the setbacks. BLU played without Athena Lynch and Maddy Fisher, two of the team's offensive handlers, and Moorea Henn, a reliable senior cutter. You could see the effect that had on the team, as it forced Erin Doyle to take a much larger role on offense, tiring her out for her defensive points. It also required Tanya Bearson to step up, which the young rookie was mostly ready to take on, except when she got too eager in the handler space and threw off the rhythm of her teammates. Even Diana Zhang, who was a rock for UCLA at Presidents' Day, felt the effects of a thinned handler core, forcing a few too many throws that weren't required.
Even without their full contingent of handlers, UCLA came out of the weekend looking pretty rosy. They played Carleton the tightest of any opponent, and only lost to Tufts on double game point. Those two games accounted for two of their losses, and the third was to Washington, another team that went 5-1 and looked generally like the third-best team at the tournament.
Malia Smith and Stephanie Yen deserve much of the praise when noting UCLA's relative success. Along with BLU's unrelenting handlers, it was those two that kept the offense moving when their opponents bore down on them. Smith was always ready to make a play, timing her cuts for maximum impact and using excellent body awareness to keep her defender behind her. Yen's top speed never seemed to change as the weekend wore on, and she was almost exclusively BLU's only downfield threat, for better or worse.
It's easy to praise UCLA for the way that their youth talent stepped up, but that'd be ignoring the concerns of the present. UCLA is not actually that young a team, and their aspirations should still be about going as far as they can this season. For that to happen, they need a healthy roster with defined lines and a balanced rotation. Most of this roster went to Nationals in 2019, and they should not be content with a similar finish from last year's tournament. UCLA can be a real threat to go deep in the bracket, but not if they can't field their best line. We'll only truly know UCLA's ceiling when they're fully healthy. This weekend was a comma for BLU, when it should have been an exclamation point.
Colorado Continues to Navigate a Rocky Season
There are two teams that play under the name #20 Colorado Quandary. The first is a smart, cohesive roster with an offensive focus and the patience to work the disc into the end zone no matter how long it takes. The second is a motley assortment of talented players who aren't quite on the same page but all equally love taking risky shots and attacking the end zone with abandon. Unfortunately for Colorado, both of those teams showed up for them this weekend.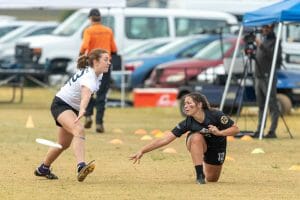 Much like we had predicted since the beginning of the season, when Colorado was clicking, there was no team they couldn't beat. They showed this with a wild comeback over UBC where the team trailed for most of the game, only to rally just after half and go on a 4-0 tear. They also proved it in their game against UCSB, where Quandary's offense just refused to give up easy turns and made Santa Barbara's offensive fight desperately for every point they earned. Even their second game against Washington, which the team lost 10-8, was a much better reflection of their ceiling. The team was composed and focused in the backfield, keeping Element's plucky defenders from flustering them and taking the open shots that presented themselves. Had exhaustion and mental errors not played a role in that game, they could have completed the upset there, too.
The other side of the coin was far more similar to the team we saw at Presidents' Day. Colorado still finds themselves discombobulated on offense too frequently, and when there's no communication on defense, it looks like a mess. Too often Colorado falls into the trap of throwing up prayer hucks for their athletes to chase down. When you have players like Saioa Lostra and Rachel Wilmoth, that can work at times, but it was too inconsistent in their early games and is a bad precedent to set when there's so much offensive talent on a line. The contrast between both sides of Colorado was most apparent in their two games they played against UCSB. In the first, they lacked focus and didn't play team defense very well, allowing themselves to get broken and beaten to the disc downfield. In the second, they fought for positioning on every point, and forced UCSB into making uncomfortable throws that led to turns.
"From the second half of our UBC game, we just decided we really wanted it," said captain Brittany Bergstrom. "Everyone on the field played like they wanted it and we carried it through after that."
At their best, Colorado is a team that can channel their energy and tenacity to break through their opponents' best defensive schemes and earn blocks off good positioning. Skye Fernandez really exemplified the best in her team, making smart decisions in the handler space and rarely turning the disc over despite her team's penchant for running deep at every opportunity. Mei Hecht, too, was very composed when she had the disc and willingly accepted her role as the reset handler, timing her cuts off players like Bailey Shigley and Riley Swift. Praises can actually be sung for most players across their roster, but the most notable name was the player who wasn't even there. If Stacy Gaskill had been with the team rather than at a snowboarding event, the entire narrative surrounding this team might be completely different.
This weekend we saw uneven results from Quandary, but a definite improvement from where they were in February. The flashes of brilliance that they showed became brighter and brighter as the tournament wore on, promising a tantalizing postseason if Colorado can fully synchronize by then.
UBC's Potential Could be Potent, Just Not Yet
One of the pressing questions coming into this tournament was how good #9 British Columbia was going to look after foregoing most of the season before the Stanford Invite. The answer proved to be mostly good.
Much like past iterations of the team, UBC is packed with talent. Everyone can throw, everyone has a general understanding of how to position themselves on the field, and the team's communication is on point. There are designated sideline leaders who ensure that every player on the field has a mirrored sideline player shouting encouragement and tactical cues at them. This isn't a new strategy by any means, but most teams aren't as disciplined about it as UBC.
On the field, the team has an established hierarchy that allows them to move the disc efficiently downfield. More often than not, Julia Zhang is the initiating cutter, and with good reason: she's the team's best player and was among the best players at the tournament overall. Defensively, the team gets real value from Monica Hsu, who takes on the toughest assignments for UBC, especially if height is a factor. They round out their core with smart handlers like Catie Akune and Denise Su, but the team was eager to acknowledge a few other players that had a real impact on their weekend:
"Emily Chong took it upon herself to be a rock as a D-line handler, and eventually take over on the O-line later," said the captains in agreement, adding later: "Helena Tremblay is a rookie, but she really stepped up and had good defense without being nervous. And also Lauren! Lauren Holzman! She just didn't allow her mark, any reset handler, to get the disc. That was consistent from the first game forward."
Aside from the individual production of players, UBC looked fairly polished with their strategy and disc movement. They could stand to be a little more explosive, which perhaps was a result of tired legs this weekend, but it never prevented players from making the right cuts, which is what you're hoping to see at an 'early-season' tournament like this is for UBC. Many of the mistakes the team made were the right kind. They overthrew the receiver a few too many times and were a little too content to eke passes up the sideline, but overall, they were a resilient offense that was willing to take however many passes necessary to score.
Even though the team finished with a 3-3 record, there's a lot to like from UBC's weekend. Their wins were by considerable margins and their losses were fairly close, for the most part. The Thunderbirds have the right blueprint in place, everything from here on out is about execution.
Pittsburgh Shows They Can Win (and Lose) in Dramatic Fashion
All eyes were on #13 Pittsburgh this weekend. Along with being the most dangerous third seed in pool play, the team also had the most interconnectivity with the East Coast, meaning their results could have a real effect on the bid picture at large. Despite all the fanfare, Pittsburgh mostly played according to seed this weekend. They lost handily to the teams ranked higher than them and had dominant wins over the teams ranked below them. Their only win that went against seed was an upset over UBC in the final game of UBC's first regular season tournament. Sounds about right.
Pittsburgh's a good team, but the deck was stacked against them in Stevinson. Even with a core of battle-hardened veterans like Annelise Peters, Madison Pisone, and Jessie Sun, they didn't have the depth to outlast a Carleton or a UCLA, and generally were beaten more by opposing rotation players than stars. The wind didn't help matters, either. Peters has quickly become an offensive anchor for the team, but outside of her, there weren't many throwers that could power deep shots upwind. Even Sun struggled at times, too eager to put shape on her throws when she just needed to force it past the opposition's defenders.
If Pittsburgh is looking for an upside, it's two-fold. The first is that Peters could probably win a game outright when she's got a hot hand. Against Carleton, the fifth-year transfer almost singlehandedly kept the game contentious. Carleton (rightfully) fronted the Pittsburgh cutters who were attacking upwind, only for Peters to throw it right over the top of them with unadulterated glee. Pittsburgh scored half their points in that game just off hucks from Peters over Carleton's defenders.
The second bright spot for Danger is their team defense. While Jessie Sun headlines this unit, the team works in tandem with each other to allow Sun to hunt for blocks and read the flow of the game. Without Beth Manturuk, Celeste Picone, and Helen Wu playing switchable defense against the best players on the opposition, Pittsburgh would have fallen into a hole far more often against disciplined opponents. This was no more evident than in their game against UCSD, where the San Diegans recognized the switches and poaches, isolating their open receivers and eating up plenty of yards with well-placed throws.
For Pitt, their path forward involves cleaning up their offense and developing their offensive schemes to be less reliant on Peters. The points she played early in the weekend had a definite impact on Peters on the back end of the tournament, something that should be avoided if Pitt has title aspirations. There's more this team can unlock this season, but they're running out of room to get there.
Quick Hits
The #19 California Pie Queens couldn't play up to the precedent they set for themselves at Presidents' Day. Berkeley was missing Claire Toth, their best two-way player and a venerable Southwest POTY frontrunner, which heavily affected their production against stronger opponents. The team struggled to earn stops and struggled even more to convert the break chances they did have. Zoe Luke looked a little less powerful when there wasn't her favorite target streaking towards the end zone and Jenna Krugler couldn't do it all for the team. Their 2-4 finish was fine, especially as two of those loses were on DGP, but you can't say much more about their performance than that.
Much like predicted, this was a grind of a weekend for Cal Poly SLO Motion. After a positive extended weekend in San Diego, there was some glimmer of hope that this team could makes some waves. Any chance of that was destroyed in a crushingly strong pool and their limited roster, which still is without Vanessa Beeler and Kelly Dickinson.
Oregon Fugue started the weekend with a lot of promise, beating Cal on double game point, but it proved to be a Pyrrhic victory for them. They went on to lose every other game, in most cases without being able to put up much of a fight. Results should change for them with the return of Rachel Hess, but it's getting to that point where it may be too late. The competition in the Northwest is strong and stealing a bid is significantly more difficult than it has been for them in the past.
It was unfortunate that the Minnesota Ninjas got trapped in Pool D and couldn't overcome the wealth of talent they faced to get into the bracket. They were clearly better than most of their competition in the consolation pool, and may have been feisty enough to cause a scare if they had the right matchup. Still, finishing the weekend with a 3-3 record is nothing to be scoff at.
All-Tournament Team
Nariah Sims (Carleton)
Hallie Dunham (Stanford)
Kaitlyn Weaver (UC Santa Barbara)
Abby Hecko (Washington)
Margo Urheim (Tufts)
Julia Zhang (British Columbia)
Jessie Sun (Pittsburgh)
---
All team rankings are from the time Stanford Invite was played. ↩

with respect to the Northeast this season because, I mean, yikes ↩