How to assess your progress and take the proper next steps.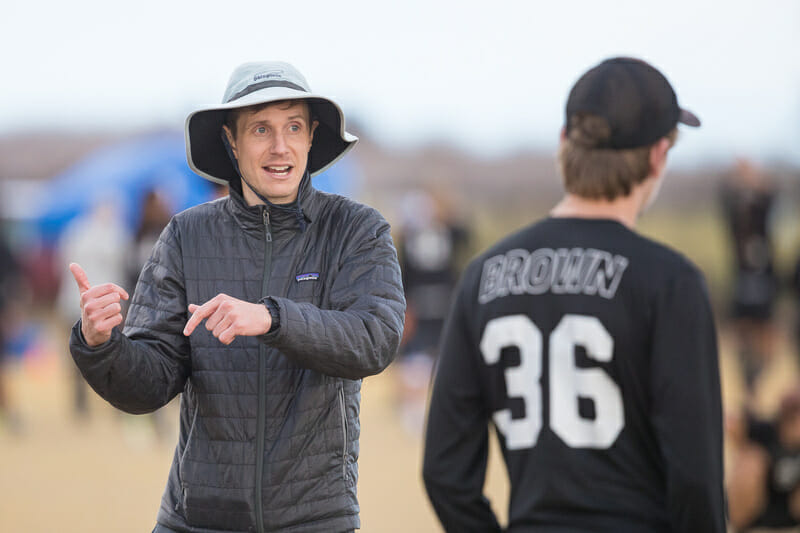 Tuesday Tips are presented by Spin Ultimate; all opinions are those of the author. Please support the brands that make Ultiworld possible and shop at Spin Ultimate! 
In Part 1 of our discussion of creating a framework to foster optimal team development, we talked about proper goal setting and prioritizing those goals.
In Part 2, we will explore the best ways to make sure you stay on track towards meeting those goals.
Prepare and Test
One of my chief complaints as a teacher about other teachers was how often they would assess their students on concepts that they had not yet prepared them for. This is chiefly evident in the English classroom when the first essay of the year is often graded on all sorts of measures of writing quality (thesis, incorporation of evidence, explanation of evidence, etc.) that students have not been prepared for by that teacher. Sure, some measure of writing quality should carry over from year to year, but I preferred to build my students' writing every year from beginning to end, focusing each essay's rubric primarily on something that we had already reviewed, meaning that most of their score from the first essay of the year came from how well they constructed their thesis, then most of their score from the second came from how well they wrote their introductory paragraph, the third score coming from the quality of their body paragraphs, and so on.
Similarly, I recommend viewing your competitive opportunities over the course of a season (tournaments, showcase games, alumni scrimmages, etc.) as your "assessments." These are your opportunities to grade your preparation so far. Certainly you can (and absolutely must) be doing some assessing during practices, but games against unfamiliar opponents are the gold standard of ultimate assessments.
Therefore, structure your season around those assessments. How many tournaments do you have? What is the gap between each? The answers to these questions will inform you as to how many of the goals that we established in the prior section are truly feasible for you to do and, quite importantly, when you should be tackling those goals in the season.
Begin with the one (or two, depending on your team's capabilities and prior knowledge) goals that are most important and foundational. Prepare hard for those nearly exclusively. Develop drills and practice situations that make the most of your practice time. Do NOT spend practice time lecturing (as much as it can be avoided). Do NOT use drills that leave half your team on the sideline for extended periods of time. Develop repeatable drills and practice situations that involve everyone. Make sure those drills have the capability of giving you feedback during the course of practice. In other words, when possible, limit your practice time against "air" — incorporate a competitive defensive/offensive aspect to as many practice situations as possible.
Then test your progress with the first tournament of the season. You don't have to score an A+, but if you aren't above a C, then it means you need more practice time.
"But what if it's windy in our first tournament and we haven't practiced zone?!"
The answer is two-fold:
1. Review your extremely broad team goal: was it to win this tournament or to achieve a certain placement in the season?
2. If you can't play team matchup defense, then there is absolutely no reason to introduce complex zone concepts with six months remaining in your season.
Certainly, there is room to try and refine your zone offense if your first tournament is unbearably windy, even though that wasn't your first offensive goal for the season (indeed, your hand may be forced by the defensive decisions your opponents make), but you should still be focused on your goals when and where possible.
Another mistake to avoid: do not wait until the tournament is over to assess. The entire tournament is an assessment. Assess after each point, at each halftime, after every game, and after Saturday! Take notes on your assessments. If you wait until the tournament is over, you may miss things, and you may let your assessment be colored by your finish at the tournament. Just because you won the tournament or broke seed doesn't mean you executed on your goals.
Now, once you've collected and reviewed all of your assessments from throughout the weekend, it is time to truly consider your performance.
Did your team exhibit mastery of the concepts that you were hoping to master? Did your team come reasonably close to mastery so that with minor corrections and reminders throughout the remainder of the season you will be able to perform these foundational concepts with mastery at the end of the season? Or did your team fail the assessment, requiring you to return to the drawing board?
Flexibility
Once you've considered all of the above information, you need to decide if you carry forward with your plan for the season or if there is a need for change in your plan's structure. Any teacher who has an entire class of students fail an assessment and then moves on without correcting those failures isn't worth their salt.
Similarly, if your team fails an assessment, you need to rethink your approach. Perhaps those drills that you thought were great were not so effective. Consider how you failed and consider how those drills can be changed to address those failures.
Do not be afraid to confront the fact that your goals at the beginning of the season may have been too ambitious or not ambitious enough. Add or subtract from those goals as needed. Remember, you began with the end in mind. If you did that honestly, then you should have put a decent amount of thought into which goals you selected. If that's the case, then it should be okay to scrap one of the goals you planned to work on at the end of the season in favor of the foundational goals you chose for the beginning of the season.
At the risk of entering into a sunk-cost fallacy, it is rarely better for your team to scrap foundational concepts and either A. start anew or B. move on without mastery. You have a limited amount of time in your season (especially club seasons!) and you have already achieved some level of mastery in a goal. Even if you're only halfway to mastery of a reset system when you thought you would be 100% of the way there, starting over means you're at 0% of the new system. Strongly consider your goals and the time remaining in a season as you decide how to approach failures.
While this is a relatively rudimentary explanation of designing your team's season, I hope it is also helpful. It wasn't until I began viewing my job as a coach like I viewed curriculum planning as a teacher that I think I began to come close to maximizing my team's potential.
I think that you will find that if you have a written plan, your own confidence and understanding of your team's development will significantly improve.