Just a few weeks in, #1 and #2 went toe to toe.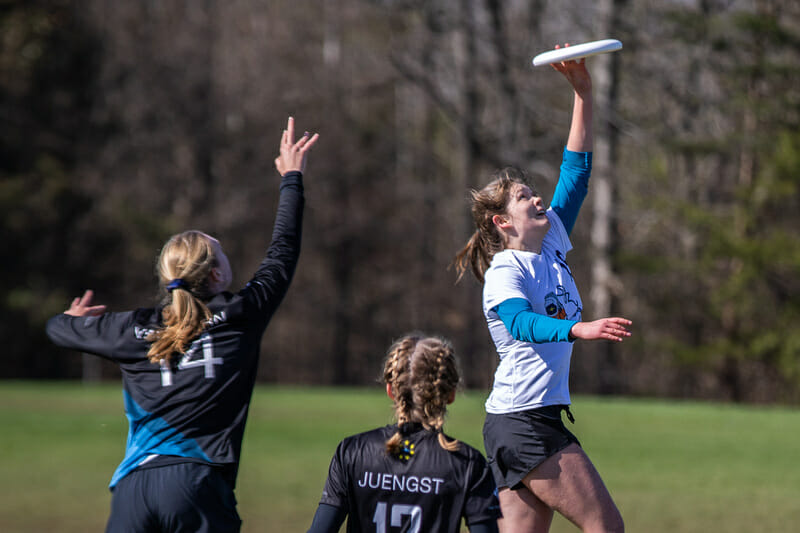 Our 2020 college coverage is presented by Spin Ultimate. Please support the brands that make Ultiworld possible and shop at Spin Ultimate!
CHARLOTTE, NC — It was an odd weekend all-around at Queen City Tune Up. After storms begat uncertainty with regards to what the tournament would look like, or whether it would happen at all, QCTU did go through fairly smoothly, despite a truncated format. Pool winners went directly to semis without quarters or crossovers, and many consolation rounds were canceled due to the state of the fields on Sunday.
While there remain unanswered questions regarding some middle-tier teams, we did get some telling results from the play that did take place.
Carleton Takes Title, Favorite Status
#1 Carleton Syzygy did exactly what was expected of them this weekend. They showed off their impressive stars, as well as their depth, to go undefeated on the weekend. Syzygy overwhelmed would-be challengers North Carolina 12-9 in the final, looking in control throughout the game, as they had for much of the tournament, only forfeiting a single break in the championship match. Their size caused issues for the Pleiades, who are a smaller, more squirrelly team. Even in their tightest contest of the weekend, their semifinal against Tufts, Carleton was only broken once, winning 11-10 at hard cap.
Carleton is tall, athletic, and patient in their endzone set. While occasionally their D-line offense was a bit sloppy, with a few too many overthrown or contested hucks, they looked the most cohesive of all of the teams at the tournament. The addition of Alyssa Ehrhardt has solidified their offensive handler core alongside the talent of sophomore superstar Kate Lanier. Their handler weaves in the red zone are clinical and disciplined.
Syzygy benefitted from several standout performances in Charlotte: seniors Karen Ehrhardt and Maya Powell, junior Nariah Sims, and sophomores Lauren Carothers-Liske and Carly Campana all made their mark on the weekend. Powell, Carothers-Liske, Ehrhardt, and Campana were incredible throwers as well as receivers. They all combine size with big throws, forcing defenders into impossibly hard decisions about what to prioritize taking away. Nariah Sims was her typically dominant self with her defensive prowess. She matched up on some of the best cutters from each team they played, including Margo Urheim and Ella Juengst, stifling the respective teams' offensive flow.
Carleton were happy to get their legs under them and play outside for the first time since the fall. In a field with several of their closest national title rivals, they certainly didn't look like a team out of practice. "We were excited to get to play against higher competition," said captain Maya Powell. "We definitely got better throughout the day working through end zone and junk sets." Syzygy getting better is a prospect that should scare opponents throughout the division.
When I asked what made them so successful on the weekend, Powell noted, "I think our depth was incredible, and any seven we send out can score." They hope to use that depth to challenge every team they face in the coming tournaments. With their performance this weekend, success throughout the season for Carleton seems highly likely.
North Carolina Still Elite Sans Star
Despite their loss in the final, #2 North Carolina looked like the elite outfit they were expected to be, even though they were without POTY frontrunner Anne Worth. They had a shaky first game on Saturday versus William & Mary, but blew out the rest of their pool play opponents and earned a definitive win over Ohio State in the semifinal 13-9. While their redzone offense was not always perfect, their offensive pull plays were nearly impossible to stop. Bridget Mizener and Ella Juengst offered big windows to handler Tyler Smith, and despite her smaller stature, Juengst caught more deep throws than almost anyone else by running down hucks to space.
As much as UNC would've liked to take the crown at Queen City, head coach Jessi Jones wasn't too concerned about the loss to Carleton. "Our game plan will continue to grow against them, I don't think either team brought anything special in this game. It was more of a first sighting of the season, see what you got game [on our end]. I'm sure that's what they were doing with us too," said Jones.
Their focus in the coming weeks will be on development and refinement. UNC's goals are focused on the long term. "We will definitely have a game plan for Carleton but the whole season can't focus on them because there are definitely other teams in the upper tier that are eager to chip away at us as well," said Jones.
There won't be much new competition at Commonwealth Cup in two weekends, but Northwest Challenge will certainly be an opportunity for the Pleiades to see other top teams before Nationals, as well as for us to gauge their chances of winning a potential matchup with Carleton with higher stakes.
Tufts Ready To Compete With The Best
There was some question about how #5 Tufts would perform this weekend, especially with a matchup against Georgia, who had a high ceiling but not yet proven potential. Ewo showed up and managed a double game point win over Georgia, as well as an 11-10 loss to Carleton in hard cap — the closest any opponent got to the tournament champions on the weekend. Margo Urheim, Hannah Wells, April Weintraub, Leija Helling, and Hazel Ostrowski all played phenomenally well, but this didn't look like a team of stars.
Captain Claire Dunn agreed: "Across the board, we had amazing players doing big stuff." They were a cohesive unit that adapted well to what teams like Carleton threw at them, and they got valuable early season reps with their strategies to generate intense defensive pressure. "We were excited to play a team like Carleton because they're super deep. We like to have a lot of different defenses to keep teams on their toes, and we got everyone out there to try a lot of things," said Dunn.
It was unfortunate that they were deprived of a third-place game against Ohio State because of field conditions on Sunday, but we will see Tufts at Stanford Invite in early March, where they should get a full tournament to prove their potential and see some of the West Coast teams for the first time. The hype around Ewo looks deserved.
Fever Trying To Close Gap As Title Contenders
We got another good look at the post-Sadie Jezierski era #3 Ohio State, and the results are still inconclusive. Fever finished on par this weekend, tied for third, and their stars, Emily Barrett and Cara Sieber, shone as expected, filling up the stat sheet and the highlight reel. They won their pool, with their only tight game coming against Vanderbilt, although that could be explained away by first-game jitters. While we saw them earn a tight win over Dartmouth at Florida Winter Classic, this tournament gave us a bit of insight as to where they stand relative to the top two teams in the division. They couldn't crack into the final, failing to land a break in the semifinal against UNC. They too missed out by not getting the rep against Tufts.
It will take some work for Fever to contend with those top teams. "We still have some work to do on our offensive sets, as well as some ideas defensively that we haven't gotten to," said head coach DeAnna Ball.
If last season is any indicator, they may find success two weeks from now at Commonwealth Cup. In 2019, OSU also fell to Pleiades in the QCTU bracket, but got revenge just a few weeks later in Axton with the implementation of a new defense. "It will be fun to start getting at more of the strategic things over the next several weeks," said Ball.
Southeast Highs and Lows
While they were blown out by UNC in pool play, Georgia Tech earned some impressive wins by taking out no. 7 seeded Pittsburgh in pool play and South Carolina in the fifth-place semifinals. While their depth is not their strongest trait, they have well-established systems thanks to a good coaching staff and a few very strong players. Dana Rose, Ollie Peterson, and Chupzi Lema led the way; Lema, in particular, looked like one of the best players at the tournament. There wasn't a lot expected of Wreck entering the weekend, but they broke seed by 10 spots, and things look to be getting even more competitive in the Southeast.
Part of that regional parity is due to another uneven showing from #16 Georgia, who fell to fourth in Pool D by losing to both Tufts and Duke. While Tufts has earned a healthy reputation, the loss to Duke is inexplicable. Georgia certainly has the talent it takes to succeed. Sophomore star Marie Perivier was cleated for games and they have other skilled players in Josie Veal, Anna White, and Martha Wilber. However, they never generated enough efficiency with their D-line offense to take over games. Athena actually played their best game of Saturday against Tufts. The higher level of competition spurred some great performances from Georgia, but it wasn't enough to overcome the New England powerhouse. They even generated a block on double game point, but floated an OI backhand just out of reach in their bid at a winning break. How different does their weekend performance look if they hit that throw?
Atlantic Coast Hopefuls
The battle for second place in the Atlantic Coast is still unresolved. Though Virginia finished higher than #23 South Carolina, tied for 5th and 7th place respectively, the two did not face off head-to-head and they did not have any opponents in common. Scorch has a run-and-gun style and aren't afraid to turn it over because their zone is effective at generating turnovers. However, against more skilled teams such as Georgia Tech and Ohio State in the calm conditions this weekend, the loose play strategy was not as effective.
Hydra, by contrast, was a bit more conservative and reliant on offensive systems, but did not beat their opponents as thoroughly as South Carolina. Unfortunately for us, we will not see them at the same tournament until Atlantic Coast Regionals. The two will certainly be hoping to earn a spot in the final for a chance to take down North Carolina. But neither wants their chances to reach Nationals to be decided solely by that opportunity. Unfortunately for them, Virginia's low margins of victory and South Carolina's losses to Georgia Tech and Ohio State will hurt their bids for a strength bid.
Don't Give Up On Underperforming Pittsburgh
Pittsburgh Danger also had a disappointing weekend, dropping from no. 7 overall to third in their pool. They are tough to evaluate because they were unlucky in facing a Georgia Tech team who was stronger than anyone anticipated. After their 2-2 pool play performance, they were able to get a win against NC State on Sunday before the rest of consolation was axed. Danger still have talented players in their backfield with Jessie Sun, Beth Manturuk, and Annelise Peters and they flashed some signs of real potential. Perhaps this first tournament of the season was necessary to iron out some kinks before the rest of the regular season. They have two weeks to recover before we see them again at Commonwealth Cup in Virginia. Don't be surprised if they put up a much better result.
All-Tournament Team
Karen Ehrhardt (Carleton)
Ella Juengst (North Carolina)
Cara Sieber (Ohio State)
Chupzi Lema (Georgia Tech)
Carly Campana (Carleton)
Margo Urheim (Tufts)
Tyler Smith (North Carolina)