UCSD lost to WWU; Colorado still figuring things out.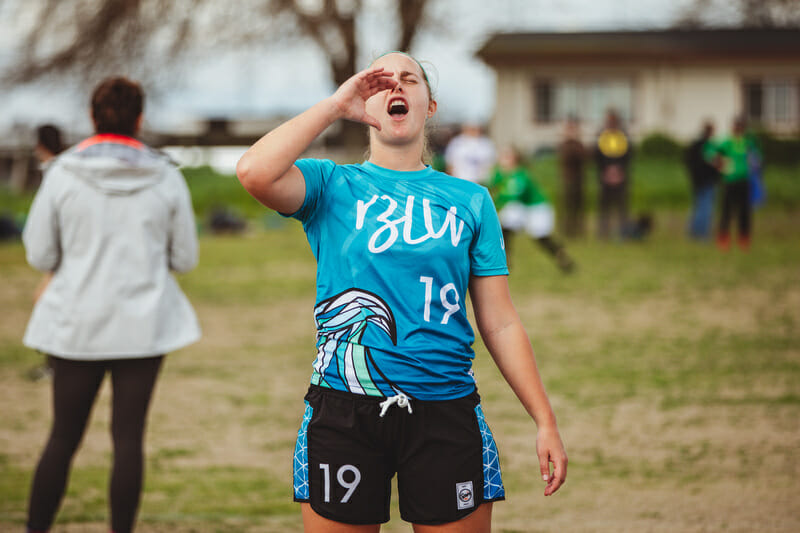 Ultiworld's reporting on the 2020 Presidents' Day Invite is presented by Spin Ultimate; all opinions are those of the author. Please support the brands that make Ultiworld possible and shop at Spin Ultimate!
SAN DIEGO — Sunny southern California did not disappoint on day one of the Presidents' Day Invite. Aside from a small wind midday, the weather was stellar for the sixteen teams that took the fields today. Though some top teams excelled, there were more tight games than crushing wins.
1. Parity in the Women's Division has Never Been Higher
Let's start with arguably the most impressive stat of the tournament so far: seven pool play games and five of the eight power pool games were decided on double game point. When was the last time a tournament had so many close games? We knew coming into this weekend that we'd be seeing a lot of talented teams, but even the lowest seeded teams have had close battles. UMass eked out two DGP wins, Whitman came within one point of beating Cal, and then won their power pool game on DGP, and even Chicago almost pulled off an upset against UCLA, a team that went 4-0 at the day's end! What a tournament. If day one is anything to go by, power pools will be intense through and through.
2. UCLA Remains Perfect Despite Missing Four Starters
We just noted that a lot of teams impressed this weekend, but no one outplayed their circumstances more than UCLA. The team was hamstrung by the loss of not one, not two, but four of their best veterans. Katherine Jordak, Malia Smith, Maddy Fisher, and Charlotte Terrasson all missed day one for a variety of reasons, and still the team ended 4-0. If you're wondering how they did that, it came off four double game point wins. That's right: CLA was responsible for four of the 13 sudden death games on day one.
To top it all off, the majority of their offense was powered by underclassmen. Anna Reed, Athena Lynch, Tanya Bearson, and Cameron Jewett all showed up in a massive way for the team. It wasn't just them, either. UCLA is a deep team that grinds out every point. There wasn't a weakness on the field even without the strength of their senior class. After their first four games, the team has to be excited for their prospects for the rest of the season, and probably the next four years.
3. To the Division's Relief, It Turns Out UCSD is Fallible
Coming into the weekend, speculation was high about whether UCSD would even concede a game this tournament. For all of pool play, it seemed as if they were destined to emerge squeaky clean. No opponent scored more than seven points against them, and they rolled Colorado, who was presumed to be their toughest competition in pool play. However, the shine wore off against Western Washington. Despite taking the first four points in commanding fashion, UCSD lost their nerve against a formidable zone that Chaos threw the moment they got a chance to put their D-line on the field. UCSD's handlers–who had been stoic all tournament–suddenly felt the heat of the moment, and rushed a few too many throws and then a few more on top of that. UCSD is known for making very few mistakes, and this game showed a different side to them. Still, this should all be taken with a grain of salt. UCSD lost by a single point in a game that was determined by cap. They were also heating up in the second half and had all the momentum on their side. Western Washington is legitimately good and earned their win, but UCSD likely won't look as off-kilter the next time these two teams meet.
4. Colorado's Taking a Little Longer to Put it All Together
We may have expected a little too much too early from a team headlined by rookies. Colorado went 2-2 on the day, which isn't terrible but also isn't the outstanding result that seemed possible with all the talent on their roster. In truth, Colorado is a young team and plays like it. They're figuring out how to play with each other, and the combination of timing and consistency is what they lacked in moments on day one. Don't misunderstand: the players on this team are exactly as good as advertised, they just look like they haven't played much with each other before, which is true. Before this weekend, they managed to fit in one practice this past week and only a handful more before that. Colorado has seen a lot of snowfall this season and it's affected how much they've been able to accomplish. They already showed signs of improvement by power pool play, and they could be even better by the bracket. Timing and discipline are two fundamentals that coaches Claire Chastain and Christina Mickle have proven to be adept at teaching. This team will be fine, they're just not there…yet.
5. Despite the Perfect Weather, Zone Defense Ruled the Day
In years past, we've had to grit through both rain and wind in order to get the most out of the weekend. Not so this year. San Diego delivered on the sunny skies and idyllic temperatures teams were promised. That didn't seem to stop anyone from overcommitting to zone defense, though. Almost every team tried their hand despite the lack of wind–which did provide a few gusts later in the day–and very few stuck to matchup defense. For the most part, the O-lines around the tournament seemed comfortable with zone offense, but the zones still generated turns so teams kept throwing them. Western Washington and UCLA were the two notable bright lights when it came to zone defense, but even UCSB tried their hand at it.