It's March and that means TONS of college ultimate.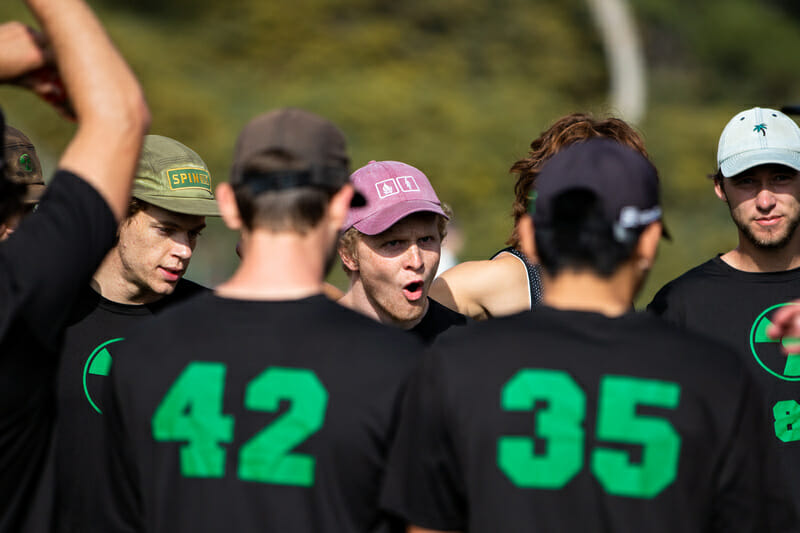 College Update is presented by Spin Ultimate. Please support the brands that make Ultiworld possible and shop at Spin Ultimate!
Throughout the spring season, we will publish a bite-sized weekly recap of all the action across the college division. This will serve as a supplement to our standard tournament reporting and will offer a high-level look at the latest happenings and the biggest stories of the week.
Want your tournament listed here? Submit a recap of what happened right here.
D-I Women's
Around The Division
D-I Men's
Alabama Overcomes Pool Play Loss To Win Easterns Qualifier
No. 4 seed Alabama wasn't the favorite to win Easterns Qualifier, and even less so after failing to win Pool D. After falling into a 3-1 hole against Dartmouth in the pool-deciding match, they could never recover, losing 9-7. Yellow Hammer bounced back on Sunday, led by Nathan Lyle, Jacob Lipford, and Trip Crowley. After confident wins over Notre Dame and Vermont in the bracket, they faced off with #23 South Carolina in the final. Bama conceded an 8-6 lead at halftime, but prevailed by breaking on double game point, 13-12.
The two ranked teams in the field were the top two seeds, and both from the Atlantic Coast: #18 William & Mary and South Carolina. The Gamecocks stumbled with a 12-7 loss to Vermont in pool play, which pitted the duo against one another in the quarterfinals. As you probably inferred, William & Mary was eliminated early, and a consolation loss to Dartmouth sent them on a path toward a disappointing seventh place.
Around the Division
Some teams hanging just outside the Power Rankings sat at the top of Mardi Gras, but by the end, only LSU remained, the lone undefeated. Their final against no. 1 seed Texas A&M was close throughout, with neither team ever gaining much separation. A sky by Kenny Hingle was the goal that completed the win for the home team.
Connecticut traveled down to North Carolina for Cutlass Classic and came away with the tournament title for their troubles. They outscored Georgetown 15-12 in the final to go undefeated, adding seven wins to their books after going 0-6 in their opening weekend at Santa Barbara Invite.
Utah State fought off an impressive comeback from Nevada-Reno in the final of Big Sky Brawl to sweep the weekend. Despite facing a 9-6 deficit late, Reno forced double game point, breaking to make it 11-11. Ending a wild sudden death, Utah State's Tony Mounga found Zach Balls for the game. The 7-0 performance keeps USULT's spring record perfect at 14-0.
Huckin' In The Hills went to Miami (Ohio), who cleaned up in their run through the field. They blanked two squads in pool play, and won their semifinal against Kenyon and the championship game against Rochester by six goals apiece. That 6-0 start makes them the lone Ohio Valley D-I team to have won all of their games so far this season.
A single top pool of A teams competed at Lorton Hears a Huck, with Virginia Commonwealth earning the collection of wins necessary to call themselves the champs, while lower-tier teams battled against one another. A pair of comfortable wins over Catholic sealed the deal, while pushing VCU's season record to 10-3.
D-III Women's
Rounding the corner into the last month of the regular season, plenty of teams saw action and made waves with their results this past weekend.
Out West, there was a Southwest showdown at the Claremont Ultimate Classic as #24 Occidental Women Air Corps ended with a record of 3-0, including a 9-5 beat down of the Claremont Greenshirts. Claremont finished the event at 1-3. Things may change as more games are played and rankings calculated, but at this point, Occidental is almost certainly the Southwest representative headed for D-III Nationals in May, thanks to the fact that the two-team region relies entirely on regular-season results to determine their champion.
Up the coast, the Northwest region teams clashed at Women's BBQ. #2 Puget Sound Clearcut took the top prize, taking first and going undefeated against all competition that included Seattle University Throbot, Pacific Lutheran Reign and #8 Portland UPRoar. Clearcut's definitive 14-6 win over Portland in the final capped a weekend where no team scored more than eight points on Puget Sound in a game. Second place fishers Portland only lost in the final to Puget Sound; their weekend included a win over Pacific Lutheran. Reign split the weekend with a 3-3 finish, which included a win over Seattle University; Seattle ended their weekend with a 2-4 record.
On the East Coast, D-III New England teams came out of hibernation for the Bates Second Annual First Big Dance of the 2020 season. In round robin play, #15 Mount Holyoke Daisy Chain came out undefeated at 4-0 with wins over #23 Colby CDC, #6 Bates Cold Front, Bowdoin Chaos Theory, and Amherst Sparklemotion. Daisy Chain's tightest win was an 8-7 squeaker against last year's national runners up, Bates. Colby, with a record of 3-1, had a similarly narrow win over Bates by a margin of 9-7. Cold Front split the field with the losses to Mount Holyoke and Colby, but wins over Amherst (10-4) and Bowdoin (9-5). Bowdoin took home their only win 7-6 over Amherst.
Around the Division
At the 3rd Annual 7th Annual Ben's Bar-Mitzvah tournament, Xavier Ignition went 1-5 in pool play, and played Akron for fifth place with unknown results. Ohio Wesleyan went 0-6 on the weekend.
Catholic Nun Betta defeated #10 North Georgia Aurea 7-6 in a D-III showdown at Cutlass Classic. Catholic ended in fourth place, after a 3-4 weekend; North Georgia took fifth place with a 3-4 record themselves.
The lone D-III team at Mardi Gras XXXIII, St. Benedict Rapture completed the weekend 2-4, taking sixth place out of 10.
Georgia College Lynx Rufus ended their weekend 1-6 against the TOTs 2020 field, while at Cherry Blossom Classic, Dickinson Junkyard Turkeys came away with a 0-6 record.
D-III Men's
The majority of action in D-III men's ultimate this weekend took place at FCS D-III Tune Up in Advance, NC. With 19 D-III teams playing in a match play format that emphasized connectivity, there was no official tournament winner, but plenty to take away from the weekend.
The #4 Richmond Spidermonkeys emerged from the weekend as unofficial champions, posting a tournament-best 6-1 record while picking up big wins against #2 Missouri S&T Miner Threat and #6 Franciscan Fatal along the way. The only blemish on the Spidermonkeys' resume was a double game point loss to an impressive #12 Portland UPrise.
Finishing below Richmond was a group of six teams with 5-2 records, highlighted by the aforementioned Missouri S&T and Portland. Miner Threat's record is particularly impressive when considering that they were playing the weekend with just 14 players, and Portland's size and clean offense was overwhelming to almost every team they faced. Rounding out the 5-2 records were #25 Brandeis TRON, Xavier B.L.O.B., Shippensburg Scapegoats, and #22 Navy Poseidon.
For more in-depth coverage of FCS D-III Tune Up, listen to this week's episode of the 7500 Club and stay tuned for written recaps.
Around the Division
At a cold and snowy round robin hosted by #7 Colby CDC, the host team prevailed with a 2-1 record. However, the results weren't so cut and dry, as Colby beat #5 Bowdoin, Bowdoin beat Bates, and Bates beat Colby. A competitive New England region looks once again like it could be dictated by matchups in the bracket at Regionals.
#16 Sul Ross State finished 12th at Mardi Gras with a 2-3 record, forfeiting their last two games on Sunday due to low numbers after being eliminated. St. John's finished 17th with a 2-5 record in their first action of the 2020 season.
Southwest D-III rivals Occidental and Claremont faced off twice during the games of Claremont Classic, their first such matchups this season. Occidental earned both wins, including 13-8 in the final.
Looking Ahead
It's Stanford Invite weekend, usually the centerpiece of the early March schedule, and Ultiworld will be there to livestream the event. While the women's division remains a strong national field, the men's division at Smoky Mountain Invite has attracted a lot of top teams and thus attention; Ultiworld will be filming there, too. That just gives us more great ultimate on both sides of the country!
And it's a big weekend, with lots of large scale events with multiple divisions, especially for teams that have been practicing mostly inside.
---
Which you can get access to as a subscriber! ↩

Including now 4-0 vs. Case ↩