A deep field will help define the national title conversation and more.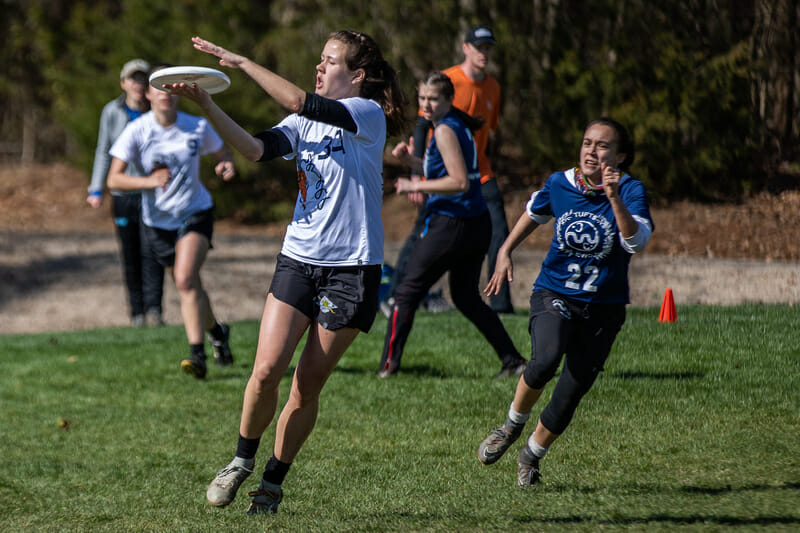 Ultiworld's 2020 college coverage is presented by Spin Ultimate; all opinions are those of the authors. Please support the brands that make Ultiworld possible and shop at Spin Ultimate!
The white flag has finally been waved by the Stanford Invite tournament organizers as they elected to set the tournament in Stevinson from the outset, all but confirming we're in for a rainy weekend. Thankfully, it looks as if Sunday will have better weather, but we'll still have to fight through showers during pool play on Saturday as twenty of the nation's best women's college teams will head to farm country to compete.
Setting the weather aside, there's a lot to be excited about this weekend. Twelve teams in our current power rankings are converging at the fields in hopes of fierce competition and potential bid-earning games. We have not one but two pools of death with big names in Pool A and Pool C. Thanks to a healthy contingent of traveling teams, the tournament will host ten out-of-region teams this weekend. Before we look too far ahead, here's what we're expecting from the teams preparing to play at the tournament.
Tournament Details
Date: March 7-8
Location: Stevinson, CA
Weather Forecast: 50s, high likelihood of showers on Saturday
Top 25 Teams: 12
Stanford Invite Women's Highlights
Filming Schedule
Ultiworld is livestreaming five women's division games this weekend! You can follow our free live coverage on Ultiworld.com/live. Game archives will be available to Ultiworld Full and Plus subscribers and for teams with a Team Pack!
All times Pacific.
Saturday, March 7
9:00 AM: #3 Tufts vs. #9 British Columbia
12:00 PM: #4 UCSB vs. #10 Washington
1:30 PM: #8 UCLA vs. #13 Pitt
Sunday, March 8
9:00 AM: Quarterfinal
1:30 PM: Final
Major Storylines
Just How Infallible is Carleton?
This is the first time since #1 Carleton Syzygy outlasted the competition at Queen City Tune Up that we'll get to see the team play elite opponents. Syzygy didn't have a perfect tournament then, narrowly pulling off a one-point win over Tufts, but they're still the odds-on favorite to win in Stevinson this weekend. The team that was a little too young in 2019 is now all grown up and have the talent of an all-star team on their roster.
Even talking about individual players on this team is an exercise in futility. There's such a lack of consensus on Carleton's top player that it's sparked arguments among Ultiworld staff – and don't even get us started on their top seven. Take your pick between Maya Powell, Nariah Sims, Karen Ehrhardt, Isabel Arevalo, Kate Lanier, Carly Campana, and Lauren Carothers-Liske because any one of those players can take over in a game. More importantly, Carleton's dispersal of talent poses major matchup problems for their opponents. They have more depth than almost anyone and wield it like a cudgel. On offense, it's only when the team has too many active downfield cutters that their momentum breaks down, and even then their handler flow is so crisp that it rarely costs them a turnover. In their closest game this season, they still were only broken once. To beat Carleton, the opposition has to be close to perfect, a task that most teams this season just won't complete.
There's one wrinkle that could cause Carleton some problems, and that's the adherence to zone defense that seems to have afflicted the division this season. Every team in the Southwest has a zone. Syzygy will be up against some of the smartest defenses they'll face this season. Sure, it may not faze them, but it could be worth following if it causes problems for the team in pool play. UCLA and Pittsburgh are potentially imposing opponents; seeing how Carleton reacts against them will give a much better look at just how dominant this team may be.
Tufts Looking to Prove Title Legitimacy in Stevinson
We've already acknowledged that the hype around #3 Tufts EWO is very real. This is a team that has the discipline and offensive skill to run deep at any tournament they play. Tufts is a legitimate title contender based on what we saw in Charlotte. Now they have a chance to reinforce that idea at the Stanford Invite.
They're certainly in the right pool to stride their way into the bracket. While UBC will likely field a challenging team, they haven't played yet this season. Cal is a young team that's still building, and Oregon has taken a large step back this year. Tufts is primed to lay a beatdown on their pool if they have a mind to do so.
The defense will define how Tufts performs relative to their pool. Their offensive unit is awfully imposing, rarely breaking down or giving up a string of breaks. Even their defensive line knows how to score efficiently, but they have to earn the disc first. In Charlotte, Tufts' defense was limited in their break chances against both Georgia and Carleton. In both of those games, they relied on their offensive line to keep them competitive — a potentially unsustainable strategy.
Tufts may not have the resume of an elite defensive team, but they have the roster to build it. Margo Urheim, Claire Dunn, Jordan Bricknell, and Hazel Ostrowski all can earn stops and goals equally. Historically, Tufts has been fairly careful about how they play their stars throughout a tournament, but the depths of their roster can keep the disc moving if their better defenders can get the disc for them in tight situations.
If Tufts plays anything like they did at Queen City Tune Up, they're a top four team in Stevinson and should make their way to the bracket with ease. The breadth of talent at the top end of this tournament will give Tufts their largest challenge yet, but they've been up to the task so far.
Can UCSD Regain Their Momentum This Weekend?
#5 UC San Diego Dragon Coalition dropped two games at the Presidents' Day Invite. That's two more losses than they suffered in California all of last season. Time to sell all your stock on this team.
Now that all the fair-weather fans have left, it's important to note that UCSD lost both of those matches on double game point. They also avenged their loss to Western Washington by beating them 10-5 in the third-place game later that tournament. They're going to be fine.
Except, 'fine' might not be enough this weekend. UCSD drew the short straw and is trapped in a pool with Stanford, the winner of Presidents' Day and one of the wiliest teams in the Southwest. Despite being at two of the same tournaments this year, somehow UCSD and Stanford haven't met yet, which sets the stage for a big showdown. UCSD has the most structured offense in the nation, and Stanford can lay claim to being the most structured defense. The outcome of their pool play game could send ripples through the Southwest.
No matter what happens in the Stanford game, UCSD should have relatively smooth sailing to the bracket. Barring an unusually consistent game from mercurial Texas, D-Co is too disciplined to lose to them. Minnesota will still be sanding down the edges of their game when they play UCSD in their first tournament day of the season.
But Alex Diaz is not on the active roster this weekend, which could limit the team's upside. Still, they've not been a team defined by a single player. Where they've experienced problems this season has been with their handler chemistry. As talented as Samantha Wool, Ava Hanna, Lauren Hanna, and Maggie Pierce may be, they are still figuring out how to move in tandem with each other, and the team has had too many backfield mistakes to be comfortable. They still have powerful weapons downfield – especially with the emergence of Pin-Hsuan Chen as a credible initiating cutter – but for a team that's preached efficiency for the past two years, they're not where they need to be for their system to work without a hitch.
UCSD isn't going to roll teams like they did at this tournament last year, but they don't need to be that team to win. The division as a whole has taken a step back, and that's allowed UCSD to put their best foot forward. D-Co is the type of team that can beat any opponent when they're clicking. If they've got every piece in place, they still could claim the tournament trophy.
Is This Finally UCSB's Tournament to Win?
If there's a Southwest team that's due for a tournament win, it's the #4 UC Santa Barbra Burning Skirts. After spending all of last season standing beneath UCSD on the podium, Santa Barbara has shown glimpses that they're ready to take their place in the spotlight. That's easier said than done for UCSB, though — they don't have a track record of elite-level tournament wins.
The largest barrier to UCSB's success is their carelessness with the disc. The Skirts play a loose style of ultimate and don't treasure the disc as covetously as, say, UCSD or Stanford. That hasn't prevented them from picking up wins over both of those teams, although both games came down to the wire. UCSB looks at their best when they're tearing through weaker teams. They are a legion of difficult defenders that can shut down unders and switch up their matchups to wear out stronger players. Their handler defense is also better than most teams around the country, and they often earn the disc with high-stall passes from desperate opponents. Considering how good they are at forcing offenses into making bad passes, it's puzzling why they so often opt into making poor throws of their own. More often than not, UCSB loses the disc on unforced errors, something no elite team wants said about them.
It's frustrating to see because UCSB is an elite team through and through. In the past, the Burning Skirts have been defined by a few elite players that could dominate games. Individual talents like Carolyn Finney, Kaela Helton, Lisa Pitcaithley, and Julia Kwasnick all had their teams built around them to some extent, and would soak up touches on the disc when they were on the field. This iteration of UCSB isn't built on that principle. They have talented players like Kaitlyn Weaver, Jasmine Childress, and Elsa Winslow, but the team is greater than the sum of its parts. They have the best plus/minus of any team in the Southwest. As a whole, they're right there with UCSD and Stanford. A tournament win in Stevinson would legitimize all the promise they've shown up to this point.
Their pool won't make it easy for them. They'll have to get past Washington and Colorado before they can even start thinking of the bracket. Neither of those two opponents are going to roll over and they both have just as much they need to prove. It's not make-or-break time for UCSB, but Stanford Invite will be their proving ground — and could be the tournament that defines their season.
The Gates Are Wide Open For Stanford To Reassert Themselves
There's no stronger momentum builder coming into a tournament than having won the last one you played, and right now only #6 Stanford Superfly and Carleton are eligible for that distinguishing achievement. But while Carleton's win was a full month ago, Stanford has had 21 short days to bask in that glow. They'll now have to prove they can sustain that success into this weekend.
Any doubt that surrounded this team was put to rest with their victory in San Diego. Despite two losses on day one, Stanford toppled some of the pre-tournament favorites over the course of the weekend and earned their title fair and square. The only problem is that now they've shed their underdog status, teams will be gunning for them once more.
Stanford should be able to withstand the heat. Their zone is a great equalizer against any team, and they've spent this season getting their athletes up to speed with how to operate within it. On offense, the firepower of Hallie Dunham is a major threat, as are Sarah Kratzer, Sesha McMinn, and Bridget Connor downfield.
Stanford will face a tough opponent in UCSD early in the weekend, and the results from that game are truly unpredictable. Stanford won Presidents' Day mostly off the strength of their zone offense. UCSD has a mean zone that they play, but they aren't afraid to transition to a matchup if it's not working.
Outside of their game against UCSD, Stanford should feel confident. They're not the same team that lost to Texas on day one of Pres Day — now they have something to prove against Melee. Minnesota is a younger team, the likes of which historically struggle against a veteran roster like Stanford's. The real test for Superfly will come in the bracket. Apart from their win over UCSB, they're 2-4 against the rest of the field. They have losses to both UCLA and Washington that they'll have to reckon with.
It's time for Stanford to prove themselves, and this tournament should provide them the platform to do just that.
The Key for UCLA and Washington Is How They Use Their Lines
The big critique against both #8 UCLA BLU and #10 Washington Element at the last tournaments they played was that their teams weren't completely consolidated. UCLA was hampered in San Diego by missing three of their star players and had to piece together an offensive unit without them. Washington was missing players of their own in Santa Barbara, but also just had too much talent and was playing open lines, which ultimately hurt them in close games. Despite this, both teams have made one thing clear this season: their rosters are abundantly deep.
Unfortunately, depth doesn't mean much if you're not playing your top players in crunch time. Washington is talented to a fault, where there's really been no hierarchy to their offense in the past, preventing star players from being used most effectively. The handlers on Element are spoiled for choice with cutters, but even big names like Abby Hecko and Alexa Yadama have deferred open cuts to make room for others. There's nothing wrong with having a balanced offense, but you eventually need to decide who your playmakers are, something UW didn't define at their last tournament. Still, Washington is going to be a menacing second seed in their pool, and they will get to test themselves early against both UCSB and Colorado. We'll have plenty of opportunities to see what Element is capable of against such formidable opponents. Their ceiling is still a tournament title.
For UCLA, their top line is far more defined; they just have to get more reps with each other. It's unclear whether Katherine Jordak is back in the lineup, or even Charlotte Terrasson for that matter. UCLA has done well enough without their top players, but there's more to their game that they can't unlock without a fully healthy and fully present roster. It's tough to know what BLU team is going to take the field at any given tournament. In San Diego, UCLA had to invest in their youth, giving plenty of minutes to Tanya Bearson, Athena Lynch, Anna Reed, and Stephanie Yen. These underclassmen had to grow up fast, which is good in the long term but didn't help their bid-earning chances. UCLA currently sits at 19th in projected USAU rankings; a bad weekend in Stevinson could sink them.
Assuming UCLA comes out wearing war paint and with a 'take no prisoners' mentality, they should be in a good spot. The competition at Stanford Invite is the deepest they've seen yet, and facing both Carleton and Pittsburgh in pool play will be a trial by fire. UCLA already had that happen to them in San Diego, though, and came out looking no worse for wear after that tournament. They haven't yet shown that they can win a title, but they're only one of a handful of teams here that has actually made it to a meaningful tournament final, and that can't be discounted.
Pittsburgh Makes Pool A the Most Riveting Storyline of Day One
We've already sung the praises of UCLA and Carleton, but it's the addition of #13 Pittsburgh Danger in their pool that could throw it all into chaos. Pittsburgh is a wild card. They started the year with an iffy performance at Queen City, only to rebound at weekend two of the Commonwealth Cup with wins over Ohio State and Northeastern. Danger could be the fairy tale program of the season; this weekend will be their chance to step further into the spotlight. With wins over two teams in the top 15, Pittsburgh has made their mark on the season already and is in the right spot to keep the fireworks coming.
The expectations for Carleton and UCLA are already pretty clear, but Pitt is a dangerous three seed that has proven they're more than just hot-or-cold heroes. Annelise Peters is having a standout season and she's joined by Beth Manturuk and Helen Wu on offense. Jessie Sun has been holding down the fort on the defensive end, making a mark with her offense after the turn, too. Danger has a strong sideline presence and strong huckers, two of the most telling signs of a team set to play spoiler to the status quo. When the wind is behind their sails, there's not much you can do to stop them. If you're receiving a lot of #upsetalert notifications, it's a decent bet they're coming from Pittsburgh this weekend.
What Should We Expect From UBC?
Another year, another late start from #9 British Columbia. Thankfully, this year, they have something to prove. After losing their Nationals bid in dramatic fashion last year, UBC has a chip on their shoulder this season, and should be fairly aggressive out the gate. They'll need that aggression, too, as Cal and Tufts aren't going to make anything easy for the Canadians.
What we know about this team is much of what we've already seen from them last year, minus a healthy core of talent. Gone are the likes of Naomi Morcilla, Ellen Au-Yeung, and Janelle Siwa. In their stead, Delaney Ignatieff, Ada Chang, and Denise Su will need to take larger roles, but they could have one of the division's most talented rookie classes. Last year the cracks started to show for UBC against bigger, stronger teams who were willing to play bully ball. If they can establish themselves as a credible downfield defensive team, they'll likely do much better at this tournament than they did last year.
Notes On The Field
#19 California Pie Queens can't be overlooked. They're in a pool where it's not inconceivable that they find their way into an upset or two. Cal has already outperformed expectations at their last tournament, and have improved in giant increments. Claire Toth is the truth, and the combo of Janelle Lee and Zoe Luke is compelling. The best performing Cal teams have always been filled with tall athletes who have high energy and relentless offense. This team is in the same mold, which is really promising. They aren't the favorites at all, but they're going to make things difficult for any opponent.
#20 Colorado Quandary will be looking to turn around their season in Stevinson. The team didn't have the results they were looking for in San Diego, but showed flashes of the talent that they have accumulated on the team. Rookie Stacy Gaskill is a force unto herself, both on offense and defense. Bailey Shigley and Saioa Lostra have been handed the reins of the offense and are wearing their responsibility well. Assuming Colorado has had more time outside to get reps in before this tournament, there's no reason we can't see a 180 degree turn for their season here.
#21 Texas Melee also had a tough time at Presidents' Day Invite. They're clearly missing the talents of Sierra Jensen and Domenica Sutherland. On defense, the team lived and died by their zone, which let them down more often than they'd have liked. They also just weren't consistent on offense. Caroline O'Connell has had to shoulder a large responsibility and the throws aren't there yet. Even with Ivy Harrison and Anna Hutton taking on larger roles, Texas didn't raise any eyebrows. They have a chance to change that this weekend. They've already earned a win over Stanford, which is looking better and better by the day. If they can do it again, and hang tight with UCSD, it could flip the narrative.