There are a lot more quality options now than there used to be for ultimate team gear, but that doesn't mean the process is necessarily any easier.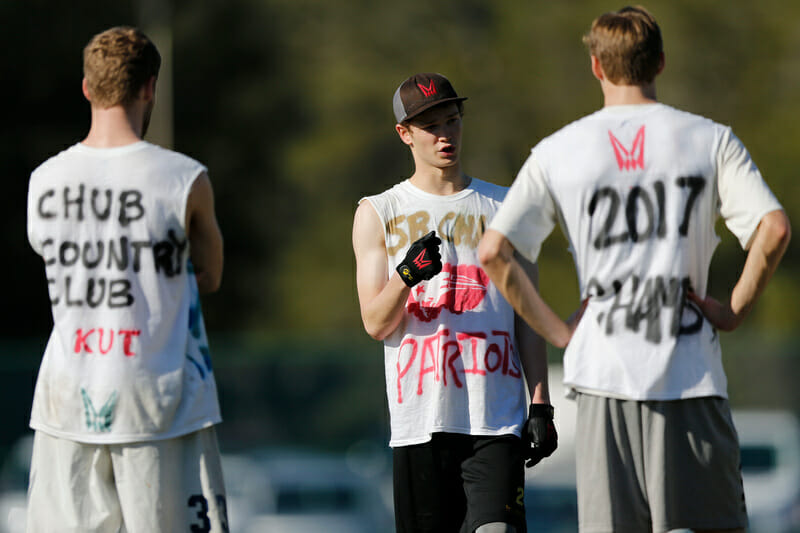 Tuesday Tips are presented by Spin Ultimate; all opinions are those of the author. Please support the brands that make Ultiworld possible and shop at Spin Ultimate!
So your season is coming up and it's time to order new uniforms. Somehow you got put in charge of the process — maybe you're the team captain or club president or maybe you're the anxious rookie who asked too many questions about jerseys — but, you have no idea where to start. There are a lot more quality options now than there used to be for ultimate team gear, but that can be both a blessing and a curse. Plus, wrangling information and payment from a big crew of teammates can be a logistical nightmare.
Luckily, you aren't the first person to face this daunting task. Here are some tips for managing this process and ensuring your team has the gear they need to look their best.
1. Decide on what you need.
First, you need to figure out internally what you want to order. Any competitive team will need a light and a dark jersey, along with team shorts. But the options within those categories and accessories outside of them are myriad. On some teams, leadership might decide on this themselves to simplify the situation. Other teams might involve the entire team in conversation on how deep to run with team gear. Do not sleep on a good Google Form to figure out team consensus.
Every team will have different priorities. The high school team I coach cut costs by buying just light jerseys and then a reversible tank as a dark. If cost is perpetually an issue for your program, maybe consider uniforms that can be reused year-to-year. Other teams go the other way and like to have three or more jerseys in any given year — maybe there's a special one for Nationals or a teamwide warmup shirt.
This is also the time to decide about add-ons. Maybe your team wants to order hats or jackets or sun hoodies too. If you're unsure what options to consider, look out for what the other teams at your school are wearing. Does the club soccer team have really cool sweatshirts? Maybe that's an inspiration. As you come to your decisions, make sure to do your research and figure out what is on the market — most companies offer more than just jerseys and shorts. The major apparel companies, both those endemic to ultimate and not, should have all their products listed on their website so you can see what's available to you. And remember, you don't always have to get all of your gear from the same company — it is not unheard of to order jerseys from one company and jackets from another.
2. Pick a company.
Once you have a sense of what items you want, it's time to contact some companies.
Do your research ahead of time. Are you willing to pay higher costs for a higher quality jersey, or are you looking for the cheapest shirt this side of spray-painted cotton tees? That will influence which companies you start with. There are more endemic ultimate brands than ever before, plus larger sports apparel companies supplying uniforms that can just as easily be used for ultimate.
Don't be afraid to ask about samples so you can get a feel for the difference in materials and quality across items and brands. Be sure to also ask about inventory so you don't become enamored with items or color options that are low in stock or no longer available.
Definitely reach out to multiple companies and see where each process takes you or what deals you might be able to find after a conversation with a customer service representative. Most companies have a specific custom orders page on their website that outlines their process and gives you an email to contact. Some companies will have team sponsorship programs, and it's probably worth asking about those. If you're an elite team, you might be able to get a discount in exchange for putting a company's logo on your shirts. Non-elite teams can also find opportunities for deals; ask if a company has any kind of ambassador program for developmental, spirit-oriented, or youth teams.
If you can put together a large enough order — maybe by committing to puchasing all of your team gear from the same company or maybe the men's and women's teams at your school can order together — you might be able to entice a company to give you a volume discount. Similarly, many school athletics departments have contracts with major uniform suppliers. While I'll always advocate for supporting an ultimate-specific brand, if your school can get you good jerseys from whichever big brand company they use with a discount, it is probably worth considering that as an option too.
Checking in with a few different companies will give you a sense of different price points, production timelines, and item options and allow your team to make a choice that best meets your needs and budget.
3. Create a design.
At this point, you've settled on what items you're going to order from which companies, now you have to design your apparel.1
Most companies will offer a certain amount of free art assistance, but it still helps to come to the conversation with ideas. Do you know what colors you want to use? Do you have a standard team logo and uniform design or does it change year to year? Maybe you want to highlight your city skyline or a team motto. Is there a professional team you want to model your style after? Any of these prompts could help a designer make your jerseys faster and closer in line with your expectations. If you are totally starting from scratch, the designers will be able to help you ideate too, but give yourself some extra time — most orders can be completed in 6-8 weeks, but that might not include design time.
If you expect to play at competitive USAU-sanctioned events, make sure to follow the official design protocols for your division. There was a big fuss a few years ago when USAU modified its rules to require numbers on the front of jerseys at Nationals, plus the governing body is cracking down on team names and jersey designs that could be considered crass. Make sure everything about your design is in line with expectations ahead of time so you aren't stuck printing new jerseys on the eve of your surprise semifinal appearance.
Similarly, if you're a school-based team, make sure to double-check your school's uniform policy. Some high schools or universities require that club teams stick to certain templates or logos, while others have virtually no rules for club teams.
4. Organize your order.
Once your design is created, it is time to organize your team's order. There are two main ways teams and companies go about this process: bulk orders and team stores.
Some teams will collect all the relevant information themselves and one representative will place a single bulk order with the apparel company. If you're going that route, there will be a lot of details to collect from the team so everyone gets what they want. Make sure to collect each player's correctly-spelled name, size for each item (Note: this may differ for each piece.), uniform number, style (short-sleeve vs long-sleeve vs tank-top jersey, for example), and the number of each item they want to order (some people like an extra light for when it gets dirty). I cannot stress enough the value of a good Google Form here. Going the bulk order route also means you will have to make one payment to the apparel company, so make sure you have a system in place to collect individual payments from your players or, if you're lucky, understand the process by which you can get your school to remit payment to the company.
Alternatively, some companies have added the ability to set up team stores, where individual players can order their own gear directly from the preapproved set of uniform options. This allows each player to choose their own styles and sizes, pay individually, and perhaps even have each order shipped individually. A team store is a particularly smart choice if you are opening your order to fans or family members. This option may cost a bit more as it's significantly more work for the apparel company, but the small upcharge in price could be worth the relative lack of hassle for the team captain.
5. Start early.
One last piece of advice: it is never too early to start your uniform order. Seeing a company advertise a turnaround time of six weeks doesn't mean you should wait until a month and a half before Sectionals to begin the process. Often the research, design, setup, and information collection processes take much longer than expected.
Plus, remember that teams in the same division are all likely looking for uniforms around the same time, creating bottlenecks for the companies trying to churn out hundreds of team orders within the same few weeks. Any snag or correction needed to your order could bump you back.
If you can start early and put your team closer to the front of that line, you could avoid the stress of potentially appearing in your first games with uniforms still in the mail or sitting in a production line.
---
Stay tuned for a potential future piece: Top Ten Fatal Design Flaws. ↩