There is an art to creating a coherent warm-up mix.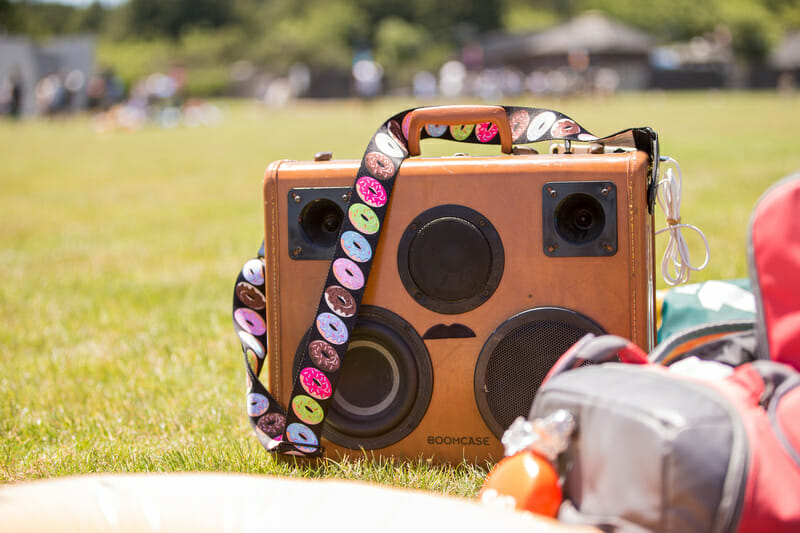 Tuesday Tips are presented by Spin Ultimate; all opinions are those of the author. Please support the brands that make Ultiworld possible and shop at Spin Ultimate!
It's your first season on the A team and you've been handed the aux cord. This is a big moment, a test of what you can bring to the table and whether your personal music tastes mesh with the team's curated brand of nonsense.
Or maybe you brought the speakers, dedicated to making this your niche on the squad. Doing everything you can to make yourself essential as your skills slowly erode on the downslope of your career.
Oh wait, actually it's the first day of a big party tournament and there are a bunch of people on your team who only vaguely know each other. They need a star to follow. They need a common creed. They need a hero. Is it you?
No, actually it's the last day of that big party tournament and your team really needs a hero. The finish line is in sight and you are somehow still in the A bracket, but morale is low. People are missing. Steve has lost several teeth. To rise from the ashes of the past two nights, you're going to need one hell of a start to the morning…
Whatever the case, correctly curating your playlist can be essential to both personal and teamwide success. There is no one-size-fits-all approach, but here are a few tips and opportunities for reflection to get you going in the right direction.
Know Your Audience
This point is twofold: If the playlist is for your team, what kind of team are you? Some dry kindling that just needs a spark to ignite, or a chiller coalition that needs to slowly find its way into the groove of the day? And if this is to make an impression on other teams, what kind impression are you trying to make? Striking fear into the hearts of your opponents, or letting everyone know that you are probably the team to hit up for some loose High Lifes later in the day?
Regardless of what the answer is, you need to meditate on this question before doing anything else.
The Power of Purpose
Making a playlist is a lot like constructing a building.1 If you just start the process without any forethought, you're going to end by picking through the rubble of your worst ideas. You have to have a plan, and the best place to start is curating your playlist with some kind of purpose in mind.
Find out from leadership what kind of vibe they're aiming for, then tailor the music to fit. (If they don't have a good answer, three common goals for a warm-up are intensity, focus, or looseness.) It won't be an exact science, but you'll find you can generally align everything much more easily if you can imagine that invisible structure holding it all together. More than anything, taking this approach will help you narrow down choices from the virtually infinite streaming service libraries to something like a manageable sample of appropriate songs. Listen to each potential addition to the list with the goal in mind. System of a Down's "Chop Suey!," for instance, probably won't fit in a focus-leaning playlist, but could be a great track for an intensity set.
What Does "Hype" Even Mean?
Almost quoth the poet, "What is hype?"
Hype is essential. Hype is a promise. Hype is a power play. Hype is being in the driver's seat of the cosmos, seeing celestial bodies wizz past and knowing that they are just gas and dust but you, you are a star.
You achieve hype from the sideline with a playlist and brother, you're doing good.
There is more than one way to get your team fired up, and it's going to vary from squad to squad. Sometimes hype is finding the grimiest bass thump you can and letting it knock. Sometimes it's nailing the balance between nostalgia and fresh sounds, pushing the team forward by taking them back. Sometimes it's just about finding the correct number of times to play Timber.
For me, getting hype usually means incorporeal wailing over a Just Blaze beat or the sound of an avalanche doing poppers. But that's just one man's preference.
Find your team's hype. Then cherish it.
The "Mr. Big" Fallacy
Facts first: there is such a thing as a perfect song. Hundreds of them still exist in the wild. And (as no doubt many of you are aware) Aretha Franklin's "Mr. Big" is one of them. However, the indisputable fact of a song's perfection does not qualify it for your team playlist. In the first place, most of your teammates will not recognize perfection when they hear it, and you will have to undergo the particular frustration of having cast pearls before swine. The larger issue is not whether anybody likes or appreciates your taste, which anyway is beyond reproach, but that most songs, however sublime in and of themselves, are unsuitable for a team warm-up. Sadly, that includes "Mr. Big."
The top-shelf secret, though, is that the opposite holds true: a bad song might just kick ass. People often get amped for songs that don't make any sense at all — teams even bond over them. Aqua's "Barbie Girl"? You can use it! Whitesnake's "Here I Go Again '87"? You can use it! Pussycat Dolls? Dashboard Confessional? Little Big Town? Weirdly enough, yes, even though you would never want to hear three consecutive notes of any of them otherwise. There are some practical limits2, but this, in a nutshell, is how you make the Mr. Big Fallacy work for you.
To Use or Not Use Callahan Video Songs?
Once a song is used in a popular callahan video, some piece of it forever belongs to that reel. If you want to use "Good As Hell," you are invoking Jesse Shofner to anyone who is even slightly in the know. And that's okay! You just need to be judicious.
In general, tread carefully whenever you are at risk of being the person who is way too into being "ultimate." (Or, living ultimate, if you will). Constantly yelling "not a puller" does not make you unique and funny the same way that a bunch of goth kids at the mall all wearing the same threads doesn't make them anti-conformist. If you are playing a bunch of famous Callahan songs you run the risk of losing your own personality.
Of course, the reason a lot of these songs are used in videos is because they are music that works really well with ultimate. So it's okay to use a couple, but again, be judicious.
Anthems
You get one anthem. That's it.
What's an anthem? Think Beyonce's "XO" or Fun's "We Are Young" or Justin Timberlake's "Mirrors" or any of those godawful Imagine Dragons songs. Big, straightforward, soaring, arena-friendly sing-alongs. The kind of songs that can make you feel heroic for a few minutes. They always seem like a good idea, and in small doses, they are. But more than one becomes tedious almost to the point of exhaustion. The human soul can only stand to ride those highs so long before it needs a break. Same idea as to why it's so hard for club teams to hit that fabled double-peak in a Worlds year, just, you know, smaller stakes. So pick one you like and swap the rest out for some less spiritually demanding bangers.
(The exception to this rule is if you make a warm-up playlist that is only anthems, which qualifies as a very strong perspective and, as a bonus, will definitely annoy the piss out of any other team within range of your speaker.)
The Folly of Crowds
We cannot stress this enough: make the playlist yourself. Hands down, the number one most disastrous mistake you can make with warm-up music is opening up the playlist to other members of the team. I mean, have you ever been to one of those weddings where the DJ takes requests from the crowd? It works for maybe one song, and then the dance floor empties out.
Ultimate frisbee might be a team sport, but the music that makes it happen cannot be crowdsourced. Is feedback okay? Yes, of course. Somebody might say something you never thought of before, or even pitch you the killer track that brings the whole playlist together. But no matter what other people have to say about your work — and, oh, by the way, everybody is going to try to put in their two cents — you have to keep ownership of it for it to remain a coherent whole. You're the expert. You're the one who's got to give the people what they really need, not what they might say they want.
Get Some Actual Speakers
Cannot overstate how essential it is to have a reasonable set of speakers. The best playlist in the world does you no good if it's being piped through some pocket-sized bluetooth speakers, drowned out by the sound of some other team's respectable set up. You're letting them set the tone. You're losing the sideline battle.
It's 2021, which means you can get some very reasonable speakers without breaking the bank, and it also means someone on your team has some Biden Bucks burning a hole in their checking account. Send them to a local business to buy an American made speaker so that they can stimulate the economy in the grooviest way possible.
DJ E Money'$ Sample Playlists
Still don't know where to start? Here are a few sample playlists to help stir up some productive thoughts.
Loose Playlist:
"Pass That Dutch" – Missy Elliott
"Mirrors" – Justin Timberlake
"King Kunta" – Kendrick Lamar
"Under Pressure" – Queen and David Bowie
"Rattlesnake" – King Gizzard and the Lizard Wizard
"Kiss Me" – Sixpence None the Richer
"Genius of Love" – Tom Tom Club
"Lip Gloss" – Lil Mama
"Broccoli" – DRAM (ft. Lil Yachty)
"Nobody" – Mitski
Intense Playlist:
"Don't Start Now" – Dua Lipa
"Wake Up" – Rage Against the Machine
"Breathe" – The Prodigy
"Look Ahead" – Future
"9 to 5" – Dolly Parton
"Fergalicious" – Fergie
"B.O.B." – Outkast
"Sandstorm" – Darude
"Formation" – Beyoncé
"Black Betty" – Ram Jam
Focus Playlist:
"Norf Norf" – Vince Staples
"Idioteque" – Radiohead
"Bam Bam" – Sister Nancy
"Smooth Criminal" – Michael Jackson
"Love Lockdown" – Kanye West
"North American Scum" – LCD Soundsystem
"One, Two Step" – Ciara
"The Middle" – Zedd
"Night Fever" – Bee Gees
"Boyfriend" – Tegan and Sara
---
To any architects reading this: I actually have no idea what constructing a building is like, but can you please just let this one slide? Thanks. ↩

Weezer's "Beverly Hills" has no place anywhere, for example ↩