Club ultimate is back!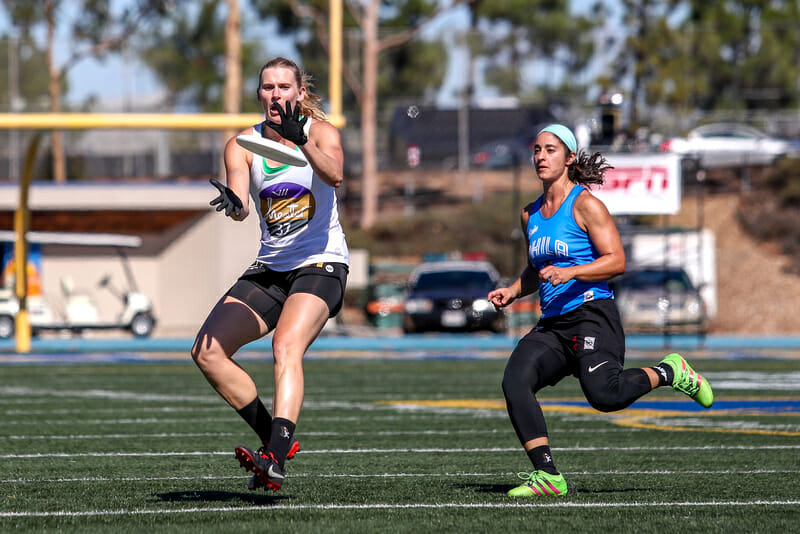 As various local leagues pick up around the country and the AUDL exploded back into our consciousness with an exciting opening weekend, it's finally time for club ultimate to take center stage in the sport's long-awaited return to play. Twelve squads will gather outside Richmond, Virginia, this weekend to knock off the rust and give us our first glimpse of competitive club play in 2021. Not only that, they'll be doing so with the largest prize purse in mixed ultimate history — $10,000 — on the line.
The event is not officially sanctioned by USAU, which means the roster rules and COVID-19 protocols have been set by the tournament hosts, XII Brands. Given the rapid improvement in conditions over the past few weeks, all mitigation protocols have been lifted in the state; while the tournament will still encourage safety measures like social distancing between teams and masks for unvaccinated players, Richmond Cup will not institute any formal mandates. Ninety percent of the players registered for the event attested that they have been fully vaccinated at this point.
Tournament Profile
Date: June 12-13
Location: Glen Allen, VA
Weather: Mostly cloudy in the mid to high 70s with scattered showers
Glover Park will play host to a pair of six-team pools, with the top two performers in each moving on to a bracket on Sunday. The two semifinal winners will square off Sunday afternoon to decide who will claim the cup.
The Payouts
The winning team won't just take home a trophy; they'll get a check for $7,500. The second place finisher will earn $2,000. The semifinalists will get $250.
Media Coverage
Ultiworld will be on hand filming games for post-production release after the event. We are working with the tournament organizers, XII Brands, to produce the tournament final with four cameras, commentary, statistics, and more. Stay tuned for highlights, interviews, recap coverage, and more from the event.
UltiPhotos will be the official photographers of the event.
Pool A
Philadelphia Mare of Fishtown
The tournament's top seed will be among the more familiar squads at the event, even if their name isn't. The backbone of the team comes from two-time defending national champions AMP, along with some talented friends who are picking up for a first competitive post-pandemic playing opportunity.
Shaking off the rust or not, make no mistake, this roster is absolutely loaded. All-Club and WUGC stars abound, with Linda Morse and Sean Mott flanked by ageless Philly stalwart Raha Mozaffari. Strengthened by the return of Calvin Trisolini and WUCC 2018 pickup Nicky Spiva, Mare benefit further from the addition of debutantes Amber Sinicrope, Joe Freund, and Danielle Byers. It's an embarrassment of riches that gives this team plenty of flexibility and depth.
Even without much practice time together in 2021 — or perhaps especially because other teams will be in the same boat — Mare of Fishtown should be able to rely on their familiarity and chemistry with each other. As we've come to expect from Philadelphia mixed, we should see an efficient offense and stifling defense, with balanced contributions coming from up and down the roster. They will be among the heavy favorites to compete for the top spot in Richmond and take home the pot of gold at the end.
Baltimore Fleet
Even with all the caveats that come with this, the strangest of club season kickoff events, it seems fair to state that everyone else in the pool is fighting for a (distant) second place to the Philly favorites.
Baltimore Fleet, the pool's second seed, perhaps have the inside track on that title, as they're the only other squad who can lay claim to finishing inside the top half at Mid-Atlantic Mixed Regionals in 2019. In reality, they're also the only other team that has competed together in a club season before.
Baltimore has never been a hotbed of mixed ultimate, but Fleet took up the mantle in 2019 after the demise of long-time Charm City program American Hyperbole, who topped out with a 7th place finish in the Mid-Atlantic in 2014. The current iteration are hoping to improve on that mark and establish themselves as a regular regional threat. The captains have been meeting and strategizing throughout the long off-season and the team has been practicing in pods for the past six weeks in preparation for the 2021 campaign, though Richmond Cup will still serve as a part of their tryout process to see how some new players hold up against elite competition. Fleet will look to play through their women, particularly power cutter Adilina Malavé-Jones, in hopes it can earn them a spot in the semifinals.
Virginia Trippin'
The likeliest challenger to Fleet for the second semifinal spot out of Pool A is Virginia Trippin'. Old Dominion ultimate has been on a bit of an upswing in recent years, as Hampton Vault and Virginia Rebellion both found themselves among the Top 25 teams in the country in 2019, in the Men's and Women's divisions, respectively. Members of those two squads — often friendly opponents in various local leagues and hat tournaments around the Richmond area — join forces for this event to see how they stack up against elite mixed competition.
While they may not be mixed division veterans, Trippin' are experienced and athletic and can call on semi-pro talent of both genders in the form of Quinn Bergeron of the AUDL's DC Breeze, Allie Wallace and Lisa Dang of the PUL's DC Shadow, along with former Breeze players Matt and Jonathan Neeley. Both Vault and Rebellion won their respective divisions at the most recent1 Chesapeake Open on the backs of their well-conditioned defenses and are looking to bring the same hard-nosed effort to bear on the mixed field in Glen Allen.
Richmond Cup may be a one-time appearance for this squad in 2021, before they divide back into their usual split-gender teams. Drawn in part by the lure of a large prize purse, Trippin' should definitely be considered a bracket contender, though how they stack up against the division's elite tier remains to be seen.
Latin Power
Without the typical roster limitations of sanctioned USAU play, Latin Power are one of a few teams that are taking advantage of the freedom afforded by the Richmond Cup to bring together a group of friends from all over.
According to captain Daren Ruiz — who unfortunately won't be joining the team this weekend — the core of this crew met in Venezuela more than a decade ago. While there is a general Latino vibe to the roster, they have also added some other friends from around the US. Living all over the place has prevented them from practicing together ahead of the tournament, though they expect to play a fast-paced style, typified by former Valparaiso standout handler Jesus Osorio.
Without plans to compete together as a team moving forward, Latin Power are prioritizing having fun this weekend and will see how far the joy of playing together can carry them.
Richmond Revival
While Vault and Rebellion have traditionally sucked up the talent in and around Virginia's capital city, Revival are hoping to establish a legitimate mixed presence in Richmond. Led by Mary Washington coach Keys Pattie, the new team of mostly college-aged players had designs on kicking off in 2020, but the pandemic delayed their debut an extra year.
As with any new, young team, a lot of systems and roles are still to be determined, but handler Beau De Koninck and cutter Ethan Ruh will look to bring the heat on defense while Victoria Higgins and Matt Graves should anchor the offense. A few other expected contributors this season are suiting up with friends on Virginia Trippin' this weekend, leaving room for others to step up into bigger roles.
Looking to ramp up into a full season of play even before Richmond Cup, Revival has held weekly practices and hosted a round robin last weekend featuring Pool B squads Lynchburg Legion and Charlottesville Spice. If results from that event are any indication, the three Virginia programs are reasonably well matched right now, as they split results to all finish 1-1 against each other. Revival secured a double-game point victory over Spice and will be hoping that win inspires others at Richmond Cup.
Tidewater Brackish
Another new program from the Commonwealth whose introduction was delayed by the pandemic year, Brackish is combining the talents of former Newport News men's and women's teams — Fathom and Oligarchy, respectively — to compete in mixed moving forward.
Richmond Cup will be the first competitive event for the team from the military-heavy Tidewater region, and they're looking to launch their program on a high note. With plans to hopefully grow a welcoming, multi-team program in the coming years, Brackish have a policy of aggressively accepting interested players of all skill levels and are one of only two teams making use of all 30 roster spots.
Jenny Gobin, a former UConn standout who earned a national runner-up medal with Brute Squad in 2017, should be a standout alongside power couple Jamie Benitez and Shawna Zielstorff, and the Brothers Slade. While their focus is more on showcasing good spirit this weekend, there is enough talent here to potentially steal a win somewhere along the way to break seed.
Pool B
Washington DC Sweet Cat
If anyone is going to challenge Philly for the inaugural Richmond Cup crown, expect it to be Sweet Cat. With a combination of stars from DC powerhouses Space Heater, Truck Stop, and Scandal, the Washington area team has more than enough talent to head home with their wallets fatter than when they arrive.
Jenny Fey. Alan Kolick. Sandy Jorgensen. Christian Boxley. Amy Zhou. There are so many international-level stars on the roster that any attempt to highlight potential standouts would almost inevitably serve as a provocation for someone left off the list to take umbrage and run roughshod over the tournament. Stacked with both top-end talent and enviable depth, Sweet Cat should be able to consistently trot out lines full of well-rounded players and evaluate point-by-point who has an advantageous matchup to exploit. Since their inception, Space Heater has placed a premium on showcasing their women-matching players more than most other mixed squads, and the same is likely to be true for Sweet Cat as well.
This group may not have formally practiced together much this spring, but many have known each other for years and preseason training with their respective club teams or even local pickup games will likely prove to be enough for their tournament prep. Representing the full breadth of Washington's elite ultimate scene, any prize money Sweet Cat do pocket in Richmond is likely to be funneled back into their local community, according to captain David Cranston.
Triangle Toro
As good as Sweet Cat may be, Pool B will be no walkover. Like the two teams seeded above them, Triangle Toro is bringing a squad to Richmond that's built around an existing Nationals-level mixed program, supplemented by a few eye-popping pickups from their local elite Men's and Women's teams. The collection of talent driving up from the Tar Heel state provides an intriguing foil to the Philly and DC squads, and ensures that the first six rounds of the weekend will be more than just plodding preamble to an inevitable final.
Toro has been a program on the rise in recent years. Qualifying for three straight Nationals puts them in elite company in a division not traditionally known for stability in the Southeast region. Couple that with general rise in prominence of their local community and Toro could legitimately claim to be a Top 10 program in the division as we head into 2021. Even if they're unlikely to stick around for the full season, you could do a lot worse than tapping into the pipeline of UNC youngsters for the pickups dotting their Richmond Cup roster. Anne Worth is a reigning Callahan winner from the Pleiades and Darkside's Liam Searles-Bohs will be among the betting favorites for the award during this upcoming college season. Ring's Dillon Lanier and Allan Laviolette are two more exceptional young additions to pair with Toro vets like Christine Bookhout, Heather Zimmerman, and Tristan Green.
This roster is chock full of dangerous firepower and has the look of a team primed for a run to the bracket, at least. Whether they land in the cash spots or not, the Triangle squad will hope to use the weekend to gear up for their continued ascent up the division hierarchy, as Toro is the only team at the tournament that will also be traveling to the season's first Triple Crown Tour event, the Pro-Elite Challenge, in Denver next month.
Dirty & the Wizards
Like Latin Power in Pool A, Dirty & the Wizards have no immediately discernible unifying hometown. This team grew out of a core of players who know each other from high school in Westfield, NJ, but have since spread to cities up and down the East Coast. With nearly a dozen Westfield alums who have filled out a roster with connections from their various college programs, this team likely will have more familiarity with each other than the average pickup group that has never practiced together — even if some members don't meet each other until the hotel on Friday night.
Flamethrowing WUGC selection Sadie Jezierski is the standout name on this roster and won't be sneaking up on anyone. Jessie Sun is coming off a DPOTY podium performance during the 2020 college season and will lead the D-line alongside Sarah Davidson and Chris McLoughlin. Handler Josh Norton will help pace an offense that won't be afraid to attack deep with big hucks.
Treating this tournament as a one-off reunion event, Dirty & the Wizards recognize the challenge ahead of them to knock off one of the teams above of them in the pool to earn a semifinal bid. Instead, they hope they'll remain competitive while focusing on having fun with some old friends.
New York Illuminati
Another team coming together just for the weekend, Illuminati is assembling a crew of mostly New York area players to bring to Richmond and kick-start their return to the sport after the long hiatus.
This team is coming to the tournament with a strong contingent of women-matching players, including several members of the PUL's Gridlock, like New York legend Becca Tucker, Rebel Rebel co-founder Veronica Kolegue-Spalaris, and Genny De Jesus. On the men's side, Cam Wariner is a name many will be familiar with as a former college All-American selection at Cal Poly SLO; his defensive performance with Sprout in the most recent club season is the stuff of opponents' nightmares and should serve as a warning to any and all offenses in Richmond this weekend. This team also boasts some contributors with Nationals-caliber mixed experience hailing from the cutthroat Boston scene: David Ferraro and Chelsea Leeder were part of a Snake Country squad that reached the 2018 national semifinals while Emilia Scheemaker typically suits up with Slow.
Players will retreat to their individual club pursuits after this weekend, so as is the case for most of the squads headed to Glover Park, Illuminati will be focused more on their effort and creating a fun experience than on any specific goals. They should have enough skill to remain competitive against the tournament's elite teams but may not quite have the firepower to earn a place in the bracket.
Charlottesville Spice
Once upon a time, Charlotesville stood at the very pinnacle of the mixed division, as Axis of C'Ville claimed a UPA national title. The city may no longer realistically have the same expectations, but first-year program Spice is the latest iteration to inherit that history after a seven-year run from the now defunct Tyrannis. A new core of players will be looking to freshen up the team's core values and establish their own legacy.
Another Virginia program that will be bumping up against the tournament's roster cap, Spice has had a large crew of players practicing regularly for close to a month — more even than they could invite to the Richmond Cup. Spice harbor a dream of existing as a faceless cohort that works hard and has a blast playing ultimate together, but as they work to achieve that dream, keep your eye out downfield for powerhouse cutters Emma "Bubz" Colavincenzo and Rebby Rook. In possession, expect savvy veteran leadership from Dana Dunbar and Brian Grundy.
Even with the last round of tryouts to solidify their 2021 roster still ahead of them, this will already be the second tournament Spice has played this month. In the recent local round robin, they came up just short against a Richmond Revival squad that may previously have contributed players to a combined program before each city decided to strike out on their own. Spice did manage to knock off Legion in an exciting back and forth battle, and will have a chance to repeat that result in Glen Allen.
Lynchburg Legion
Legion head to Richmond as the longest-tenured of the five Virginia programs in attendance. They boast a core of men who have played with and against each other for nigh on a decade, first as opponents on several Sectionals-level men's teams in Lynchburg but then combined as a mixed program alongside a group of Liberty University women since 2015.
Captains Kevin Habermas and Jonathan Mast lead a squad that prides itself on its cohesion, having all grown up playing in a similar style system via Liberty. Victoria Dissmore is a versatile playmaker that alternates between shutting down opponents' top threats on defense and racking up goal receptions on offense. Austin Heston is a classic D-line workhorse, a big athlete who grinds away to earn blocks and then isn't afraid to bomb it deep for a quick break. Legion also flashed a solid zone set at last weekend's round robin with towering big man Matt Glasgow patroling downfield.
Despite the results from the round robin event that landed them here at the bottom of Pool B, Legion are confident that they can turn some heads and break seed while balancing fun and competitiveness. You can be sure they'll have their sights set on getting revenge on in-state rivals Spice.
---
And perhaps last ever… RIP. ↩