Introducing Ultiworld Field Pass!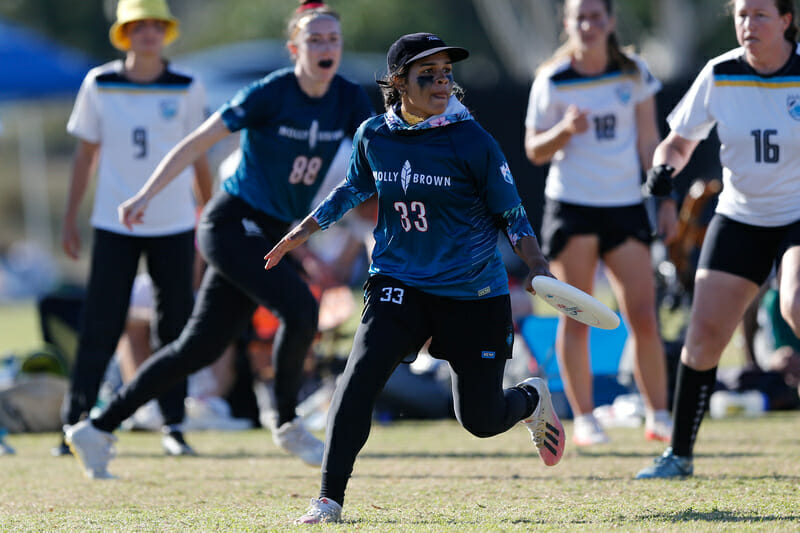 The 2022 Pro Championships are both an end and a beginning. They mark the end of the USA Ultimate club regular season and will serve as the final chance for teams to jockey for bids. They also mark the beginning of the competitive part of the year, a prelude to the postseason. Many teams are playing high-level, sanctioned tournament games for the first time all year.
Competition begins Saturday, September 3rd, and runs through Labor Day. Streaming coverage will be available on USA Ultimate and Ultiworld's YouTube channels and our Event Page beginning with pool play on Saturday. We are also debuting Ultiworld Field Pass, a new streaming concept with whiparound coverage of multiple games, exclusively for Ultiworld Full and Plus subscribers.
Ultiworld and USA Ultimate's coverage will continue with quarterfinals and semifinals on Sunday and then for the finals on Sunday. In addition to our video coverage, Ultiworld is posting round-by-round updates on our event page and livetweeting games on @UltiworldLive. Watch the site for full recaps, features, and stories from the tournament!
Here is the complete live video schedule for the tournament (all times Eastern).
Introducing Ultiworld Field Pass!
We are excited to debut the Ultiworld Field Pass, a new streaming concept that brings you the action from multiple games during the same round! At Pro Championships, Ultiworld Full and Plus subscribers will get access to a second stream each round that features at least three different games in a single broadcast. Each of the games will also be filmed in full and edited down for subscribers.
On Field Pass, you can expect to see exciting highlights and moments from each of the games, with whiparound coverage that helps you feel like you're right on the sidelines at the fields. Anchored by Keith Raynor, the Field Pass broadcast is modeled on the popular NFL Red Zone package.
Get an Ultiworld Full or Plus subscription to get your Field Pass to the Pro Championships!
Saturday, September 3rd (EDT)
Sunday, September 4th
Monday, September 5th
Denver Molly Brown v. Raleigh Phoenix (Final)
Ann Arbor Hybrid v. Minneapolis Drag'N Thrust (Final)
New York PoNY v. Washington DC Truck Stop (Final)
***
Tournament Profile
Date:

September 3-5

Location:

Raleigh, NC

Weather: Sunny, temperatures in the high 80s; little wind
Top 25 Teams: 9 Women's, 12 Men's, 8 Mixed
Women's Division Notes
To call the women's division unusual this season would be an enormous understatement. From major USAU tournaments running without a women's division at all, to over a third of the women's field at the World Ultimate Club Championships (WUCC) hailing from North America, it feels as though the women's division has yet to settle back into its pre-pandemic 'normal.'
Thankfully, a sense of normalcy will return this weekend as ten elite women's teams descend on Raleigh, North Carolina, for Pro Championships, the final event of the regular season.
East Meets West
There is always some disconnect between the top east and west teams, but usually by this point in the season the gap has been bridged by events such as US Open and PEC. However, without women's divisions at those tournaments, there has been very little crossover aside from a few matchups in Ohio at WUCC (which aren't USAU sanctioned and don't feed into the rankings). Pro Champs is always an integral part of the season given it is a team's last chance to improve their regular season ratings, but this year feels much more important. At long last, we'll finally see how some of the best teams in the country stack up against each other.
Pool A will offer some WUCC rematches, including another classic battle between Boston Brute Squad and Toronto 6ixers, something we've pretty much come to expect at every tournament these days. We'll also see how the Toronto crew performs against Raleigh's best for the first time since the NC club really entered the elite tier. Raleigh Phoenix has hardly played this season yet, making it a big and late debut for them. No.7 seed Portland Schwa in the four slot could stir things up as they face off against all these eastern teams for the first time this season. And just to add a little more chaos, a completely unknown SE Asia Black Widows holds the bottom seed and are hunting for upsets.
Pool B features two top west teams in Vancouver Traffic and Denver Molly Brown who haven't met yet this season, but perhaps more excitingly, we'll see how Washington DC Scandal stacks up against the no.2 and 3 seeds of the tournament. Scandal has a loss to Brute and a win over Phoenix so far this season, so the games this weekend will finally allow us to start sorting out the hierarchy in a deep women's division. The last two seeds, Chicago Nemesis and New York BENT, are both around the margin for the bids, but Nemesis is the highest ranked Great Lakes rep, so BENT's performance will be the key one to watch.
Exciting Additions and Roster Changes
To add to the intrigue, some of the top teams in the division will either finally have their full rosters together or have added entirely new pieces to their puzzles.
Toronto 6ixers finished eighth at WUCC — not a bad finish at a World Championship – but they were missing some of their top talent. Lauren Kimura, Hannah Dawson, and Molly Lewis all took the week off after they attended World Games with Team Canada. On top of getting their full team back together, 6ixers have picked up fellow Canadian and UK superstar Molly Wedge for the remainder of the season. Wedge has been establishing herself as an international powerhouse since moving across the pond in 2019, with commanding performances at World Games and WUCC — her stat line of 25 assists and 34 goals was head and shoulders above the rest and all signs point to the fact that she's still getting better.
Speaking of 6ixers, one of their former superstars, Anouchka Beaudry, will be donning the black and green of Brute Squad for the first time this weekend. Beaudry has been a dominating handler on Canadian teams for years, and had a strong performance with Melbourne Ellipsis after picking up with them at WUCC. Beaudry brings a fire to any team she's on with huge hucks and big bids, and she'll no doubt add a lot to an already stellar Brute Squad.
Another name that became household this summer — Levke Walczak — of Team Germany at World Games and Colombia Revolution at WUCC will be making her USAU club season debut with Brute Squad. Walczak was a standout player among the best of the best at World Games and then continued to dominate a few weeks later as part of a world title run at WUCC.
Sadly, one roster change that is less exciting is the loss of Catherine Menzies (formerly Hui) from Traffic. While she is still on the team, she will be sitting this season out due to an injury sustained at WUCC. She's the team's most decorated player, with four All-Club selections, and has long been the centerpiece of their offense. Traffic will need to lean on their experienced vets and explosive rookies to perform their best in her absence.
And finally, a player that needs no introduction: Claire Trop is with DC Scandal after her last hurrah with Boston Brute Squad at WUCC. If you're talking about players that teams will struggle to contain, Trop is number one on that list. Take away her deeps? She'll burn you under. Think you got a step on her? Think again. Trop is one of the best in the entire game and, with her on the roster, Scandal could be a problematic no.5 seed.
Men's Division
It has been a disconnected club season at the top of the men's division. With two Worlds tournaments, on-and-off semi-pro commitments, little in the way of Triple Crown Tour requirements, and inflated travel costs, there has not been a compelling reason for most of the top teams to be at the same place at the same time.
That state of limbo finally changes over Labor Day weekend. 9 of the top 10 teams in the Power Rankings will be in attendance. All eight regions are represented. Bids to Nationals are on the line. And by the end of the weekend, we will have our first genuinely clear idea of who could contend for a championship in October.
Championship Rematch Favorites
It should come as no surprise that #1 New York PoNY and #2 Raleigh Ring of Fire enter the weekend in a tier of their own. They were far and away the two best clubs in 2021, with each of them notching a semifinal blowout before Ring came away with a universe point win in a brilliant, tight final. They have already established their bona fides in 2022, as well, meeting in the final of WUCC in July. There is no doubt they are the teams to beat.
One can reasonably wonder, however, whether there is a clear delineation already among these two. Raleigh gained an important defensive piece over the offseason in Charlie McCutcheon, but otherwise their roster projects as almost identical to the one that earned the 2021 championship. Considering the team's relative youth and its abundance of top level talent, that should be enough for a very strong chance to repeat. Is it even possible to guard a downfield grouping of Alex Davis, Anders Juengst, Jack Williams, and Ryan Osgar? Or do you just pray for a mistake?
The trouble for Raleigh is that as good as they are shaping up to be, New York may have leapfrogged them. The return of Jeff Babbitt – and, crucially, the coaching staff's decision to install him on the O-line – has been a revelation. His athleticism was not only unmatched at WUCC, but appeared unmatchable anywhere, and any defense that committed extra resources to slowing him did so at the peril of giving free looks to the rest of PoNY's murderer's row. They took the world championship with relative ease. Can they do the same against a deep USAU field? As long as the defense can weather the loss of Jack Hatchett, they could be in a tier of their own as odds-on title favorites.
Top Contenders
Swimming just beneath favorite status, a frenzy of clubs get their first chance to see how they measure up as potential contenders. #3 Seattle Sockeye perhaps have the best argument as the team to break through. Don't let their 2021 semifinal mishap fool you: they were pretty banged up. At full health, with up-and-comers Mac Hecht and Tony Venneri primed to step into the spotlight, and featuring Dylan Freechild at the height of his talent, Sockeye could be in line for another shot at the championship.
Last year's other semifinalist, #4 Portland Rhino Slam!, have had an upward trajectory for a few years and could still be on the rise. Poaching Jack Hatchett from New York brings a third 2021 All-Club player into the mix (alongside Raphy Hayes and Owen Murphy) and instantly levels up a D-line that already had plenty of talent. The personnel are in place for their deepest run yet – will it come together in time to make a dent in one of this weekend's favorites?
Finally, don't look past two of this season's top performances from the US Open: #5 Washington DC Truck Stop and #9 Chicago Machine. Truck Stop won the tournament with a millstone-like defense that ground down its opponents offensive structures and a rejuvenated offense heavily featuring the dynamic downfield trio of Christian Boxley, Tyler Monroe, and newcomer Cole Jurek. Machine didn't put together a whole weekend of dominance in the same way – in fact, they finished in seventh when all was said and done – but when they were on, they looked unstoppable. Von Alanguilan, Nate Goff, and Johnny Bansfield lead a brilliant defensive attack, and European import Walt Jansen looks quite at home alongside them.
Dark Horses
Somewhere in the back of your mind, you are probably aware that #6 Johnny Bravo are having a stellar season so far. Their only loss to date has been in the final of the US Open. The changing of the guard to the younger generation is going well: Alex Tatum and Chance Cochran have been exceptional so far; Cole Wallin, Danny Landesman, and Calvin Stoughton are trending up, as well. That's even as several key pieces were out earlier this summer. We reserve some skepticism for how they will fare with a full schedule of elite competition, but if they show up at full strength this weekend, they could dispel doubt.
#7 Boston DiG are also coming along nicely as they try to stitch together a new core to break Boston ultimate back into the top of the division. Leo Gordon and Simon Carapella, both coming off excellent college campaigns, impressed at the US Open. If Charles Weinberg and Orion Cable can fall into a consistent rhythm, they could have one of the most potent two or three offenses in the country.
Bids in Play at the Back End
Here's how the bid picture stands heading into the weekend1:
GL – 2
MA – 3
NC – 1
NE – 2
NW – 3
SC – 2
SE – 2
SW – 1
Lock in a 1-bid NC and a 2-bid SE, since any potential variance from Ring of Fire does not include bombing every game and dropping out of the bid picture, and #21 Minneapolis Sub Zero are already sitting on their region's autobid – this tournament is essentially just a tune-up for the North Central final for them.
The rest, however, is potentially in flux. #10 SoCal Condors are in a position to control their own destiny with a good weekend: a few wins likely gives the Southwest a much needed second bid. The same goes for #19 Pittsburgh Temper, who are sitting on the last strength bid just five rankings points ahead of Condors – keeping it would ensure three bids for the Mid-Atlantic. If both of them play well – say, at minimum pushing into quarters and losing by small margins – that could threaten the third Northwest or second Great Lakes bid, since both Furious George and Omen are inactive. Or both of them could fall well shy of the mark, initiating a sequence second order effect chaos.
Finally: is there a chance Austin Doublewide lose the second South Central bid? We don't really have a handle on this team. Reasonable projections fall into a range as wide as top half of tournament finishers to last place. If it's the latter, there's a chance they drop out of bid range and face an uphill battle trying to make it back into Nationals after a disappointing 2021 absence. We are in wait-and-see mode with Doublewide until play starts on Saturday.
Mixed Division
Twelve mixed teams will converge in Raleigh to determine the winner of the second leg of the Triple Crown Tour. While some teams will be looking to sharpen up their systems ahead of the fall Series, others come into the tournament knowing that particularly strong or weak performances could alter the bid picture and dramatically affect their future fortune. The contestants at Pro Champs can be divided into three tiers.
The top tier is led by Philadelphia AMP, who won the first leg of the Triple Crown Tour, the US Open earlier this month following a back-and-forth thriller against Madison NOISE. Both teams will be in attendance this weekend with the tantalizing potential of a rematch. Ann Arbor Hybrid, Minneapolis Drag'N Thrust, and Fort Collins shame. round out the rest of the contenders. All of these teams hold recent semifinals-at-Nationals experience, and it's most likely that one of them will take home the prize. Rookie Henry Ing has been an all around offensive force when he's taken the field for AMP; he'll certainly be a player to watch this weekend. Dragn' Thrust's Jane Koch, NOISE's Dylan DeClerck, Hybrid's Sara Nitz, and shame.'s Kyra Khrorujinikova have all had strong starts to their seasons as well.
The second tier of teams are bubble teams on the cusp of Nationals qualification: Durham Toro, Dallas Public Enemy, and Boston Sprocket. While Toro is in the best spot, as the Southeast are very likely to have at least two bids to Nationals, Sprocket is currently holding on to the last strength bid and will need a strong performance to keep their place in the rankings with strong teams in New York XIST and Boston Slow also in their region. Public Enemy is about 100 points behind Sprocket, and one strong game (say, a repeat of their 12-8 win over AMP from the US Open) will be enough to make the South Central squad relevant in the nationals picture. Each is likely to have a chance to take down one of the top seeds during pool play, and those games will take on extra importance as the the implications of every game heighten as the rankings become more clear.
The quartet of teams hoping to score an upset is composed of: Charlotte Storm, who are sitting right outside the bid cutoff and could earn the Southeast a fourth bid with a strong performance, San Francisco Classy, Baltimore Fleet, and Mansfield Darkwing. While these teams are likely outside the Nationals sphere, their efforts this weekend will still go a long way in determining the competitive picture of the division. Storm's run to the final of Select Flight Invite East in particular has put them in a great position to steal a bid with an upset – Classy managed the same result at SFI West. Each team certainly has enough talented players to score an upset over a higher ranked team, and the mixed division always seems to have an unexpected turn somewhere along the way.
---
unofficial, courtesy of Cody Mills' frisbee-rankings.com website ↩