The season starts in Denver!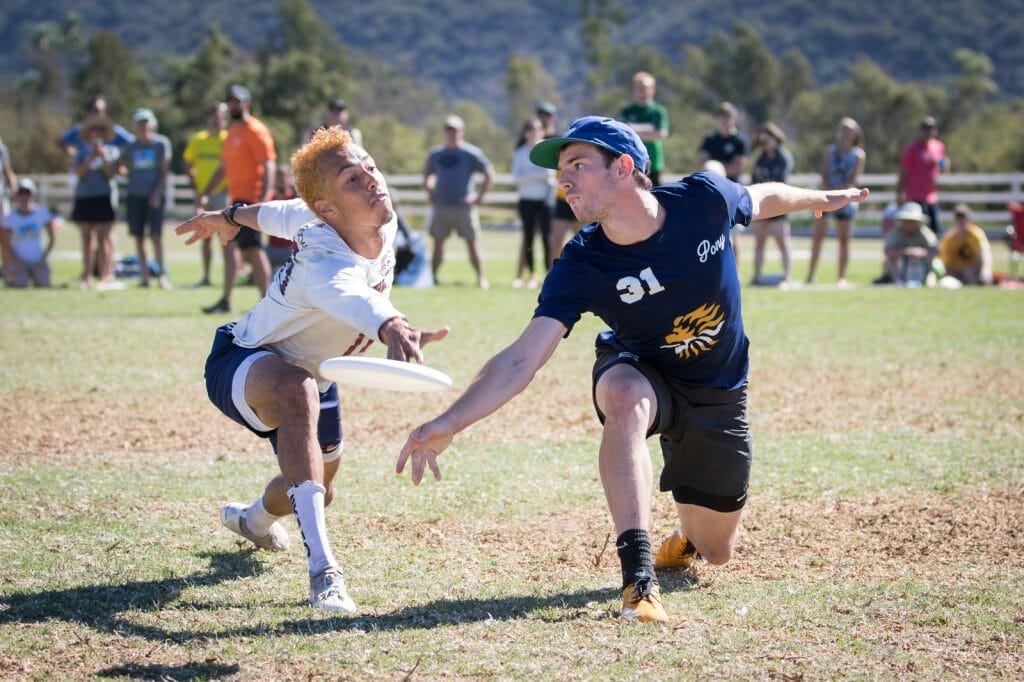 It's both a familiar and quite different looking start to the 2021 club season and the Triple Crown Tour. Although the Pro-Elite Challenge again serves as the kickoff event, it's a smaller and less competitive tournament than in most years, as teams have been given maximum flexibility for picking their schedules due to the COVID-19 pandemic.
Although there won't be any rankings impact or bids on the line to start the year, the men's and mixed divisions both feature some top quality Pro and Elite teams along with a wide assortment of Regionals competitors and hopefuls. There is no women's division this year due to a lack of interest from teams.
Tournament Profile
Date: July 10-11, 2021
Location: Aurora, CO
Weather: Hot and sunny, highs in the mid 80's, light wind
2019 Nationals Teams: 4 men's, 4 mixed
Filming Schedule & How to Watch
Ultiworld will be filming eight games this weekend at the Pro Elite Challenge, to be released after the tournament. The semifinals and finals footage will be released on USA Ultimate's YouTube channel; other footage will be available to Full and Plus subscribers. Here is our filming schedule:

Men's Division Storylines
Defending national champion Seattle Sockeye and 2018 champ New York PoNY are the marquee names in attendance in the men's division. They are set for an unusual early clash in a power pool alongside fellow 2019 Nationals qualifiers SoCal Condors and Denver Johnny Bravo. All four teams are guaranteed to make the quarterfinals. Sockeye begins its title defense a full 21 months since they defeated Chicago Machine in San Diego to win the 2019 'ship. PoNY is hungry to get back to the top of the division after falling short of their own title defense in 2019. Both teams return most of their key stars (Sockeye: Dylan Freechild1, Matt Rehder; PoNY: Jimmy Mickle, Chris Kocher) and will play at least one entertaining game to start the year.
Can the Condors' offense keep humming? Will their defense toughen up? It feels like a good year for the Condors to make a push towards the quarterfinals or beyond. Some strong young players like Calvin Brown and KJ Koo could make the leap.
Johnny Bravo finished a disappointing 15th at Nationals in 2019. After poaching some talent from their in-region rival, Doublewide, including the electric Jay Froude, will they bounce back this season? They've played well at home in years past.
There are a ton of Regionals teams in the mix this year in a 22 team division. Don't sleep on Lotus, a Colorado Mamabird heavy roster with a surprise Jon Nethercutt appearance. Michigan's Nain Rouge also has some talented young players out of the University of Michigan. Every team will be battling to win their pool to have a shot at one of the four quarters spots available outside of the power pool.
Mixed Division Storylines
2019 National semifinalist Fort Collins shame gets the #1 seed, but they won't be overwhelming favorites to win this weekend. Along with them missing a couple of key contributors from their previous season, many of the top seeds at the tournament have a good case for challenging for the win: Columbus Cocktails has a who's who of Ohio talent (including a bonus appearance from Sadie Jezierski), Montana Moondog was the big surprise of the 2019 season, Durham Toro is $7500 richer coming off the Richmond Cup victory, Boise Lochsa has some big pickups and was a bid-earning team in 2019, and Boulder Love Tractor is an elite regular-season team (perhaps dubious praise).
Other teams to watch for: Los Angeles Lotus, featuring Chris Mazur and Kelli Iwamoto; and the shockingly underseeded Arizona Mixed 1, who have brought together most of the best players in Arizona (Cynthia Thomas could have a breakout year).
 The mixed division features a more standard 16-team pool play format, with the top two finishers in each pool advancing to quarters. However, one team dropped out late this week, so it's down to 15 teams: Pool A (Shame, CLX, Lotus) will just play two games per team with the top two still advancing to quarters.
---
though he will not play this weekend ↩