Better organize your club's internal communication!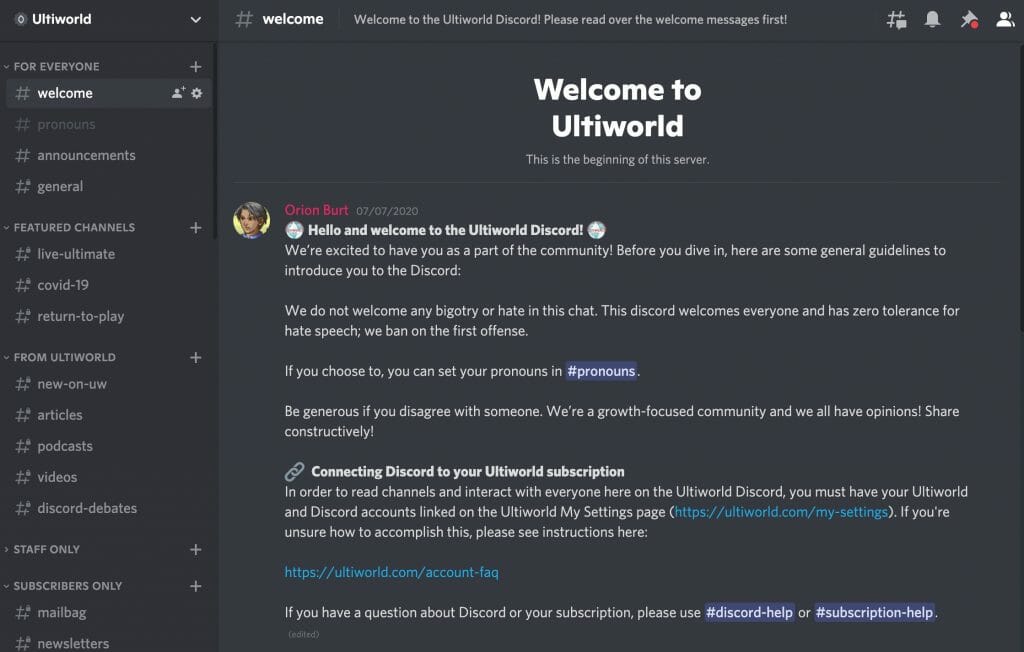 Tuesday Tips are presented by Spin Ultimate; all opinions are those of the author. Please support the brands that make Ultiworld possible and shop at Spin Ultimate!
I know it can be scary, but every now and then there comes a time when we have to change the way we do things.
Communication within ultimate clubs has evolved a lot throughout the years. In the 90s, people probably had phone trees or something to try and coordinate with each other.1 Eventually, e-mail groups became the norm. That worked for a while, but then the smartphone era popped up and most people moved into chat apps. From what I understand, teams in the US often use GroupMe for internal communication, while everywhere else in the world uses WhatsApp.2 It's time for another change, though. Today, I make the case: we need to get away from little chat groups and your club should move to using a Discord server for communication. We use it at Ultiworld and it is great. (You can join the Ultiworld Discord by becoming a Full or Plus subscriber!) Your club should use it too.
Using Channels to Organize Communication
There are a few problems with the individual groups in WhatsApp or GroupMe that are all solved by Discord. The first is communication organization. In the main Whatsapp for my club, there are announcements about training times and pleas for fee payments all mixed in with memes about whatever, people sending motivating workout selfies, etc. It's a mess. People will respond to messages tens of posts later, and it becomes a long, impossible-to-read thread of myriad topics all in one giant chat. Discord fixes this by using channels and threads. Channels are split into sections, and you can be as fine tuned as you want. You can have separate channels for communicating important announcements, sharing practice plans, joke chats, etc. You can tinker with this to whatever suits your club's style.
Regardless of how you set it up, it makes it far easier to follow conversations and then find them again. Discord also recently added thread functionality, which allows sub-conversations within a channel to be even better organized. You can easily mute channels that don't interest you, so members that just want to be there for the important announcements don't need to be bothered with sillier channels if they don't want to be.
Know Your Role
The next problem is subgroups within a team. I am in seven different WhatsApp groups for one of the frisbee clubs I play for. SEVEN. One for the general club, one for coaches/captains, and then a bunch of separate ones for being on a certain team or managing specific events within the club. Discord allows you to fix all of this with roles. You can have separate channels that are assigned to different roles. The captains and coaches can have a whole set of channels that only they can see. If you have separate teams within a club, they can each get their own set of channels. There can be a channel for people who plan social events, etc. Each user can have many different roles, and those roles can change, so if you have a different A team from year to year, you can just assign roles when you make roster decisions and everything will sort itself out nicely. You could even have an "alumni" role for people who want to stay engaged in the club in some way but don't really care about getting messages about practice times, etc. This can be especially great for college teams.
The best part of having different roles get access to different areas within a Discord server is that you can access everything for your club in one place. No need to scroll through your various non-club WhatsApp groups to find the group linked to club coaches. It is all under one roof.
Need-to-Know Basis
Finally, there is the challenge of notification overload. If you are in a WhatsApp group that gets messages that are both super important as well as messages that are just silly memes, your phone can get overwhelmed with notifications. Many people opt to just turn notifications off altogether, but then you may miss important information. With Discord, you have a much better and larger set of notification controls. You can either get notifications for every message in a Discord server, or only get @ mentions. You can also control notification settings on a per-channel basis. You can tweak to your heart's content and end up with a system that works for you, and different members of your club can do what works for them.
Discord also has some other fun features. You can set up voice and video chats easily to run some strategy sessions or just have distanced social chats when people are available but far away. You could use this to have a film study night with your whole team, even if some players can't make it in person. You can create custom emoji reactions to posts. It is just an overall more fun and engaging experience than what individual chat apps have to offer.
It's important to note: Discord is available in desktop, mobile, and tablet apps. And it's totally free. (You can choose to pay a small annual fee for some extra but non-essential benefits). It's also better than Slack, which has a similar overall structure (channels, threading) but not as many options for setting roles and doing easy video/audio chats.
So what are the challenges? Mainly, they are inertia and setup. You are going to have to convince your team to move from something they are comfortable with to something new, which is always tough. However, we have all shifted from snail mail to e-mail to chat apps, so it can certainly be done. Setup is also a bit tricky at first. Crafting a good Discord server takes some skill and experimentation. Finding the right balance of having enough channels to separate content appropriately but not so many to have sidebar overload can be a fine line to navigate. You will have to assign a few people with moderation privileges in your club to manage this.
However, if you take the time to get the Discord server set up right, your team's communication experience will be vastly more organized and a whole lot more fun.
---
I have no idea what they did back then. ↩

Though some people are moving to Signal with Whatsapp's new privacy policy ↩