The 2019 club season has officially kicked off in all three divisions.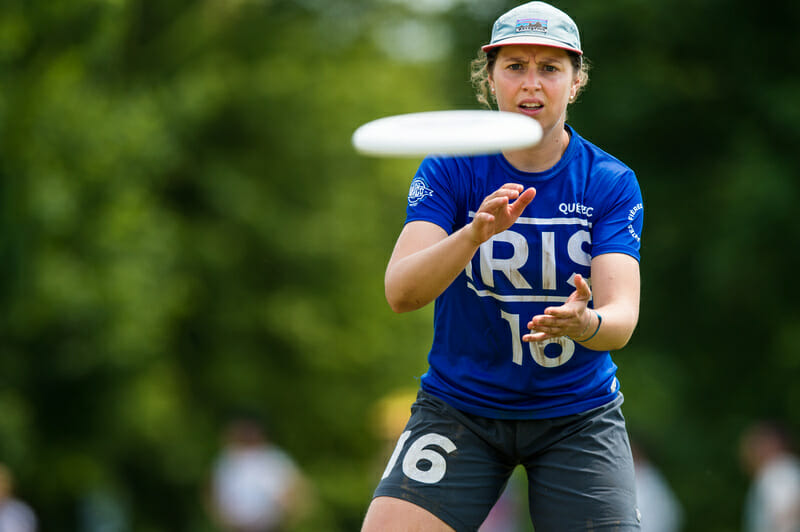 During the 2019 summer and fall season, we will publish a bite-sized weekly recap of the action across the Club Division. This will serve as a supplement to our standard tournament reporting and will offer a high-level look at the latest happenings and the biggest stories of the week. We go through the annals of score reporter so you don't have to!
Want your tournament listed here? Submit a recap of what happened right here. 
—
With the start of June, tournament play has kicked off for the 2019 club season. While many Pro and Elite Flight teams won't see their first officially sanctioned action until the top-tier Triple Crown Tour events in July, some are getting in early work in June alongside a slew of non-elite teams who are getting their campaign underway. Here's a rundown of what we've seen so far.
Women's Division
Tabby Rosa Earns Early Season Tourney Win
After picking up a 13-6 win during pool play, Gainesville Tabby Rosa again bested Virginia Rebellion 9-6 in an exciting final at the ATL Classic this past weekend, dominated by big defensive plays. Tabby Rosa broke three times to start for a 3-0 lead, showcasing an ability to convert that would eventually win them the game. After a hold and break by Virginia, Tabby Rosa's O-line got their first hold of the game. But Virginia answered with a three point run of their own, putting them ahead for the first time in the game. Another three point run, this time by Rosa, brought the Florida team to half. Out of half, three consecutive holds broke the streak of runs and brought the game to a low scoring close.
Quick hits:
Nine Northeast squads — including national runners up Boston Brute Squad — played sanctioned games at the New York Warmup, a round robin during the first weekend in June, where teams could opt in or out on having games officially count toward their season ranking. Boston unsurprisingly cruised to a 3-0 record in their sanctioned competition, trouncing three in-region Canadian teams and giving up 10 total points across those games. A number of other top Northeast and Mid-Atlantic challengers — including Scandal, BENT, and Siege — were in attendance but playing unsanctioned as they finished up tryouts.
On the West Coast, six California teams squared off at the Bay Area Women's Club Tuneup on June 8-9. Oakland LOL topped San Diego Wildfire once on the weekend 10-9 in the final, though Wildfire got the pool play victory. Worth noting all results from the tournament were unsanctioned.
Men's Division
Quick hits:
Down at the ATL Classic, no. 2 seed Oakland Park El Niño defeated the top seed, Huntsville Freaks, in the final in a close one. The 12-11 loss isn't a great start to the season for the Freaks, who have been in the hunt to earn a strength bid the past couple years. Elsewhere at the tournament, high school YCC squad Atlanta ATLiens reached the semifinals, perhaps marking them as a dangerous team for the upcoming youth championships.
The Santa Barbara Sundowners shook up the San Diego Slammer with an undefeated weekend. Top-seeded San Diego Streetgang disappointed, falling to no.5 seed Livermore OAT in the semifinals after going winless in pool play but picking up a win over Los Angeles DOGGPOUND in quarters. OAT, who came to the tournament with a skeleton crew of 15, also went undefeated until the final, where they lost to Sundowners 13-8.
Mixed Division
Drag'n Thrust and NOISE Split Two Clashes At Wisconsin Swiss
After Minneapolis Drag'n Thrust suffered a 14-12 loss to Madison NOISE in pool play Saturday of Wisconsin Swiss, the two Midwest powerhouses met up for a rematch in the final. NOISE pulled ahead early in the game, establishing an early lead and taking half. But Drag'n Thrust went on a run in the second frame, culminating in a 13-10 win. Milwaukee Northern Comfort fended off Minneapolis Cornballers — a presumably one-off squad that featured a number of players from No Touching, including captain Paul Norgaard — in the third place game.
Mixtape Dominate Northwest Round Robin
The Northwest Mixer hosted six of the region's top squads — including three that ended 2018 ranked inside the Ultiworld Power Rankings Top 20 — in one-day sanctioned round robin that was dominated by Seattle Mixtape. No team managed to put up more than six points against last year's national runner up. No. 3 seed Boise Lochsa followed with a solid performance, beating second-seed Seattle Birdfruit and winning all their other games in a series of universe point contests. Mixtape offensive line veterans Paige Kercher and Brad Houser appeared on Lochsa roster this tournament, suggesting upward movement for the already strong Boise mixed team.
AMP Kick Off Title Defense with Undefeated Run as Hosts of AMP Invite
With almost all of the top mixed teams in the Mid-Atlantic in attendance, Philadelphia AMP's new look roster made a statement by knocking off all challengers, including a 10-8 victory over fellow national semifinalists Washington DC Space Heater. New Jersey Jughandle impressed in also knocking off Space Heater, while Washington DC Rally and Pittsburgh Alloy each posted a win a piece. Read more about each of the teams in our tournament recap.
Southwest Pecking Order Coming Into Focus
Over the first two weekends of June, more than a dozen California mixed squads kicked off their regular seasons with in-state competition. With many squads using the event to finish up their tryout process, San Francisco Blackbird came out on the top of the heap at Cal States, cruising through the unsanctioned tournament without being seriously tested, including besting Nationals qualifiers Polar Bears and Mischief in the semifinal and final, respectively. Both Blackbird and Mischief were sporting some impressive additions to their roster and should battle throughout the season for Southwest supremacy.
San Francisco Donuts, who finished 11th at Cal States entered the Bay Area Ultimate Classic the following weekend as the top seed, but were no match for new team Los Angeles Lotus, helmed by the well-traveled former Mixed OPOTY Chris Mazur. Lotus crushed all comers en route to an undefeated weekend in their first ever tournament.
Quick hits:
Both Huntsville Outlaws and Nashville Trash Pandas went undefeated in their pools at ATL Classic. After a close 11-10 brush with Atlanta m'kay Ultimate the semis, the Outlaws took down the Trash Pandas in the final, 12-6.
The second day of Texas Two Finger was cancelled due to rain. Top seeds Dallas Public Enemy, Austin Waterloo, Tulsa Boomtown, and Austin Moontower all went undefeated in pool play.
Looking Ahead
As a long-time staple of the Northeast club season, Boston Invite once again draws some big names in every division. Boston Siege, New York BENT, and Quebec Iris will be battling it out in the women's division. The mixed division will see Philadelphia AMP, Boston Snake Country, Boston Slow White, and Boston Wild Card, and New York XIST all vying for the top spot. In the men's division, we'll get an early peek at a new look Boston DiG, but watch for Amherst Sprout's first appearance.
Eugene Summer Solstice will bring an exciting contest in men's between Vancouver Furious George and Portland Rhino Slam!, but all eyes will be on the stacked women's division, with San Francisco Fury, Seattle Riot, San Francisco Nightlock, Portland Schwa, and Vancouver Traffic all in attendance
The similarly named Fort Collins Summer Solstice brings together top South Central squads in all three gender divisions, including Fort Collins shame. and Denver Love Tractor in the mixed division, Denver Molly Brown and Kansas City Wicked in women's, and gives us the season's first look at Denver Johnny Bravo in the men's.
Elsewhere:
Summer Glazed Daze in Winston-Salem, North Carolina, gives the season's first glance at mixed regional powerhouses Durham Toro, West Chester Loco, and Florida Weird.
Capital District Classic brings together several Northeast mixed teams for the first time, with Rochester Garbage Plates entering as the top seed.
SCINNY brings together local men's and women's teams in Lebanon, OH