No undefeated teams after day one!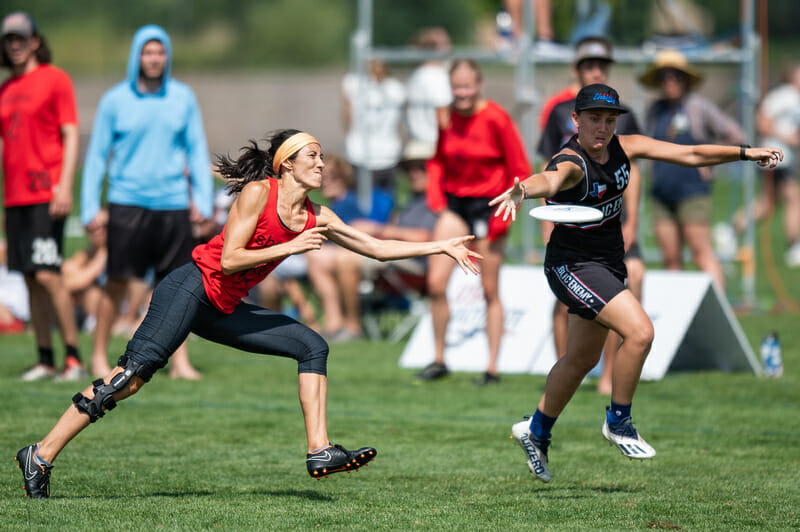 BOULDER — Day one of Pro Champs in the mixed division was chock full of big matchups and upsets, even with a small six-team field. Many games were close, with tight margins and a smattering of games ending on universe. Since most teams continue to take advantage of the flexibility of USAU's rules leading up to the Series, many teams experimented with more open lines and new player roles. Although there is still much uncertainty around how these elite teams will look across the rest of the weekend — much less the Series — one thing was certain on Saturday: all of the teams at Pro Champs have strong talent, and even with high score differentials, will not disappoint with their intensity of play.
No Clean Sheets
No teams went undefeated; most finished out the day with 2-1 records, with the exception of #8 Arizona Lawless (1-2) and Denver Love Tractor (0-3). Projected frontrunners #2 Seattle Mixtape and#3 Fort Collins shame. showed flashes of their dominant athleticism but struggled with consistency, particularly on offense. In their head-to-head matchup, shame. squeaked out a 14-12 win against Mixtape — a win captains express they felt was more lucky than earned. Both teams had additional tight games that felt like they could have gone either way.
shame. ended a dominant streak in tournament play this year in the last game of the day on a universe point loss to #13 Dallas Public Enemy. Meanwhile, Mixtape started off the day with a tightly matched contest against Lawless that they won 12-10. Overall, these teams' offenses were not as efficient or clean on Saturday as these teams have showed they have the potential to execute. Sunday is ripe with opportunity for improvement with continued pool play and a likely chance at key rematches ahead of them. But don't count out continued explosive and higher risk play for these teams on day two, particularly for shame. who thrives on an underdog mentality and not taking themselves too seriously.
Public Enemy had a particularly strong showing on Saturday, upsetting shame. and shining defensively throughout the day. Throughout the day's games, Dallas's intense defensive pressure forced turns and high stalls. Breakout performances from young talent on their team, including Jason Dick, Jacob Sames, and Brianna Stedman, propelled them to victory. Eric Carter, Carley Garrett, and Kevin Christian all played key roles in their win against shame. Following a challenging SFI West that included a positive COVID-19 test and multiple forfeits from opponents, Public Enemy brought great energy and spirit to the fields on Saturday.
Saturday was a big day for #4 Seattle BFG, whose players stacked up well against teams they had not yet seen in competition this year. The 13-12 universe win over Public Enemy was a highlight. The roster features many up-and-coming players who are new to elite level of play and being challenged to rise to key roles in their team strategy. They may be still refining their process as a team but clearly have great athletes with a lot of potential. While many games to universe point can get heated, BFG players AnnaMaria "AMP" Pape and Leah Bar-On Simmons specifically wanted to shout out how much they respected and appreciated Public Enemy as opponents. Their attitude, skill level, and high level of respect made for a great matchup and learning experience, according to the Seattleites.
By the looks of their record, it appears that Arizona Lawless had a disappointing showing on Saturday, but looks can be deceiving. While they did fall a bit flat in their third game of the day against BFG (15-6), this new team started off the day with strong athleticism and even more refined offense than they had displayed at previous tournaments. They are clearly still honing player roles and chemistry, but their game against Mixtape, which they lost 12-10 but could just as well have won, demonstrated what this team is capable of.
Love Tractor was the only team without a win on Saturday, falling to Public Enemy, Lawless, and Mixtape. They started the day off strong, leading out of half in their first game only to lose 15-10 after an unstoppable comeback by Public Enemy. This game seemed to set the tone for the day: Love Tractor couldn't regain momentum after their collapse against Dallas. They had tough matchups on Sunday but hopefully will display a stronger mental game and more cohesive flow to help the strong athletes on their roster better click and realize their competitive potential as a team.
Looking Ahead
The mixed division will not have a formal championship bracket. Instead, the top four teams from the power pool will advance to the semi-finals. The day kicks off with three rivalry games; Seattle Mixtape vs. Seattle BFG, Fort Collins shame. vs. Denver Love Tractor, and Dallas Public Enemy vs. Arizona Lawless. Given the results from Saturday, each game has the potential to be a close game as seeding has been a mere formality.
This tournament may not impact rankings, and is more a great opportunity to develop chemistry and get rotations, but winning also could offer momentum for the postseason. Most of all, since there is a six-team round robin, there are guaranteed to be rematches in the bracket. All of the tightly contested games from Saturday have a chance to be repeated on Sunday. It is going to be a test to see which teams can best make some key adjustments to grind out wins.
Livestreams on Sunday
12:30 PM: Mixed Semifinal (ESPN3)
1:00 PM: Mixed Semifinal (Ultiworld)