Saturday at the first and only Triple Crown Tour event this year for some of the division's major powerhouses.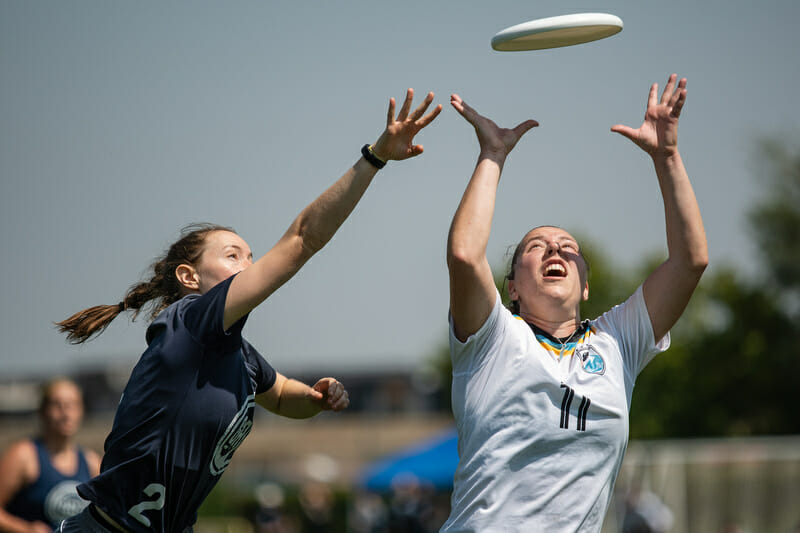 BOULDER — The first day of Pro Championships in Colorado was picturesque as hucks sailed through sunny skies and sidelines cheered against the scenic backdrop of the Flatirons. While the setting was idyllic, the less-than-ideal journey many women's teams faced while traveling to the tournament certainly impacted their play once they arrived at the fields on Saturday. Residual chaos from delayed flights and flooded hotels — compounded by the fact that most teams simply hadn't had as many tournament reps as they might by this point in a typical season — seemed reflected in less crisp and refined play on day one than might be expected from elite teams so close to the Series. But despite these challenges, spirits were high on and off the field, with energetic sidelines and exciting plays from new players and seasoned veterans alike on all six teams.
Brute Squad Still Undefeated in 2021
Every team had their fair share of miscues and throwing errors to counterbalance explosive cuts and chef's-kiss-worthy throws. But #2 Boston Brute Squad had a particularly dominant first day, living up to high expectations at their second tournament of the season — and their first with veteran playmakers Nastasia Tangherlini, Lien Hoffmann, and Kami Groom, who were busy at Masters Nationals while the rest of the team went largely unchallenged at Boston Invite.1 They were the only team without a loss at Saturday's end, with victories over key opponents including #5 Denver Molly Brown (14-12), #3 Portland Schwa (15-10), and #4 Raleigh Phoenix (15-12).
The stat sheet might give the impression that Boston found success by playing through superstars like Hoffmann, Groom, and Angela Zhu, but the view from the sideline reveals a different picture. Coach Rob Brazile spoke proudly of how they made use of their whole roster on Saturday, intentionally prioritizing open lines to build chemistry and ensure the team stays healthy leading up to the series. Focusing on team development and being present in the moment still culminated in strong results for Boston at the start of the weekend (although perhaps not always with the margins of victory one might expect). Based on day one, odds are high Boston advances to the finals on Monday, but they'll still need to put in the work to defeat the other talented teams in the division.
Despite Rocky Start, Molly Brown Scales the Comeback Mountain
Molly Brown opened their first tournament of the year with a tough 14-12 loss to Brute Squad. Although they still seemed to be kicking off some rust in the first round — not connecting on expected looks and allowing an early lead from Boston — the Denver team notched up their intensity as play progressed, tying the game at sevens before Brute Squad took half and keeping the score close for the rest of the match. If these two teams meet again in the championship bracket, which seems likely, expect more impressive throws, athleticism on defense, and cleaner flow from both teams with more reps under their belt from a weekend of play.
Molly Brown won their two remaining pool games of the day against Phoenix (15-11) and #12 Chicago Nemesis (14-9), with strong performances from veteran players including Lisa Pitcaithley, who totaled 15 combined scores and assists. The highly-anticipated debut of a full set of Cárdenas twins on Molly Brown didn't disappoint, with some great sister-to-sister connections on the field and particularly impressive play from Valeria Cárdenas, returning to American club after missing the 2019 series with Seattle Riot due to an ACL tear at that year's Pro Champs.
Continuing through the rest of pool play and into the bracket over the next two days, Molly Brown will hope to build on that momentum throughout their remaining matchups. Although their roster has incredible potential, whether they are able to improve their consistency and flow, particularly on offense, will determine how close their games will be and if they can break seed in bracket play.
Elite Women's Field Taking Shape Before Series
Although there have been no major upsets in pool play so far, all of the teams flashed the high caliber of play their rosters are capable of. Despite the significant travel and lodging difficulties that may have dulled a bit of Schwa's shine on Saturday, toughness and standout athleticism from key players like Kimber Coles, Rachel Egan, and Claudia Tajima helped them finish the day 2-1 after surmounting a big deficit to win on universe point against Nemesis. Meanwhile, Nemesis showed just how fearsome their defensive line can be, generating turns on Molly Brown and bringing them just short of the upset over Schwa.
Even with a 1-2 record on Saturday and a roster decimated by injuries, Phoenix showed they can go toe-to-toe with competitors like Molly Brown and Brute Squad. Coach David Allison expressed that he saw strong potential for how his team's offense and defense can dominate games on this level, and is excited to see how they can incorporate what they've learned throughout this tournament and into the Series. Sunday's face-off between Nemesis and Phoenix will be an interesting test of each team's strengths against a closely matched competitor.
Fresh off a finals appearance at Elite-Select Challenge, #10 Washington DC Grit has had a rougher go in Boulder so far, going 0-3 on Saturday. While they struggled to come together during their first game against Nemesis, Grit had some strong moments against both Schwa and Phoenix. Although both competitors ran away with the games at the end, Grit's performance toward the beginning of those games suggests they have the capacity to hold their ground against Nationals-level teams. Nonetheless, the Mid-Atlantic side has a tough path ahead of them tomorrow, finishing pool play by taking on Brute Squad and Molly Brown before the bracket begins.
Looking Ahead
Here's what to keep an eye on heading into day two:
Carrying momentum and building chemistry: If players are able to get some good rest to start fresh on day two, we're likely to see the strong potential of these elite teams shine even brighter. With stressful travel behind them and the added incentive of elimination play later in the day, it should be interesting to see how teams gel and if their play styles and roster decisions shift on Sunday.
Key pool play matchups to come: Sunday will start off with games between Nemesis and Phoenix, as well as Molly Brown and Schwa (streaming live on Ultiworld 8:30 AM Mountain time). The latter two have not met since Portland's stunning upset of Denver at quarterfinals during Nationals in 2019. These games will likely set the tone for the day for the division, and should be rich with exciting plays.
With clear sun and a moderate chance of slight winds in the forecast, Sunday should be a beautiful day of play with some exciting matchups to come — stay tuned!
Livestreams on Sunday
8:30 AM: Denver Molly Brown v. Portland Schwa (Ultiworld)
3:00 PM: Women's Semifinal (ESPN3)
5:00 PM: Women's Semifinal (ESPN3)
---
Rostered for Pro Champs but absent at the fields was fellow Reboot Squad alum Elana Schwam, missing her first tournament in nine years with the program. ↩