The joy of playing again.
Ultimate is back in Devens, Massachusetts.
Philadelphia AMP, Boston Brute Squad, and Boston Dig won the mixed, women's, and men's divisions, respectively, at the Boston Invite over a spirited weekend that lacked wild upsets but was full of encouraging signs for teams throughout the Northeast. While many teams were still finding their footing in this unique season — it was the first time playing full field 7-on-7 since before the pandemic for a few teams — there was boundless enthusiasm all across the field complex.
For several players, the Boston Invite was the completion of a cycle of rebirth, having last played a tournament at the same fields at 2019 Northeast Regionals. No one could have known then of all the heartbreak and toil that would be endured between that weekend and this one, and the scene of 48 teams fanning out across the never-greener grass of Devens again warmed the heart and wetted the eye.
Despite a hot Saturday and a wet Sunday, the conditions didn't stand a chance of getting in the way of the joy that permeated every game of the event. There was some sloppy play, plenty of long attritional points under the blazing sun of Saturday afternoon, and slippery-disc-induced turnovers on Sunday, but the gratitude for the chance to simply play was all too apparent.
It was not a normal Boston Invite — without the 20 odd Canadian teams that usually attend it could never be — but it was a normal early season ultimate tournament. That was more than enough.
Mixed Recap: A Scramble In The Wake of a Convincing AMP Victory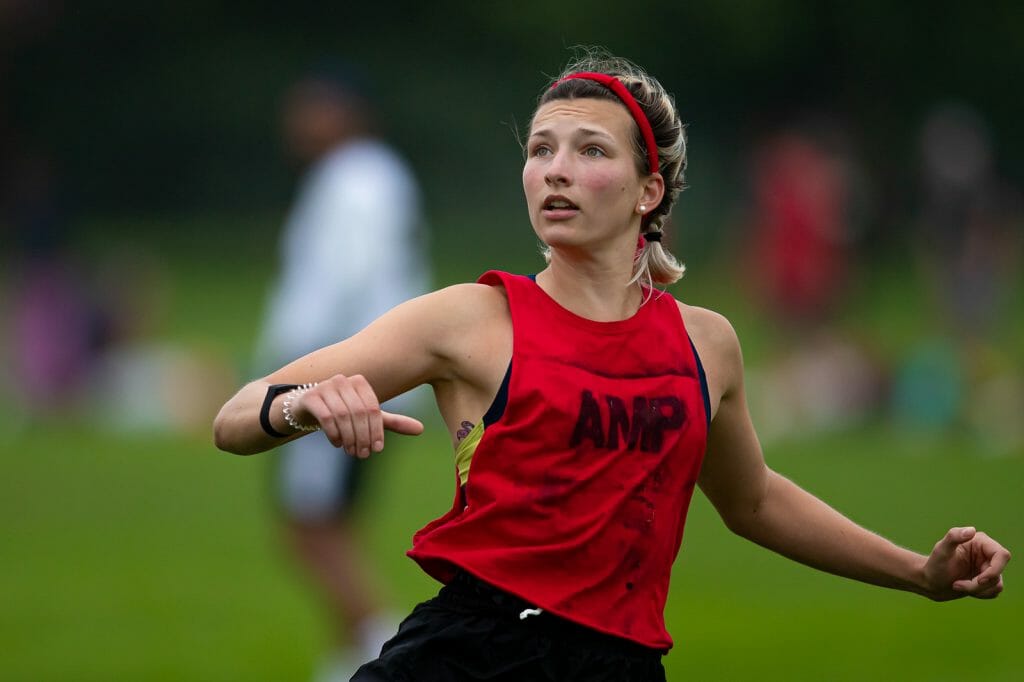 The highest-profile games played out in the mixed division, with several good Boston teams and New York Xist jostling for position behind #1 Philadelphia AMP. #9 Boston Slow was able to navigate the bracket to reach AMP in the final, but there they fell 13-5 against the defending national champs, the same fate met by everyone else who played AMP.
Many teams had trouble with their deep games over the course of the tournament, which makes sense when small-field mini is most of what people have been able to play over the past several months. AMP was the clear exception, particularly in the final, as they sent huck after huck soaring past trailing Boston defenders. Linda Morse and Lindsey McKenna battered Slow, showing a top gear that no one else at the tournament could match. AMP would line Morse up in the reset space of their side stack and then send her flying out into the lane, and even with her defenders giving 10+ yards of cushion, she seemed to always end up several yards clear of any cover by the time she reached the end zone.
While AMP was missing a couple of significant pieces to Masters Nationals, Slow had 10 veteran players in absentia in Denver, including big pickup Peter Prial, and they just didn't have the horses to keep up with the champs. Once Philly went up early, the result was never in doubt.
The Boston team that gave AMP a bigger scare was #10 Sprocket, taking Philly to double game point in the semifinals. Tannor Johnson is such a threat that any team he is on will always be dangerous, but the rest of Sprocket impressed as well, particularly the defense of Bretton Tan and the disc movement of Caitlin Go. They dropped games to Slow and AMP but did more than enough to show that Boston has at least three Nationals-caliber teams in the Mixed division (again) this year, even with Snake Country disbanding.
The third Boston team, Wild Card, had a rough weekend with a small roster. Losing 13-4 to Slow and on double game point to Sprocket landed them the third seed in Pool B and a date with #18 New York Xist in the quarterfinals that resulted in an 11-6 defeat. Xist got nice performances out of newcomers Eliot Bemis and Abby Cheng, fueling their run to semifinals before bowing out against Slow. That quarterfinal win over Wild Card may foreshadow a bigger showdown at Regionals, as it appears that those two teams may be competing for the last of the Northeast's three bids come September.
Women's Recap: Brute Squad Dominates Despite Small Roster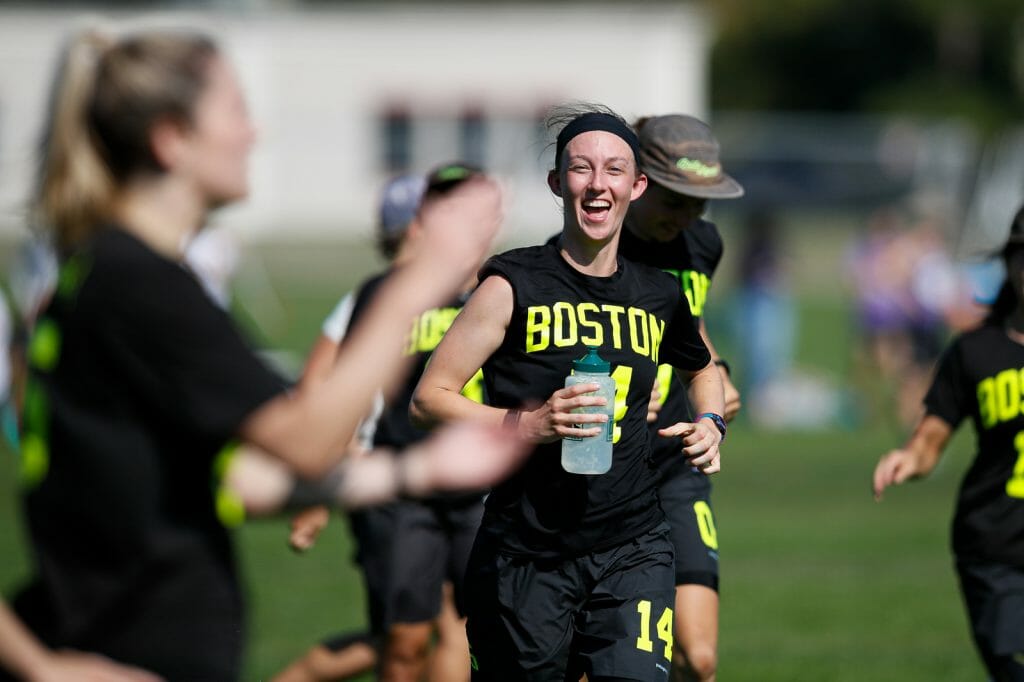 Despite fielding a roster of just 13 due to Masters Nationals scheduling conflicts, #1 Brute Squad left no doubt about who rules the roost in the Northeast (ex-Canada). While Brute's last action at Devens was suffering an upset loss to 6ixers in the 2019 Northeast Regional final, they returned in dominant style. With newcomers Amy Zhou, Sophie Knowles, and Caroline Tornquist fitting in seamlessly with the skeleton core of returners that took the field at Boston Invite, Brute Squad went undefeated in the round robin, never surrendering more than six goals. Zhou, in particular, seemed right at home on the tough-as-nails defensive units that Boston rolled out, playing heads-up team defense and aggressively moving the disc off of the turn.
With such a small cohort in attendance, it's tough to project what Brute Squad's final product will look like this season. But their dominant display made one thing certain: denying Boston the Northeast crown this time around is going to be a tall order.
Brute's closest game came in the heat of Saturday against a #12 New York BENT team that emerged from the weekend with an encouraging 5-1 record. Missing almost all of their buzzy roster additions, the core that New York brought to Devens performed confidently and notched a big 9-5 win over regional rival #11 Boston Siege. Amanda Dobbyn was a rock for BENT's offense while Janine Hlavaty made the highlight plays and Julie Xia's engine never seemed to slow down on defense, harrying opponents all over the field.
The bar for BENT to clear this weekend was showing that there was going to be more to the team this season than Yina Cartagena. They accomplished that and then some.
The victims of BENT's ascension were Siege, who had a tough tournament with a still-developing roster. The 2019 iteration of Siege relied a lot on Nikki Ross's massive throws, and without her this season, the team is re-tooling around more of a small-ball approach. That tact may bear fruit later in the season, but it was definitely still a work in process at BI. Siege was able to fend off a feisty Albany Rebel Rebel team featuring Lauren Doyle and Chelsea Leeder at the end of Saturday, which could be a preview of the game-to-go the next time these teams are at Devens — unless the cohort of Canadian teams rejoins the fray.
Men's Recap: Dig Takes The Win With Exciting Young Players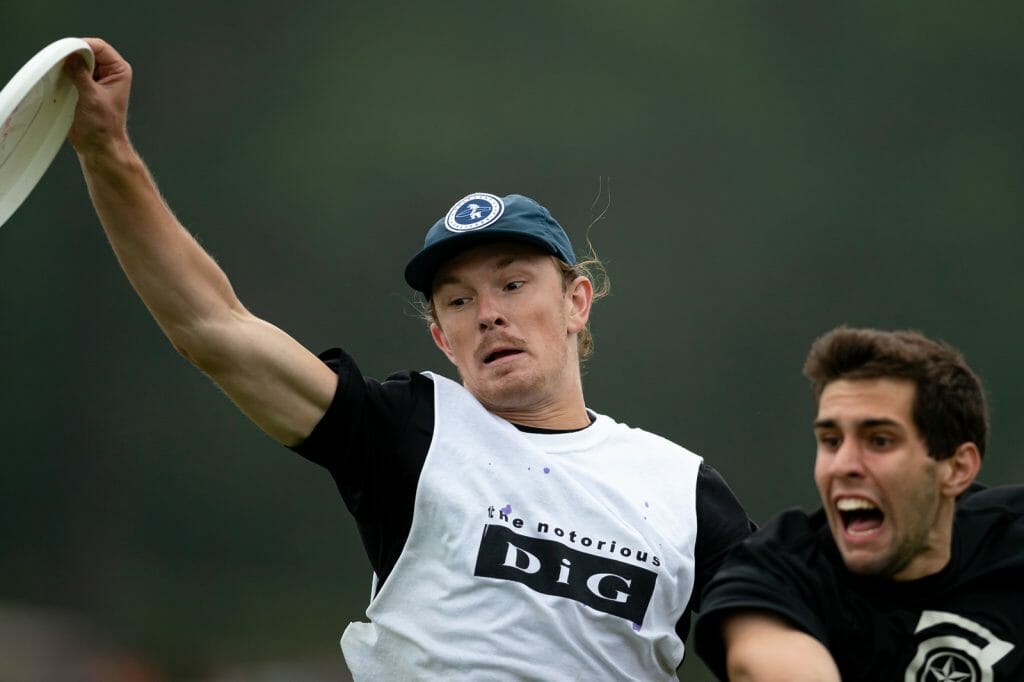 We got the #8 Boston Dig v. #16 Amherst Sprout final everyone was anticipating, and the Commonwealth clash lived up to expectations. Played in the final round of games, it was a great culmination to the tournament, a joyous affair with both teams showcasing aggressive vertical tactics. Dig came out on top 12-9 due to slightly better execution and some stupefying displays of athleticism from the likes of Orion Cable and Jac Carreiro.
With several of the older players on Dig's roster absent, the young guns took the reins and seemed to feed off of the energy from their peers across the state. Henry Babcock is now a top-of-the-line handler for Boston's offense and Solomon Rueschemeyer-Bailey gives the D-line a nice coat of polish. But the big story was the play of Cable, who is cementing his status as the best male college prospect since Tannor Johnson. Dominant to an absurd degree in the deep space and cutting hard on unders, Cable is going to be a problem the rest of the men's division struggles to solve for years to come.
Sprout had their share of talented youngsters as well and put together a strong performance in the second half of the final to pull the game close after trailing 7-3 at the break. While Ben Sadok is clearly still the team's center of gravity, there are plenty of young stars starting to get some shine of their own. Players you've heard of like Cameron Wariner performed well on the weekend, as did some you may not have heard before: Ray Tetreault showed a total lack of fear with the disc in his hands, and a host of current UMass players like Gabe Franklin and Isaac Kaplan showed confidence beyond their years.
Sprout may not have enough punch to be a Nationals threat in a normal season, but in an abnormal year, they could find the balance of youthful fearlessness and savvy veteran guiding presence to be a real factor later in the season.
Coming in behind Dig and Sprout was another Massachusetts team, Boston Big Wrench, who took third place at the tournament over New York Blueprint with a jaw-dropping, game-ending, first-throw-off-the-pull layout catch block callahan from Nick Jewell. It was the last play of the tournament, an exclamation point on a jubilant, if not always perfect, weekend of ultimate.
Additional reporting by Aidan Shapiro-Leighton.