Is there another CUSB-Clapham Final in the making?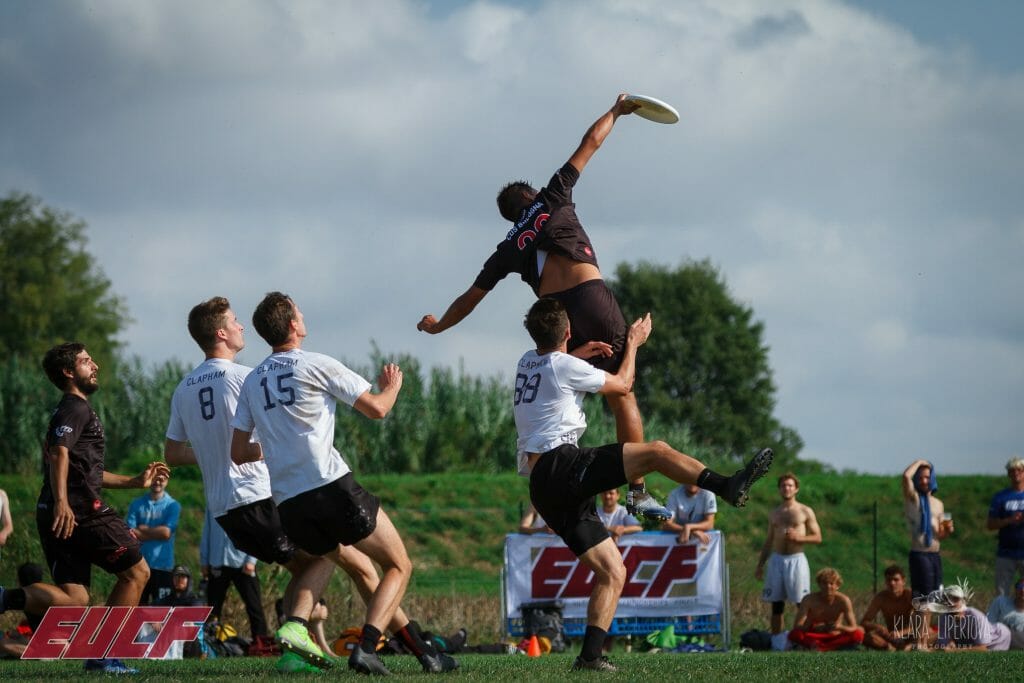 30 teams head off to Bruges for the first major European tournament in two years. On the fields of Tom's Tourney only one will come home with the gold. Who are the squads to watch for at XEUCF 2021? Two teams from each pool will advance to power pools carrying their game with them. From there three teams from each power pool will advance to the bracket.
Tournament profile
Dates: September 30 – October 3, 2021
Location: Bruges, Belgium
Weather: Mostly wet, with rain forecast every day. Temperatures between 10-18 °C, breezy with winds around 25 kph.
Team breakdown:

Four teams: Germany
Three teams: Belgium, Czech Republic, Italy, Switzerland
Two teams: Austria, France, GB, Ireland
One team: Denmark, Israel, Poland, Slovakia, Spain, Sweden

Streamed on: Ulti.TV


POOL OA
Top-seed Clapham (London) only have one purpose in Bruges. That's to avenge the lost final against La Fotta at EUCF 2019 and claim their 10th EUCF title. The Bolognians snapped their seven-time winning streak with a dominant 15-8 performance. The only team that offered the Londoners any resistance on the way to their 20th national title last august was Alba, but they folded for the XEUCF travel hassle. Being one of the top-favorites Clapham should have no problem with thebigEZ (Vienna) and Iznogood (Paris). Both teams didn't make it into quarters at the last EUCF two years ago. However, the theoretically best Austrian team and second-best French squad face off for a spot in the power pools. Based on seeding the Austrians ought to advance, but Iznogood has prepared well at the Basel Open and are bringing a squad of 29 players under the coaching of Stefan Rapazzo.
POOL OB
The other big fish in the open division are defending EUCF champions CUSB La Fotta (Bologna). The descendants of Poseidon are as confident as ever, having taken the scepter of their London rivals. A remarkable blank spot on their roster is the one of CUSB founder Davide Morri, who moved to the stall of Red Bulls where he is mentoring the youngsters. La Fotta also had to let go the Mine brothers but are gifted with junior European talent from David Barzasi and German Torben Hörnschemeyer.
The Italians have no time to warm-up, drawing Mooncatchers (Brussels) in their first game of the tournament. In Basel, the Belgians impressed Europe by taking the champs to universe in the final. It will be interesting to see if the La Fotta D-line, contrary to their last encounter, can shut down the Jonkers brothers and their favorite target Sofiene Bontemps. Aaron Brucklacher from Germany rejoins the Brussels boys and the last time he was with Moon they took bronze in 2018. Moon vs La Fotta will be streamed at 10:40 CEST and the game will be very important. If the rest of the tournament goes to seed the winner of this game can avoid Clapham until the final whereas the loser will have to face them in quarters. Terrible Monkeys (Prague) round out the pool but have their work cut out for them against the two giants in their pool.
POOL OC
FUJ (Prague) are the strongest team in Eastern Europe and 5th seed overall. 2019 European breakout player of the year runner-up, Ondrej Rydlo, has had two more years to evolve into a medal-taking leader. They are poised to make it to the power pools with their daring hucks and physicality. Flying Angels Bern (Bern) will likely join them in the power pools. The Swiss managed to take secure a 5th place finish among some of the best teams in Europe at Basel Open. XVI (Dublin) finished 3rd at All-Ireland Championships and make their EUCF debut. In reality this team came together to help to fill out the tournament format after the Russian teams and most of the UK teams declined bids due to COVID restrictions. XVI's neighbors, Ranelagh, already picked up some of their top players, but the Irish adolescents will be stoked to show off their skills at the highest level. The other underdogs in this pool are actually bears not dogs. BORA Bears (Aachen) are a combination team of BORA and the Frizzly Bears. However BORA's top player, Torben Hörnschemeyer, is suiting up with La Fotta hunting a gold medal so this team will also likely fall to the Swiss and Czech juggernauts.
POOL OD
German pride Bad Skid (Heilbronn) want no less than to stay top five of European club ultimate. Surprisingly, their national reign was almost ended by Wall City at the German restart tournament three weeks ago. The defending German champions exacted their revenge against the Berliners in a universe point thriller in the final after losing to them 15-8 in pool play.1 While they won that tournament, they lost their star Holger Beuttenmüller to an injury and he will not be playing in Bruges. Master handler Nico Müller will join the team on Friday, so the team will be down two European players of the year in pool play. However Bad Skid have picked up the Erdferkel talisman Steffen Döscher.
Looking to challenge Bad Skid are young guns Cotarica (Rimini) and Smash'd (Cambridge). The British lads, with familiar faces from GB U24 national team, benefited from the country's numerous cancellations,2 but are not to be underestimated. It will be a clash of athleticism against the Italian coast boys, who placed 7th at EUCF 2019. However Cotarica did a lot of that on the back of David Barzasi who is suiting up with La Fotta this year. Prague Devils (Prague) are the 3rd place Czech/Prague team and probably the least experienced name in pool OD.
POOL OE
Ranelagh (Dublin) confidently fly to Belgium as newly crowned Irish champions and eight overall seed. They have a slight edge on MUC (Munich) and FWD (Vienna), the other contenders in group OE. This month MUC came in 3rd at the German restart tournament and ended up in the bottom half of the Basel Open. At the Austrian national championships FWD also returned home with a bronze medal. If EUCF 2019 is anything to go by, the three teams mentioned above are worthy opponents. Back then – on the airport fields of Caorle – Ranelagh beat MUC 14-13 and FWD beat MUC 15-13. Odin (Stockholm) who didn't attend last EUCF, have the odds against them. Though they will have some of Stockholm's top players as well as a trio of French players through the Pierre Lemerle connection. France mixed player, Pierre-Louis Combret3 joins Lemerle and Manuel de san Mateo to add some firepower to Swedish stalwarsts like James Barnaville and Tomas Eriksson.
POOL OF
Freespeed (Basel) were allocated the top seed in pool F, although Gentle (Ghent) held them off for podium at the Basel Open in early September. The Swiss will watch out for the dangerous Decraene brothers in what could be one of best games on Thursday. Unfortunately Gentle's Pieterjan de Meulenaere can't play against his former club due to an injury. New Age (Raänana, Israel) and Outsiterz (Bratislava) are the sole representatives of two smaller frisbee nations. The last time the Israelis set foot on Bruges soil – at Tom's Tourney 2019 – they had to settle for a 17th place. In the same season Outsiterz didn't survive regionals. The lower bracket won't be a disappointment to these squads.
POOL OG
CUSB Red Bulls (Bologna) don't deserve to be called a B-team. Led by Davide Morri, the juniors are capable of giving any of Europe's finest a hard time. Seeded 6th overall they ought to overcome all obstacles on their way to power pools. The largest obstacle goes by the name of KFK (Copenhagen), which integrated a few unemployed players of the dissolved Ragnarok. Without the capital competitor they recently seized the throne of Danish ultimate for the first time in 30 years. KFK surely want to improve over their second to last place finish at EUCF 20194, and need two wins over Krakens (Barcelona) and JetSet (Leuven, Belgium) to advance to power pools. Spanish ultimate is tends to favor beach over grass, so we will see what the Barcelona squad can bring to their first ever EUCF. Krakens will have to fight against the lucky 3rd seeded Belgian mix of young and old quality.
POOL OH
Tchac (Pornichet, France) are back where they belong after missing EUCF 2019. One of the main reasons why they didn't qualify back then was because the AUDL's Montréal Royal signed the stars that had led Tchac to an incredible 7th place finish at WUCC 2018. Three of those stars – Quentin Roger, Matt Bosser, and Laurent Faye – have now returned to the French coast. Wall City (Berlin) are another force to be reckoned with. They almost won the German restart tournament and have already finished 6th at Tom's Tourney in 2019. A French-German battle will determine the winner of this pool and indicate how far both teams can really get. Polish champions The Bridge (Wroclaw) and Swiss bronze medalists Panthers (Bern) round out the pool but will have a hard time contending with the French and German top squads.
---