The guest list for 2022's World Ultimate Club Championships is starting to take shape.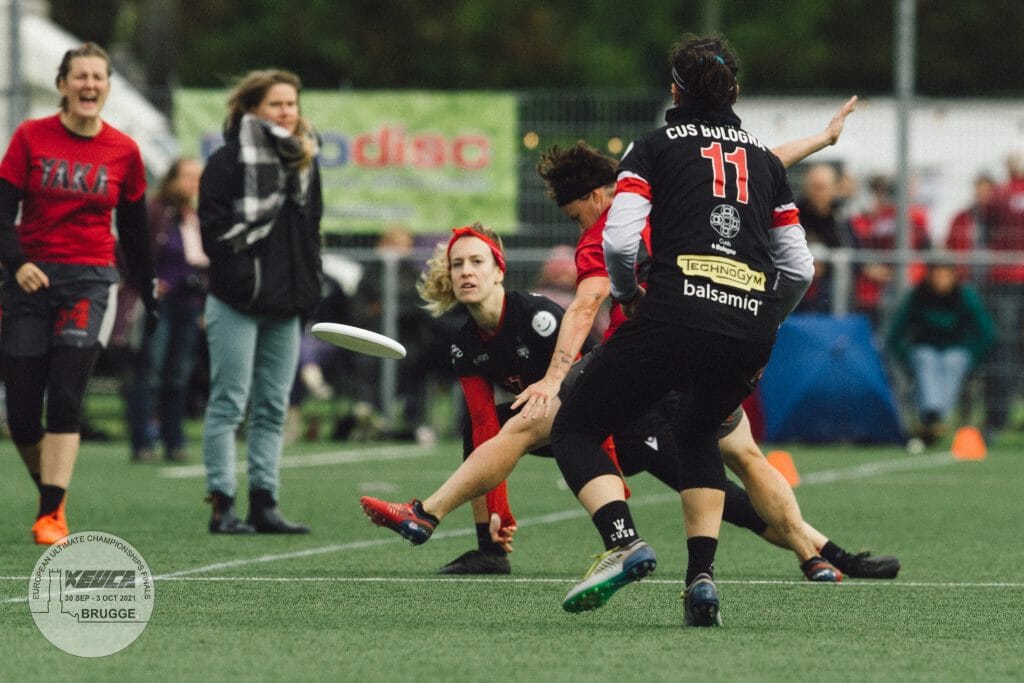 Opening Pull is Ultiworld's weekly wrap-up of the previous week in ultimate, available both on the site and here as an email newsletter. We've gathered the news you need to know and highlights you need to see. Check back weekly or subscribe now to receive Opening Pull in your inbox along with a rundown of the previous week's content on Ultiworld.
Familiar Foes and Surprise Challengers Alike at XEUCF 2021
Skies were gray but spirits bright at the Extended European Ultimate Championship Finals in Bruges, Belgium last week. The open final saw the third consecutive championship match between 2018 and 2019 finalists Clapham and CUSB La Fotta — a clash that went Clapham's way in 2021, though La Fotta can take pride in holding off a Dublin Ranelagh team on a surprise deep run to make it that far. In mixed, another rematch of 2019 finalists also spelled revenge for last tournament's runners-up, with GRUT defeating Salaspils 15-12. In women's, La Fotta's sister team and 2019 title-holders CUSB Shout were definitively bested by first-time champions YAKA, whose talents included a Robyn Fennig just days out from qualifying for USAU Club Championships with Madison NOISE.
Despite uncertainty well into 2021 over whether the tournament would take place at all amid the evolving pandemic situation, XEUCF came closer to being thwarted by ultimate's much older foe: the weather. Rain at the site forced last-second schedule adjustments that hit the women's division especially hard, with the 17-team field switched from power pools to an elimination bracket with the tournament already in progress. Nevertheless, the teams played on, and the medalists are as follows:
Open:
1. Clapham (London, UK)
2. CUSB La Fotta (Bologna, Italy)
3. Gentle (Ghent, Belgium)
Women's:
1. YAKA (Noisy-le-Sec, France)
2. CUSB Shout (Bologna, Italy)
3. Gravity (Dublin, Ireland)
Mixed:
1. GRUT (Amsterdam, Netherlands)
2. Salaspils FK (Salaspils, Latvia)
3. PuTi (Helsinki, Finland)
See full Ultiworld coverage from the week, and watch the site for more recaps and analysis.
Great North, Great Times at Ultimate Canada Invitational
On the other side of the Atlantic, the club division of Ultimate Canada Invitational — a mid-fall tournament in lieu of Ultimate Canada's typical summer Canadian Ultimate Championships — took place in Ottawa, Ontario, with top teams crowned and bids to WUCC awarded. It was a good weekend for Vancouver, with new club Red Flag taking the top honor in mixed, Furious George defending their 2019 title in open, and women's team Traffic placing second to Toronto 6ixers — but landing a bid to the 2022 World Ultimate Club Championships in the process (6ixers having qualified already in 2019).
So far, the Canadian contingent at WUCC includes Red Flag and Montreal LAB (mixed), Furious George and Montreal Mephisto (open), and 6ixers and Traffic (women's). Read Theo Wan and Kelsey Hayden's preview from last week for an overview of the state of Canadian club and the storylines going into the weekend, and stay tuned for more from the tournament.
Con10enT Coming to the Bay
Rosters are set for stop two of the Con10enT Tour, coming Saturday, October 9 to San Francisco! Event information and ticket sales are available online via BADA; tickets are free for kids under 10 and Black fans of all ages.


Relive Con10enT's Philly stop on Disc Diversity's YouTube channel, or read Zoe Rath's profile of Shanye Crawford to learn more about the genesis for the tour and Disc Diversity's work for racial equity in ultimate.
Regionals Week Two
Streaks were broken east and west in the second and final week of USAU Club Regionals. In Southeast women's, Atlanta Ozone's 33-year Club Championships run came to an end at the hands of Florida Tabby Rosa, who will make their first Nationals appearance since 2014; over in mixed, Durham Toro were sent to pasture by Nashville 'Shine, leaving North Carolina with no team in the division in San Diego and halving the state's total number of Nationals teams to two from 2019's four.
Meanwhile at the Southwest tournament, a last-minute move to Golden Gate Park may have conferred San Francisco Revolver with a surprise home field advantage over SoCal Condors, but even that wasn't enough to prevent them from losing the regional title to the migratory birds. In mixed, 2019 silver medalists San Francisco Mischief will miss out on the show altogether, as Arizona Lawless made off like bandits with the first-place spot and San Francisco Polar Bears clawed their way to the second and final bid.
See the full list of qualifiers here, and watch the site for more from this weekend's events.
Roster Release Highlight: Colorado Quandary
It's all downhill — but like, in the good way — for women's program Colorado Quandary, who released their 2021-2022 roster this week. College teams returning from a 2020-21 academic year with no sanctioned play to speak of have quite a lot to keep track of, from 2021's entering class to 2020 recruits making their on-field debuts to fifth-years, sixth-years, and even seventh-years — some of whom may have already graduated. Can you follow the trail signs?
Introducing our 2021-2022 roster! 🏔 pic.twitter.com/VslrlpU8FM

— Quandary Ultimate (@Quandaryult) October 3, 2021
---
Coming Up
It's hard to believe the College Series is here already, but it's true: D-I and D-III Conferences start this very weekend. With many typical early-fall college events featuring a mix of teams gearing up for a 2021 Series run and teams just showing their rookies the field for the first time, these tournaments should be our first look at who's vying for Nationals in December — and whether their schools let them roster alums or not.