Bids to WUCC 2022 are on the line in Ultimate Canada's top club event for 2021.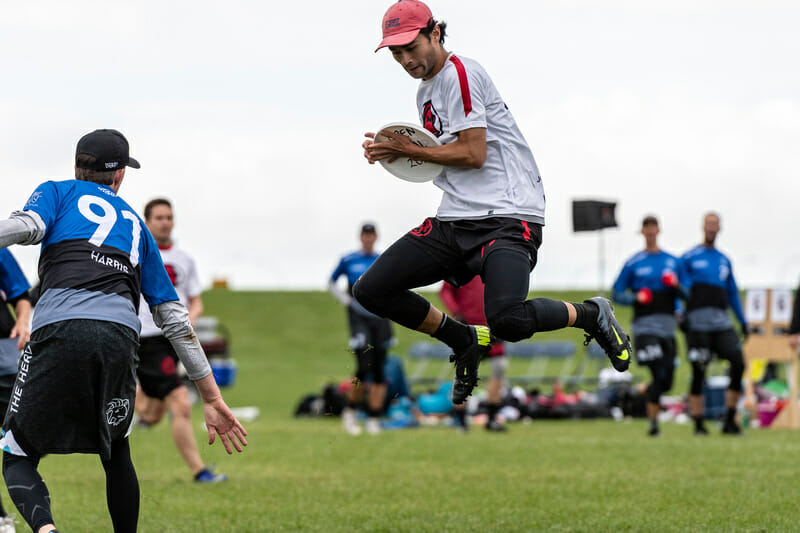 With clubs across the country making a gradual return to play — some at very different rates, depending on COVID-19 statistics and vaccination rollout from province to province — Ultimate Canada chose not to hold its typical summer Canadian Ultimate Championships in 2021, instead planning an "Ultimate Canada Invitational" tournament for fall. While the event has some differences in length and scale from an ordinary CUC, it serves as the de facto championship event for Canadian clubs this year, and results will be used to award at least one bid per division for WFDF's 2022 World Ultimate Club Championships.
Tournament Profile
Dates: October 2-3, 2021
Location: Ultimate Parks Incorporated, Ottawa, Ontario
Weather: Cool and rainy both days, with highs of 15-17 degrees Celsius
Rosters and results (Ultimate Central)
Winners and runners-up from the last five years participating:

Women's: Toronto 6ixers, Quebec Iris, Ottawa Stella, Vancouver Traffic, Winnipeg Fusion
Open: Vancouver Furious George, Toronto GOAT, Ottawa Phoenix, Alberta Flatball Club, Winnipeg General Strike, Toronto Grand Trunk
Mixed: Winnipeg Pretty Boys & Handsome Girls, Kitchener-Waterloo Crash, Toronto Union
How to Watch
Stream link: https://www.iamultimate.com/live/
Saturday, October 2
9:00 AM: Montreal Mephisto vs Newfoundland Regiment (M)
10:30 AM: Ottawa Phoenix vs. Newfoundland Regiment (M)
12:00 PM: Vancouver Red Flag vs. Ottawa Crank (X)
1:30 PM: Barrie Force vs. Vancouver Red Flag (X)
3:00 PM: Ottawa Stella vs. Winnipeg Fusion (W)
4:30 PM: Women's Crossover TBD (W)
Sunday, October 3
9:00 AM: Toronto 6ixers vs. Vancouver Traffic (W)
10:30 AM: Women's Game-to-Go OR Mixed Quarter (W/X)
12:00 PM: Open Final (M)
1:30 PM: Open Game-to-Go (if played) (M)
3:00 PM: Mixed Final (X)
All times EST.
Streaming Games to Watch
Barrie Force vs. Vancouver Red Flag: This game — a classic battle between young, hungry Red Flag and veteran team Force, the fourth-place finishers from 2019 — should be the most anticipated livestream from pool play on Saturday. Both programs have national team talent and seem poised to make a big run through this tournament. There's a good argument that these are semis-level teams, so to have them meet in pool play is a treat for fans.
Ottawa Stella vs. Winnipeg Fusion: In their last head-to-head matchup in 2019, Ottawa Stella notched an 11-10 win over Winnipeg Fusion, with the teams finishing fourth and fifth respectively. Stacking up their rosters, the teams look pretty even — they both have nine rookies and lots of experienced vets — but the difference maker could be Fusion's exciting addition of Sarah Jacobsohn, who was a breakout star for Toronto 6ixers in 2019.
Tournament Format and WUCC Bids
Ultimate Canada announced earlier this summer that they would award one WUCC bid per division based on the 2019 CUC results and at least one more per division based on 2021 UCI results.1 Therefore, Toronto 6ixers, Vancouver Furious George, and Montreal LAB (not attending) all already have a bid in hand. With this in mind, Ultimate Canada has created schedules that require a team to secure their bid by winning a game, so that a team cannot qualify for WUCC by simply placing second against a team who already has a bid.
As the name suggests, the Ultimate Canada Invitational is an invitation-only tournament, with no regional qualification events. Bids were awarded to clubs at the competitions committee's discretion based on the following factors: past attendance at CUC, past placement at the 2019 CUC, representation from a range of provinces and territories, representation from a range of cities, age of the club program, and team interest in bids to WUCC or WMUCC.
In total, there are 42 teams competing this weekend: 16 mixed, 16 open, and ten women's. Open and mixed will start with four pools of four teams, while the women's division will start with two pools of five. Every team has a chance to get to the bid-earning game if they perform well early in the tournament.
Open Division Storylines
Is This Montreal's Time?
A rebranded, retooled, and refocused Montreal Mephisto look to make their mark in elite open club this year. The last time a Montreal open team made the Canadian Ultimate Championship final was in 2010, when Mephisto lost to Toronto Moondoggies. It's been a long time coming for Montreal, whose program has gone through a number of systemic changes over the last few years. With Jon Hayduk coaching — and all the players having played for this year's Canada Cup-winning Montreal Royal in the AUDL— this Mephisto group looks poised to make a big run at UCI.
Some players to watch out for include young ambidextrous handler Jakob Brissette and the ultra-athletic Christophe Tremblay-Joncas. Montreal was able to practice a month earlier than Ontario teams due to earlier lifting of restrictions in Quebec. Will this added chemistry and time together allow Montreal to ascend to the top?
Which Toronto Will Show Up?
Toronto GOAT's recent results leave something to be desired. Before the pandemic, they lost to Vancouver Furious George in an epic CUC final that saw Vancouver avenge their 2015 loss to the team from the east. Moving into 2021, the AUDL's Toronto Rush (which features almost all of GOAT's club roster sans Andy Ouchterlony and Ben Pries) stumbled out of the gate, looking very… un-Toronto-like against Montreal and even upstart Ottawa. They were able to put it together towards the end of the season, though they eventually lost to the Royal. Which Toronto will show up to UCI? The one who struggled to find momentum in the pro season, or the historically fiery club with the drive to find their way back to WUCC?
Halifax Ready to Surprise
While many open teams participated in CUC in 2019, Halifax Red Circus chased competition down south, appearing in multiple American tournaments over the summer; the Halifax group finished seventh at Select Flight Invite in 2019, and placed fifth at USAU's Northeast Regionals for two seasons running before forgoing the 2021 edition.2 Many Canadian clubs haven't seen Red Circus in years and may be tempted to sleep on this East Coast team. But Red Circus's roster is stronger than ever, featuring Team Canada talent in Greer Hunt (U23 open), Luke Dyer (U24 open), Martin James (beach open), Martin Gallant (U20 open), and Tyler Smith (beach mixed and masters open), along with a group of experienced vets and athletic rookies.
Thanks to the relative safety of the "Atlantic Bubble,"  Red Circus have been able to play much more than most in the past two years. Their pool play matchup against Toronto Grand Trunk should be the game to watch, as the loser will most likely not advance to quarterfinals.
Prairie Teams Do Battle in Pool H
Two teams that have been knocking at the door of the CUC finals are Winnipeg General Strike and Edmonton Flatball Club. Both teams made it to the semifinals in 2019 before being ousted by Furious George and GOAT respectively. Their pool play matchup has bracket stakes as each looks to earn the easier matchup draw in the quarterfinal round. Both teams have built programs from within, relying on homegrown talent to fuel their success. Can either General Strike or AFC make the leap this year to the final?
Will Vancouver Be Motivated?
Coming into the summer of 2021, it appeared Vancouver Furious George would focus their efforts on the USAU club Series, and with a ticket to WUCC already secured via their CUC division title in 2019, it seemed unlikely they'd have much reason to make their way to UCI this year. Fast forward to fall, and with the border still not open to land travel and many hoops to jump to compete in the US, Vancouver decided to attend UCI. The strength of the program is undeniable, but with nothing to play for but pride, what kind of Vancouver squad will we see in Ottawa this weekend?
Women's Division Storylines
Can 6ixers Keep Rolling?
2019's Toronto 6ixers were incredibly dominant on both sides of the border — finishing first at CUC and second at USAU Club Championships — and, as a result, have already secured their bid to WUCC. Due to the pandemic, they are unable to go on another American dream run this season, so this UCI will be their only major tournament in two years.
Their roster this year includes a few university-aged players they are hoping to develop, which could make for a bumpier time against top-tier competition in the short term. They also have lost key pieces from their 2019 roster, including Anouchka Beaudry (2019 All-Club Second Team), Sarah Jacobsohn (2019 Breakout Player of the Year runner-up), Cat Phillips (multiple unofficial All-Club Third Team votes), and several others. Will 6ixers look as dominant without these players? Or are they treating this year's top club event as more of a practice run for future domestic and international competition?
Iris Adds Centerpieces to an Experienced Roster
Quebec Iris have picked up some exciting pieces to complement an already-strong roster. Most notably, Anouchka Beaudry is returning to the program after playing with Toronto 6ixers in 2019, while Jessie Grignon-Tomas is back from a stint with the team 6ixers placed second to at USAU Nationals, Boston Brute Squad. In fact, the Québécoises are arriving in Ottawa with seventeen returners from the 2019 season, four players returning from 2018 or earlier, and only five rookies. With nearly all teams coming into the weekend with less practice than usual, having this level of chemistry is sure to give them a boost as they try to accomplish their main goal: earning a bid to WUCC.
Traffic Going for Double Gold in Fall 2021
Vancouver Traffic is the only Canadian women's team who is competing in the USAU series this year. Northwest Regionals was the week before UCI, and Vancouver bested the field for the first time in ten years. They had to travel through an emergent Portland Schwa squad and dynastic PNW power Seattle Riot on their way to a first-place finish in the region — not a bad warmup for the teams the Vancouverites will have to face this weekend.
Traffic comes to Ottawa with a solid crew of returners and four pivotal out-of-towners laden with Team Canada experience: Paula Wong (women's masters), Sarah Norton (U24 women's), Madison Ong (U24 womens), and Terri Whitehead (we all know her). The roster is rounded out by a lot of fresh-faced rookies, but that didn't seem to be much of a handicap in Olympia.
A Smaller Women's Division in 2021
With only ten teams, the women's division was not able to reach the 16-team cap that we see in both the open and mixed divisions. As has been the case during the USAU club season, Canadian women's teams have been slower to come back to competitive play, which means a smaller field at this national event. Teams like Regina Korra, Edmonton Flurry, St. John's Tempest, Durham Foxx, Toronto Nox, and Toronto Tox6ix have all made appearances at CUC recently, but none will be attending this year's event. On the other hand, teams like 6ixers and Fusion have taken on some younger players in hopes of building up a talent pipeline. Will this year's downturn have long-range effects in the women's division, or is it just a blip on the way to a full post-2020 recovery?
Mixed Division Storylines
Will a Pickup Team Win Again?
In 2019, the final consisted of two clubs that each rounded up a team specifically for CUC. Montreal LAB and Toronto SOUP cleared traditional, practicing mixed teams — including perennial CUC contenders Barrie Force and Saint-Jean-sur-Richelieu Battleship in semifinals — on their way to the championship round. Will this trend continue in 2021? There are many more established mixed teams this year, but one outlier remains: Toronto GAZPACHO, whose roster looks like the freshened SOUP the name connotes. They feature former 6ixers players Karen Chan Lim and Lana Ramic and former Traffic player Victoria McCann on the women-matching half of the team, while their men-matching players boast Team Canada talent in Josh Meron, Connor Armstrong, Kinley Gee, and Trevor Henry. Can this saucy blend finish what they started in 2019 and get a bid to WUCC?
Toronto vs. Vancouver, a Rivalry Renewed
In 2017, Toronto Union and Vancouver Banana Cutters were considered two title favorites, but ended up meeting in quarters instead of the expected final. The Vancouver group won a close match, slicing Toronto's plans to earn a bid for WUCC 2018. Fast forward to 2021, and the road to WUCC may once again go through a Vancouver-Toronto battle.
The Banana Cutters name may not appear at UCI, but five members of Vancouver's last world-class mixed team are playing with Vancouver Red Flag, who already have their eyes on a national final in their first major tournament together. Toronto Union comes in bolstered by the roster addition of Andrew Carroll (formerly of GOAT) and are looking to avenge their 2017 defeat.
Less Geographic Diversity in Mixed
While the mixed division has a greater number of teams than women's, there is a conspicuous lack of geographic diversity in this year's field. It is hard not to note the absence of Halifax Anchor, a team that was seeded first at CUC 2019, as well as Saskatoon Bunny Thugs, who came in fourth in 2018. Of the 16 teams in the division, eight come from Ontario, with only five provinces total sending mixed teams to the tournament. (By contrast, seven provinces are represented across the ten women's teams in Ottawa this weekend, while 2019's mixed field included teams from six provinces.)
While it might not be readily visible at the tournament, the lack of geographic representation could indicate a shift away from this division in smaller or more remote ultimate communities. As in women's, it remains to be seen whether changes in participation across the division will remain a lasting trend as ultimate returns to more normal competition.
Parity Is the Name of the Game
No division in Canadian ultimate has yielded more exciting surprises than the mixed division. Over the last five national championships, there have been ten different winners and runner-ups, with not a single mixed team reaching the final twice in that five year span. Of those ten teams, only three — Toronto Union, Kitchener-Waterloo Crash, and Winnipeg PBHG — make their return. This uncertainty makes for an exhilarating mixed division in 2021. The field is truly wide open, with no real odds-on favorite to take it all.
Related Content
Huckin' Eh: UCI Senior Preview, UCI Masters Recap, Uni Nats Qualifiers
On Ultiworld's podcast for all things Canadian ultimate, Danie and Theo break down each pool, the games to watch, and their picks to win in each division. (There's also a recap from UCI's masters tournament last weekend and a preview of Division 1 qualifiers for the Canadian University Ultimate Championships!)
---
As of now, Canada has been allocated two bids per division for WUCC 2022, but if the country receives more bids as the tournament draws closer, Ultimate Canada will use 2021 UCI results to award the additional bids to clubs. ↩

As did Canadian teams across divisions. ↩